Learn How To Mail a Letter From the Comfort of Your Home!
Do you need to use snail mail for legal or business correspondence for the first time? Are you thinking about surprising your loved one with a personal message? If you'd like to learn how to mail a letter hassle-free, you're in the right place. Subscribe to DoNotPay and send all your letters without having to waste time buying stamps and envelopes or going to the post office. 
Why Do People Still Use Snail Mail?
Even though almost everyone sends and receives emails daily, snail mail is far from forgotten. People usually rely on snail mail when they need to send:
Cover, resignation, recommendation, or other formal letters

Court papers, legal documents, and business contracts

Application or cancellation forms for various services

A physical letter to their loved ones
Sending a physical letter is much more personal than sending an email, especially if the letter is handwritten, which is why people still prefer snail mail. In some cases, sending printed physical letters is the only option to communicate with companies, universities, lawyers, and similar.
What Sections To Include In Your Letter
When writing a letter, it's crucial you know how to format it. Formal and informal letters have different structures. 
For legal, business, and other formal letters, you should follow this formatting:
Sections
What To Write

Your contact information

Name

Address

City and ZIP code

Phone number

Email address

Date

You can indicate the date the letter was written  

The recipient's contact information

Name

Title

Company

Address

City and ZIP code

Greeting

To

start your letter

, you can use these formal greetings:

Dear Mr./Ms./Dr./Judge + the last name

Dear + the first name (only if you know the recipient well enough)

To Whom It May Concern

Dear Hiring Manager

Dear Sir or Madam

Dear Human Resources Manager

Body of the letter

Explain why you're writing the letter in the introductory paragraph

Include specific details in the body of the letter. Make sure to keep your sentences short and clear

In the last paragraph, you should thank the recipient for reading the letter and politely ask for his or her response

Closing

You can

end your letter

with one of the following closings:

Sincerely

Regards

Yours truly/sincerely/respectfully

Best/Kind regards

Cordially

Signature

Include your handwritten signature above the typed one
Informal letters offer much more freedom. While you can format the letter however you see fit and include drawings or personal jokes, most personal letters include the following:
Date

Friendly salutation

Introduction, body, and conclusion

Casual closing

Your signature
How To Address a Letter 
Before you mail the letter, you should learn how to address it. The post office won't accept letters that don't include both the sender's and the recipient's addresses.
To address the letter correctly, you should write your and the recipient's information on the front of the envelope:
The recipient's address needs to be written in the middle of the envelope:

First row

—name

Second row

—house or apartment number and street name

Third row

—city, state, and ZIP code

Your address needs to be placed in the top-left corner of the envelope:

First row

—name

Second row

—house or apartment number and street name

Third row

—city, state, and ZIP code
Once you address the letter, you should place stamps in the top-right corner. 
Sending Letters by Snail Mail—The Common Issues
The main problem with sending letters via snail mail is that the process is lengthy because you need to waste ages:
Choosing the right-size envelope

Thinking about

how many stamps you need for your letter

Attempting to figure out

how much mailing a letter costs

 

Browsing the Internet to find out

how to address the letter

correctly

Finding and heading over to the nearest post office or USPS mailbox
Since the beginning of the COVID-19 pandemic, the entire procedure is even more time-consuming since you need to pay attention to public health measures. Not many people feel comfortable with leaving their homes.
The good news is—you don't have to go to the post office to send a letter. You can send mail online from the comfort of your home with DoNotPay!
Learn How To Mail a Letter Online With DoNotPay
DoNotPay's Send Mail product can finish most of the work for you and save you the trouble of walking or driving to the closest post office. You don't even have to worry about addressing the letter correctly or purchasing the right number of stamps. DoNotPay will take care of all of that on your behalf.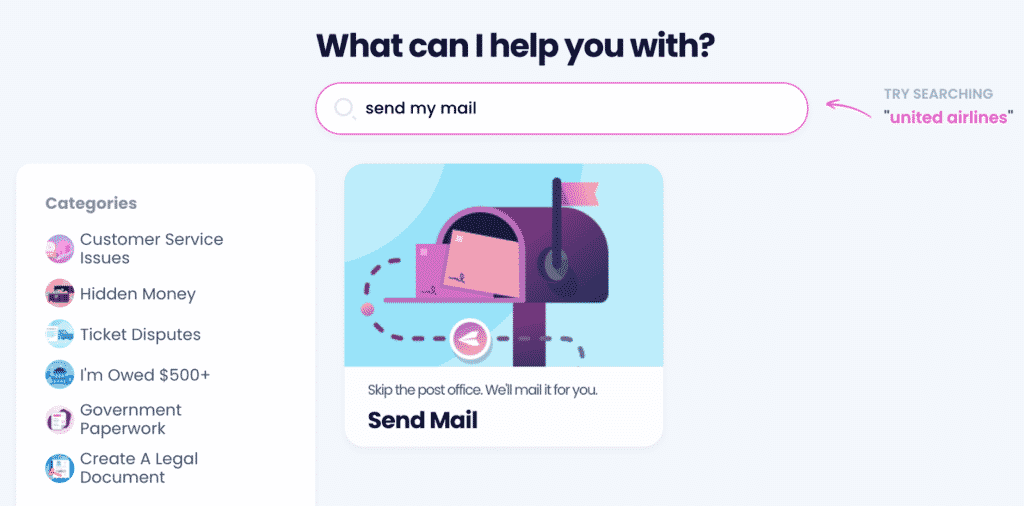 To mail a letter from your PC, tablet, laptop, or smartphone hassle-free, do the following:
Choose our

Send Mail

product

Type in the recipient's name, address, and other required info

Upload your letter in PDF, JPG, PNG, or HTML format
DoNotPay will print the letter, address it, and mail it to the recipient. The letter will be delivered within seven business days. 
Save Some Coins With DoNotPay
Are various subscriptions and memberships burning a hole in your pocket? DoNotPay can help you cancel all of your memberships in a matter of minutes without having to contact customer service reps. 
Next time you want to register for a free trial, prevent unexpected costs with our virtual credit card. Once the trial is over, you'll be unsubscribed right away because our virtual credit card doesn't contain any money. We will also generate a random email address you can use if you want to protect your privacy and avoid spam marketing emails. 
Do you need help claiming warranties and insurance policies? DoNotPay can help with that too. 
Should you need assistance requesting refunds for purchased products, canceled flights, or late deliveries, we've got your back!
Avoid wasting money on lawyers—DoNotPay is here to help you sue anyone in small claims court and create numerous legal documents in the blink of an eye!
DoNotPay Can Help You Earn Money Too
DoNotPay users can save hundreds of dollars thanks to our app, but did you know that we can help you earn a few bucks as well? Our app enables you to claim missing money under your name or file your application for paid clinical trials in less than five minutes.
You can even get compensation for reporting robocalls or apply for a crime victims compensation program in your state by signing up for our app and following a few simple steps.