Money-Saving Hacks—How To Lower Property Taxes
Whether you live in one of the states with high or low property taxes, you're probably cashing out more money to cover your tax bill than you'd like to. If you want to know how to lower property taxes, you need to understand how they work.
We'll cover all the bases—break down property taxes and methods of reducing them!
Reducing Property Taxes—Property Tax Explained
If you own property, you need to pay property taxes, but it's not that simple. Your property tax bill depends on two factors:
The value of your property

The local property tax rate
A local property assessor determines your property's value once they perform a property tax assessment remotely or in person. The assessed value is multiplied by the tax rate to calculate your tax bill.
Property Tax Rates in Different States
Property tax rates vary considerably depending on which state you live in. You may pay between $560 and $7,800 annually.
Check out some of the lowest and highest property tax rates in the U.S.:
| | | | |
| --- | --- | --- | --- |
| States With Low Property Taxes | Tax Rate | States With High Property Taxes | Tax Rate |
| Alabama | 0.33% | New Jersey | 1.89% |
| Hawaii | 0.26% | Texas | 1.81% |
| Delaware | 0.43% | Nebraska | 1.76% |
| West Virginia | 0.49% | Wisconsin | 1.76% |
| District of Columbia | 0.46% | Illinois | 1.73% |
| Louisiana | 0.18% | New Hampshire | 1.86% |
Why Do I Have To Pay Property Taxes?
If you require help paying your property taxes, you may start wondering why you have to pay them in the first place.
The government imposes property taxes on all property you own. The local governments use the funds they collect from your property tax for public purposes. If you pay your taxes, your money will contribute to:
Roads

Schools

Libraries

Hospitals

Transportation

Law enforcement

Emergency centers

Protective services

Parks and recreation

Maintenance services

Community services 

Police departments 

County and municipal expenses
How Can I Reduce My Property Taxes?
You can try out some methods of reducing your property taxes even before your tax bill arrives.
Here are our tax reduction tips:
Tips
Details

Put off home improvements after your assessment

Home renovations may increase your home's market value, which will boost your tax bill

Make sure you're present during the in-person property assessment

Ask questions and voice your doubts. It's more likely to get a fair assessment if the homeowner is there

Research the neighboring properties

The property tax assessment info is public. Locate comparable homes in your area and look for any discrepancies

Explore property tax exemptions you may be eligible for

A property tax exemption could allow you to be partially or fully exempt from paying your property taxes

Examine your tax bill

Look for errors in your bill

Contact the property assessor if you find any mistakes

Request a reassessment or file a

property tax appeal

if necessary
Property Tax Exemptions—Ways To Lower Property Taxes
A property tax exemption is one of the best methods of reducing your taxes. Different jurisdictions have different policies and eligibility factors. Sometimes, the exemption entails a percentage of your home to be excluded. Other times, it's a fixed amount. Some states require applicants to choose one exemption, while others allow you to combine two.
The most common property tax exemptions are the following:
Agricultural property owners

Homeowners living in their primary residence (

homestead

)
Learn About Exemptions That Reduce Property Taxes in Your State
As exemptions differ based on your location, you may want to explore what your place of residence has to offer. Find out more about property tax exemption in the following states, counties, and cities
| | |
| --- | --- |
| U.S. States | Counties and Cities |
| | |
Use DoNotPay To Reduce Your Property Tax
Looking for info on reducing your property taxes based on your location and the specific situation may seem taxing. Luckily, DoNotPay can assist you! If you obtain our Property Tax guide, you'll get a personalized blueprint for lower taxes.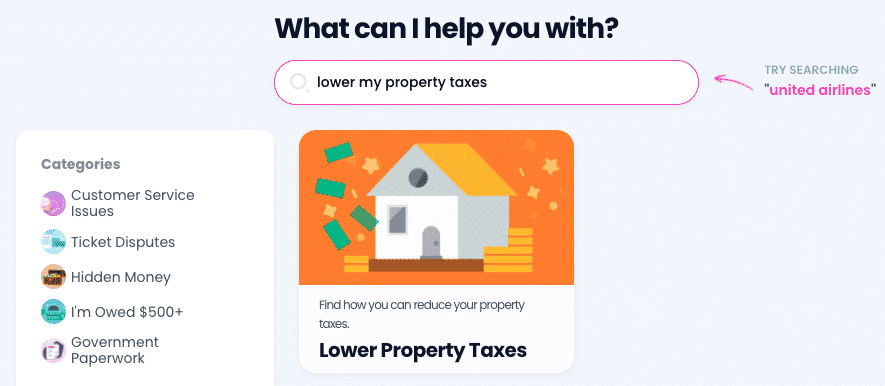 After you click several times, your unique guide will be ready to save you both time and money. The property tax guide consists of these sections:
Property tax exemptions

A list of property tax exemptions you are eligible for

Instructions on collecting the necessary documents and filling out forms

Steps to submitting your application

Property assessment appeals

Methods of negotiating with your tax assessor

Guidelines for appealing property assessments

Ways of gathering evidence to reduce your home's value
How Does DoNotPay's Reducing Property Tax Feature Work?
Access our app from any web browser and follow these short steps to receive your special guide:
Navigate to the

Property Tax

feature

Type in your age, income, location, and other necessary info

Answer a few questions about your property
Get our guide within minutes and put this knowledge into action to lower your property taxes!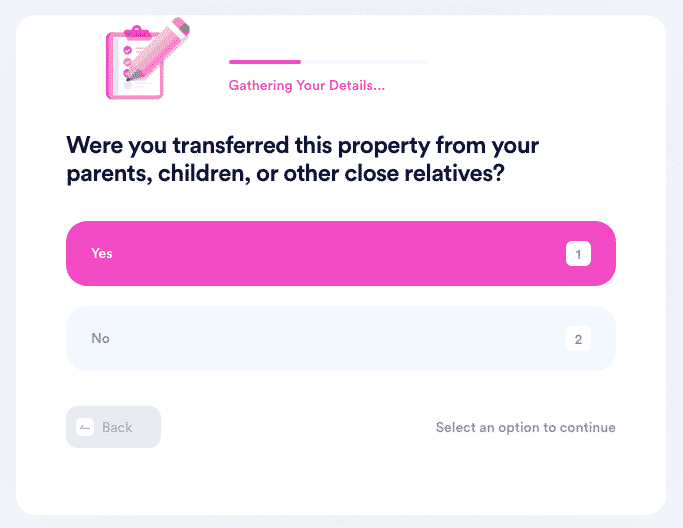 Admin Issues Giving You a Headache? Resolve Them With DoNotPay!
Scheduling a DMV appointment, applying for clinical trials, requesting refunds from companies, and getting in touch with your loved ones in prison are all difficult and time-consuming tasks. You have to take many steps before you can get any of these over with, and that's why our robot lawyer app is here to help.
No matter if you need assistance with appealing parking tickets, signing up for free trials, canceling various subscription services, or maybe preparing for government tests, DoNotPay will provide you with easy solutions.
Going Through Financial Struggles? Rely on the World's First Robot Lawyer
Many Americans struggle to make their ends meet at the end of each month. With that in mind, we've created plenty of features that will save you both time and money in the most efficient way. 
Using our AI-driven app, you can get help with bills, get refunds from airlines, find unclaimed money in any state, or earn off annoying robocalls or stalkers and harassers. If you want to fight for your right, DoNotPay will also assist you in suing any person or company in small claims court.
No matter the admin task at hand, our robot lawyer will provide swift and effective assistance.