DoNotPay Shows You How To Keep Your House in a Divorce
If you've decided to end your marriage, you're probably wondering what happens to a house in a divorce. How your state regulates property division might be difficult to understand, but don't worry—DoNotPay can help! We will show you how to keep your house in a divorce and even get an out-of-court settlement!
How To Keep the House in a Divorce
If you want to keep your house in a divorce, you can either take the case to court or reach an agreement with your spouse. If the divorce case is contested, how the house is split depends on whether you live in:
A community property state
An equitable distribution state
Do you want to check the laws and divorce process in your state? Consult the table below:
How To Keep the House in a Divorce—Community Property State
Any property you and your spouse own at the time of divorce is considered a community estate and will be divided equally when the divorce is over. Before deciding who gets to keep the house, the judge will check which spouse:
Gets custody over the marital child
Is able to cover the house payments on their own
The court will then award one spouse with the house and the other with other assets and property to ensure that both parties get fair treatment.
The spouse that stays in the marital home will have to:
Refinance the mortgage so that a loan is created in their name
Pay the other spouse the equity equivalent (if needed)
How To Keep the House in a Divorce—Equitable Distribution State
In equitable distribution states, the house and other assets and earnings acquired during the marriage are divided equitably. Before deciding if they should award one spouse with the house, the judge will consider the following factors:
How much each party earns and spends
What the financial needs of both parties are
What the age and health of the spouses are
Can I Keep My House in a Divorce? You Can With an Uncontested Divorce
Your best chance of keeping the house during a divorce is to opt for an uncontested divorce—also known as a friendly or mutual consent divorce. This type of divorce allows you to:
If you can't agree on these issues with your spouse but you want to keep the house, you should try divorce mediation. The mediator will help you reach a compromise and come up with solutions to any disagreements.
How Can I Keep My House in a Divorce With a Marital Settlement Agreement?
The crucial document in an uncontested divorce is a marital settlement agreement. It's vital that you get this contract once you reach an understanding about who gets to keep the house. The agreement will also outline other important aspects of your divorce. It needs to be drafted with care as you might have to start the procedure from scratch if the judge finds a mistake when reviewing the divorce papers.
You can get the agreement by hiring a lawyer to draw one up for you. Keep in mind that this solution is expensive as lawyer fees are sky-high. Another, more affordable option is to use DoNotPay. With our Divorce Settlement Agreement, you'll get the desired document that's:
Fair to both parties
Tailored to your needs
Compliant with your state laws
How To Get a Marital Settlement Agreement the Easy Way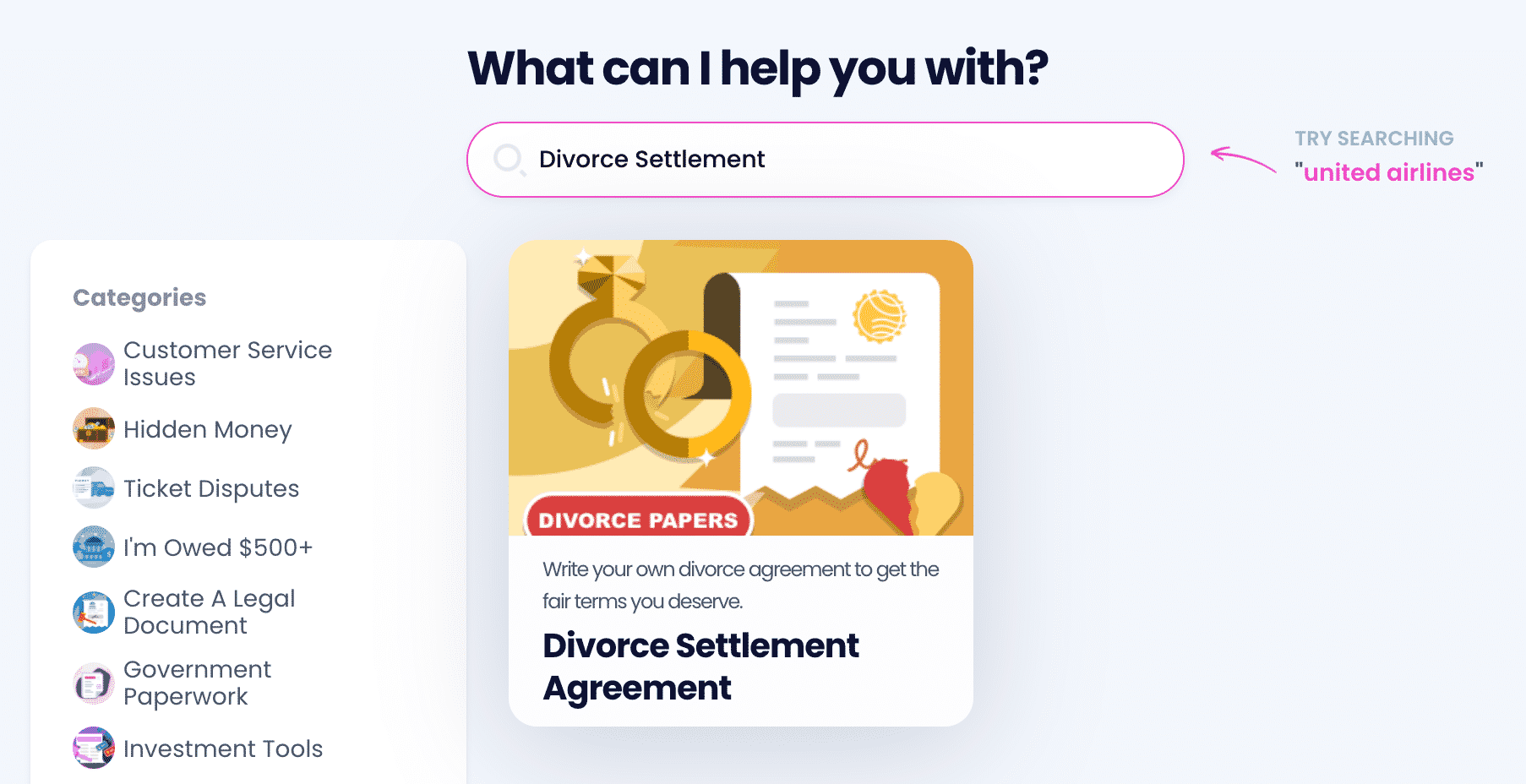 Have you and your spouse agreed that you'll get to keep the house? We can outline your understanding in a personalized marital agreement and make sure you get divorced on the terms you deserve! Getting this key document with our app is possible with a few clicks. Here's what you need to do:
Select the Divorce Settlement Agreement product
Answer our questions about:

Your spouse and children (if any)
Your assets and income

Opt for online notarization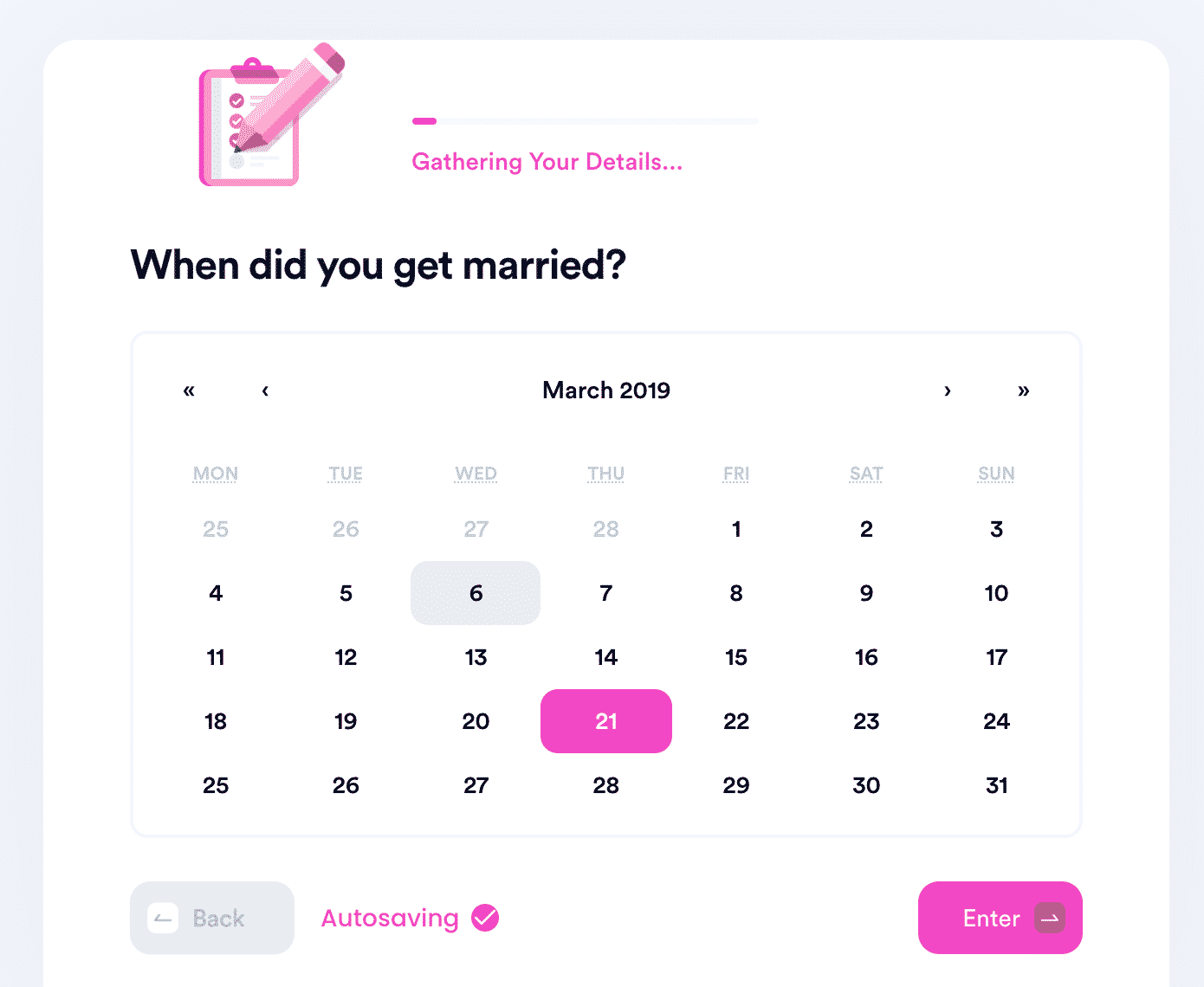 We will create a tailor-made agreement and send it your way in the blink of an eye. Did you choose to have it notarized through our app? Follow the link we send you via email and schedule an appointment with an online notary hassle-free.
If you need more assistance with divorces, check out DoNotPay's learning base. We have various handy articles on the topic, including:
Need Legal Assistance? DoNotPay Got You Covered!
Forget about getting a migraine every time there is an administrative task to handle. DoNotPay makes it easy and stress-free to deal with any bureaucratic issue that comes your way.
Not only can we assist you in drafting a legal document and getting it notarized, but we also help you:
Finishing Your Daily Errands Has Never Been Easier!
Looking for help with running errands? You don't have to spend hours trying to make a DMV appointment or contacting a customer service rep! Completing your day-to-day tasks stops being a burden once DoNotPay gets involved.
There is no shortage of errands we'll help you run for a small subscription fee, including:
Sign up for DoNotPay and avoid spending hours on simple daily tasks that can be done in a jiffy!