How To Keep Neighbors Out of My Yard—The Best Advice
How to keep neighbors out of my yard—if this is what you're asking yourself often, you're in the right place. We will explain everything from what trespassing is to what you can do about it.
If you can't reason with them, try DoNotPay's way of dealing with bad neighbors. Apart from helping with neighbors trespassing in your yard, we can show you how to manage noisy neighbors, your neighbor's loud dog that barks all day, neighbors that harass you, and more.
What Counts as Trespassing?
As a landowner, you have the right to stop anyone from entering your yard because your property is private. You can try ignoring bad neighbors, but the invasion of your privacy is a serious issue and can even be considered trespassing. Anyone who enters your land without your strict permission is a trespasser.
Trespassing is a criminal offense, and the specifics of it are:
Intent—Someone who enters your property knowingly is committing a crime of trespass. If they don't know they're trespassing, you can tell them—if they remain on your property, they're committing a crime
Required warning or notice—In many states, you are required by law to put up a sign or a fence to mark the boundaries of your property. If your neighbor doesn't respect the boundaries you set, you can report them for trespassing
Acts that are considered trespass—Many states outline specific acts that count as trespassing. If your neighbor is cutting down trees or flowers on your land, they're trespassing. In some states, if someone remains in your car after you told them to get out, they are trespassing
What To Do About a Trespassing Neighbor
There are many ways you can stop your neighbor from trespassing. You can see some of them in the table below:
| | |
| --- | --- |
| How To Prevent Trespassing | Details |
| Put up a sign | A sign that says No Trespassing or Keep Out should be enough to stop anyone from coming into your yard uninvited. The trespassing law makes your sign a powerful deterrent because when you use it, no one can enter or remain on your property without your consent |
| Talk to your neighbor | Talking to your neighbor is an option if they want to listen. Sometimes your neighbor won't know that their trespassing bugs you if you don't speak up |
| Put up a fence | Installing a fence can be both a way to redesign your yard and stop trespassers from coming to your property. It's a clear boundary of where your land starts and ends. You can report someone who breaks through the fence on purpose |
| Plant a barrier | Flowers, bushes, and other types of quickset can make for a beautiful garden but also a protective boundary around your yard |
| Get a guard dog | If your neighbors are constantly trespassing, maybe a guard dog can deter them from your property. The only problem with this idea is if the dog's aggressive—your neighbor can file a lawsuit if bitten |
| Install motion detection surveillance camera | The camera will record trespassers and will provide proof for you. It's useful when you're not at home because it starts recording whenever it detects movement |
Use DoNotPay To Deal With a Trespassing Neighbor
DoNotPay created the Neighbor Complaints product to help people deal with difficult neighbors. If you tried the friendly approach and failed, it's time to turn to DoNotPay for help.
After you , you can create a demand letter that we'll send to your neighbor on your behalf. The demand letter will consist of:
Details about your complaint
The compensation you seek
Arbitration notice
The warning of further legal action you might take if they don't comply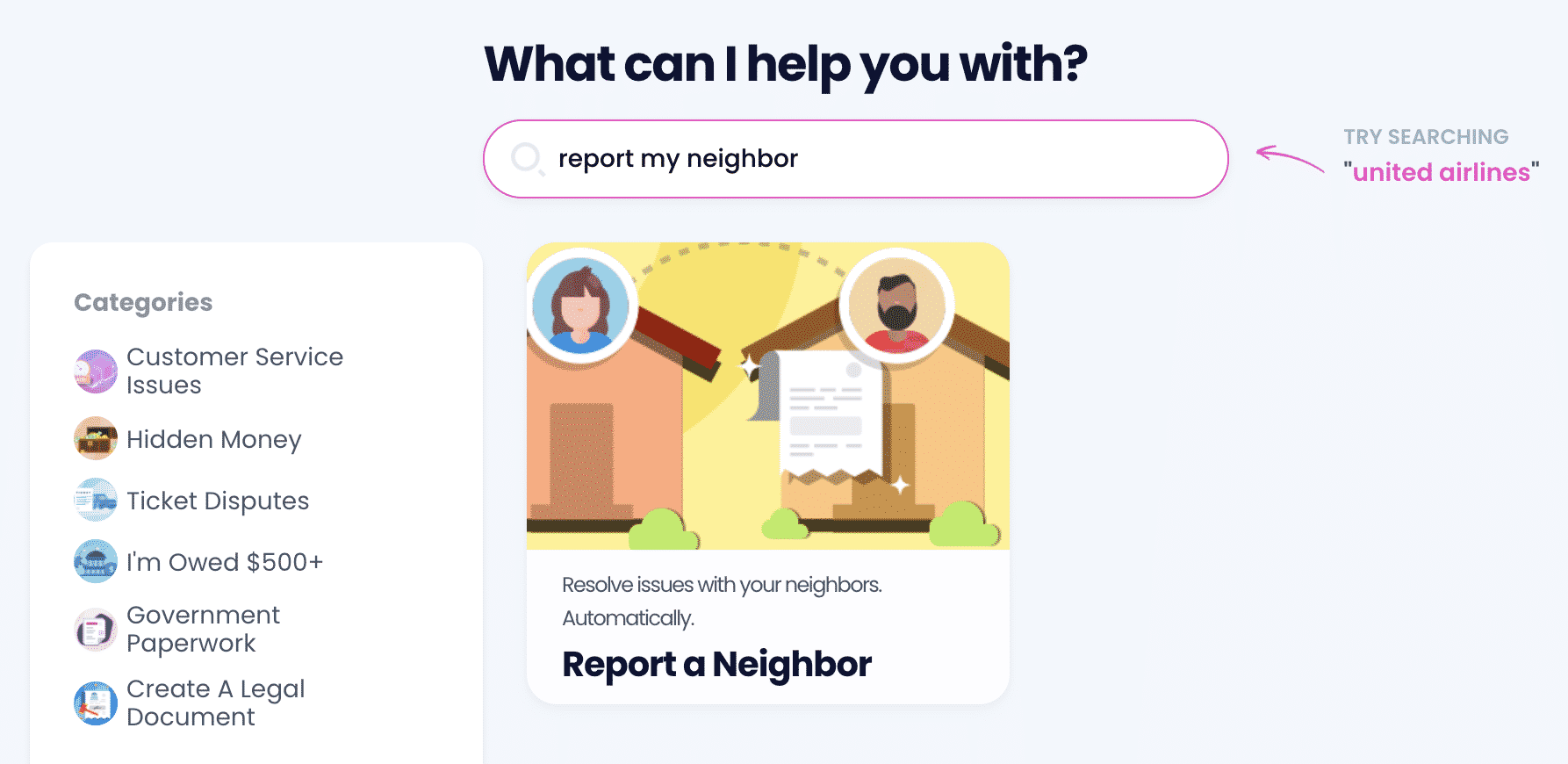 How Does DoNotPay's Product Work?
To use DoNotPay's Neighbors Complaint product, you need to take the following three steps:
and open the product
Click on the type of problem you're having with your neighbor
Provide details of your complaint—the date of the incident, previous attempts to resolve the issue, etc.
After you type in all the details, you should submit your request, and DoNotPay will create the demand letter automatically.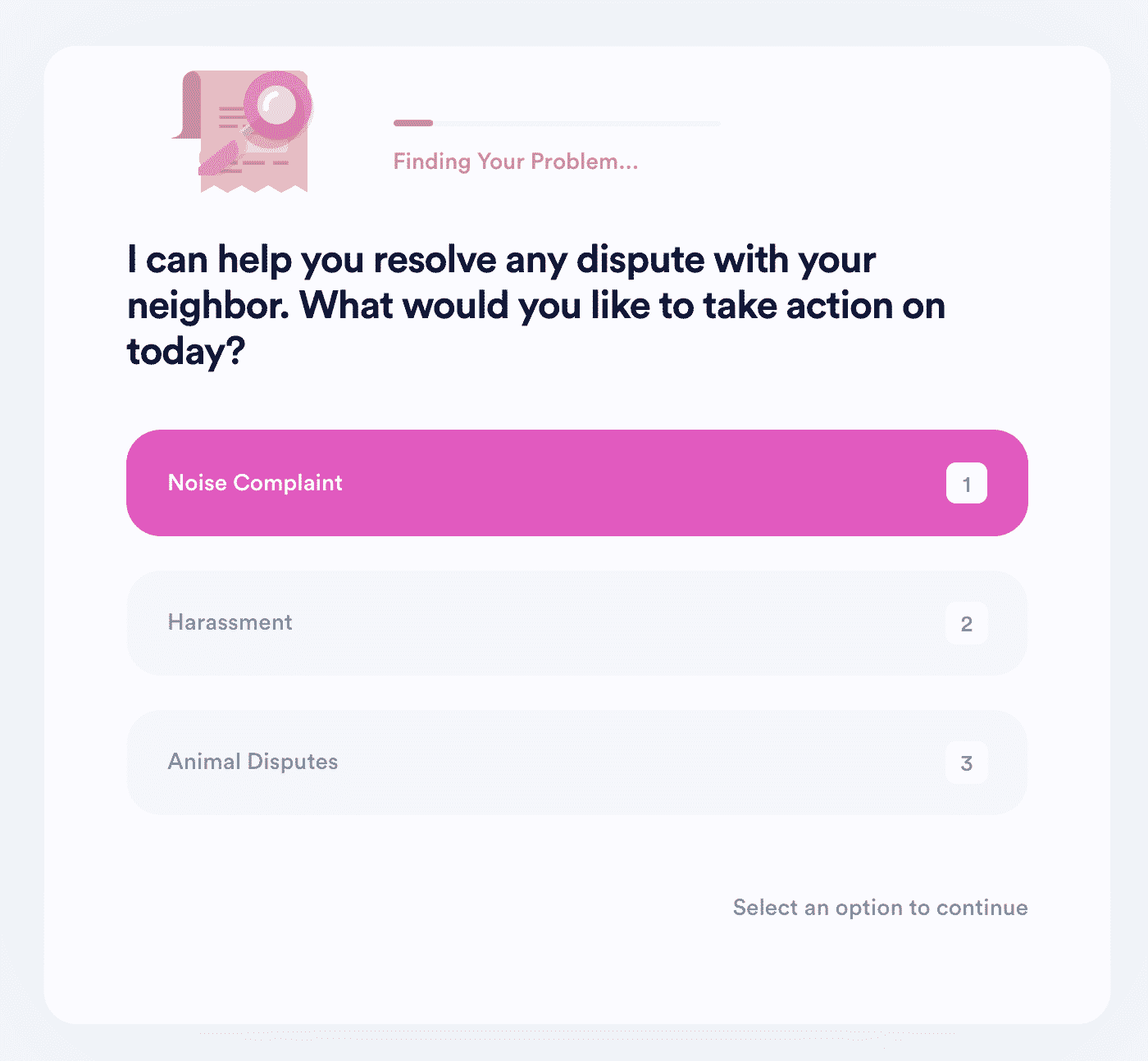 What Other Types of Neighbor Problems Can DoNotPay Help With?
DoNotPay's helpful learning center has a lot of different articles that might help with other types of issues with neighbors. Some of the questions we can answer are:
Can You Sue Neighbors Who Are Trespassing in Your Yard?
Yes! Based on tort law, you can sue your neighbor for trespassing in civil court. You can get compensation for any injuries that you suffered as a result of trespassing.
If you want to sue your neighbor for trespassing, you'll need to prove that they knowingly trespassed on your property with malicious intent and caused injuries or damage.
Say Goodbye to Administrative Issues—Rely on DoNotPay
Are annoying procedures—such as canceling memberships, disputing parking tickets, filing warranty and insurance claims, requesting refunds for purchased products or services—giving you headaches? Do you dread calling an airline's customer support to request a refund and compensation for a canceled flight? You're not alone! The good news is—DoNotPay can help you solve these issues stress-free!
You can use our app to prepare for your driving test or other government exams and schedule an appointment with the DMV in minutes.
Are you wondering whether you're paying too much for your property taxes? Make sure to try out our Property Tax feature and learn about the best way to reduce your property tax bill.
Annoyed by Spammers? DoNotPay Can Help!
With DoNotPay, you can get rid of spam emails and text messages and report robocalls in one fell swoop. Our Burner Phone feature will generate a fake phone number that you can provide upon registration for any service!
Besides helping you enjoy free trials without the risk of being charged, DoNotPay's virtual credit card has another advantage. It will provide a random email address you should use when signing up for a free trial. That way, you'll avoid pesky marketing emails and email notifications.