How To Keep Neighbors From Parking in Front of Your House—A Complete Guide
Is your annoying neighbor constantly parking in front of your house, and you don't know what to do about it? We understand that handling your inconsiderate neighbors parking where they're not supposed to can be difficult and that your bad neighbor might not want to resolve the issue. That's why DoNotPay delivers a complete guide on how to keep neighbors from parking in front of your house.
If you have issues with your neighbors repeatedly, take matters into your own hands. Sign up for DoNotPay to write a demand letter and put a stop to all kinds of issues, including loud pets, noisy neighbors, and more severe types of harassment!
Can Neighbors Park in Front of My House?
Yes, it's not illegal to park in front of your house, but it is inconsiderate indeed. Some other essential parking rules to keep in mind are:
Anyone can park a car in a public street for 72 hours—after that, the vehicle will be towed
If your neighbor parked a car in front of your house a few days ago and didn't move it yet, report it to the police. The neighbor might have stolen that car
It is illegal to park on a sidewalk
What Can I Do To Stop a Neighbor Parking in Front of My House?
If you're at your wits' end because of the issue and can't think straight, here are some strategies you can use to deal calmly with a parking-spot-stealing neighbor:
Write a note
Talk to them directly
Install security cameras
Put up signs in front of your property
Install a fence
Write a Note
Write a personal note to ask your neighbor politely to move their vehicle out of your parking spot. When they find it on their windshield, they may feel bad about taking your place when you're that nice about the situation. Use that sense of guilt to your advantage.
Talk to Them Directly
You can also approach the neighbor directly and ask them not to park in your driveway. Be calm and polite because aggression could provoke the neighbor. Some nasty neighbors might leave the car in your yard on purpose.
Install Security Cameras
Security cameras might make your neighbor change their mind before parking in front of your house.
Put Up Signs in Front of Your Property
Put up a No Parking sign on your fence and see if your neighbor decides to park there again.
Install a Fence
Establish dominance over your territory, decorate your yard, and prevent unwanted vehicles by installing a fence. Make sure your fence height is in compliance with local fencing laws.
What To Do if a Neighbor Insists on Parking in Front of My House
If approaching your neighbors in a friendly manner doesn't work out, you can explore other ways to show your neighbors your determination to put an end to this problem.
Final Warning—Write a Demand Letter
Your neighbors might take the situation seriously if they receive a written complaint. Use a demand letter to request compensation for any parking fees because you couldn't park in your yard. You can also warn your neighbor about potential legal action you will take if they don't move the vehicle.
Here are some things you should specify in this letter:
Your and the neighbor's information (names, addresses)
Your concerns
The solution you propose
Your contact information
Your intentions if they refuse to cooperate
No More Mister Nice Guy—Contact Parking Enforcement
When all else fails, gather evidence and file a complaint about illegal parking to your local parking enforcement. Valuable evidence to use in your complaint includes:
DoNotPay—Your Ally in the Fight Against Bad Neighbors
When peaceful methods don't work, take a step further with a legal demand letter. DoNotPay can create and mail a custom demand letter to your neighbor in a jiffy with these steps:
Open DoNotPay in your web browser
Navigate to the Neighbor Complaints service
Click on the category of your issue
Answer the questionnaire to provide us with enough details about your issue
That letter will include a summary of your complaint, the compensation you demand, and a warning to your neighbor about future legal action you might take.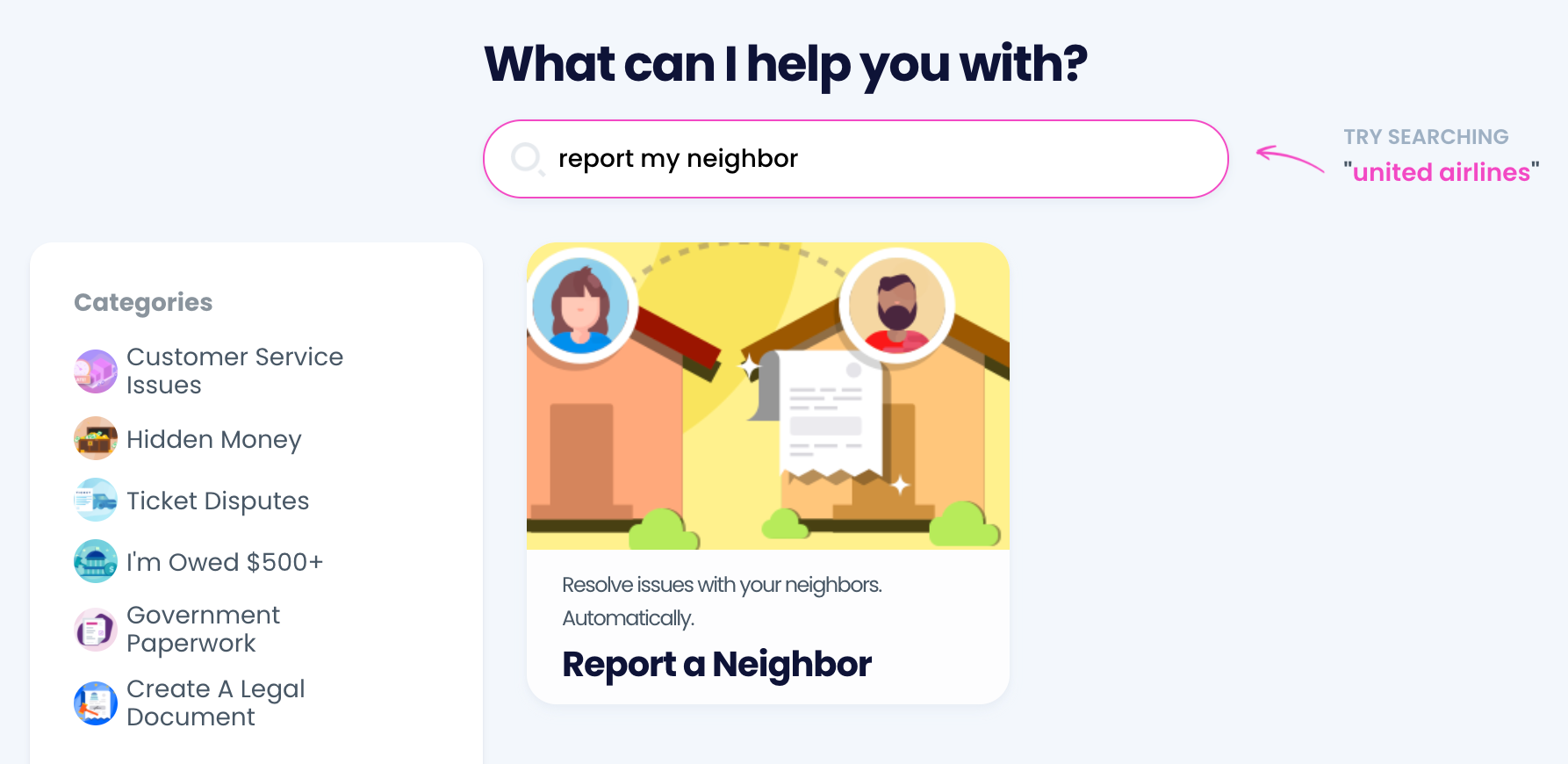 If you have a turbulent relationship with your neighbors, here are some articles to help you deal with the most common neighbor problems:
| | |
| --- | --- |
| Category | Issues |
| Loud neighbors | |
| Criminal conduct | |
| Annoying pets | |
DoNotPay can also help you:
DoNotPay—A Pocket-Sized Assistant
If you need protection from stalkers and harassers, we know what to do. Whether you want to deal with a rude or noisy neighbor or fight workplace discrimination, DoNotPay has got your back. Even spammers don't stand a chance against our AI-powered app—both the texters and the robocallers.
If your situation takes a turn for the worse, you may need to take the issue to court. In this case, the world's first robot lawyer swoops in to help! You can count on DoNotPay to assist you every step of the way, regardless of whether you need to take a person or a company to small claims court.
Our App Helps You Through Numerous Red-Tape Issues
Dealing with paperwork doesn't have to be tedious. With DoNotPay's help, cutting through red tape is fast and easy. With a few clicks in our app, you'll be able to: