How To Keep a Neighbor's Dog From Pooping in My Yard Without Hassle
People frequently complain about their neighbors' dogs—be it because of barking, running around loose, or pooping in their yards. Some individuals become so frustrated with their neighbors' inability or unwillingness to control their pets that they resort to horrible measures, such as poisoning or shooting the animal.
There is no need to lose your temper if the neighbor's dog uses your yard as a pooping area—a few certified tricks can help you stop the nuisance once and for all. DoNotPay will answer the "How to keep neighbor's dog from pooping in my yard" question and offer a bullet-proof solution to your problem!
Is It Legal for a Neighbor's Dog To Poop in My Yard?
While a neighbor's dog pooping on your prize-winning azaleas is annoying, it is not always considered illegal. Some states—such as Maryland and Virginia—have issued strict animal control regulations obligating the owners to keep their dogs in constraint in public places and prevent them from passing feces in other people's yards. Other states may not have such rules defined.
Your best bet is to check local ordinances and see what you can legally do about neighbor's dogs relieving themselves in your garden. If you're not sure how to find the laws regulating this matter, local authorities may have the answer.
How To Keep Neighbors' Dogs From Pooping in My Yard
Before filing a complaint against your neighbor, you should try handling the issue peacefully by:
Using effective tricks
Discussing the matter with your neighbor
Apply Helpful Tricks
You can stop the nuisance by applying some of the tricks presented in the table below:
Tricks
Details
Create barriers
A high fence around your yard will likely keep the neighbor's dog away
Install security cameras
You can keep the footage of the neighbor's dog pooping in your yard as proof. Another way is to put up a sign that says your house is under 24/7 monitoring
Establish neighborhood watch
Other people in the area may have a similar problem. A neighborhood watch can establish rules of behavior and prevent many other issues, such as:
Use smells and dog repellents
Helpful dog deterrents include:

Lawn sprinklers
Mothballs
Harmless plants that dogs don't like, such as rue and citruses

Dogs are wary of entering yards with an unfamiliar smell, so consider using a different fertilizer

Set up warning signs
Putting up noticeable warning signs is considered one of the most polite yet most effective ways of informing your neighbors that you don't tolerate specific behavior
Create a poo zone
You can designate an area, typically one with sand, and encourage the neighborhood dogs to do their business there
Have a Talk With Your Neighbor
A polite conversation will not only save the relationship with your neighbor but also spare you from losing time and nerves on legal proceedings.
You can apply the following tips to make the talk go smoothly:
Find an appropriate time to chat—Imposing on your neighbor when they return home from work tired may not bring the desired results
Make a smooth transition—You can start talking about your garden-keeping habits and slowly navigate the conversation towards the problem
Share your feelings—Instead of blaming or threatening the neighbor, try explaining why the dog's poop bothers you (the mess, the smell, etc.)
Offer suggestions—If they seem receptive to your complaint, suggest using doggy bags or inform them about the nearest pet waste stations
If your neighbor refuses to cooperate, you should send a demand letter informing them of the potential legal consequences of their actions. You can use a sample letter or let DoNotPay create a top-notch demand letter for you!
Use DoNotPay To Create a Demand Letter That Won't Stink
A well-drafted, professional demand letter is usually all it takes to set the neighbors straight. That's why you should rely on DoNotPay and avoid writing the letter yourself.
We will use the details you provide to customize the letter according to your circumstances. It will contain the following:
Arbitration notice
Legal actions you will take if your demands aren't met
Compensation you expect from your neighbor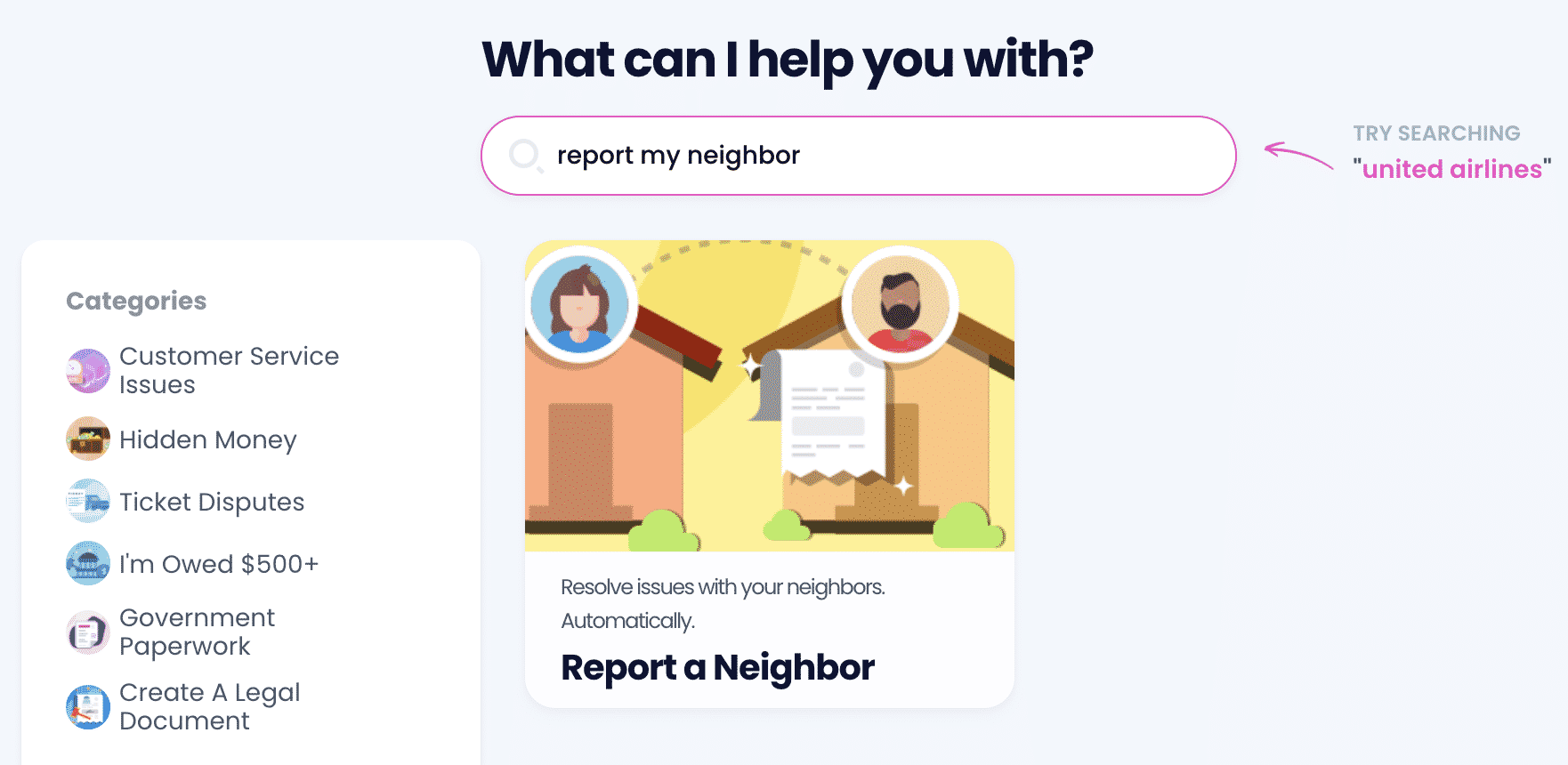 You only need to open DoNotPay in a web browser and:
Go to our Neighbor Complaint product
Select the issue you're dealing with
Answer our chatbot's questions about your situation
We will not only create but also send the letter to the inconsiderate neighbor promptly.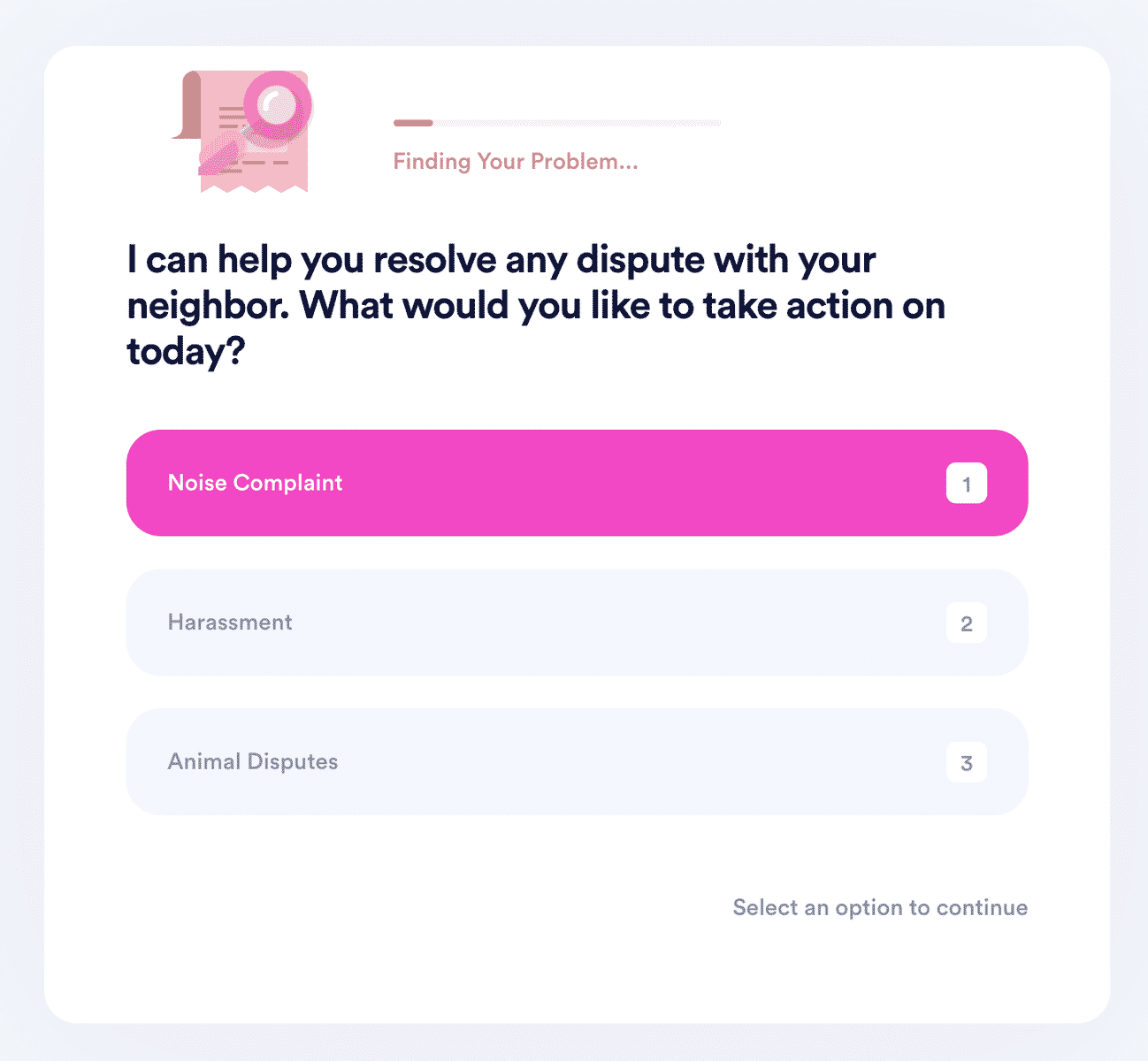 If your neighbors still show no respect for your property, you should call animal control authorities. You must inform them of the following:
Which neighborhood you live in
How often the dog visits your property
If other neighbors are experiencing the same problem
After a certain number of complaints, local authorities will start keeping a closer eye on your neighbors and resolve the problem for you.
What Other Neighbor-Related Issues Can We Solve?
If you have any other neighbor-related issues, such as noisy neighbors, we can help by teaching you how to write a polite complaint letter.
When there's no other choice but to contact the police, you should learn how to document neighbor harassment and explore your legal options against annoying neighbors. Check out our learning center and find out how to deal with neighbors:
Learn About DoNotPay's Awesome Products!
DoNotPay is a multifunctional app that can solve numerous everyday challenges swiftly.
You can use our app to protect your work from copyright violations, schedule your driving exam or any other appointment with the DMV, reduce your property taxes in a few steps, and similar.
We have created many useful products to help our users take care of their issues through the same app. With us, you can:
DoNotPay Connects You With Your Loved Ones
Sending letters to inmates can be difficult since you have to follow certain rules to a T to avoid having your letter rejected. The situation is even more complicated if you don't know where your incarcerated loved one serves time. DoNotPay's app can help you locate prisoners and correspond with them without worrying whether you're breaking any rules.
Do you want to send a letter, but you don't feel like heading over to a post office? By using our mailing service, you can mail as many letters as you want from the comfort of your home. With DoNotPay, you can also send online faxes in under five minutes!
Email and text spam is something that everyone experiences at least once in their lives. DoNotPay has a solution for that too. Access your DoNotPay account and count on us to help you block spam and get compensation by reporting pesky robocalls.