How To Keep Neighbor's Cats Out of My Yard
Has your neighbor's cat made your yard their territory? If you're frustrated because their feline friend not only poops in your yard but also tears off your home-grown flowers and veggies, let us help you out!
You don't have to google "how to keep my neighbor's cats out of my yard" anymore. Sign up for DoNotPay and get all the tips and tricks you need to prevent any cat from entering your property.
Why Should You Keep Cats Out of Your Yard?
There are many reasons for not wanting a cat in your yard:
Cats can ruin your well-maintained garden, including your flowers and vegetables, by scratching the plants or digging the soil they're growing on
They can poop on your lawn. Cat feces contain parasites and pathogens that can be harmful in the long run
Cleaning up poop is a hassle, especially if the pet is not yours
Cats can leave dead animals in your yard
You might own a pet, and they can feel threatened when another animal enters their territory
How Can I Keep My Neighbor's Cats Out of My Yard?
There are several actions you can take to prevent a neighbor's cat from entering your yard, as mentioned in the table below:
Potential Remedies
Details
Scents
Cats detest scents like citrus, rue, and lavender. You can:

Spread orange or lemon peels over your lawn
Use citrus- or lavender-scented spray
Plant garlic in your yard
Sprinkle coffee beans around the garden

Make the soil prickly
Cats like walking on soft surfaces. If you create a prickly surface, cats are less likely to come by. Here's how to do it:

Cover the soil in twigs
Add pine cones or other thorny yard trimmings
Place chicken wire on the ground

Washing up the area
If the cat has a specific location it visits, wash that area with a garden hose to remove its scent
Fences
Place a fence around your yard, high enough to prevent your neighbor's cat from entering. Electric low voltage fences are forbidden in the U.S., so don't resort to them
Motion detecting lawn sprinkler
You can install lawn sprinklers with motion detectors. As soon as they detect any movement, they turn on and drench the pet who tried to invade your yard. Set a timer to ensure it's the cat getting soaked and not you
Many people recommend placing moth balls around the garden, but they are toxic to both humans and animals and are not recommended.
Check the Local Laws
Before taking any action, it's important to check local laws. Pay attention to the following clauses:
Number of animals allowed per household
Types of animals
Cleaning up after a pet
If your issue is not included in the local legislation, the police department might not be able to help you unless there is an emergency.
Try Making a Deal With Your Neighbors
Negotiating is the best way to maintain cordial relations and prevent escalation. It's important to stay calm during the process, no matter how frustrating it gets. You can follow these instructions to make a deal with your feline-loving neighbors:
Visit them in person and be polite
Exchange pleasantries before going into the issue
Let them know how their cat's behavior affects you
Tell them what measures they can take to prevent their cat from invading your yard
Ask them if there is anything you can do to help
Feel free to mention if any local or neighborhood rules are broken, but use it as a secret weapon in the end.
If your neighbor's don't take you seriously, it's time for DoNotPay to jump in.
DoNotPay Can Help Create a Demand Letter in Minutes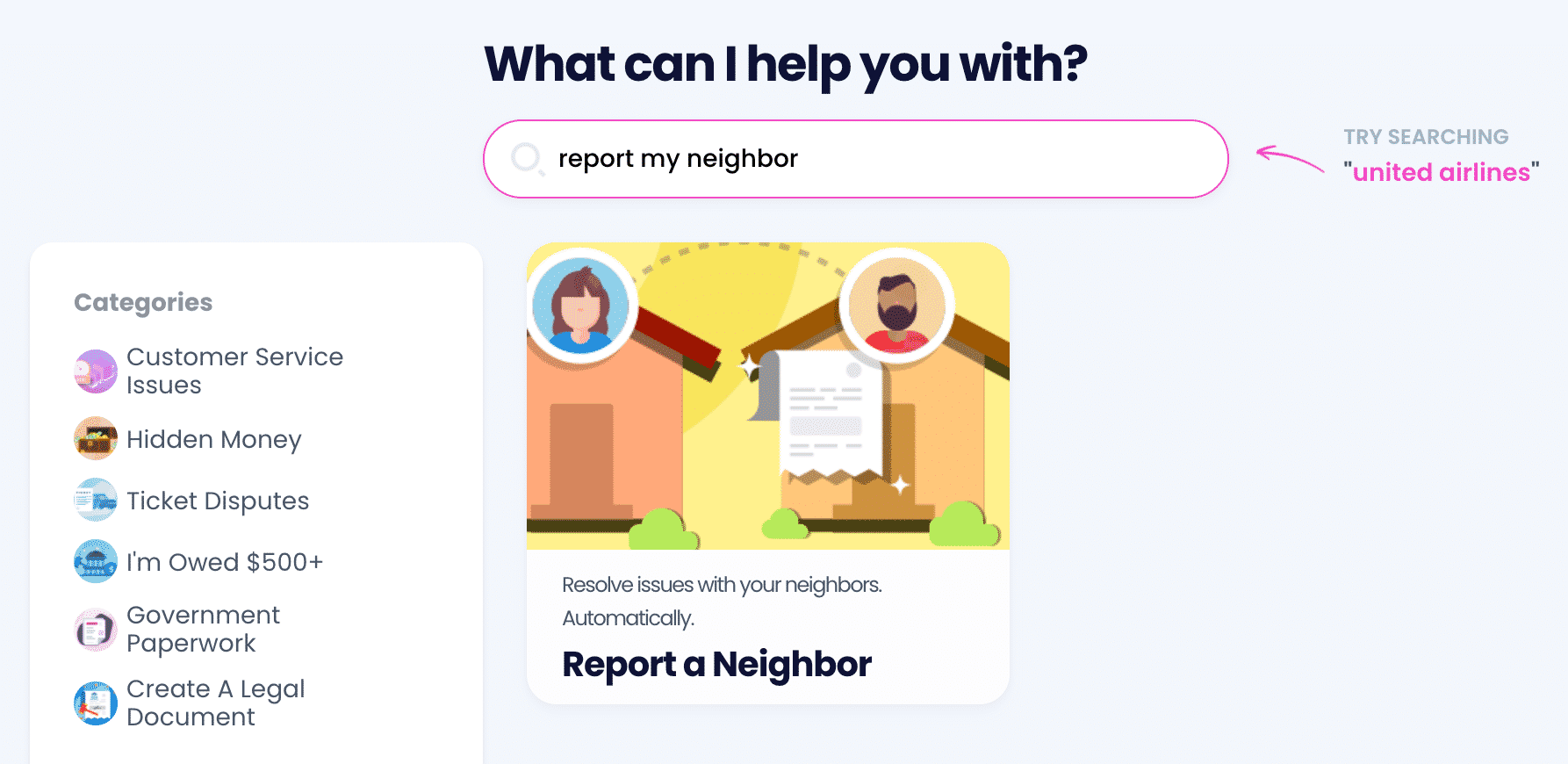 If your neighbor isn't interested in resolving the issue, you should send them a demand letter warning them about the legal consequences they might face. DoNotPay can create a demand letter for you in no time. Here's what you need to do:
Open DoNotPay in your web browser
Search for the Neighbor Complaints tool
Select the type of neighbor complaint you want to file
Add details to help us personalize it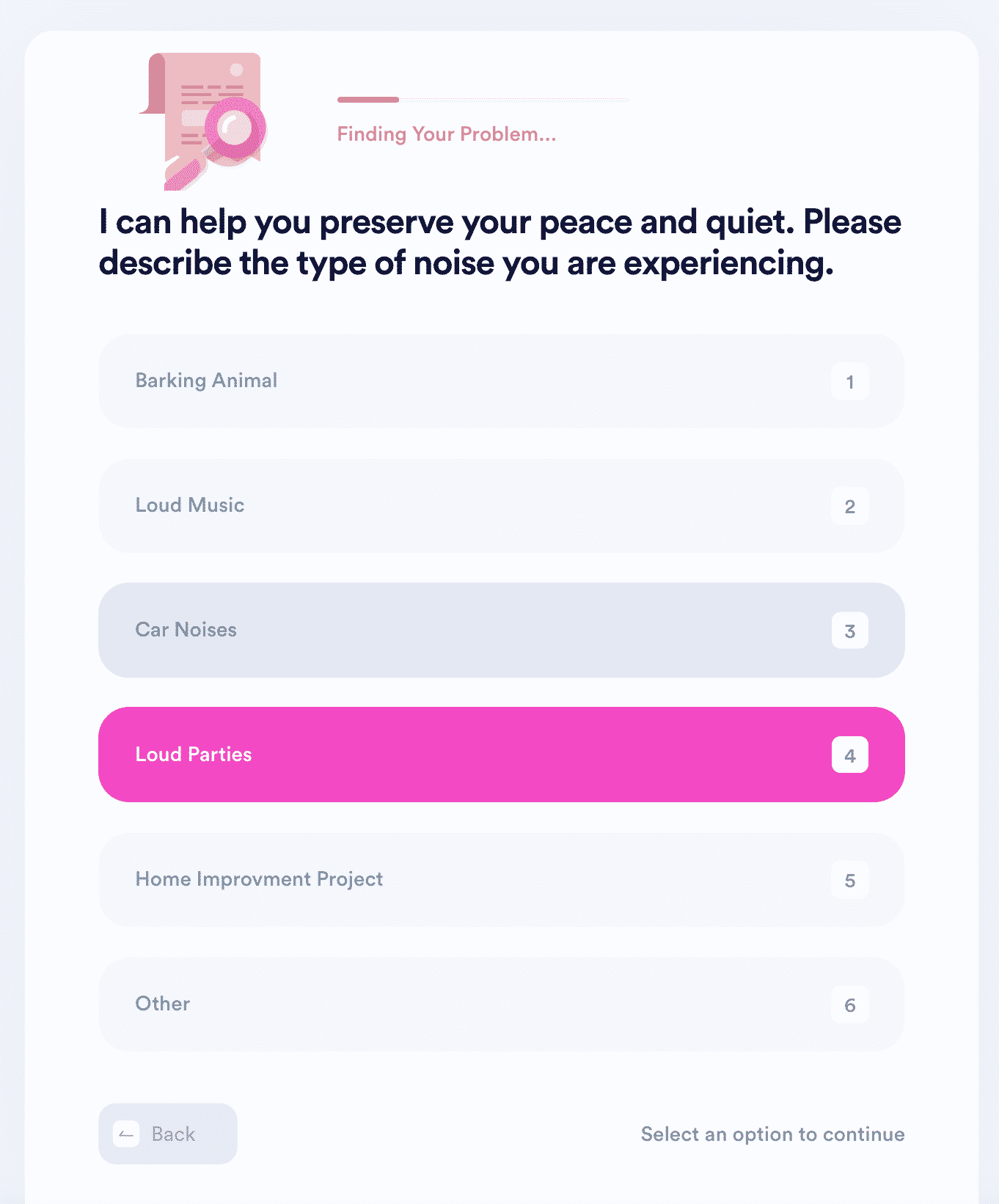 We will generate the demand letter and mail it to your neighbor. In most cases, people will try and avoid facing legal action and handle the issue themselves.
If you need help with noisy and harassing neighbors or the ones with a loud dog, we can help you write a letter or explain how to file a complaint with the local authorities. Check out some other neighbor-related problems that we tackle:
| | | |
| --- | --- | --- |
| Noisy Neighbors | Criminal Neighbor Behavior | Neighbor's Pets |
| | | |
Easy-Breezy Ways To Deal With Not So Breezy Issues
Administrative and similar tasks don't have to be as complicated as we've known them to be. With DoNotPay, dealing with paperwork and companies is done in a few clicks. Let the world's first robot lawyer help you:
Money Troubles? I Don't Know Her!
As our app's name says, DoNotPay's mission is to put a stop to losing money and overpaying. We will help you get your hands on free trials and snatch free raffle tickets. DoNotPay can also provide solutions for you to get help covering bills and reduce your property taxes.
If you want to get some additional funds, use our app to sign up for clinical trials. You may also take our practice tests to ace a government test and land a better-paying job.
It doesn't hurt to check whether you are owed some unclaimed money, and we can help you with the application.