Learn How To Ignore Bad Neighbors Like a Pro!
Having nice neighbors is great, but sadly, that's not always the case. You can't predict nor choose what kind of neighbors you will have, but you can pick the best way to deal with them. If you want to learn how to ignore bad neighbors without any hassle, count on this article to provide you with everything you need to know.
, and learn how to deal with your neighbors without breaking a sweat!
How To Approach Your Rude Neighbors
Rude neighbors can be difficult to deal with, especially if they're unwilling to listen and communicate normally. You should still try to approach them and see whether you can make the best out of the bad situation. Perhaps your rude neighbor will hear you out and think about what you said.
You shouldn't stoop to their level. Approach your rude neighbor calmly, and try explaining what bothers you in the nicest way possible. If your neighbor isn't willing to listen nor change their behavior, we'll show you the alternative methods you can give a try.
Try Negotiating With Your Rude Neighbors
Let's say your rude neighbor won't listen to you and doesn't care about what bothers you. Now what? It's possible that your neighbor's interests will peak once you offer them an item of value in exchange for something you need.
Start negotiating by asking your neighbor what they want and see if it is something that you can provide for them. Tell them what you need as well, and find the middle ground.
Keep in mind that if your neighbor violates the law in any way, you shouldn't even try to negotiate. Contact the authorities right away and let them deal with the issue instead.
Simple Yet Efficient Ways To Ignore Your Rude Neighbors
Since you're looking for ways to ignore your bad neighbors, check out the list below for the most convenient ones:
Cutting off contact with them—Lock your doors and shut your curtains to effectively avoid talking to your rude neighbors. Once they see you're not interested in any communication with them, they should lay off
Blocking out the noise—Buy a set of noise-canceling headphones or a white noise machine to quiet the noise coming from your rude neighbors
Inviting your friends over—Call your friends to come over and spend some quality time with them. You'll be able to distract yourself from your bad neighbors and have fun in doing so
How To Deal With Rude Neighbors in Four Ways
Try your best to reason with your neighbor before opting for another solution. If a polite chat and negotiation didn't take, here are the alternative options you should try:
Option
How It Works
Working with a mediator
If you tried reasoning with your neighbor and didn't succeed in doing so, you should involve an intermediary. Sometimes, an unbiased third party can help you work things out and resolve the issue easily. This third party can be:

A landlord
A building manager
Any other person you think can help in such a situation

Involving your homeowner's association
Homeowners associations (HOA) have specific guidelines and rules on solving neighbor disputes. If you rent a property that comes with an HOA, and your neighbor fails to follow its guidelines, you can involve the association and have it help you deal with your rude neighbor
Referring to local laws
Check the local zoning and ordinance laws to see if you can prove that your rude neighbor violated any. Before taking this step, you should exhaust all of the previous methods. Involving the law and authorities is a serious step, and it shouldn't be taken lightly
Contacting the authorities
You can contact the authorities and file a complaint against your bad neighbor, but you should do this only in extreme situations. Call the authorities only if:

You feel unsafe
Your rude neighbor breaks a law
There's nothing else you can do
Use DoNotPay To Make a Demand Letter in a Jiffy!
If your neighbor isn't taking your demands and complaints seriously, DoNotPay will help you compose a demand letter easily! You get to show your neighbors that your complaints are serious and that there are consequences to their actions. All you have to do to get started is complete the following instructions:
Select the Neighbor Complaint feature
Choose the type of neighbor complaint you're having and answer a few questions
We'll get to drafting your demand letter right away!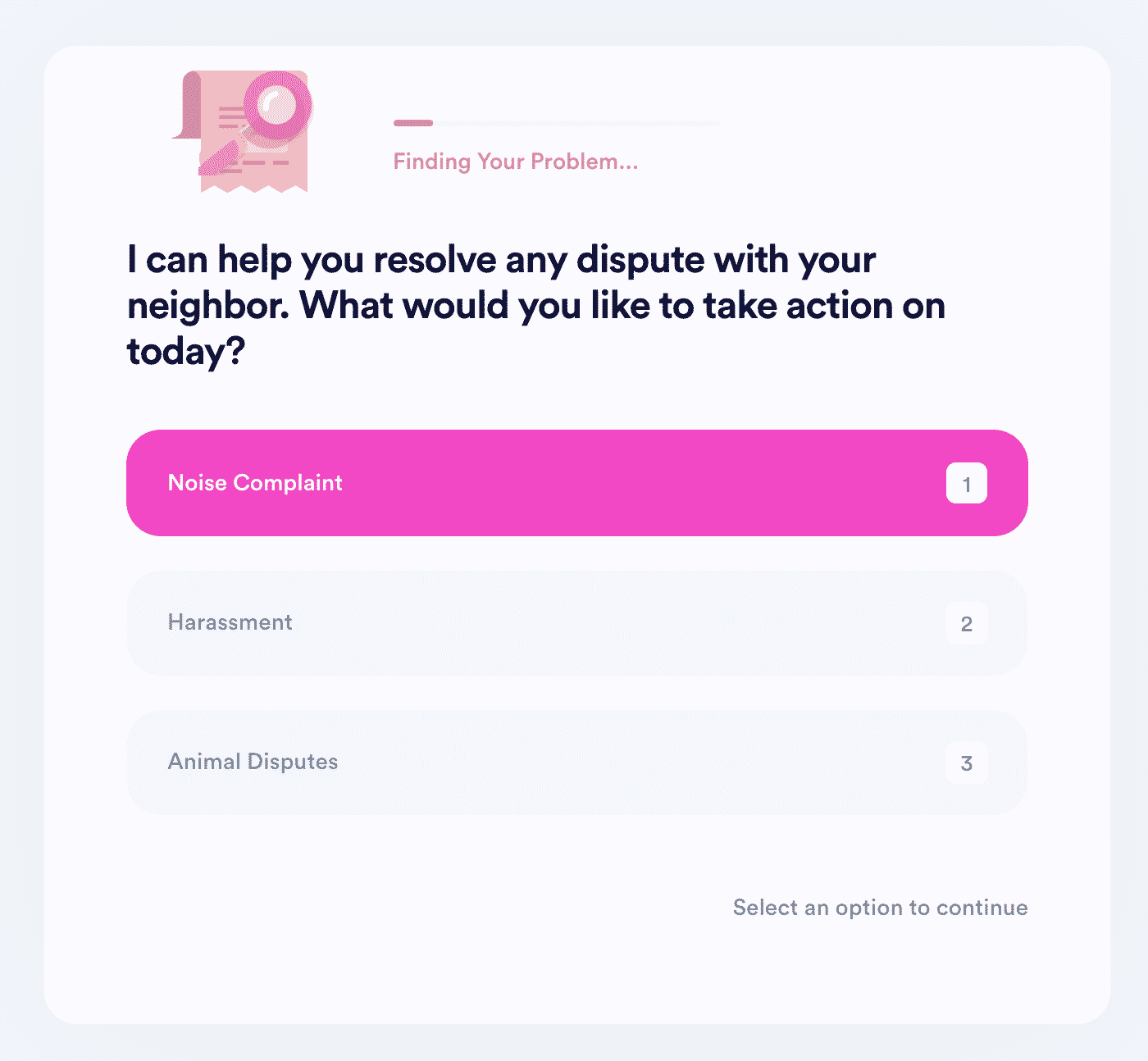 Deal With Thy Neighbors Anytime Anywhere!
Helping you ignore bad neighbors isn't everything DoNotPay can do! You can explore our Al-powered app's database and find solutions to numerous neighbor-related issues! Check out the list below for a fraction of the issues we'll help you solve:
There's More DoNotPay Can Do for You
In case you're struggling to cover your bills, our hacks may help you earn or save some extra money. Use our app to sign up for paid clinical trials in your area and try your luck with free raffle tickets. We can also help you get late delivery refunds and cash back on gift cards. You may not even know that you have funds lying around—rely on DoNotPay to uncover your unclaimed money.
If you have any documents or letters you need to send, we can save you the trouble of using a fax machine or waiting in line at a post office, thanks to our nifty products—Online Fax and Mailing Service.
Fast-Track Your Tasks With DoNotPay
If you've been putting off your errands because they take too long or they are too complicated, we know what to do! From filing insurance claims, getting documents notarized, submitting item return requests, and getting a child travel consent—there isn't much we can't streamline for you.
You can count on our assistance even for more serious and complex tasks, such as: