Tips and Tricks on How To Give Someone Power of Attorney
Do you want to create a power of attorney document but don't know who to choose as your agent and how to appoint them? Let us help you with the process!
In this article, DoNotPay will teach you what you need to know about how to give someone the power of attorney. Subscribe to our app, and draft a customized power of attorney document in the blink of an eye.
What Is a Power of Attorney?
A power of attorney (POA) is a legal document in which the principal gives power to the agent to act on their behalf in legal, business, healthcare, and real estate matters. A power of attorney holder can have the general power to make all decisions or limited powers to make specific decisions, depending on the terms of the document.
There are various details that you need to include when creating a POA document:
Relevant state laws and regulations
Effective date and duration of the agreement
The amount of responsibility you hand to the agent
The number of agents you want to hand over the responsibility to
Who Can You Assign as the Agent?
It is crucial that you choose the right person for the job—someone you can trust to make decisions when you are unable to. Most people select the following persons to hold the power of attorney:
Spouse
Child, if they are above 18 years of age
Close friend
Trusted accountant or lawyer
What Types of Powers of Attorney Can You Make?
If you're confused about which power of attorney you should go for, here are the options you can choose from:
Power of Attorney Type
Brief Explanation
General
The agent can make all legal and business decisions on behalf of the principal
Limited
The agent has limited authority and can only act on specific matters or in particular situations
Springing
The power of attorney becomes effective if a certain event takes place, such as when the principal becomes mentally incapacitated
Durable
The power of attorney is effective even if the principal has become ill or is unable to manage their affairs
Medical
The agent is assigned to make medical decisions for the principal, including the decisions about:

Surgery
Clinical treatment
Selection of healthcare worker

Financial
The agent makes financial decisions for the principal and has access to their bank accounts and other assets
What You Should Look for in a POA Agent
Although it is easy to select someone you know, you also need to make sure that they will respect your wishes and act in your best interests. The person you choose will have access to your legal, business, and other important documents.
Here are a few traits that you should look for when choosing an agent:
Someone who lives in or near your house
A person you can trust to make the best decision for you
Someone who can be assertive when making difficult decisions
A person who is willing to act in your best interest and can make the time to carry out the responsibilities
A person who will understand and honor their duties and responsibilities
How To Appoint a Power of Attorney Holder
The principal needs to have sufficient mental and physical capacity to create a power of attorney. It is imperative that they fully understand the nature and contents of the document before they sign it.
The principal can select more than one person to act as their agent. Bear in mind that if you have multiple agents, they might have different perspectives on how to deal with your financial and other key issues.
For appointing a power of attorney agent, here are the steps you need to follow:
Method
Steps To Follow
Choose the person

Identify the potential candidates
Talk to them about their willingness to act on your behalf
Ensure that the person you select is suitable for the job
Decide the kind of power of attorney you are looking for
Consult a lawyer to discuss any issues you might have

Draft the agreement

Research relevant laws
Write the first draft
Include the necessary sections, for example, the powers you're transferring to the agent and the effective date of the agreement
Print and sign the agreement

Finalize the agreement

Get the document signed by the agent
Have the document notarized, if required by state law
Keep a copy with you, and send one to your lawyer
In case you don't want to go through the hassle of creating the power of attorney by yourself, DoNotPay can do it for you.
DoNotPay Can Help You Create a Power of Attorney in an Instant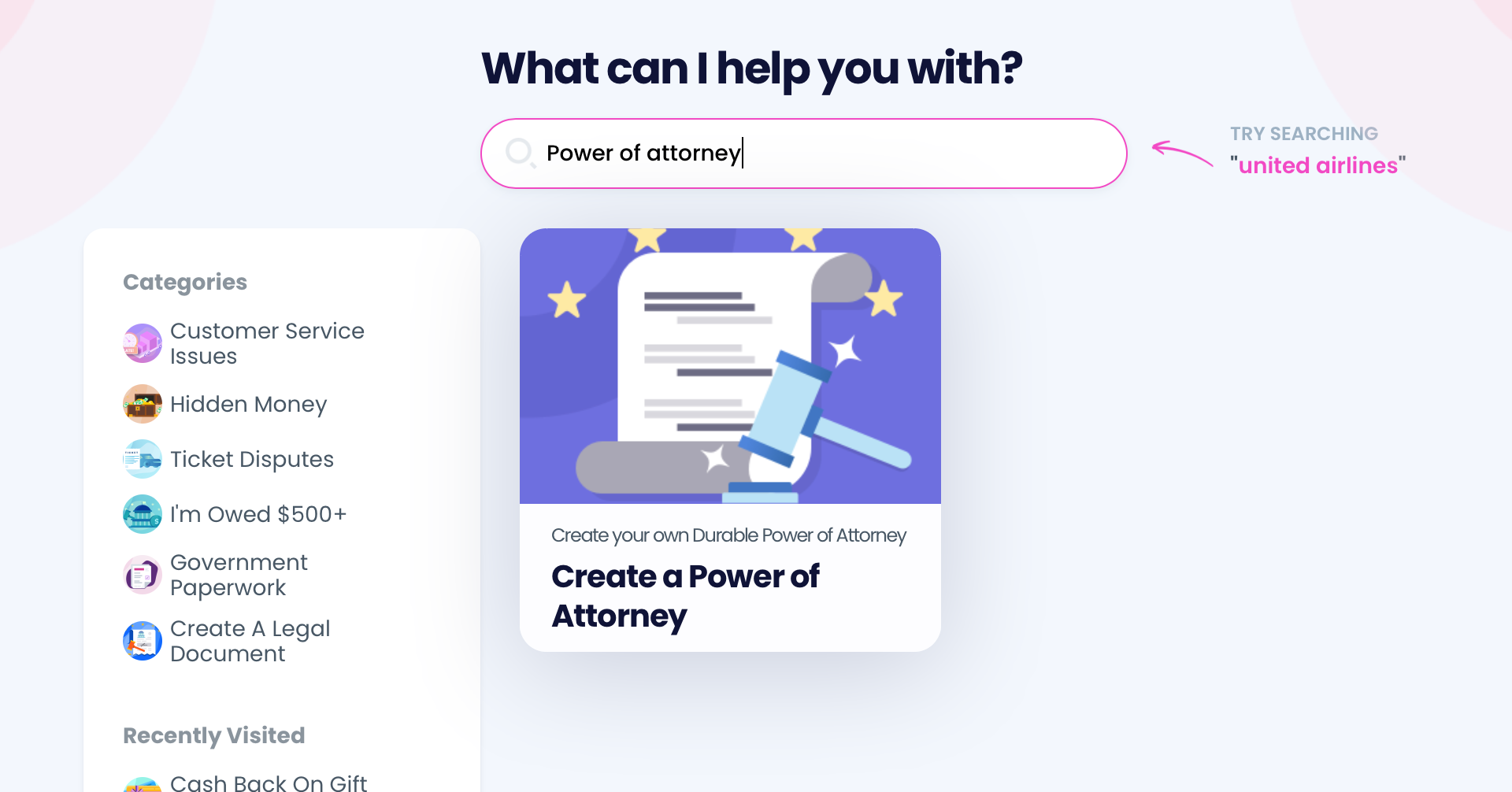 Do you want to create a killer power of attorney? Trust DoNotPay to help you out! Our app will collect all the vital info and create a personalized document in a snap. All you need to do is follow these easy instructions:
Access DoNotPay from a web browser
Search for the Power of Attorney feature
Answer our chatbot's questions so we can customize the document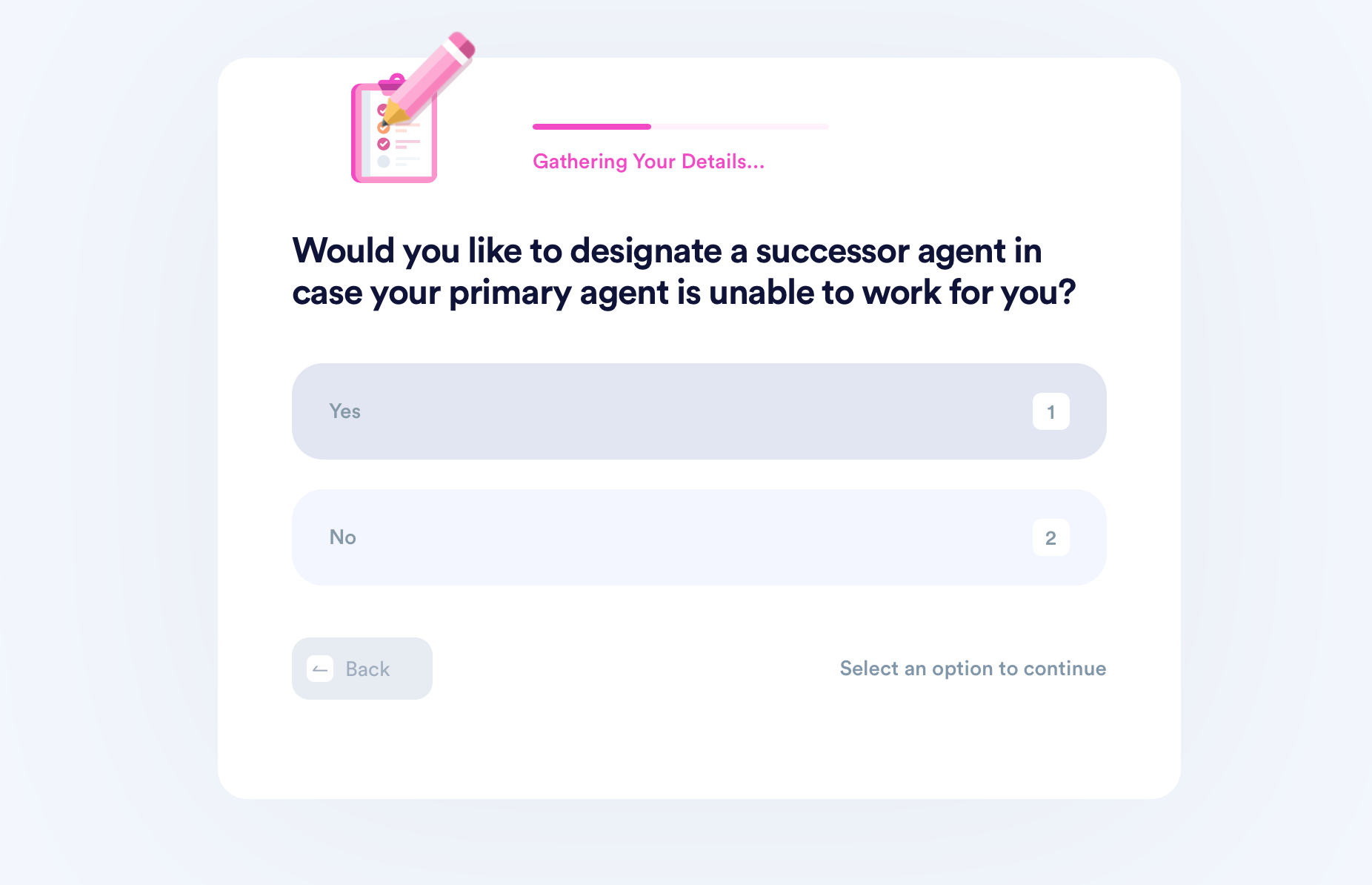 Once you're done, DoNotPay will finalize the power of attorney letter and send it to you, along with two must-read notices. Both you and your agent should read and understand them before signing the document.
Most states require a POA document to be notarized. If you're wondering where to find a notary to witness the signing, we can help with that too! With our Notarize Any Document feature, you can skip the long search and get an appointment with an online notary in a matter of minutes!
Rely on DoNotPay When You're Too Tired of Bureaucratic Hurdles
Are you sick of all the bureaucratic tasks you need to complete? So were all of our users before they signed up for our robot lawyer app. DoNotPay can take care of anything—you just need to click a few times, and we'll help you:
Can't Tolerate Corporate Attitudes? Neither Can We!
Our app's goal is to fight big corporations and help you get justice. If you feel like a company wronged you, we can assist you in suing it in small claims court. If you need to draw up a legal document, have it notarized, and fax it, DoNotPay can take care of that as well.
Feel like you're being discriminated against at your workplace? We have a product that will help you file a charge of discrimination with the EEOC in no time! Are you threatened by a stalker or harasser? No need to worry about it—DoNotPay will protect you and help you earn off them at the same time.