How To Get Rid of Roaches Coming From a Neighbor's House in an Instant
Did you wake up at night with a shudder only to realize a cockroach just crawled over your face? Do you suspect that your neighbor is the source of this infestation? DoNotPay can help you escalate the issue!
If you need to figure out how to get rid of roaches coming from a neighbor's house, we've got your sorted. and learn about all the different ways you can keep cockroaches away from your house!
How To Keep Roaches Out of Your House
Are you worried about roaches not only because they're disgusting but also because you're scared of them? As long as you keep providing a comfortable place for roaches to live, they will keep coming back. Here are a few tried-and-true methods you can use to keep cockroaches out of your house:
Ways To Keep Roaches Out of Your House
Details
Use airtight containers
Use containers with tight-fitting lids, sealable plastic bins, insect-proof canisters, or zip locks to seal food
Spray cockroach-repellent scents
Roaches hate lavender, citrus, and eucalyptus. Use these sprays in the dark corners of your house, especially in kitchen and bathroom drains
Take the trash out
Roaches are attracted by trash, so make sure to take it out every day
Clear your clutter
Roaches love laying eggs on clutter, so clean all your dirty plates and clothes
Mop, mop, mop!
Make sure to clean under your bed, tables, and refrigerator. All dark nooks and crannies must be cleaned every day
Close down the cockroach freeway
Roaches are most active during the night, so make sure you do the following:

Cover any holes in your wall with steel wool
Seal cracks with silicone sealant
Cover kitchen and bathroom drains

Call an exterminator
If the roach problem is too big for you to handle yourself, hire a professional exterminator to do the job
Confront Your Neighbor
If you're sure that your neighbor is the source of your roach problem, it's time to confront them. Avoid going to their house in a huff. The friendlier you are, the more accommodating they will be. Here's what you should do:
Go to their house
Inform them that roaches from their house have infested your house as well
Explain how cockroaches can carry germs and infect your environment
Let them know that this issue stresses you out
Offer solutions to getting rid of the infestation, including cleaning their house or hiring an exterminator
Send a Demand Letter
Often, infestations are a source of embarrassment for people. Neighbors can get defensive and refuse to admit they have an insect problem. You can do everything you can to remove roaches from your home, but if your neighbor's house is infested, they will keep coming back.
If your neighbor refuses to listen to your request or is a little too comfortable with the creepy crawlies, it's time to take serious action. Send them a formal demand letter with the following details:
Arbitration notice
Document evidence of infestation
Possible legal consequences if they don't comply
Financial compensation for extermination
Do you need help drafting an immaculate demand letter? Subscribe to DoNotPay, and create one in a matter of minutes!
Can You Sue Your Neighbor for a Roach Infestation?
Although you have the option to sue your neighbor for roach infestation, it's quite difficult to prove that the infestation is caused by your neighbor unless they are naive enough to confess. You can only document proof of your roach problem. Your neighbor might not be willing to have their house professionally inspected.
Instead, file a complaint with your landlord, who can talk to the neighbor on your behalf.
DoNotPay Can Draft a Demand Letter in the Blink of an Eye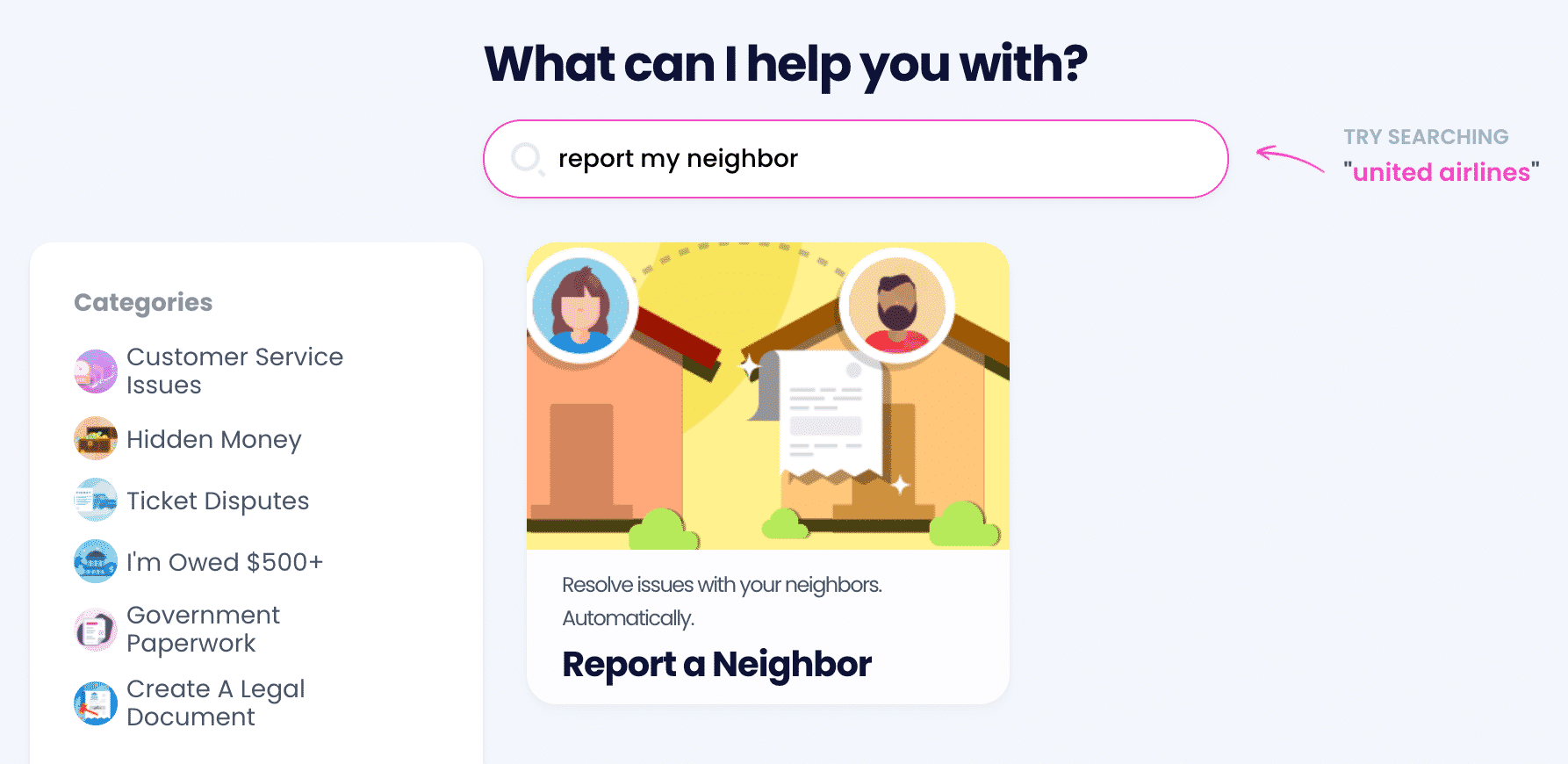 Are your neighbors mean and inconsiderate? Send them a demand letter using DoNotPay! All you have to do is follow these instructions:
in your web browser
Search for the Neighbor Complaint service
Specify your neighbor-related issue
Provide more information to personalize the document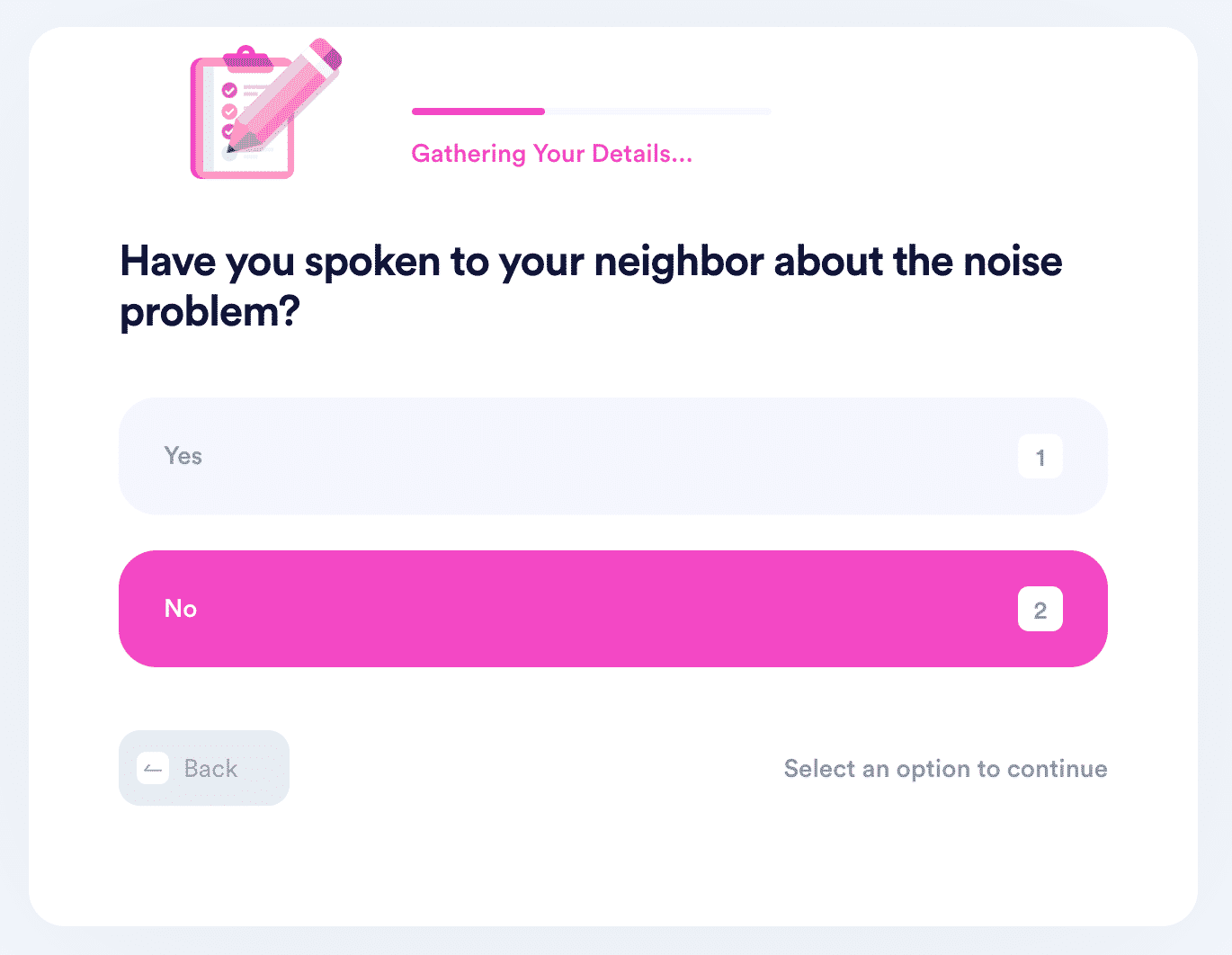 We will generate the letter and send it to your neighbor. In most cases, that is enough to make your neighbor come to their senses and resolve the situation. If not, file a formal complaint or take legal action depending on the severity of the complaint.
DoNotPay Can Provide Practical Advice on Various Neighbor-Related Issues
DoNotPay can assist with all sorts of neighbor-related issues, such as:
| | | |
| --- | --- | --- |
| Noisy Neighbors | Criminal Neighbor Behavior | Neighbors' Pets |
| | | |
Do you need help in documenting neighbor harassment or figuring out how to deal with bad neighbors? We've got your back!
When You're In Over Your Head, DoNotPay Swoops In
With your virtual assistant extraordinaire, many tasks will be a breeze to deal with.
No fax machine? No problem! Use DoNotPay to send faxes online. If you don't want to waste time waiting in lines or on the phone, we come to the rescue with many of our products that will help you:
What Else Does DoNotPay Have in Store for You?
You can count on our assistance when you want to get rid of:
Our app has even more to offer—try out our hacks that will save you money and do the heavy lifting in numerous tasks: