How To Get Rid Of Drug Addict Neighbors Without Raising Their Suspicion and Getting in Harm's Way
If you live next to addicts, it's normal to feel unsafe and alarmed, looking for a way to get rid of them. While it stands to reason that you want addicts as far away from your family as possible, you should tackle the issue cautiously and avoid the direct approach.
can advise you on how to get rid of drug addict neighbors discreetly, without drawing unwanted attention.
Before You Do Anything, Confirm That You Have a Drug Addict Neighbor
Before you take any drastic measures such as calling cops on your neighbors for doing drugs, make sure there are clear signs of your neighbor's drug addiction and potential drug dealing.
You can talk to other neighbors to check who can confirm that the neighbor in question is a drug user. It's alright to pay attention to your neighbor's actions for confirmation, but don't get nosy and avoid following them.
Only when you are sure should you take action. People that use drugs often sell them too, and they attract other addicts and criminals to the neighborhood. It is only natural that you are wondering how to get rid of drug addict—and potentially unstable—neighbors because nobody wants to live in such an area.
The Best Methods for Getting Rid Of a Drug Addict Neighbor
Approximately one in eight Americans abuse drugs and alcohol simultaneously, and it's safe to say that they don't make good neighbors. More than 65% of the prison population in America are addicts, so it comes as no surprise that drug addiction is associated with criminal activity. The potential for a drug addict neighbor bringing the wrong crowd to the neighborhood is high.
If you're worried because of that risk, here is what you can do to try to get rid of drug addict neighbors:
Form or join a neighborhood watch
Get the neighbors' landlord involved
Call the cops
Send a demand letter
Joining a Neighborhood Watch
Forming or joining a neighborhood watch sounds like a cliche, but sometimes these neighborhood groups are effective in reducing crime and drug abuse in the area. It's imperative that there is no vigilantism on the watch and that every illegal activity is reported directly to the police.
Neighborhood or block watches set up signs around the area letting everyone know their presence (including drug addict neighbors), and they have regular community meetings. They can even help drug addict neighbors get counseling, and in the best-case scenario, nobody has to go to jail.
Even though neighborhood watch members can't make any arrests, they can scare off drug addicts and drug dealers. The neighborhood community can even start a petition to get rid of drug addict neighbors that refuse to work on their addiction.
Alerting the Landlord
Speaking to the landlord or the property owner can help you get rid of a drug addict neighbor if they are renting a place near you. Even if it's just weed, the smoke may spread and come to your place, which you shouldn't tolerate.
If you don't know who owns the property, you can find out at the local tax office. Most property owners would want to get rid of such tenants, so you'll be doing them a favor.
Calling the Police on Drug Addict Neighbors
Even if you are a member of a neighborhood watch, you shouldn't engage with the drug addict directly, especially if they are problematic and have a criminal history. Contact the police only as a last resort. Here are the best ways you can get the police involved:
| | |
| --- | --- |
| Police Lines | Description |
| 9-1-1 | Only use this number for emergencies that are happening currently (e.g., a drug addict neighbor is attacking you or somebody else) |
| Non-emergency line | Call the local non-emergency line if you are suspicious of your neighbor. You can get the number from this or similar websites online |
| 1-800-222-8477 | Use this number for giving anonymous tips to crime stoppers |
Sending a Demand Letter
Bad neighbors may respond to an official warning and start behaving better after they get it. Sending a demand letter is a perfect tool for the job. It shows that you're serious and that you are ready to take legal action to get rid of your drug addict neighbors, no matter whether they're smoking weed or abusing more potent drugs. You can even send an anonymous letter.
Send a Demand Letter to Your Drug Addict Neighbor via DoNotPay
If you are looking into how to get rid of drug addict neighbors, sending a demand letter is an effective solution. The purpose of a demand letter is to explain to the neighbor what's causing you distress and warn them about the legal consequences they may face if they ignore the request from the letter.
We understand your trouble, and we are here to help you. After you , you can send a demand letter to your obnoxious neighbor in only three steps:
Look up the Neighbor Complaint product on our website
Choose the type of issue you have with a neighbor
Describe the situation in as much detail as possible
DoNotPay will generate and send a demand letter to your neighbor on your behalf.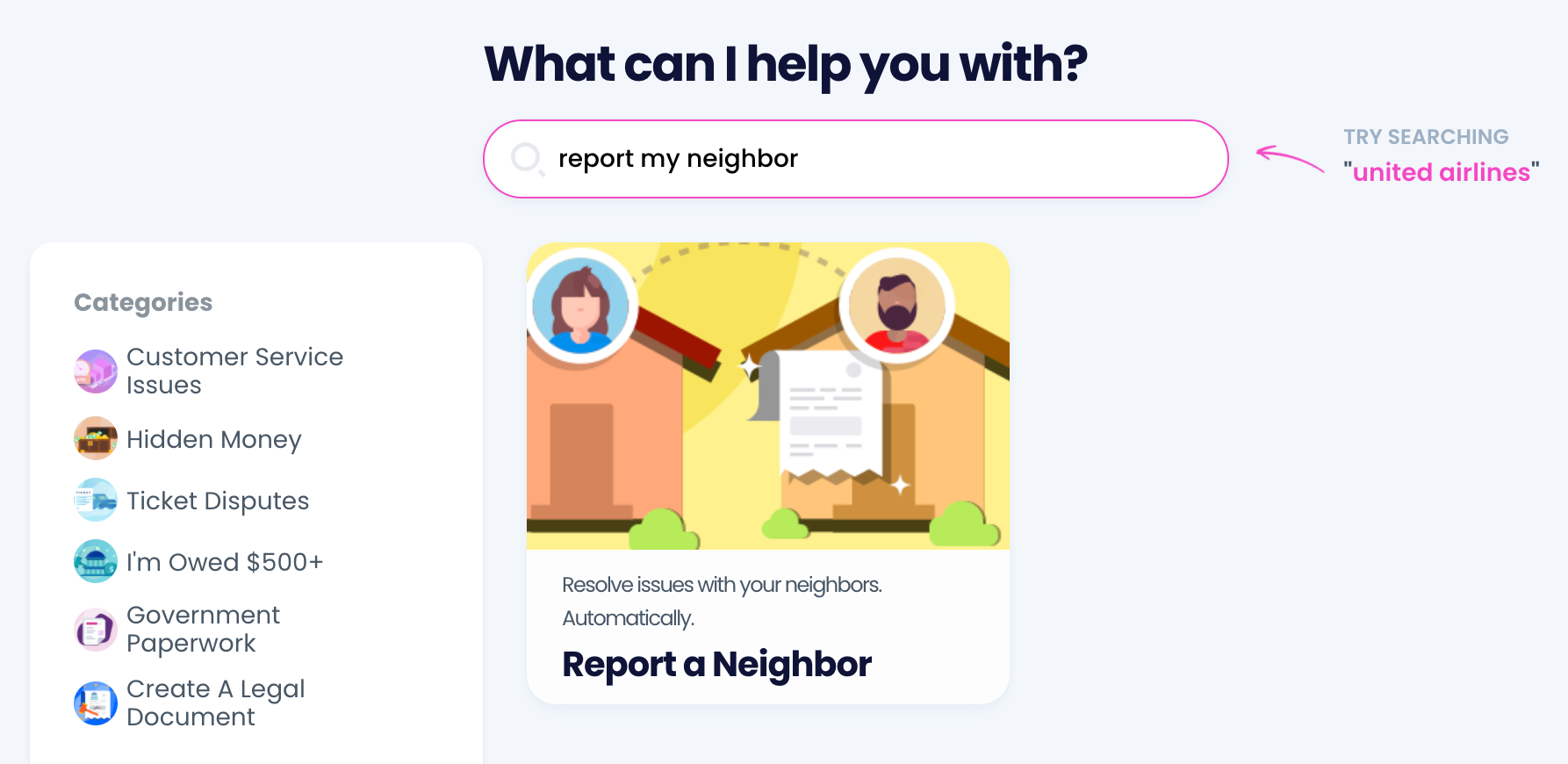 We can help you out with many other sticky situations in the neighborhood, such as: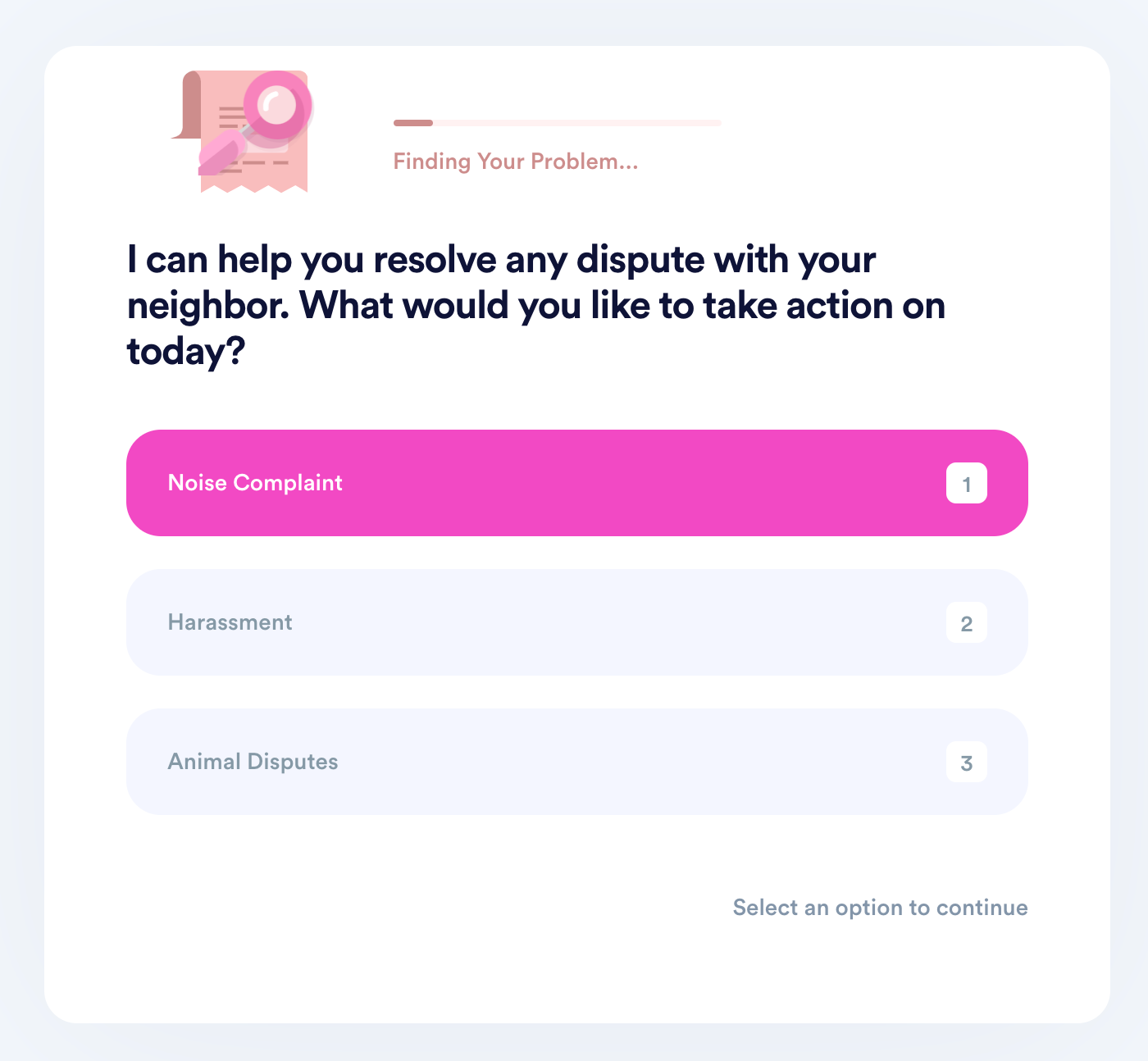 DoNotPay Can Help You Solve Pesky Issues Stress-Free
Dealing with everyday issues can become overwhelming, especially if they include bureaucracy. DoNotPay can help you handle numerous problems in a few minutes. With us, you can schedule your DMV appointments, get documents notarized remotely, and create various legal documents—including child travel consent statements and demand letters for neighbor complaints—in a snap.
Do you need help paying your bills, disputing parking tickets, or getting cash back for your gift cards? Once you register for DoNotPay, you'll be able to manage all of these and many more issues in no time.
What Else Can You Use Our App For?
Besides helping you handle tedious administrative hurdles, DoNotPay can do much more for you! You can use DoNotPay to:
With us, you can send online faxes or mail letters from the comfort of your home. Do you have friends or family members who are serving time? We can help you connect with inmates in a flash by enabling you to locate them and send them letters.