How To Get Rid of Bad Neighbors That Rent an Apartment Nearby
Bad neighbors come in all shapes and sizes and cause trouble in a myriad of ways. If you are wondering how to get rid of bad neighbors that rent close by, we will provide you with some advice. As soon as you , DoNotPay can help you solve the issue with a demand letter before the problems escalate.
Actions You Should Consider Before Trying To Get Your Neighbors Evicted
When dealing with bad neighbors, the most important thing is not to let them have their way and bully you. You deserve to have some peace and quiet when you get home from a busy day and not worry about dogs barking, loud parties, or some illegal activities occurring in your vicinity.
When the individuals causing you headaches are tenants renting property, you can try solving the issue peacefully in the following ways:
Talking to your problematic neighbors
Contacting their landlord
Talking to the Tenants Causing Trouble
If you are dealing with a group of young people who are renting an apartment, it is highly likely that they may not be aware of the noise they are causing. Students are wired on a different schedule compared to other people and have little to no empathy towards individuals who have to wake up early for work.
If this is the case, you should try communicating the problem to them and hope they become more careful with playing loud music or throwing parties.
Composing a Complaint Letter
Writing a complaint letter is a good option for solving a problem with tenant neighbors because it can involve other nearby residents experiencing the same issues. Serving them a formally written letter signed by multiple individuals can be a good way to make them change habits.
Getting in Touch With the Neighbors' Landlord
Contacting the neighbors' landlord is the best way to address the problem if nothing else works. Make sure to inform the homeowner of the exact activities that are disrupting your peace. It would be good if you could document the harassment and show it as proof.
A reasonable landlord will take the issue seriously and talk to their tenants. In numerous cities, landlords need to obtain rental licenses, and repeated complaints about tenants at a rental can seriously affect their reputation. The chances are that they will want to solve the problem as much as you.
If all goes well, the neighbors should change their disruptive habits, and you will live in harmony.
Use DoNotPay To Generate a Demand Letter
Complaining about your neighbors' activities in a letter or to their landlord won't necessarily solve your issue. DoNotPay can make a demand letter with all the consequences the perpetrator will have to face. We will also include the amount of expected compensation if you take them to court and win.
Here are the only steps you'll need to take:
in any web browser
Inform us of the problem—noise, harassment, or animal complaint
Provide us with additional info—what steps you have already taken, for example
DoNotPay will make a demand letter that will make your neighbors think again before being problematic. We will also mail it to them in your stead.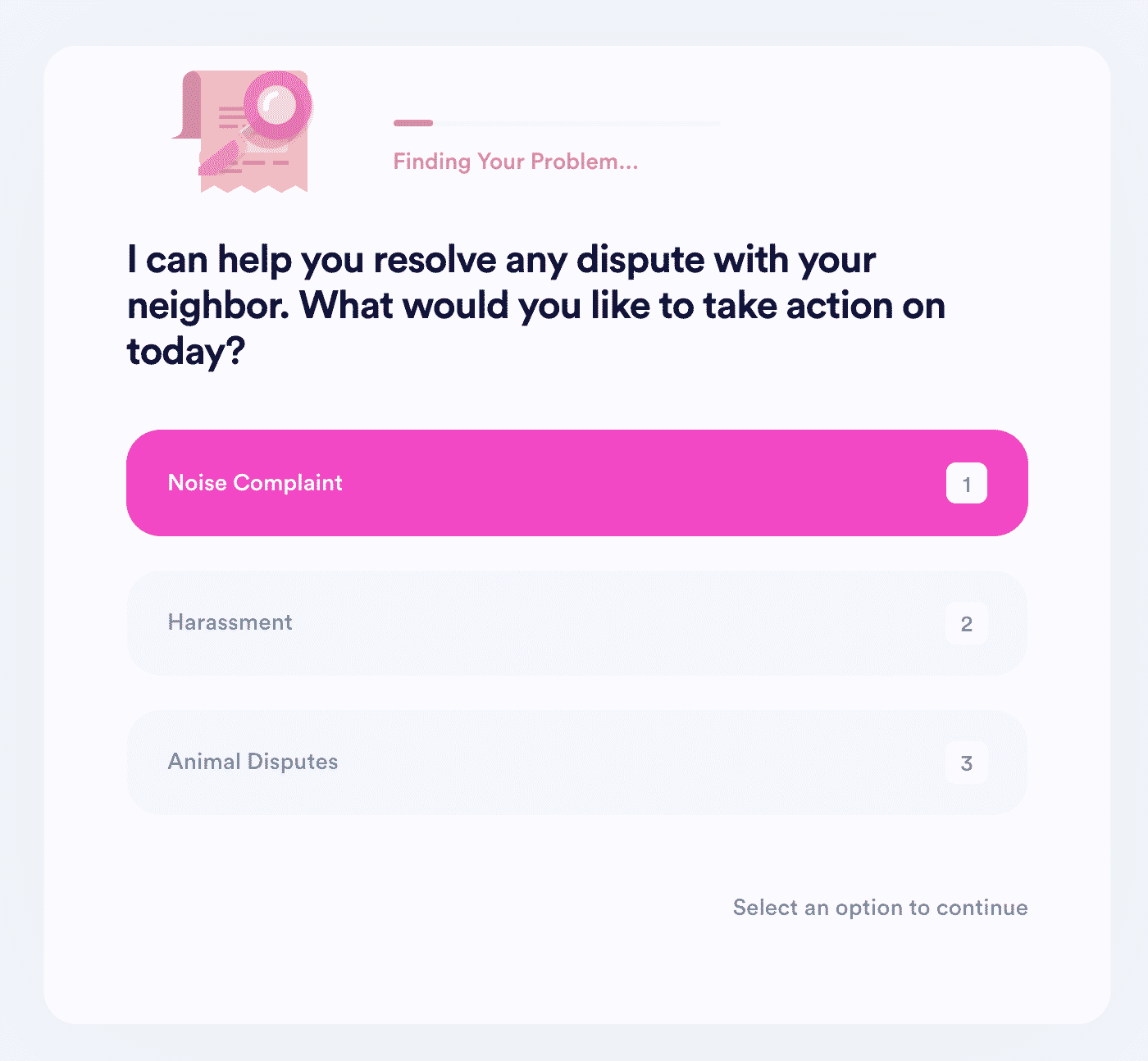 How To Get Bad Neighbors Evicted
The most important part of getting bad neighbors evicted is having a good enough reason to do so. Noise can be annoying, but it is not always enough to get someone to move out of their homes. In some cases, a landlord won't tolerate problematic behavior and will let the tenants know they should start looking for another apartment.
It is more realistic to think about eviction when dealing with serious matters, such as:
Problematic Activity
What It Involves
Criminal activities

Drug dealing
Gang-related activities

Harassment
Keeping wild animals
Exotic and dangerous animals that should not be pets
If you can present proof of such behavior in your neighborhood, you should let the landlord and the law enforcement know as soon as possible. With other witnesses, it will be easy to win the case and remove the problematic neighbors from the neighborhood or your apartment building.
It is crucial to always handle the task at hand legally and avoid using more radical approaches, like verbal or physical altercations. Using violence against violence can only cause more unnecessary problems.
DoNotPay Can Provide Answers for Other Uncomfortable Neighbor Situations
If you are dreaming about the day when you won't have to deal with your problematic neighbors anymore, you are not alone. There are many issues nearby residents can cause, and DoNotPay can help you find a solution for all kinds of situations. Learn what to do if you:
Say Goodbye to Administrative Issues—Rely on DoNotPay
Are annoying procedures—such as canceling memberships, disputing parking tickets, filing warranty and insurance claims, requesting refunds for purchased products or services—giving you headaches? Do you dread calling an airline's customer support to request a refund and compensation for a canceled flight? You're not alone! The good news is—DoNotPay can help you solve these issues stress-free!
You can use our app to prepare for your driving test or other government exams and schedule an appointment with the DMV in minutes.
Are you wondering whether you're paying too much for your property taxes? Make sure to try out our Property Tax feature and learn about the best way to reduce your property tax bill.
Annoyed by Spammers? DoNotPay Can Help!
With DoNotPay, you can get rid of spam emails and text messages and report robocalls in one fell swoop. Our Burner Phone feature will generate a fake phone number that you can provide upon registration for any service!
Besides helping you enjoy free trials without the risk of being charged, DoNotPay's virtual credit card has another advantage. It will provide a random email address you should use when signing up for a free trial. That way, you'll avoid pesky marketing emails and email notifications.