How To Get a Power of Attorney for Someone in Jail ASAP
Creating a power of attorney can be a complicated process, especially if the principal is an incarcerated person. In this article, DoNotPay will teach you how to get a power of attorney for someone in jail in a few easy steps. Sign up for our app to get a personalized power of attorney document within minutes!
The Ins and Outs of a Power of Attorney for Someone in Jail
A power of attorney (POA) is a document in which the principal hands over legal power to the agent to act on their behalf, for example, in case the principal is mentally or physically incapacitated.
It is particularly important for people who are in jail because it is difficult for them to manage a lot of aspects of their life on their own anymore, such as taking care of assets and finances. Depending on the type of power of attorney and the incarcerated person's requirements, the agent can have the authority to make the decisions for the principal regarding:
Finances
Real estate
Healthcare
Legal matters
It is essential for the principal to pick an agent who is loyal and trustworthy and who won't have a conflict of interest.
How To Create a POA for an Incarcerated Person
When creating a POA, it is important to seek legal advice. In case there's a mistake in the document, the POA will be rejected immediately. Due to their special position, incarcerated principals will have to work closely with their lawyer or future power of attorney holder to transfer their decision-making authority successfully. Here's what the process entails in general:
Choosing an agent
Deciding on the appropriate type of power of attorney
Composing the agreement according to the laws in the incarcerated person's home state
Getting the signatures of the principal and the agent
Getting the document notarized by a notary public (if required by state laws)
How To Select the Right Agent
It is solely the principal's decision to choose whom to name as their agent. Most people choose someone they know and trust, for example, a:
Spouse
Child—must be above 18 years of age
Close friend
Trusted professional colleague
It is important for the prospective agent to act in the principal's best interests and be someone they can legally rely on, especially if the inmate has a long sentence. The principal needs to carefully consider whether the future agent will have the ability to follow through with the responsibilities or think about appointing several different agents for different decisions.
What Power of Attorney Is the Best for an Incarcerated Person?
It is important to understand the different types of powers of attorney, especially when choosing one for an incarcerated person. All of these documents have their advantages and disadvantages, and the choice will depend on the principal's unique needs and circumstances.
Check out the table below for the basic overview:
Power of Attorney Type
Brief Explanation
General
In all matters relating to business, finances, real estate, and healthcare, the agent acts on behalf of the principal.

This can include actions such as:

Signing checks
Buying and selling property
Making medical decisions
Filing taxes

Limited
The agent has limited power and can only act on the principal's behalf in special circumstances, as defined in the power of attorney letter
Durable
In this type of agreement, the power to make decisions remains with the agent, especially when the principal is mentally or physically incapacitated.
Springing
A springing power of attorney comes into effect if a specific event takes places, such as the principal falling into a coma, for example
Medical
The agent makes healthcare decisions for the principal. This POA gives the power to make decisions about undergoing surgery or taking someone off life support
Financial
This type of POA gives the agent the authority to manage the principal's taxes, bank accounts, real estate transactions, and other similar matters
Ways To Create the Power of Attorney Document
There are three ways to create a POA for someone in jail:
Do it yourself—If you want to prepare a power of attorney letter for an incarcerated person, check state laws and POA document samples to ensure that you meet legal requirements
Hire a lawyer—Consult a lawyer and ask them to make the document. Although it might seem like your best bet, keep in mind that this option can be quite expensive
Use DoNotPay—Subscribe to our app and let us draft a personalized POA document in the blink of an eye!
Draft a Power of Attorney Document in a Flash Using DoNotPay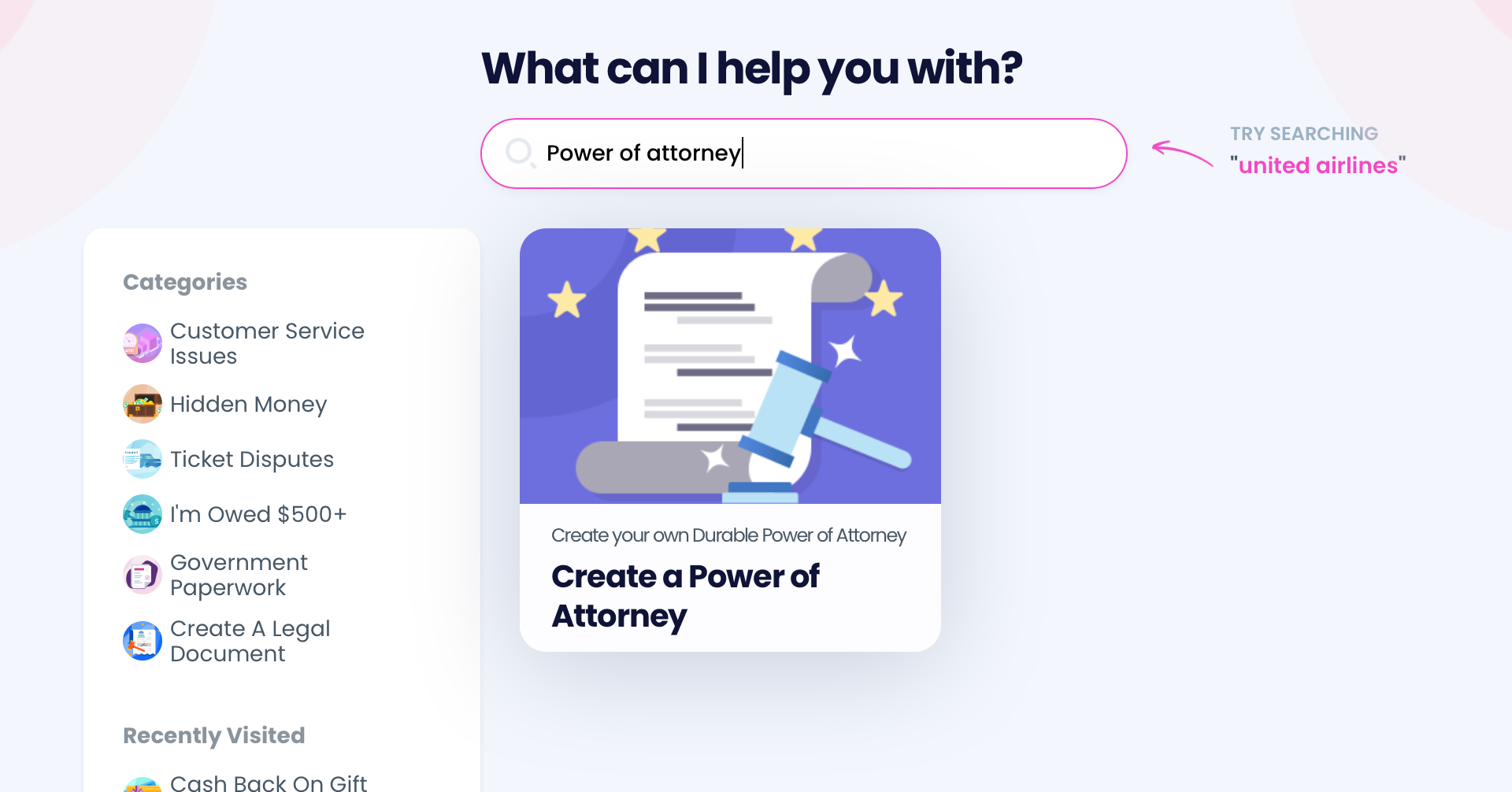 Don't waste more of your time and money on expensive lawyers and online templates! DoNotPay can help you draft your power of attorney document within minutes. All you need to do is follow these instructions:
Open DoNotPay in your web browser
Select the Power of Attorney feature
Provide the necessary details for us to assess your situation
Confirm whether you want to get the document notarized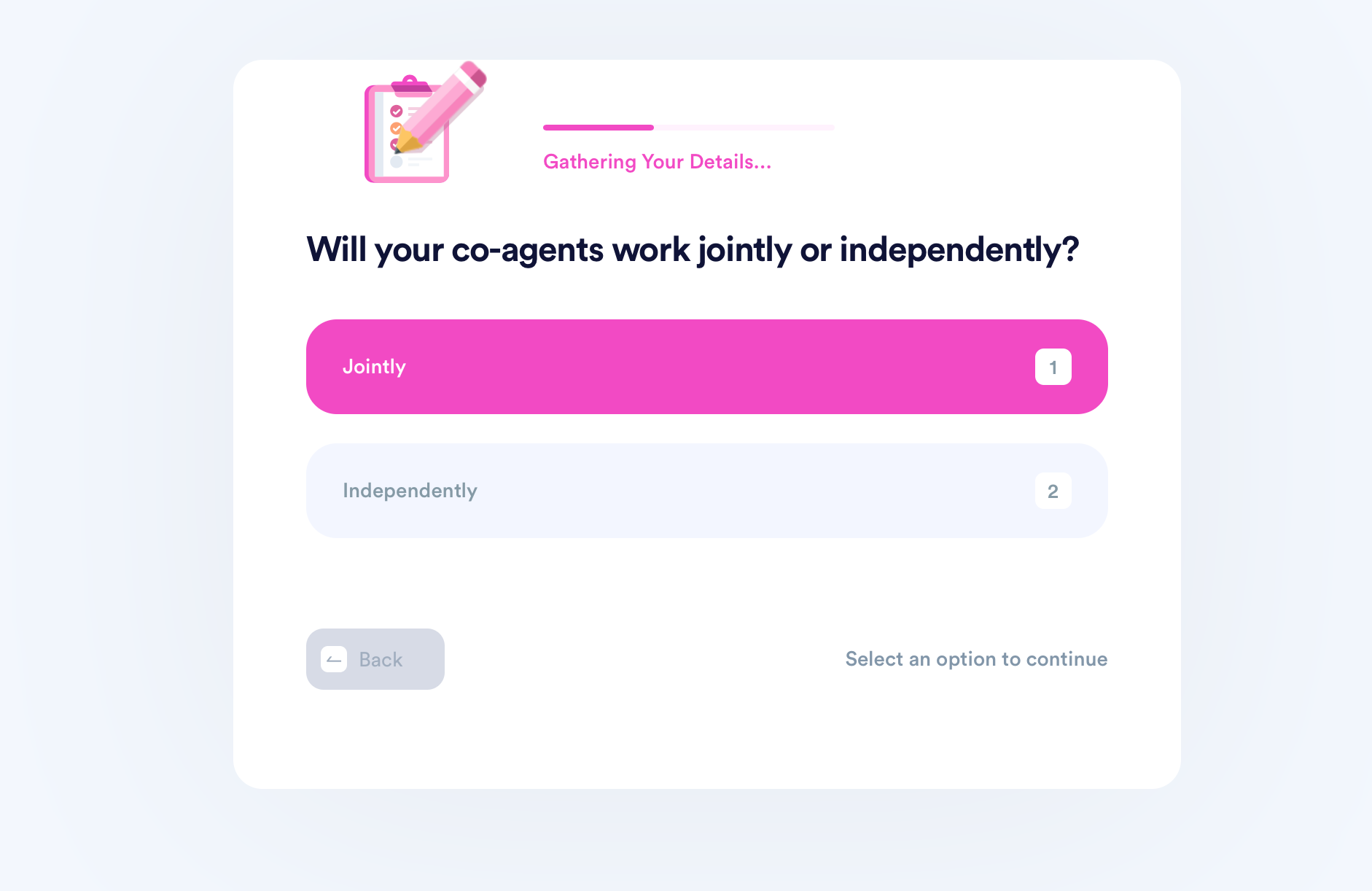 We will create a personalized power of attorney document and send it along with two must-read notices. In case your state requires the document to be notarized, we can help! If the circumstances allow remote notarization, we can connect you to an online notary to witness the signing at your convenience.
Composing a power of attorney document isn't all that we're good at! Our learning center contains articles that can explain:
DoNotPay Makes All Issues Go Away in Several Clicks
Using DoNotPay comes with plenty of advantages, the main one being that you can resolve just about anything in a matter of clicks. It doesn't get any easier than that!
Do you need to fax a document, draw up an agreement, submit a FOIA request, get a contract notarized, file a warranty or insurance claim, get a burner number, schedule a DMV appointment, or appeal a parking ticket as soon as possible? Sign up now and clear out your schedule because we'll handle it all!
Are you looking for your missing money? Do you need help with your utility bills or property taxes? We're here to help!
Get Rid of Paperwork With Your AI-Driven Assistant
Even though paperwork belongs in the past, we have to keep dealing with it almost daily. To avoid this annoyance, you can just use DoNotPay!
If you need to compose a demand letter to a rude neighbor, submit a claim for a late or missing package, request compensation from an airline, or sue any company in small claims court, we have your back!
All you need to do is sign up, tell us what you need, and resolve any issue in a matter of minutes!