DoNotPay's Guide on How To Get Power of Attorney for a Parent With Dementia
Watching a parent's mental abilities gradually deteriorate as they grow older is a heartbreaking process.
The last thing you want in such a situation is to face uncertainty about how the parent's finances will be managed when they become unable to make decisions anymore. A power of attorney (POA) can solve that problem.
DoNotPay is here to help by offering a guide on how to get power of attorney for a parent with dementia. The time to act is now!
When Should You Start the Power of Attorney Process?
Dementia—such as Alzheimer's—does not take effect overnight. It usually involves a gradual decline in the patient's mental abilities.
The Stages of Dementia
Dementia progresses through various stages, each of which involves a further loss of mental ability:
Early-stage dementia
Mid- or late-stage dementia
Early-Stage Dementia
Early-stage dementia does not reduce a patient's mental capacity enough for them to be declared incapacitated.
Mid- or Late-Stage Dementia
Patients in more advanced stages of dementia will often have lost the ability to make decisions that are acceptable in legal terms.
If the diagnosis is recent, there may still be an opportunity to set up a power of attorney for an elderly parent with dementia.
What Should You Do if the Dementia Is at an Early Stage?
If your parent has been diagnosed with early-stage dementia, you should act as quickly as possible to set up a power of attorney.
A POA is a legal document that hands control over various areas of the principal's life to an agent. Medical decisions are regulated by healthcare powers of attorney, while the principal's monetary affairs come under the jurisdiction of a financial POA.
In the case of a parent with dementia, the parent is the principal and must sign the POA, while the agent should be decided upon by the whole family.
For managing your parent's finances, there are several different types of POA, as follows:
Type of POA
Explanation
Limited POA
A limited POA is used to limit the agent's power to:

Specific financial tasks
A limited time

In the case of a parent with dementia, it is not the best option

General POA
General POAs cover all aspects of the principal's finances but terminate when the principal is declared incapacitated. This is also not an appropriate form of POA in a dementia case
Springing POA
If the principal wants the POA to only come into effect after they have been declared incapacitated, a springing POA may be an option. The issue may be that the progress of dementia is not easily predictable, so the criteria for declaring incapacity would have to be set out clearly
Durable POA
A durable POA hands control of the principal's finances to the agent from the moment of signing until the principal passes away. It remains in force after the principal has been declared incapacitated and is, therefore, the most appropriate form of POA in dementia cases
The sooner the principal sets up and signs a POA, the safer their finances will be.
What Happens if the Parent Has More Advanced Dementia?
Is your parent already suffering from mid- or late-stage dementia? In that case, it may be too late to have them sign a power of attorney.
If their incapacity is not picked up beforehand, a notary will refuse to notarize a POA if the principal isn't capable of understanding what they are signing. In most states, the absence of notarization on a POA will render it invalid.
In case your parent is already incapacitated, your only recourse may be to approach the local court for help. Your parent's case will be reviewed by a judge who may award a conservatorship, allowing the conservator to make financial decisions on the patient's behalf.
How To Set Up a Power of Attorney
If your parent is still able to do so, the process of setting up a power of attorney for a dementia patient is fairly straightforward. The steps your parent needs to take are:
Choosing an agent
Drawing up the POA
Signing the document
Choosing an Agent
The choice of agent should ideally be agreed with the whole family as a POA intends to regulate the principal's finances without conflict.
The principal can also appoint multiple co-agents and decide whether they can act:
Unanimously—A unanimous agreement by all the agents is required to perform tasks
By majority—The principal can stipulate what majority vote is required
Independently—Each agent can perform financial acts without asking the others
By specialization—Each agent is given a distinct area of specialization to look after
Drawing Up the POA
The principal should draft the POA, ideally in consultation with the designated agents and family members.
Signing the Document
Depending on the principal's state of residence, they may need witnesses to countersign the POA. In most states, the document has to be notarized.
Dementia can progress quickly, so time is of the essence in preparing a POA document for a parent with dementia. The quickest and easiest way to get it done is to let DoNotPay create a durable power of attorney for you!
Get Your POA in a Flash With DoNotPay's Help!

Getting your customized POA letter from DoNotPay is quick and easy—here's what you need to do:
Sign up with DoNotPay in your web browser
Go to our Create a Power of Attorney feature
Fill in the details you need to be included in your POA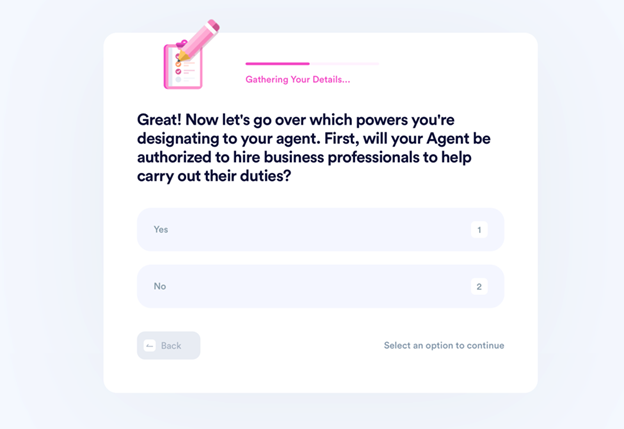 Once we have all the details, we will generate your POA in no time. You can get your parent to sign it, have it notarized, and get it witnessed. Your parent's finances are then in safe hands!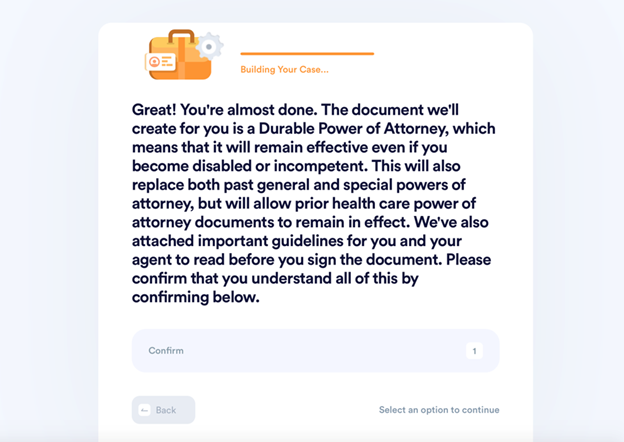 State POA Laws Explained By DoNotPay
Each state has its own power of attorney legislation.
We can help you understand your local POA requirements—here are some examples of states whose laws we can help you with:
You Can Count on DoNotPay To Resolve Any Issue
Are you stuck in the never-ending subscription cancellation procedures? Do you want to demand a refund once you finally reach a customer support rep? Is the company refusing to cooperate? No need for stress—your personal assistant can lend a helping hand.
Is there anything else we can help you with? You bet! Once you sign up, we can resolve a number of issues in your stead. Count on our app if you're struggling with:
You Don't Have To Suffer in Silence
Have you been experiencing workplace discrimination lately? Do you have a real-life stalker or harasser that you're too scared to confront? Do you want to get rid of robocalls and text and email spammers once and for all? You're not alone—DoNotPay is by your side and will help you deal with all of these issues.
As soon as you subscribe to our app, you'll be able to use our products to your advantage and fight for your right worry-free!