Excuses That'll Help You Get Out of Jury Duty In South Carolina
If you've been recently summoned for jury duty, especially if it's not the first time, you might be reluctant to ask for time off from work. States have different regulations regarding jury duty exemptions. In this article, we will explain how to get out of jury duty in South Carolina and how you can postpone it.
If you do decide to perform your jury service, you can to formally request jury duty leave from work.
South Carolina Jury Duty FAQ
In the following table, you can find answers to frequently asked questions regarding jury duty in SC:
Who Is Exempt From Jury Duty in South Carolina?
In South Carolina, you may skip jury duty if you can offer a valid excuse. The following categories can be exempt from jury duty:
65-year old citizens—You'll need to call the clerk of court to confirm your age
Students—You may postpone jury duty once to a date that works better
Physically or mentally disabled people—Medical documentation that proves you're unable to serve jury duty is required
Single mothers—Mothers with sole custody of children under seven can be excused from jury duty
People with insufficient education—If you have less than a sixth-grade education, you are automatically exempt from serving as a juror
Members of the SC police force—If you are a sheriff in the state of South Carolina, you are exempt from jury duty
If you qualify for any of these exemptions, you must submit an affidavit with the clerk of the court.
You also have the option of submitting a jury duty excuse letter if you don't qualify for any of the statutory exemptions, but you believe that serving jury duty will cause you undue hardship.
Can You Reject Jury Duty in South Carolina Because of Work?
Having a job isn't enough to excuse you from jury duty since your employer doesn't have the right to fire or penalize you in any way for missing work because of it. Some courts may excuse you, though, if you can prove that performing jury duty will cause undue hardship for you or your employer.
Create a Leave Request Letter With DoNotPay
Before you start preparing for jury duty, you should notify your employer about it. You can do this by sending them a leave request letter, but note that they will want to verify your jury duty to grant you time off.
If you don't know how (or don't want) to do it on your own, DoNotPay can help—we will create a professionally written leave request letter in your stead.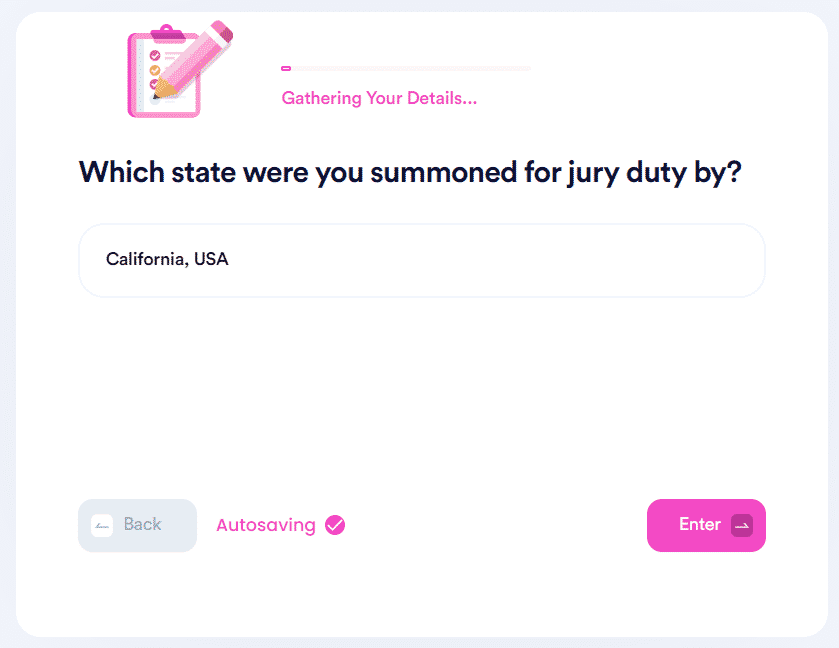 To use our service, and follow the instructions below:
Open the Request Jury Duty Leave product
Provide all the necessary information about your jury service
Tell us how long you will be absent from work
Upload a photo of your summons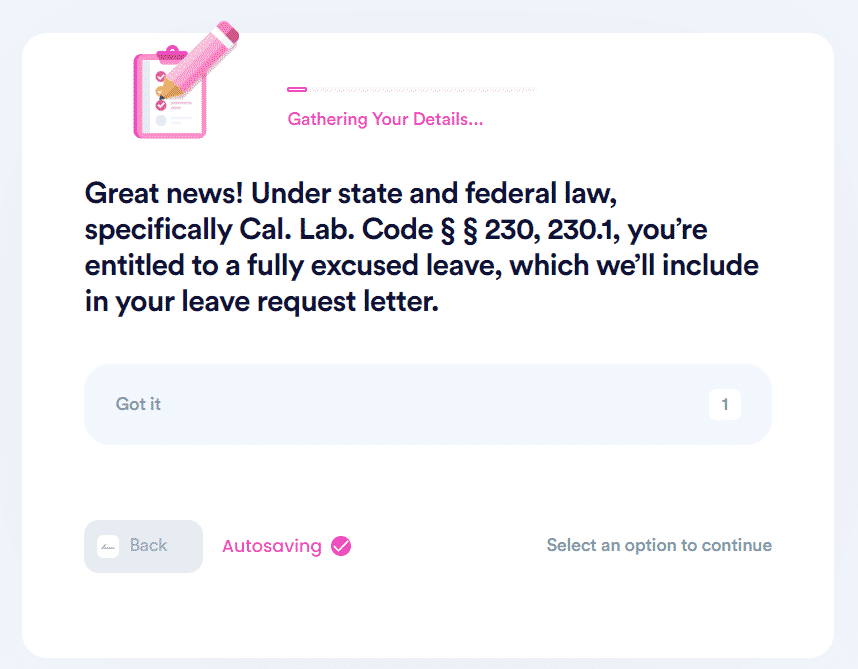 Deal With Administrative Issues With Ease
Drafting contracts and agreements, getting your documents notarized, disputing parking tickets, and creating passport photos will become a breeze once you sign up for DoNotPay.
We can also help you:
DoNotPay Helps You Protect Your Consumer Rights
Don't let companies take advantage of you! With our help, you'll be able to cancel any subscription or membership and request a refund.
As a consumer, you may be overwhelmed with endless steps and piles of paperwork you need to go through to get what you're owed. This is where DoNotPay comes in—let us be your assistant and fast-track the following:
Have you forgotten about a free trial you signed up for? Avoid being charged by using our app! With DoNotPay's virtual credit card, you'll get unsubscribed automatically without the company taking any money from you.
Are you getting spammed via email or text? Get rid of spam for good with our nifty app!