How To Get Out of Jury Duty in PA—A Guide
Not sure how to get out of jury duty in PA? Jury duty cannot be skipped without facing consequences, so make sure you have a valid reason to be excused.
The state of Pennsylvania recognizes many different grounds for excusal. Understanding what they are and how jury duty works will ensure you don't do anything that could get you in trouble.
If, in the end, you can't get out of jury duty, you can instead to simplify the task of asking for time off at work.
What You Should Know About Pennsylvania Jury Duty
There are thousands of cases filed in Pennsylvania courts every year, and many of them require jurors. You are required to take part in jury duty as an American citizen. This important responsibility makes up the cornerstone of the state and national justice systems.
If you skip jury duty, you will be held in contempt of court and may have to pay a fine of up to $500.
How Were You Selected for PA Jury Duty?
You are called for jury duty according to a random draw of citizens that meet the following criteria:
Over 19 years of age
Physically and mentally capable
No criminal record
You can contact your Pennsylvania district court administrator if you are unsure of where to go or how long your duty will last.
Do PA Jurors Receive Pay?
Yes—state law guarantees daily pay for citizens on jury duty. As a county or federal Pennsylvania juror, you will receive a nominal payment:
This compensation is considered low when compared against other states.
How To Get Out of Jury Duty in Pennsylvania
The following two conditions entitle you to a jury duty exemption in Pennsylvania:
Active military service
Breastfeeding motherhood
If neither of these circumstances applies to you, you may also present one of the following excuses for relief of jury duty:
Extreme hardship
Illness
Loss of wages
Direct familial relation to homicide victims
You can declare your excuse as a part of the juror selection process. You will be asked a series of questions to determine whether you have a bias against the court, legal professionals, or any entities in the case. It is during this process that you may inform the court of any of the excuses listed above.
What if You're Not Excused From Jury Duty?
Your first step in preparing for jury duty is to notify your employer.
Don't worry about making your boss mad because you need to miss a few days for jury duty. Pennsylvania state laws require employers to provide unpaid time off for staff members summoned for jury duty. They can verify your jury duty by reviewing your summons or by contacting the district court administrator.
Employers cannot legally fire an employee for missing work because of jury duty. If you lose your job because of your time as a juror, you can sue your boss in accordance with a Class IV misdemeanor.
DoNotPay Will Help You Request Time Off for Pennsylvania Jury Duty
If you don't have a valid excuse for jury duty, you need to make sure you've informed your employer about taking time off—DoNotPay can expedite the process for you.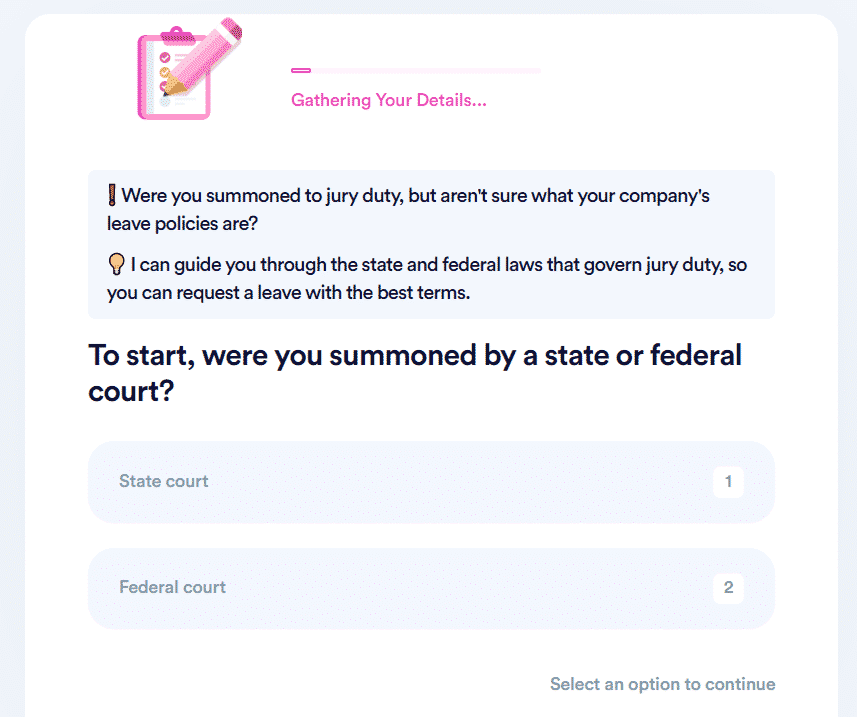 Our AI-powered robot lawyer offers a vast range of tools to help you manage legal processes—including filing a time off request for jury duty. Here is how it works:
Select the Request Jury Duty Leave tool
Input the necessary details about the PA court from your summons letter
State the days on which you require time off
Upload a photo of your summons for verification
Once this process is complete, you can either download and send the letter to your employer or have us do it for you.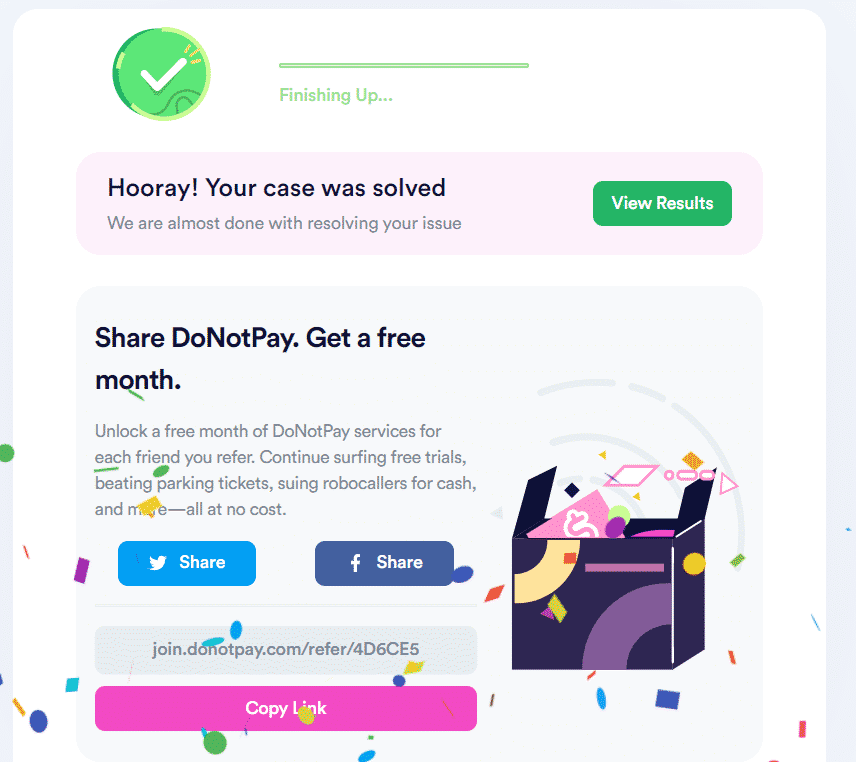 Save Time and Money Using DoNotPay
Being on hold while trying to reach customer service is no picnic. With DoNotPay, you can jump the phone queue and reach a rep with ease. Are you contacting a company to request a refund or cancellation? No need for that! Our app can get it done in a few clicks. We can also help you return an item or handle a late delivery.
Dispute parking tickets, claim your warranty or insurance, set up a DMV appointment, contact an embassy, and deal with any other task with our assistance.
You can also request access to public records, apply for tourist visas, or file complaints with the help of our AI-powered app.
We're Not Done Helping You!
Our multifaceted app keeps getting new features that can streamline numerous tasks and solve all kinds of problems.
Would you like to join sweepstakes or giveaways? Are you up for participating in clinical trials and earning some money? Are you interested in sending mail without visiting the post office? We've got it covered!
We will help you protect your privacy by putting an end to spam emails, incessant text messages, and robocalls. If you think you're being stalked, you can count on our assistance. You can also use our app to perform a sex offender search, fight workplace discrimination, and handle annoying neighbors.