How To Get Out of Jury Duty in Kansas—Find Out Here
Jury duty is an important civic responsibility that is mandatory for almost everyone. If you skip it, you may face serious consequences, like being fined or imprisoned. Fortunately, there are exemptions—in this article, we'll tell you how to get out of jury duty in Kansas regardless of how many times you're called for it.
If the duration of jury duty is your main problem due to your work schedule, sign up for DoNotPay, and we'll help you inform your employer of your absence.
Kansas Jury Duty—The Selection Process
The court has a two-step process for selecting jurors:
They create a master jury wheel by selecting names at random from a list of registered voters
They draw the names periodically (at random) from the master jury wheel to receive a juror qualification questionnaire
After the court receives the answers from prospective jurors, they put the ones who qualify in a second wheel and send summonses to randomly selected jurors.
If you get selected, the judge and attorneys ask you a series of questions to determine whether you're capable of being objective about the case.
Who Qualifies for Jury Duty in Kansas?
To be a prospective juror, you must be:
A citizen of the U.S. and resident of the county that sent the summons for at least 20 days
At least 18 years old
Able to read, write, and understand English
Kansas Jury Duty Exemptions
You will be excused from jury duty in Kansas if you:
Are a breastfeeding mother
Have served as a juror in the county within the past two years
Are unable to understand English
Have been convicted of a felony or pleaded guilty within the past ten years
Were deemed incompetent by the court
Have a good medical reason not to serve proved by a doctor's note
Are over 70
How To Get Out of Jury Duty
There are two ways you can get out of jury duty in Kansas:
| How | Explanation |
| --- | --- |
| Postpone jury duty | You may postpone jury duty up to two times within a 12-month period. You must complete the appropriate section for postponement in your questionnaire |
| Get excused | You can be excused from jury duty if any of the exemptions apply to you. People who have scheduling conflicts because of work, school, or childcare will not automatically be excused. If you want to request excusal, you need to indicate that in your questionnaire |
How Much Does Jury Duty Pay in Kansas?
Each state pays different amounts to jurors, but you can expect to be paid $10 for your first day of jury duty in Kansas. For any subsequent day, you will receive $20.
Federal jurors are paid $50 for each day of service.
Is Work Enough of a Reason To Get You Out of Jury Duty?
Having a job cannot get you out of jury duty automatically. You may be able to request an excusal if the service will cause undue hardship for you or your employer.
What you should know, though, is that your employer cannot fire, threaten, or demote you because you're serving jury duty. According to Kansas law, they must provide you with time off. Your only obligation is to notify them well in advance so they can verify your engagement.
DoNotPay Helps You Request Time Off
In preparation for your jury duty, you might have forgotten to tell your employer about it, and now you don't know how to do it. Don't fret—DoNotPay will help you! Our app will create a formal leave request letter that complies with all relevant jury duty laws in Kansas, so your employer must give you time off.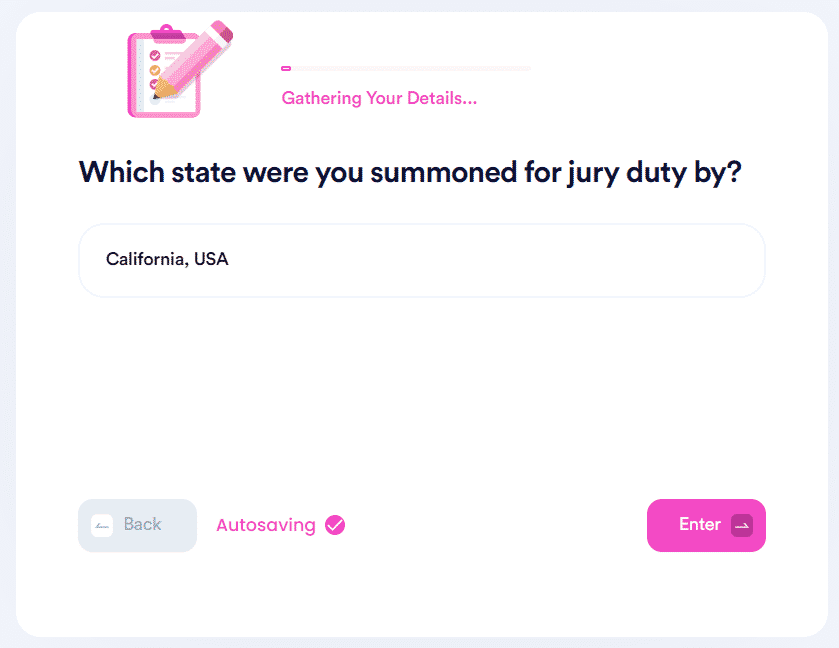 To create your letter, sign up for DoNotPay and follow the instructions below:
Select the Request Jury Duty Leave product
Answer a few questions and specify whether you got the summons from state or federal court
Upload a picture of your summons
Our app can also send the letter to your employer on your behalf.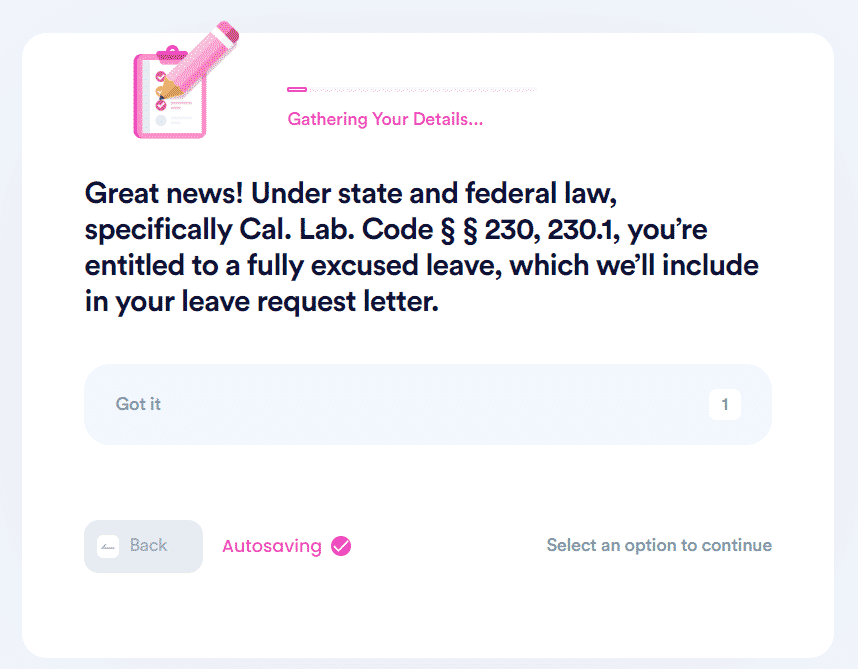 Deal With Administrative Issues With Ease
Drafting contracts and agreements, getting your documents notarized, disputing parking tickets, and creating passport photos will become a breeze once you sign up for DoNotPay.
We can also help you:
DoNotPay Helps You Protect Your Consumer Rights
Don't let companies take advantage of you! With our help, you'll be able to cancel any subscription or membership and request a refund.
As a consumer, you may be overwhelmed with endless steps and piles of paperwork you need to go through to get what you're owed. This is where DoNotPay comes in—let us be your assistant and fast-track the following:
Have you forgotten about a free trial you signed up for? Avoid being charged by using our app! With DoNotPay's virtual credit card, you'll get unsubscribed automatically without the company taking any money from you.
Are you getting spammed via email or text? Get rid of spam for good with our nifty app!