Thinking About Ending Your Marriage? Here's How To Get Divorced Hassle-Free!
Getting a divorce is what many people dread. When you're faced with the prospect of that happening, you probably want to gather all the information you need to go about the process.
This article provides instructions on when and how to get divorced, as well as any other crucial detail.
When To File for a Divorce
Even though it's stressful and difficult for all the people involved, getting a divorce is sometimes the only option. Before starting the process, you should specify the reasons for the separation. In the following table, you can find the legal grounds for getting a divorce based on its type:
Grounds for a No-Fault Divorce
Grounds for an At-Fault Divorce

Incompatibility
Irretrievable breakdown
Irreconcilable differences
A long period of separation

Bigamy
Desertion
Mental illness
Substance abuse
Adultery or cheating
Mental or physical abuse
Impotence during the marriage
Marriage between close relatives
Mental incapacity at the time of marriage
Fraud or force in obtaining the marriage
Criminal conviction and/or imprisonment
Keep in mind that these reasons are not the same or valid in every state. You should always check your state requirements before filing for a divorce.
Getting a Divorce—Requirements
All states have specific laws and rules regarding when and how you can get a dissolution of your marriage. There are also certain requirements you have to meet to prove you're eligible for a divorce. Besides the legal grounds, the common requirements in most states are:
Residency—At least one of the spouses has to be a resident of the state where they're filing for a divorce for a specific period. This period can vary depending on the state, and it's usually between three and six months
Waiting period—In most states, you have to wait a certain period from filing for a divorce to finalizing it. How long your divorce will take depends on your state rules, but it's typically six months
Jurisdictional requirements—To get a divorce, you need to file the required papers with the proper court in your county. You should check your county requirements because they can sometimes differ from the ones in your state
How To Make a Divorce Easy
Even if you end your marriage amicably, it's nearly impossible not to get stressed out by a divorce. What you can do is make it less difficult and emotionally exhausting for all the parties involved by getting an uncontested divorce.
Here are some techniques you should try:
Negotiate the important issues—You can negotiate the crucial matters—alimony, child custody, and property division—either alone with your spouse or in the presence of a lawyer. If you agree on all of the issues, you become eligible for an uncontested divorce
Consider mediation—If you don't want to involve attorneys in the negotiation process, you can find a divorce mediator to help you and your wife or husband find common ground on the important aspects of the marriage
Get an out-of-court divorce settlement—If there are children involved, one of the best ways to end the marriage is with a collaborative divorce. This refers to reaching a settlement with both of your lawyers present but without going to court
What Papers Do You Need To Get a Divorce?
Each state has different rules regarding the documents you need to file for a divorce. You should also keep in mind that you have to get special uncontested divorce papers if you qualify for this type of marriage dissolution.
Here's a brief overview of the most common divorce forms:
Divorce Documents
Description
Petition for the Dissolution of Marriage
This is the document you need to start the divorce process. It includes basic details, such as the names of both parties, county you live in, and legal reasons for the divorce
Summons
If you and your spouse don't file for divorce jointly, you will need to file this document alongside the petition. The purpose of the Summons is to inform the other party that you (the plaintiff) filed for a divorce and give them (the defendant) time to file a formal response
Financial Affidavit
A Financial Affidavit is a sworn declaration both parties need to file in nearly all divorce cases. It includes the most important details about your finances, such as debts, income, expenses, and property. Having this information, a judge can:

Award lawyers' fees
Set child and spousal support
Divide the property

Parental Plan
Having a Parental Plan document is crucial if you and your soon-to-be ex-spouse have children together. It serves as a guide for managing responsibilities and handling important decisions
Marital Settlement Agreement
A Settlement Agreement is a crucial part of every contested divorce. It outlines your decisions regarding alimony, child custody, and distribution of property. It is one of the most important documents, so you should prepare it with the utmost care. Don't risk making a mistake—register for DoNotPay, and we'll draft you a rock-solid divorce settlement agreement
The Process of Filing for a Divorce Explained
Once you've checked your state regulations and prepared all the necessary documents, you should start the process. Here are the steps to filing for a divorce:
Make copies of the documents—You'll need one copy for yourself, another one for your wife or husband, and the original document for the court
File the divorce papers with the court—You need to file all the original documents at your local clerk's office and pay the filing fee. If you can't afford it, you can request a fee waiver from the court
Serve your spouse—Check your state rules for the specific requirements on serving divorce papers to your spouse
Draw Up an Ironclad Divorce Settlement Agreement With DoNotPay
If you qualify for an uncontested divorce, you'll need a settlement agreement. An attorney can make one for you, but there's no need to pay sky-high fees for a document, especially when DoNotPay can draft it in minutes!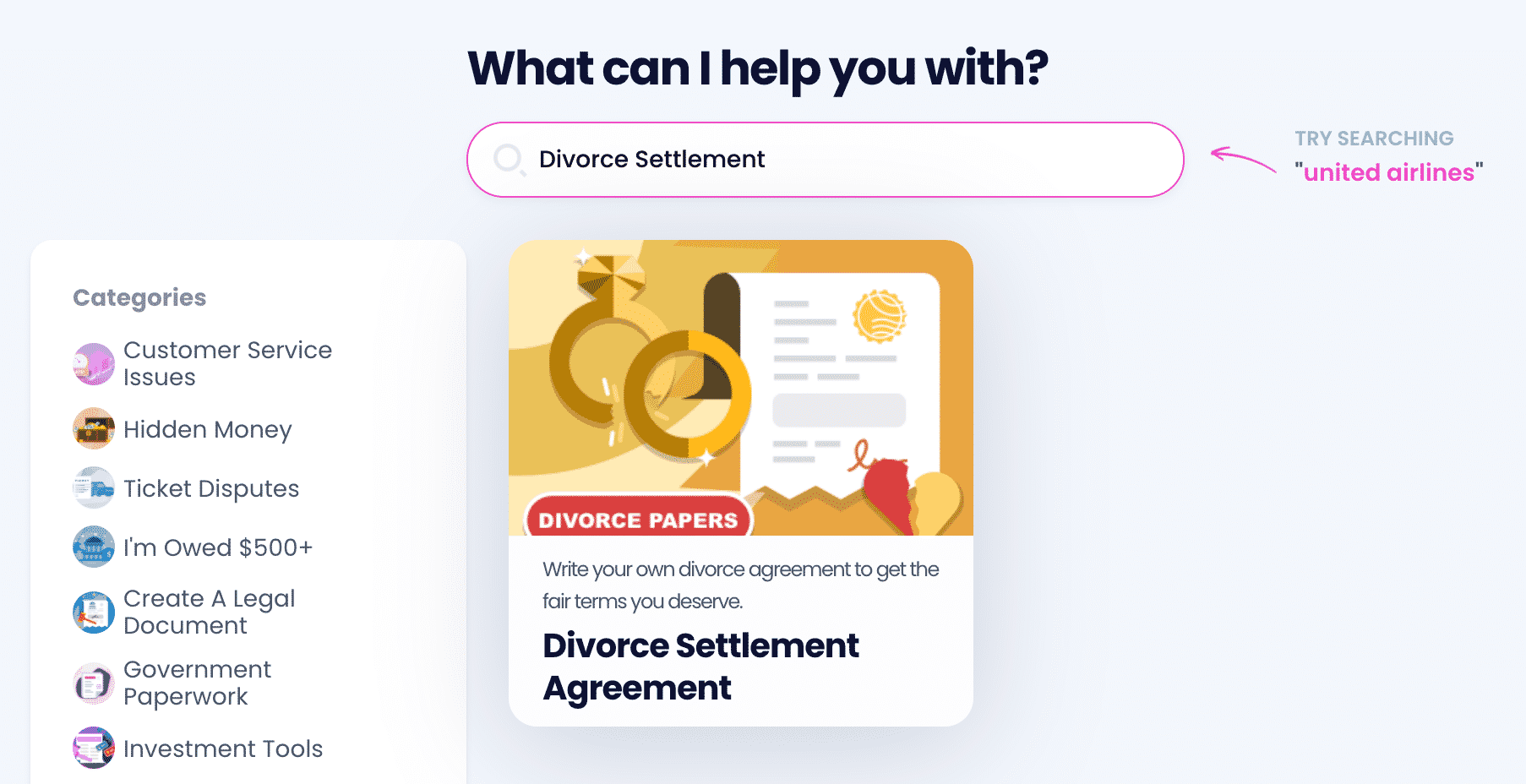 All you need to do is open DoNotPay and do the following:
Find the Divorce Settlement Agreement product
Answer our chatbot's questions
Inform us how you want to allocate your financial assets
We'll draw up a personalized settlement agreement that complies with the state rules and requirements and meets your needs.
Need a notary? We got you covered! While going through our questionnaire, specify that you want us to connect you with a notary public, and we'll do it in no time!
Need more information? DoNotPay can answer all questions related to the topic, such as:
Use our learning center to find out all about the divorce laws and requirements in each state:
DoNotPay Covers All the Bases
From getting you ready for various government tests to helping you reduce your property taxes, DoNotPay offers valuable assistance with the tasks that make most people at least roll their eyes. Dealing with bureaucracy isn't fun, but it also doesn't have to be as difficult as it is.
Every product in DoNotPay's portfolio is designed to efficiently deal with a specific issue within a few minutes and without sacrificing your comfort. Take a look at the tasks our app can make much more simple:
A Little More Money Never Hurt Anybody
Hardly anyone would turn down a chance to earn some more cash. That's why DoNotPay not only protects your rights and interests but also offers great opportunities to improve your financial situation.
With our help, you can find paid clinical trials, locate your missing money in any state, get your cash back from used gift cards, or enter various raffles and win great prizes.