How To Get Divorced in GA From A to Z
Getting divorced is challenging and stressful, but understanding the requirements, documentation, and procedures can take a load off your mind. Do you need to hire an attorney? How much will a divorce cost you? What forms do you need to complete when filing for divorce?
If you'd like to learn how to get divorced in GA, and get the answers to all the divorce-related questions, you've landed on the right page.
How To Get Divorced in GA—Learn the Basics
You should get familiar with the following terms used during the divorce process:
The plaintiff or petitioner is the spouse who files for divorce
The defendant or respondent is the other spouse
To file for divorce in Georgia, you'll need to complete the required divorce forms and start the process by submitting the Complaint for Divorce.
As you need to fulfill the legal requirements, your complaint needs to state:
That you meet the residency requirements, i.e., either you or your spouse has been a resident of the county in which you file for divorce for at least six months
Legal grounds for your divorce
Legal Grounds for Divorce in GA
You can file for fault or no-fault divorce, and the table shows the difference between the two types:
Divorce Type
Explanation
Fault divorce
State the reason why your spouse is at fault for the end of your marriage. You can use one of the following fault grounds:

You were forced or tricked into marrying your spouse
You and your spouse are closely related
Your spouse has:

Left you for a year or longer
Been mentally ill or incapacitated
Committed adultery
Used drugs or alcohol regularly
Been impotent
Treated you cruelly
Been pregnant with another person
Been sentenced to prison for more than two years

Keep in mind that this type of divorce can lead to a lengthy, complex, and pricey divorce procedure if your spouse doesn't agree with the stated reasons

No-fault divorce
State the marriage is irretrievably broken and try to reach an out-of-court settlement with your spouse on all divorce-related issues, including:

The division of property
Child custody, visitation, and support

Keep in mind that a friendly and uncontested divorce is the least expensive, time-consuming, and complicated procedure you can go through without even hiring a lawyer
Where To File for Divorce in GA
You need to file the divorce complaint with the clerk's office in the superior court of the county where you or your spouse have resided for at least six months.
The clerk needs to:
Get a signed complaint
Provide a copy with a date stamp and notation
Keep in mind that you need to give a copy of the document to your soon-to-be ex-spouse.
Draft a Reliable Divorce Settlement Agreement
Once you and your spouse reach a satisfactory agreement on all divorce matters, you need to create and sign a divorce settlement agreement. This document must include all the agreed issues and both signatures, and you need to present it to the court to show that you and your spouse have resolved the case alone.
to prepare a reliable divorce settlement agreement for your uncontested divorce (with children or without).
Turn to DoNotPay for a Rock-Solid Divorce Settlement Agreement
DoNotPay has an extensive database with all relevant state laws and regulations to help you create a divorce settlement agreement to meet the official requirements. You provide your personal information, and we'll make sure it fits the legal frame of the document you can present to the court.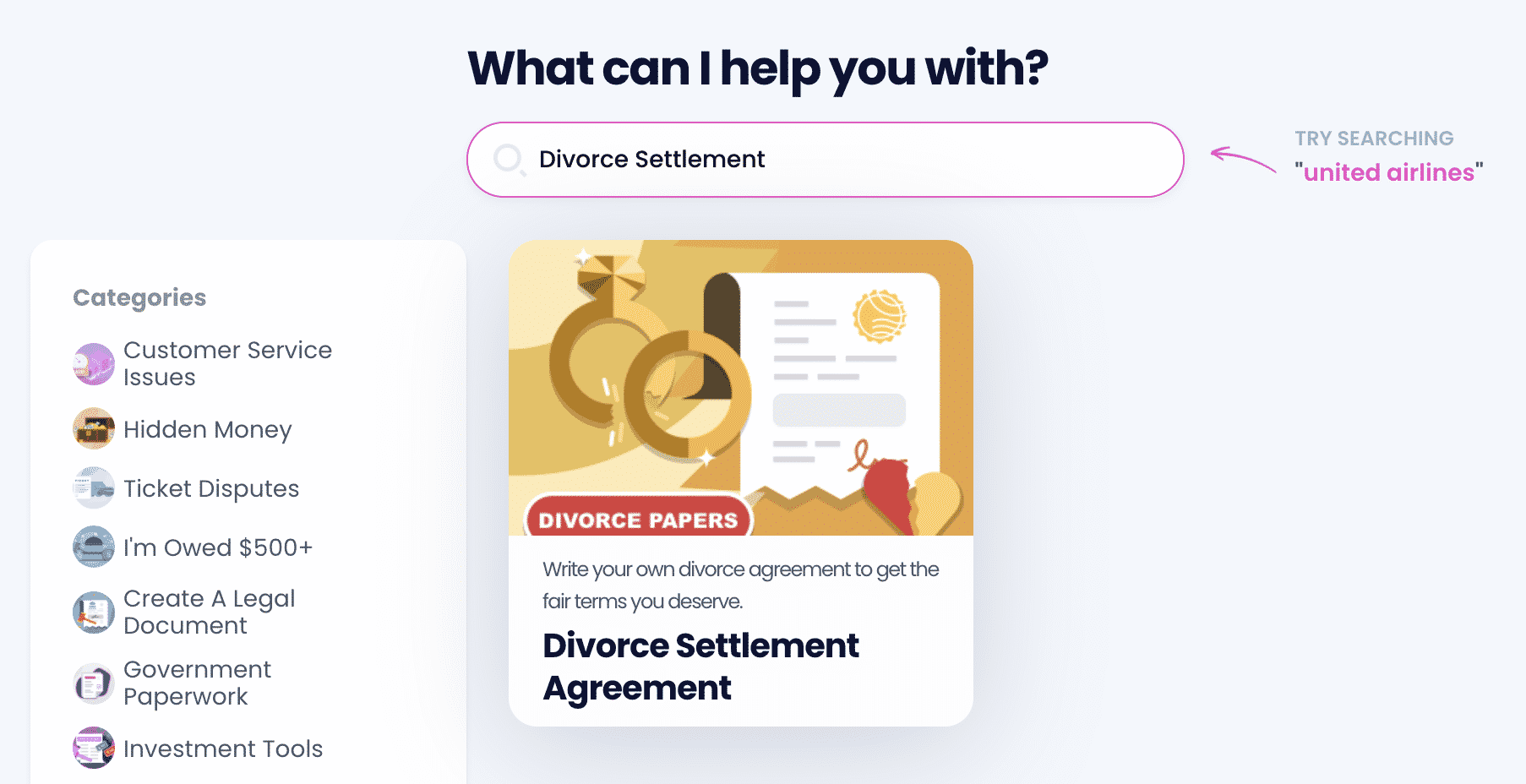 and follow these steps:
Type Divorce Settlement Agreement in the search box
Answer our chatbot's questions
Enter the information on your debts, income, and property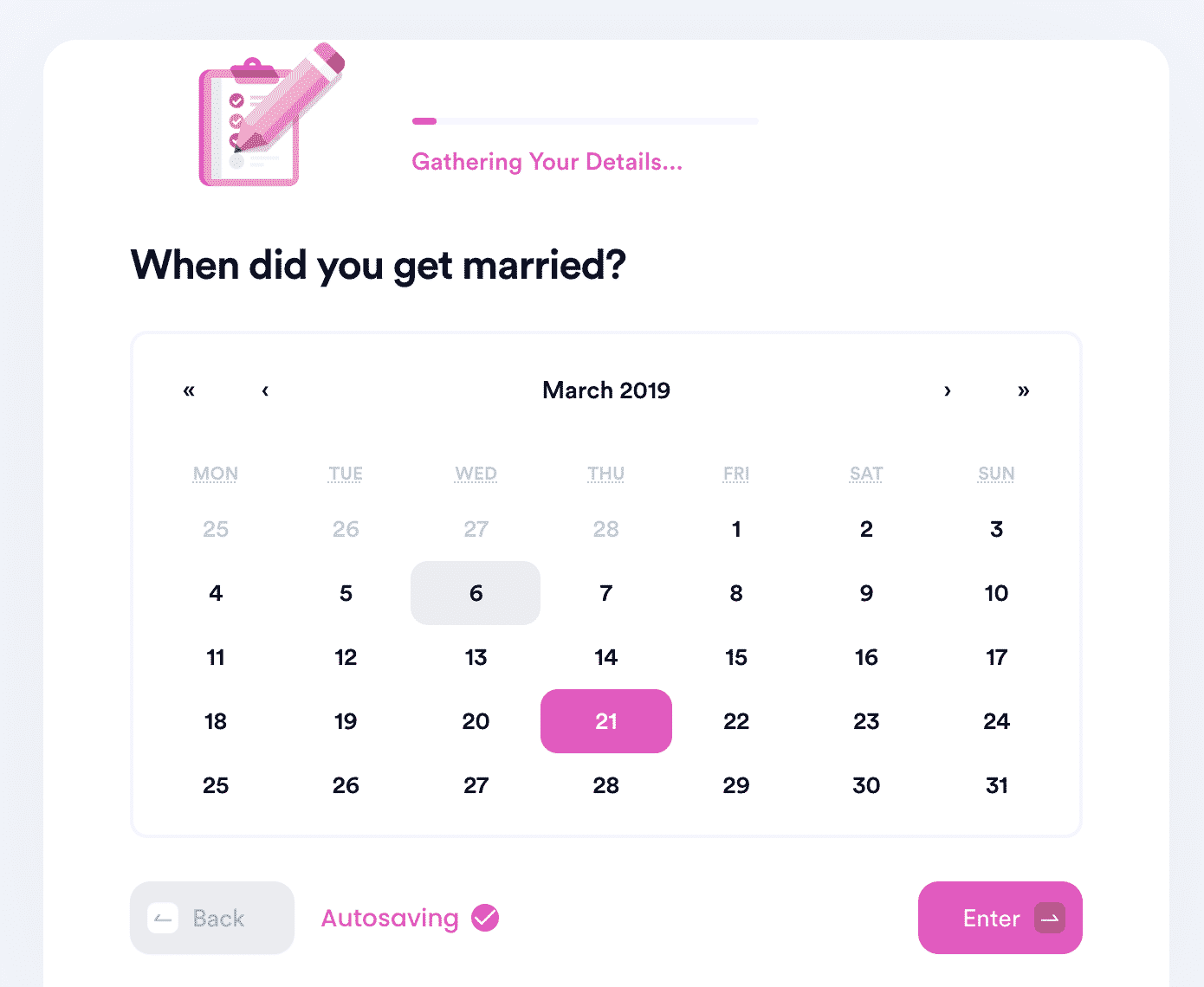 Our AI-powered app scans state law and uses the information you've provided to generate a document tailored to your state, local, and personal requirements.
How To Get Divorced in GA—What Additional Information To Prepare
Your county might require you to provide some financial information. As this depends on the county, you'll need to check by getting in touch with the clerk's office of DeKalb, Fulton, Gwinnett, Muscogee, or any other county where you or your spouse live and decide to file for divorce.
Here's a list of financial disclosures you might need to turn over:
Debts
Assets
Income
Tax returns
Card statements
Bank statements
Personal financial statements
How Long Do You Need To Wait for a Divorce in GA?
In case of no-fault divorce, you'll need to wait for at least 30 days for the court to issue the Final Order and Decree of Divorce.
As the time depends on the court availability and workload, most uncontested divorces in GA are finalized within 45 to 60 days after filing the papers.
DoNotPay's Vast Knowledge Base Is at Your Disposal 24/7
Want to learn about other divorce-related topics? Browse through our website as we publish lots of handy guides, such as:
Do More With DoNotPay's Useful Features
DoNotPay offers a unique service when it comes to filing for divorce or drafting a divorce settlement agreement, but we don't stop there! Our app can also help you draft, fax, and get other legal documents notarized in a flash! From powers of attorney to child travel consent forms—we assist you every step of the way!
If you need to file an insurance claim, fight workplace discrimination, or sue a company in small claims court, you can use our app to get it done with ease.
Deal With Companies Stress-Free
If you like to shop and you often make purchases, you know that companies can cause all kinds of issues along the way. DoNotPay has a trick up its sleeve that helps you deal with any issue a company causes like a pro!
Wasting hours waiting for a customer support rep to pick up becomes a thing of the past once we get involved. We'll show you how to request a refund, cancel a subscription, apply for free trials, use a virtual credit card, and claim a warranty easy-peasy!
If your package is damaged or missing, we'll show you how to track it and file a missing package claim.