An Easier Way to Get a Divorce Certificate in Broward County, Florida
Undergoing a divorce can cost you a lot of time and money. From the time spent in court to cash that is shelled out for spousal support or attorney fees, divorce can be stressful in more ways than one.
However, when it comes to how to get a divorce certificate in Broward County, Florida, you don't have to worry. DoNotPay has got you covered, with a guide that walks you through the process without any confusing jargon or red tape.
Getting a divorce certificate in Broward County, Florida isn't difficult to do when you use DoNotPay, the fast, easy way to get the documents you need without filling out countless online forms or making numerous lengthy phone calls.
Reasons to Get a Divorce Certificate
A divorce certificate is a good thing to have on hand for several reasons:
A divorce certificate can be useful when changing your legal last name.
You can use a divorce certificate when applying for landed immigration status.
A divorce certificate can be used for refinancing a home.
Even if you aren't planning on doing any of those things, having a copy of your divorce certificate is a good way to legally prove that you are divorced.
Who is Eligible to Get a Divorce Certificate in Broward County?
If you have gone through a divorce in Broward County, Florida then you should be eligible to get a copy of your divorce certificate. Citizens of Florida who live in the Broward County area can coordinate with the county clerk's office to get a copy of their divorce certificate.
How to Get a Broward County Divorce Certificate on Your Own
Do you want to get a Broward County, Florida divorce certificate on your own? Here's what you should do:
Visit the Broward County Records Division website and scroll to "Additional Online Services." From there, you can search for the divorce certificate section, which might also be under "dissolution of marriage documents."
Search for the divorce in question, using the date of the divorce and the names of the parties involved. Please note that if the divorce was filed after 2002, images of the divorce documents will not be available to view online.
If you are unable to find the divorce certificate that you're looking for, you can call the County Clerk's office for assistance. To get in touch with a representative, call 954-831-6565, or send a fax to 954-831-6572. Make sure to explain the document that you need and be prepared to offer up any personal details that they will need to help you with your request.
This process can take a long time, especially if you need to make phone calls and get additional assistance. If you want to get some help with this, and bypass some of the more complicated issues, turn to DoNotPay. Our simple online form can help you get your divorce certificate without the red tape.
Here is the address and the contact information of the Broward County family court:
Broward County, FL Divorce Circuit Court Information
Divorce Forms
Case Details | FloridaOnlinedivorce
Court Name
Circuit Court – Broward County, Family Law Division
Court Title
In the Circuit Court of Broward County, Alabama
Circuit Court Location
201 SE 6th Street RM 4130, Ft Lauderdale, Florida 33301
Court Phone
954-831-6565
Court Hours
8 am – 4:30 pm
Use DoNotPay to Easily Get Your Divorce Certificate
If you want to know how to get a divorce certificate in Broward County, Florida but don't know where to start, DoNotPay has you covered in 7 simple steps:
1. Go to the Certificates of Divorce product on DoNotPay.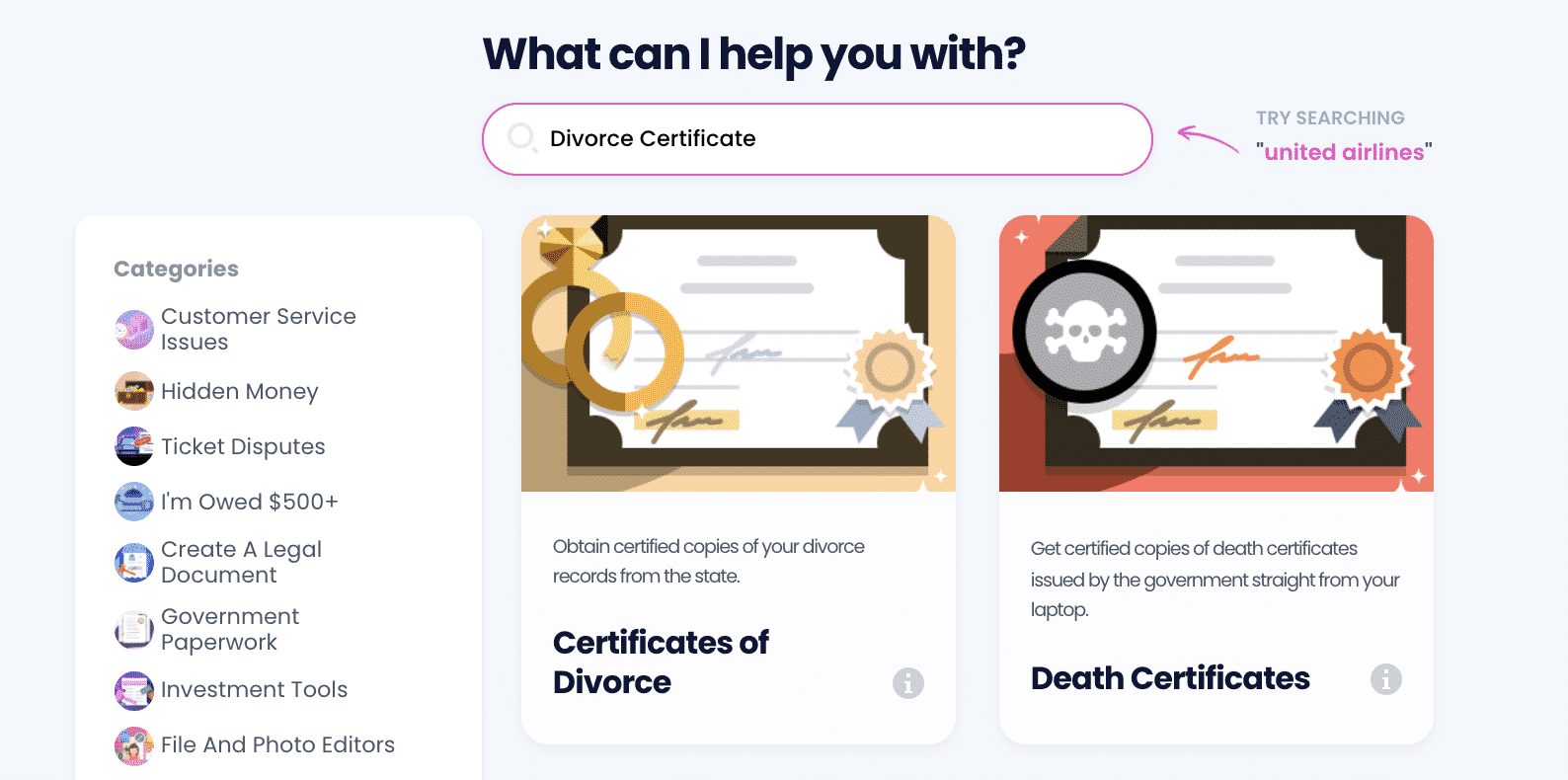 2. Select whether the certificate belongs to you or a relative/loved one. If it belongs to someone else, enter the details of both people on the certificate and select/upload evidence that proves your relationship with them. If the certificate is yours, enter the details of your spouse.*Please note: some states only allow people named on the certificate to apply.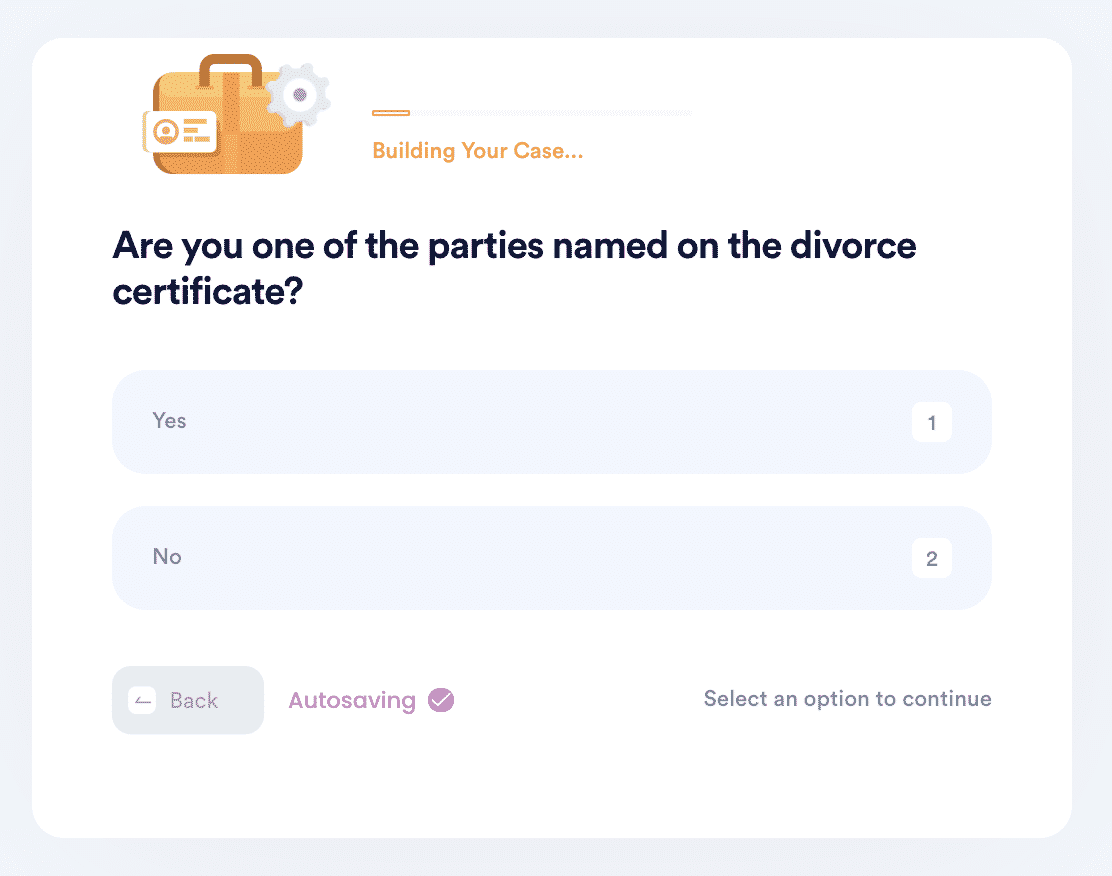 3. Enter the city, state, and county where the divorce certificate and original divorce certificate were issued as well as the dates they were issued.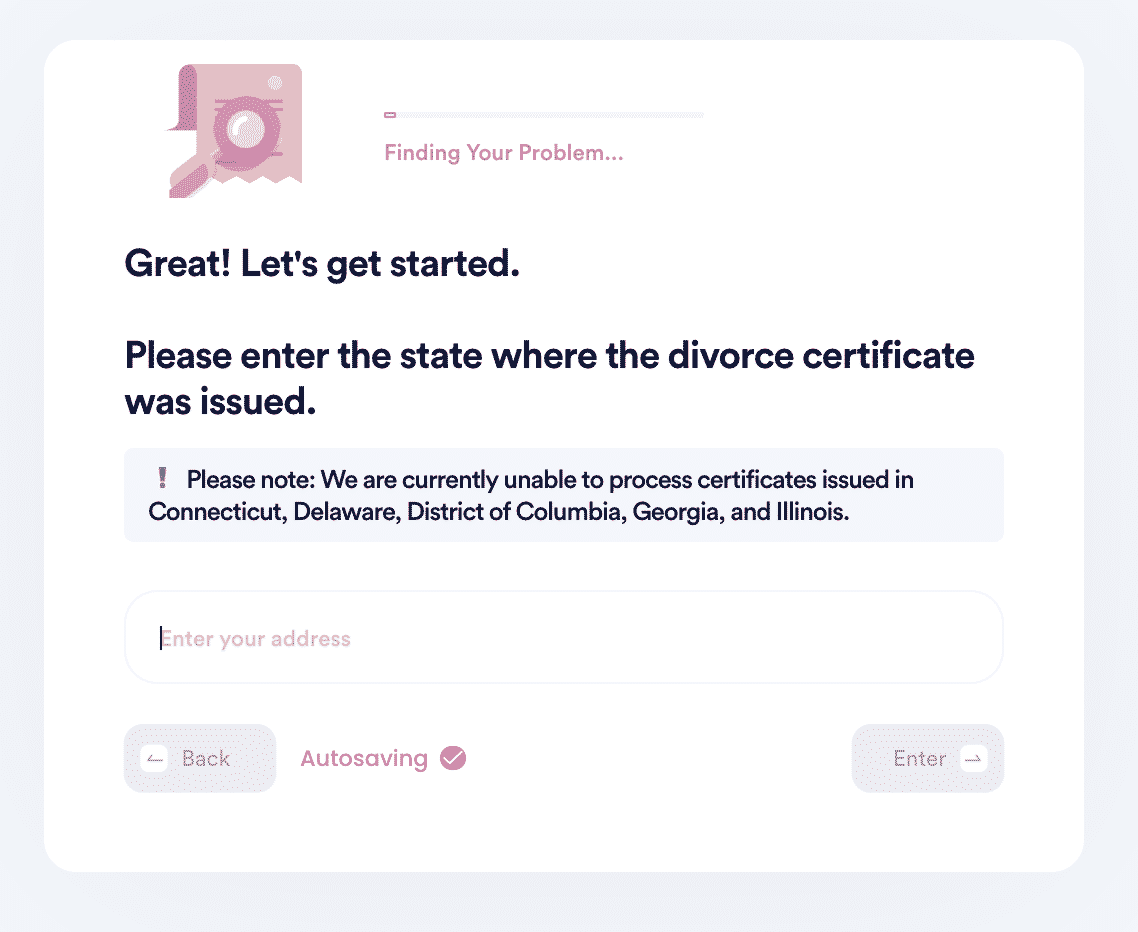 4. Indicate what you will be using this certificate for, and choose whether you need an authorized or certified copy.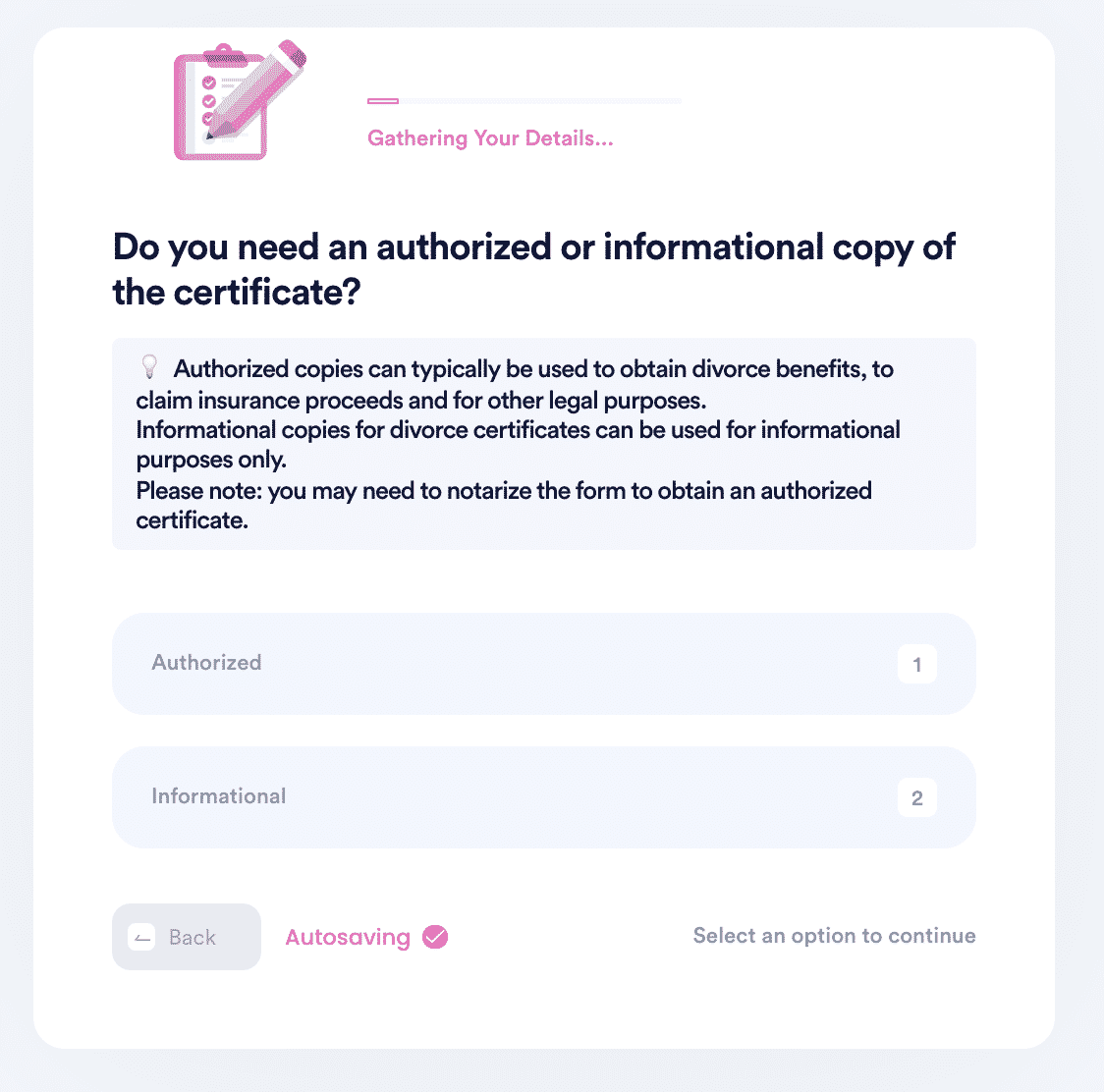 5. Enter your contact information and shipping address. Upload copies of your government-issued identification, such as a driver's license.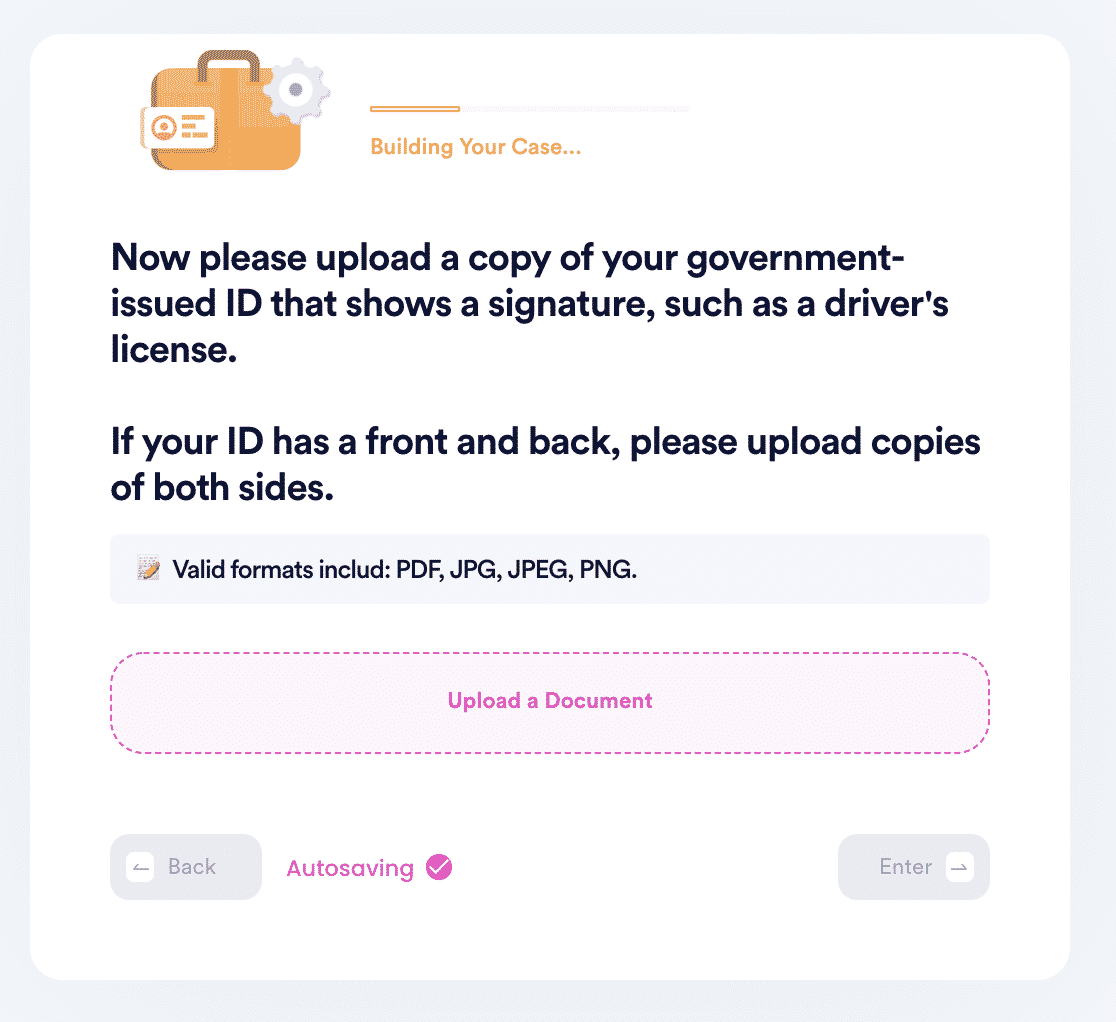 6. Choose whether you would like to electronically sign this form or not. Once we generate the form, verify that all of the information is correct.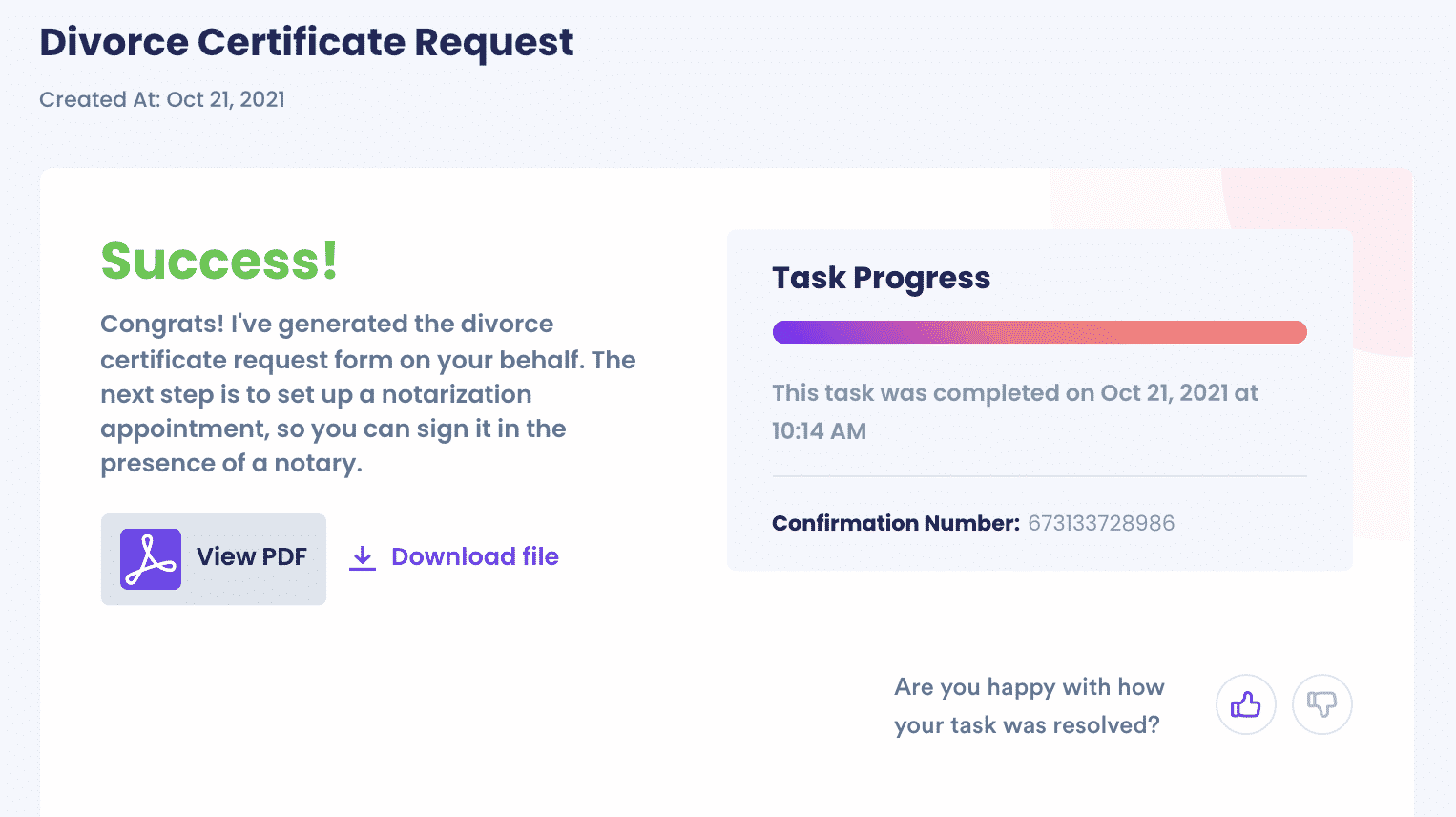 7. If you need the document to be notarized, schedule a notarization appointment using our Notary product. Otherwise, proceed to our Mail Checks product and let DoNotPay mail in your request form with a check on your behalf.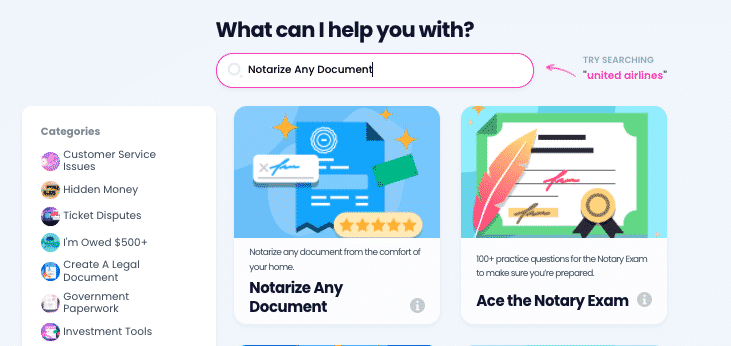 DoNotPay Is the Divorce Certificate Solution
DoNotPay makes it easy to learn more about divorce certificates. Here are some other topics to discover:
What Else Can DoNotPay Do?
Aside from divorce certificates, DoNotPay can also help you with other services such as: