How To Get an Uncontested Divorce and Keep It Civil
Parting ways with a person you shared everything with is never easy, even if you know it is for the best. The recommended course of action is to stay pragmatic and end the divorce process as unscathed as possible. DoNotPay explains and helps with drawing up a rock-solid marital settlement agreement.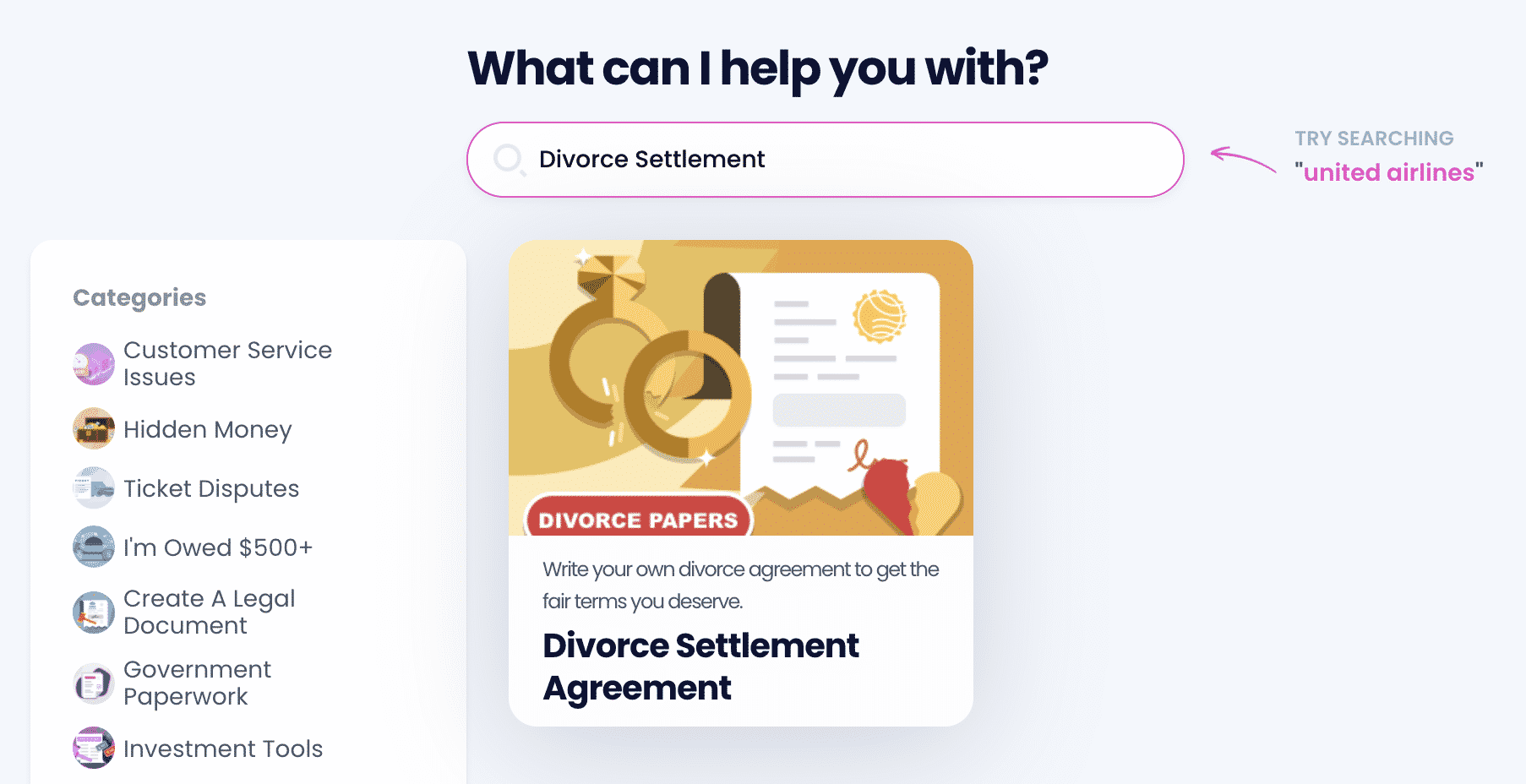 Uncontested divorces are usually low-cost and pretty quick, so opting for this type of marriage termination will save time and money.
Everything You Should Know About Getting an Uncontested Divorce
Getting an uncontested divorce is easy when ex-spouses agree on the most important issues, such as:
Spousal support
Child support and custody
Division of mutual property and debts
Visitation time of the non-custodial parent
Even if you agree on everything, note that a judge will have to verify your post-marital arrangement and grant the divorce. The court may order a revision of the settlement agreement if it is evident that:
The terms favor one party
The document has been made while one spouse was under pressure
Procedures may vary by location. To learn how to get an uncontested divorce in your state, refer to the following table:
Is Getting an Uncontested Divorce Simple?
Reaching an understanding with your soon-to-be ex is not always easy, especially if you have:
Mutual assets, including homes and rentals
Minor children because of custodial and other related questions
Finding common ground may be challenging if one spouse benefits from the retirement plan of the other. In this case, you should hire an actuary for assessment. If push comes to shove, you'll have to hire a lawyer to help you with the process. The cost depends on several factors but is usually between $3,000 and $6,000.
Couples who can become self-supporting are more likely to complete the procedure without hiring an attorney or going to court.
Should you hit any bumps on the road, consider divorce meditation. An independent professional can assist in getting amicable marriage dissolution and lowering the divorce expenses.
What Are the Uncontested Divorce Benefits?
The most significant uncontested divorce pros are:
The Uncontested Divorce Procedure and Recommendations
If you and your spouse come to terms regarding your divorce, you will save a lot of money and time. You will also reduce emotional turmoil to a minimum.
The remaining steps you would need to take to dissolve your marriage are:
Filing uncontested divorce papers. Note that the forms are available on official government websites and in county courthouses
Drafting a divorce settlement agreement
Depending on the state you are divorcing in, terminating a marriage in uncontested divorce could last anywhere from 30 days to a few months.
How To Get an Uncontested Divorce With DoNotPay
If you and your former spouse agreed to an amicable divorce, you won't have to spend exorbitant amounts on legal fees and lawyers.
Keep in mind that it's not advisable to write the divorce settlement agreement yourself. If you lack legal knowledge, you might make a mistake causing irreversible damage in the long run.
If this troubles you, use DoNotPay—the only robot lawyer you need. Creating a divorce settlement agreement with us is super easy, and the form is compliant with the local laws of any U.S. state.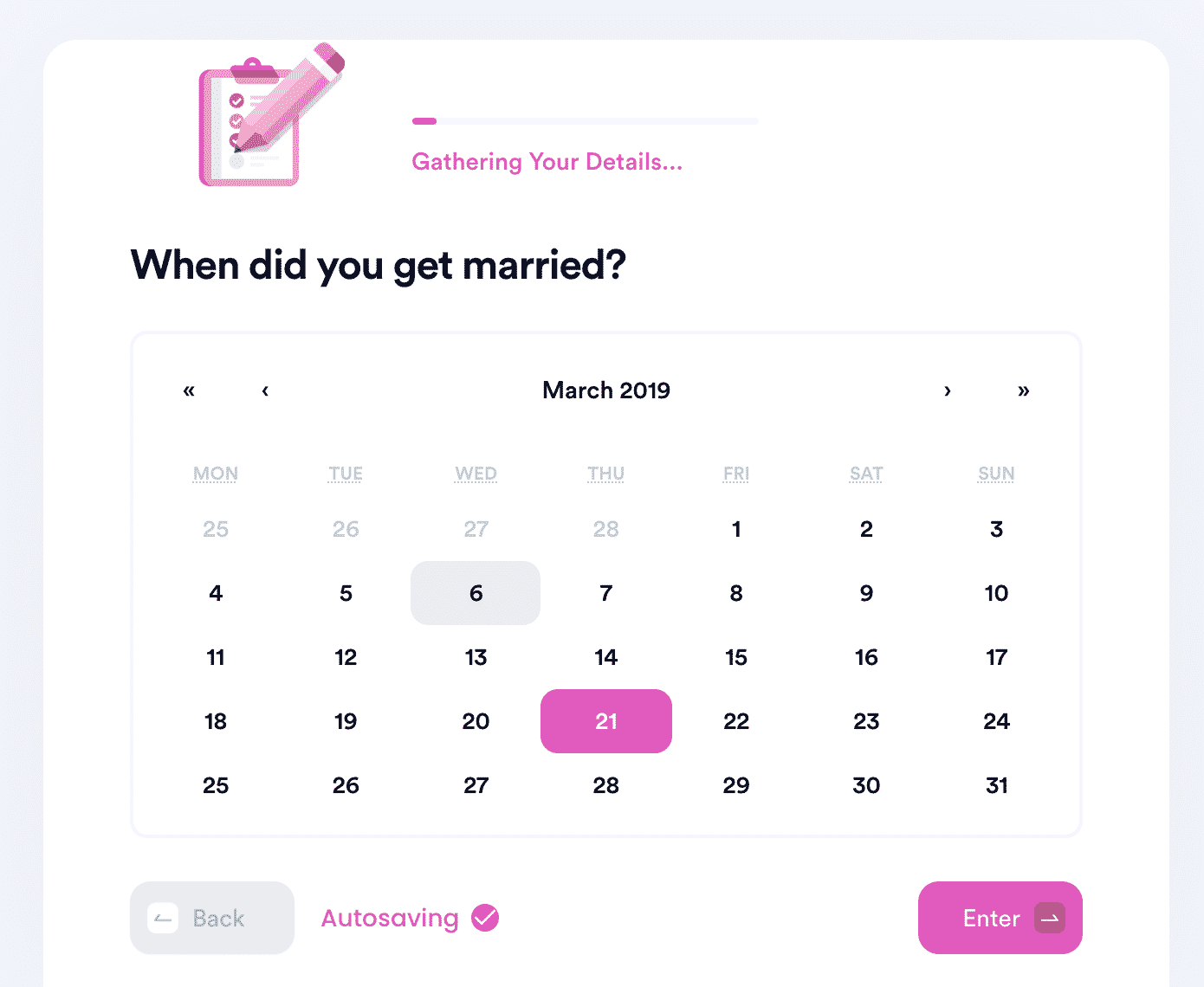 To benefit from DoNotPay's convenient service, you should:
and select Divorce Settlement Agreement
Answer our bot's questions about your spouse and children, if you have any
Specify how you wish your income and assets distributed
Once you finish, DoNotPay creates a customized divorce settlement agreement ready for signing and notarization. We can even connect you with an online notary, so you can complete the process via video call.
Additional Facts About Divorces
Here are some useful tips about the divorce process:
Do I need to hire a lawyer for a friendly divorce? Consider consulting with an attorney to understand your legal rights. Having a professional checking your documents can eliminate mistakes you weren't aware of
Can I make corrections when I file the documents? There is no guarantee that you will be able to make corrections in case you filled out the forms incorrectly
What to do if my spouse is unresponsive? Upon filing for divorce, your soon-to-become-ex must examine the divorce papers and accept or contest your terms. If reaching your spouse proves difficult, you have to serve them with the divorce documents
Can we hire one lawyer to represent us both? This option isn't available because of the conflict of interest. The court deems divorcing parties to be on opposing sides
Choose From a Variety of DoNotPay's Amazing Tools
Did you manage to solve the issue with our app? If the answer is yes, you may also be interested in checking out other interesting features we offer. DoNotPay can help you:
| Get Rid of Spammers By | Deal With Uncooperative Merchants By | Get Help With Your Studies By |
| --- | --- | --- |
| | | |
Let DoNotPay Prepare Important Documents for You
Are you having a hard time drawing up a contract due to insufficient legal expertise? Say goodbye to failed drafts—DoNotPay can generate divorce settlement agreements, powers of attorney, child travel consent forms, and many other legal documents in under five minutes!
We will also help you create anonymous HR complaints and demand letters for your neighbors if you are experiencing any issues with them.