How To Get a Trademark License Without Losing Your Mind
Getting a license for an existing trademark often seems simpler than creating a new asset and going through the registration process. To be able to use an established and protected business name, logo, phrase, or slogan, you must be acquainted with the way trademark licensing works.
In this article, you will learn how to get a trademark license from another person or business. We will also teach you about:
Different types of trademark licenses
Benefits of getting a license
Precise steps you should follow to become a trademark licensee
Flawless trademark application you can file by
What Is Trademark Licensing?
Obtaining a trademark license means getting temporary permission to use business marks belonging to another individual or company. The registered owner (the licensor) signs a contract with you (the licensee), allowing you to distribute goods or services under their trademarks.
You shouldn't confuse trademark licensing with trademark assignments. Trademark holders use assignments to sell their ownership to another person—fully or partially. When providing a license, they still own the asset but let you use it in exchange for a predetermined fee and with certain restrictions, such as:
Limited duration
Limited territory where the licensee can use the trademark
Geographic area in which the licensee can offer their goods under the particular trademark
Market sectors to which the licensee can sell their products or services
What Types of Trademark Licenses Exist?
There are three basic trademark license types:
Exclusive license
Non-exclusive license
Sole license
Here is a table showing more details about each:
| Type | Explanation |
| --- | --- |
| Exclusive license | The licensor grants sole commercial rights to the licensee. It means that the owner cannot use the trademark or let other people use it as long as the license applies. The licensor benefits from the royalties or the licensee's future profits gained by using a particular trademark |
| Non-exclusive license | By providing a non-exclusive license to another person or business, the trademark owner keeps the right to use the assets along with the licensee. They can also grant licenses to other people while being under contract |
| Sole license | A sole trademark license allows both the licensor and licensee to use the assets, but no third parties can get the permission to do it |
Why Should You Consider Trademark Licensing?
A trademark license can bring various benefits to small business owners, including:
Easier ways to reach new markets and progress
Brand recognition improvement
Increased popularity of the trademark
Great chance to distribute the existing workload and share it with someone else
How To Obtain a Trademark License—Detailed Instructions
Once you find a person willing to grant you a trademark license, you must:
Ensure that the licensor is reliable and their trademark is original—Inquire about the licensor's business and reputation. It is crucial to make sure there are no similar registered trademarks. You can check that by searching through:

The U.S. Patent and Trademark Office (USPTO) search system
State trademark databases
DBA filings
Online directories of other government agencies

Decide on the type of license along with the licensor—Determine whether you want to keep exclusive rights to use the trademark or share them with the owner or other parties
Draft a trademark license agreement—Signing a written agreement is not mandatory but helps you solve potential legal issues more quickly and with fewer expenses. Both parties should establish terms and conditions of the contract, sign it, and have it notarized if applicable or necessary. The agreement should be clear, thorough, and reviewed carefully by both the licensor and licensee
Use services if necessary—Not everyone is skilled in writing agreements. If you are afraid that you will make a mistake, hire an attorney to help you
What Should a Trademark License Agreement Contain?
Essential clauses of a comprehensive trademark licensing agreement include the following:
Identification of both signing parties—including legal names, titles, and optional contact details
Predetermined type of license
Description of the licensee's business and goods they offer
Description of the trademark—including type, class, and other crucial elements
Agreement term—for how long the licensee can use the asset
Effective date of the agreement
Geographic area where the licensee is allowed to use the trademark
Quality control and ownership use provisions
Consideration and trademark licensing fees
Additional provisions, such as:

Licensor's representations and warranties
Supporting documentation (if necessary)
Indemnification clause
Termination conditions
No implied waiver clause
No agency relationship clause
Applicable laws
Severability clause

Signatures of both parties involved
Insecure About Applying for a Trademark Yourself? Have DoNotPay File It for You!
The best way to avoid trademark infringement is to register your business assets with the USPTO. You can use services to ensure your trademark application form is completed accurately, but that can be a pricey solution.
The good news is that if you need to file a trademark, you do not need to spend hundreds or thousands of dollars trying to protect your ideas. DoNotPay provides a simple and efficient tool that helps you file a trademark by guiding you through the registration procedure!
To get the necessary help, do the following:
and navigate to Trademark Registration
Define the type and category of the asset you want to trademark
Provide more info about the trademark and the business you run
Pay the trademark application fee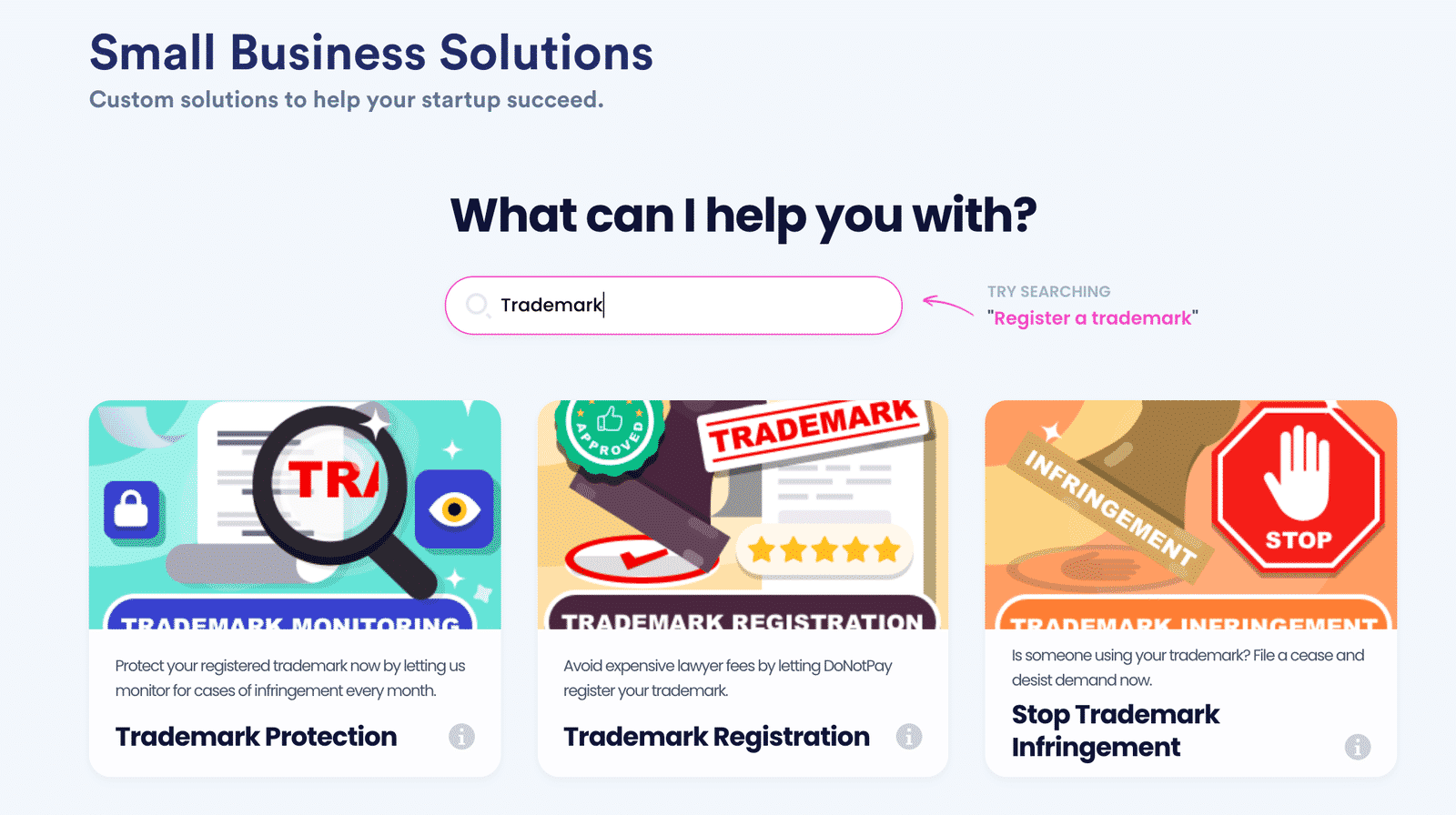 As soon as we receive the requested details, our AI-powered system will:
Check the USPTO trademark database for the same or similar entries
Complete the application form in your stead based on the info you disclosed
Help you e-sign the form and send it to the USPTO trademark department
Send you an application tracking number
Besides helping you apply for a trademark, our guides can tell you all about copyrights, service marks, trademark duration, and applicable protection laws. Familiarize yourself with trademark requirements and other aspects of the trademark registration process!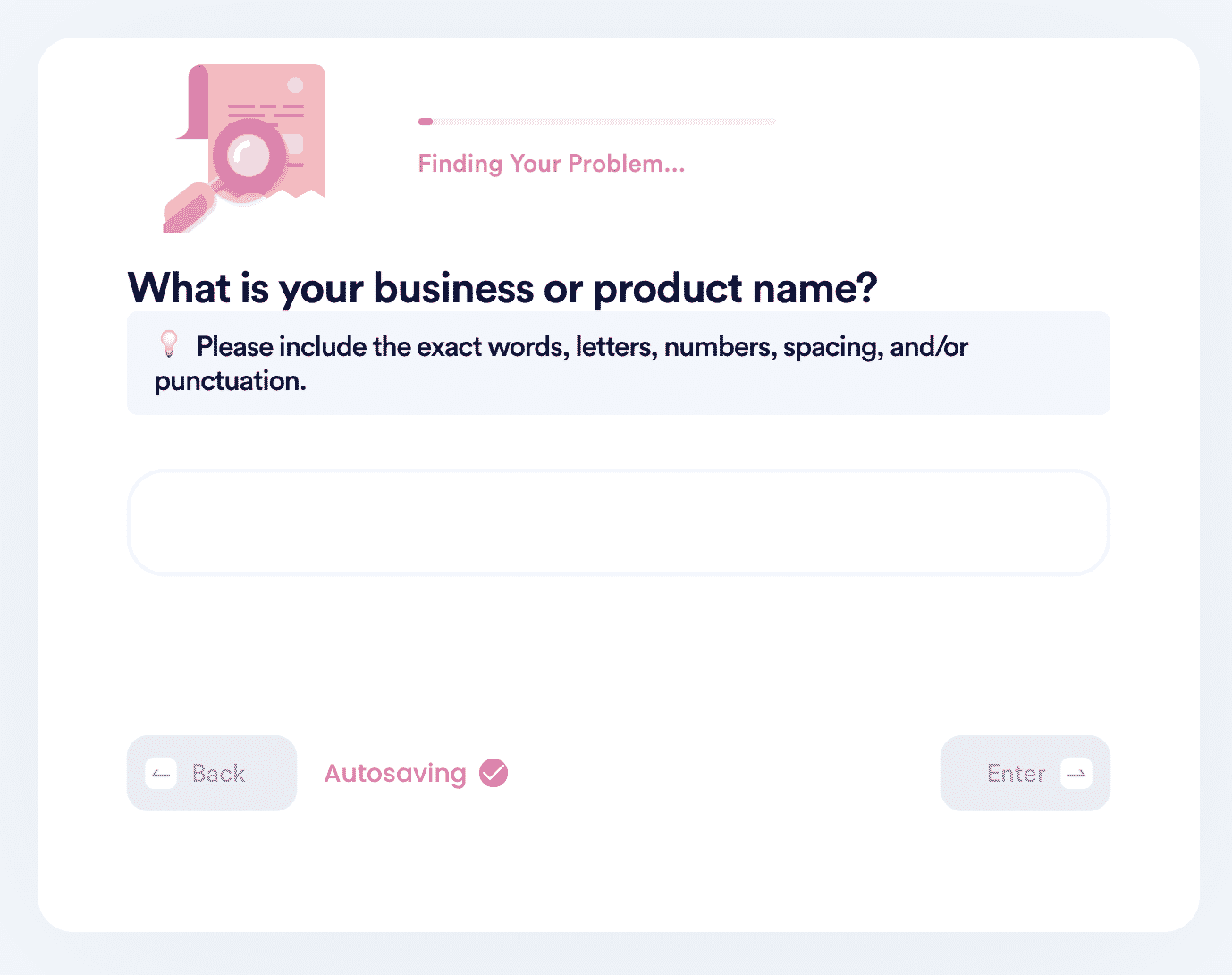 DoNotPay Helps You Raise the Bar in Business
Whether you are just getting started with your small business or are well into the game, DoNotPay can be your valuable assistant. We can help you manage various issues, such as:
Trademark infringement
Negative reviews
Suspicious chargebacks
You can focus on what is important while we take care of administrative tasks and problems.
Get More Done With Our Help
DoNotPay's features at your disposal are versatile. We can assist you in registering your DMCA agent with the U.S. Copyright Office so that you can avoid exorbitant copyright infringement fines. Thanks to our app, preparing and filing business loan applications will also be smooth sailing.
If you want to protect your slogan, logo, and company name, we will guide you through the trademark registration process. The Employer Identification Number (EIN) issuance is another procedure our app is able to assist you with.
Would you like to self-certify your business under the EU-U.S. Privacy Shield program? DoNotPay will complete and file the request in your stead. Our app can help take care of your employees, too. Use DoNotPay to create and submit 83(b) election forms to the IRS.
Is the pile of documents due to be sent getting bigger by the minute? Not to worry—your pocket assistant can mail and fax your documents with ease.