How To Get a Small Business Loan
You have to spend money to make money—economics 101. What do you do when you do not have the money to spend? That does not mean you should give up on your entrepreneurial endeavor. Small business loans can help you get the capital you need to cover business expenses or expand your company.
We will explain how to take out a small business loan and why you should do it. We will also show you the quickest and easiest way to get a small business loan.
What Is a Small Business Loan?
Small business loans exist to help your business get enough cash flow to cover initial startup costs, get equipment and supplies, and cover daily costs.
Like any other loan program, business loans:
Require loanees to prove they can repay the borrowed sum
Come with interest rates
Have a repayment schedule
Getting a small business loan can help you kickstart your company and overcome the initial hurdle ahead. Still, even the best loans can cripple your business and make you go bust if you pick the wrong one or fail to predict its impact on your budget accurately.
Before you decide to apply, you should consider the following:
The exact reason for taking out a loan—Make sure you know exactly what the money is for. Is it a necessary step in the evolution of your company, or can you live without it? How will it help you grow?
Future plans—You should make an educated forecast of your future sales and profits. If you are certain your company will grow and that the loan repayment will not stump that, you should not worry about it
Contingency plan—Always have a plan B. You have to make worst-case scenario predictions and plan your moves if plan A doesn't go your way
Loan terms—Every contract has its fine print. Ensure you fully understand every piece of information on the small business loan to avoid being surprised by some conditions only after the deed is done
Types of Loan
The first step to obtaining a small business loan is deciding which type of loan suits you best. Lenders that offer business loans are:
Check out the following table to see the most common types of loans and figure out what they offer:
Business Loan Type
Terms
Maximum Amount
Interest Rate
Credit for a small business

For cash flow management and business expenses
Instantly receivable
Good credit score
Repayment period of six months to five years

$250,000
10–99%
Microloans

Repayment period of six to eight years
Capital loan for business improvement

$50,000
8–13%
Merchant cash advance (MCA)

Credit score not taken into account
Daily repayment
Proven daily sales
Repayment period of three to 18 months

$250,000
Factor rate of 1.1–1.5
The United States Small Business Administration (SBA) small business loans

Repayment period of ten to 25 years
Good credit score standing
No repayment penalty (SBA as guarantee)
For long-term financing

$5 million
2.75–4.75%
Equipment loans

Repayment period equal to the equipment's lifespan
Approvable after a few weeks
Exclusively for equipment acquisition

100% of the equipment cost
2–20%
How To Get a Small Business Loan
Getting a small business loan is not an easy task. It can take you months to prepare yourself and create an accurate application. Lenders will make a thorough inspection of your company to determine the risk of approving the loan.
To get a small business loan, you need to:
Have a strong, realistic business plan
Show profit in your books
Demonstrate you can afford the repayment
Choose collateral as a guarantee in case of failure to repay
When you apply, you will need to hand in the paperwork that will help the lenders run your numbers and figure out your business' health. You will also need to provide further information about yourself and the nature of your business, including personal and business credit scores.
Bear in mind that many lenders require you to be in business for a year or two as one of their small business loan requirements. If you need investment to open up your business, you should look into startup loans.
One of the main reasons business owners fail to secure a loan is because their application is not up to the standard. To avoid this happening to you, subscribe to DoNotPay and let us guide you through the process by making sure you do not leave out any documents or details.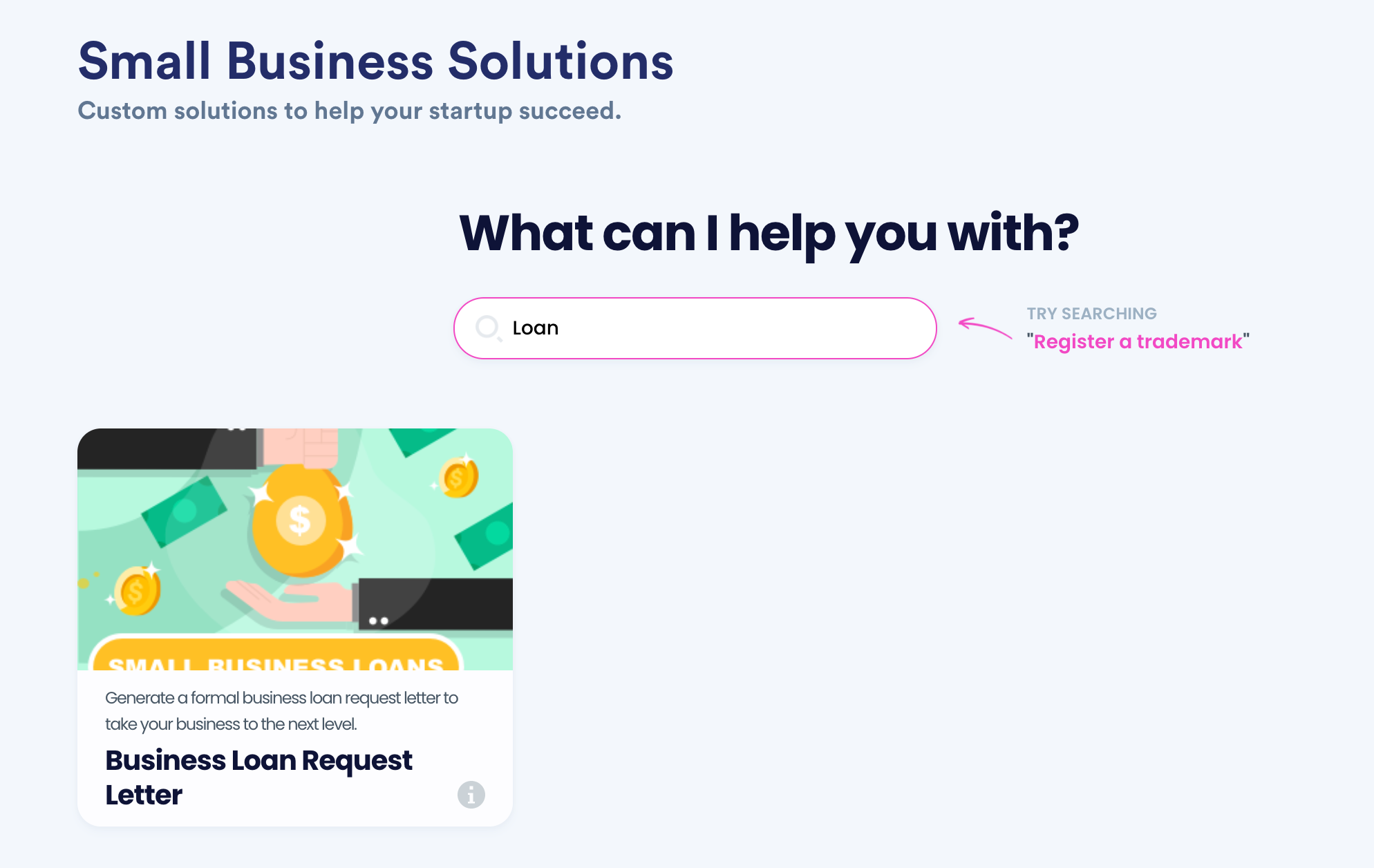 How To Qualify for a Small Business Loan
To qualify for a small business loan, you need to be able to prove you meet all the criteria lenders ask for. You can prove your qualifications by handing over the following documents:
Resume
Business plan
Credit reports
Collateral
Accounts receivable and payable
Financial statements—cash flow, balance, and profit and loss statements
Legal documents—bank statements, leases, licenses, an ID card, and third-party contracts
Loan application form
How To Get a Small Business Loan Using DoNotPay
The way you prepare for the application process is what will make or break your chances of getting a small business loan.
Compiling all the necessary paperwork and working on every detail is a daunting task, which is why DoNotPay is here to help.
Sign up for DoNotPay, and we will make sure you collect and submit all the required documents. We will also ask you questions about the company to gather all the information lenders ask for.
What you need to do is:
Gather your personal and business credit scores
Prepare documents to prove your qualifications
Answer a few questions
Upload all the necessary paperwork
Once we generate your personalized loan request letter, you'll be able to download it and submit it to your chosen lending institution—or you can opt to have us do it for you!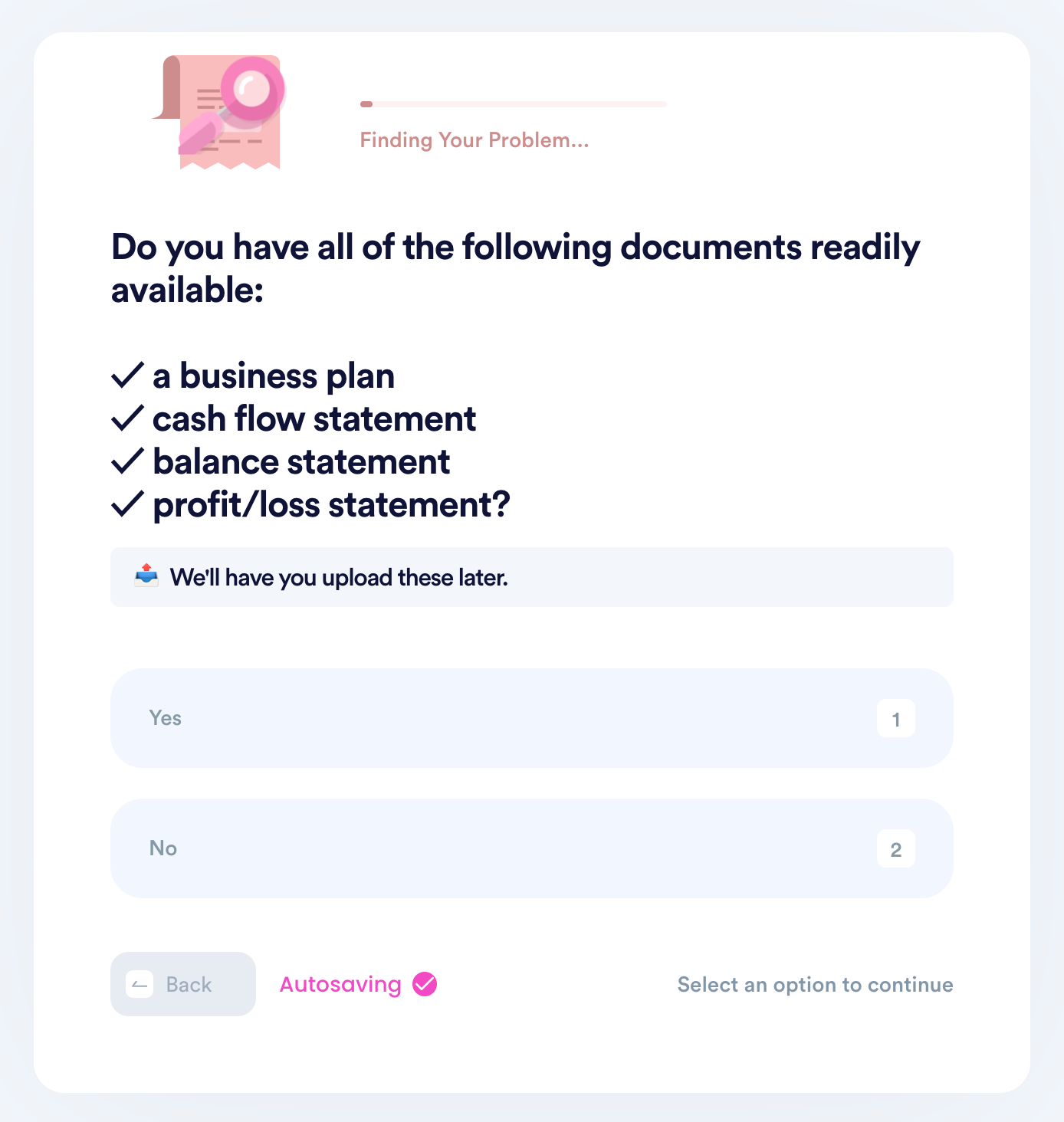 DoNotPay Finds the Best Lenders for You!
If you're still uncertain as to which lender you want to take out a loan from—we can assist you in finding the best one!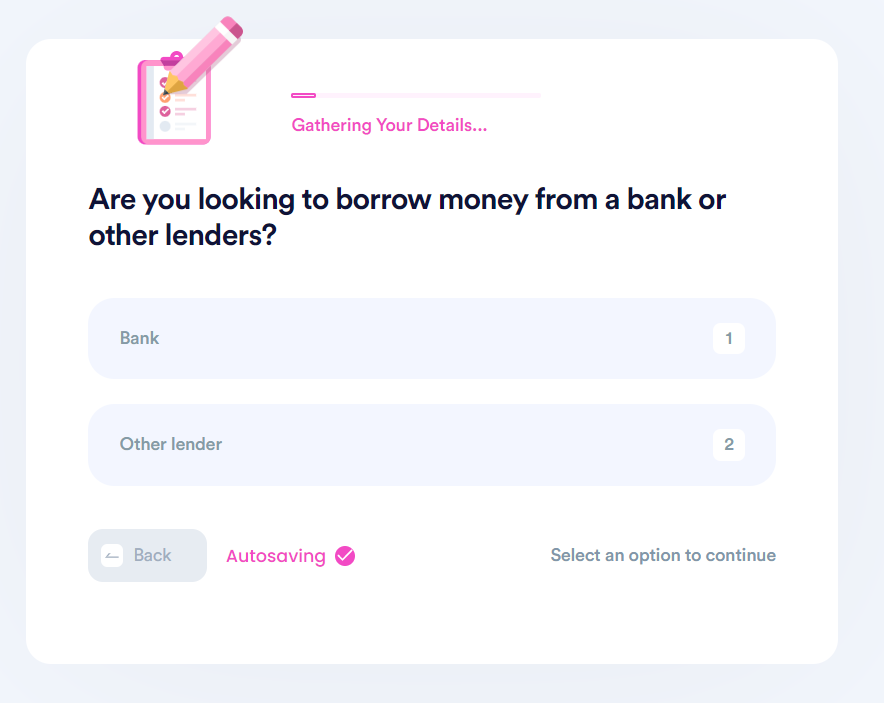 You can opt for our Find Online Business Loan Lender feature to get a list of three best lending institutions for the type of loan you need.
Alternatively, you can kill two birds with one stone—fire up our Business Loan Request Letter tool, tell us you don't have a specific lender in mind, and let us find you one and draft a letter you can send to them right away!
Don't Waste Ages on Tedious Administrative Tasks—Rely on DoNotPay
Running a small business can be a challenging endeavor, but you can count on DoNotPay to make the situation easier! We have developed a number of handy features that you can use to deal with your business-related hurdles. With our help, you can:
Send mail to your customers, investors, or business associates without wasting time going to the post office
Register your business slogan, logo, or name as a trademark to prevent brand infringement
Avoid copyright violations on your website by registering a DMCA agent
Protect the privacy of your clients' data by filing the Privacy Shield program self-certification request
Contest unjust chargebacks and keep the revenue
Deal with clients who breach the contract without wasting money on collection agencies or lawyers
Worked Hard on Creating a Good Business Reputation? Don't Let It Go to Waste!
Has one of the angry clients or envious competitors decided to leave a mean online review that could have a negative impact on your business? DoNotPay is here to help you remove it! We will analyze the problematic review and report it until it is taken down.
Don't know how to protect your trademark and make sure no one else is using it? Our app can monitor the trademark on a monthly basis and send cease and desist letters if necessary.
Let our app take care of many other issues—such as filing 83(b) election forms, registering for an Employer Identification Number (EIN), taking out small business loans, and similar—while you concentrate on the creative side of your business.