How To Get a Small Business Loan Without Collateral With Ease
As a borrower, you will most likely have to back the acquired loan with your company assets. While lenders demand collateral in most cases, certain loan types come with different requirements.
In this article, we explain how to get a small business loan without collateral and demonstrate how to apply for a no-collateral program using DoNotPay.
Why Do You Need Collateral for a Small Business Loan?
Small business loans are an efficient solution to a wide range of financial challenges. Whether you lack the working capital to cover your startup costs or need extra funds for new equipment, getting a loan will keep your business afloat.
How do loans work exactly? As the borrower, you need to satisfy the demands of prospect lenders to be able to request additional funding. The requirements can vary, but the standards are:
Keeping a solid credit score (personal and business)
Developing a detailed business plan
Filing the required documentation
Providing collateral
Collateral serves as a guarantee you will follow through with the agreed-upon loan terms. If you fail to repay the borrowed amount within the designated window, the lender will confiscate your assets to compensate for the loss.
No-Collateral Small Business Loans
It is possible to apply for an unsecured loan, i.e., one that does not require collateral. Check out the table below for an overview of the best programs for your situation:
No-Collateral Loan Type
Description
SBA 7(a) loans
The Small Business Administration (SBA) is a federal agency that connects small businesses to a network of banks and non-profit lenders.

With their SBA 7(a) program, you don't have to provide collateral for loans under $25,000. If you need a bigger budget but lack collateral, the SBA will not reject your application solely for that reason

SBA disaster aid loan
Another SBA no-collateral program is the disaster aid loan. If you have experienced financial loss due to a naturally induced or economic crisis, you are eligible for this type of loan.

Much like the SBA 7(a) program, collateral is required for amounts over $25,000 but is not a basis for denial

Online loans
Direct online lenders typically have flexible terms and are more willing to provide no-collateral loans, such as:

Invoice financing
Merchant cash advance
Purchase order financing
Equipment financing

Note that you may be asked to provide an alternative, non-asset-based guarantee.

For example, with a merchant cash advance, your future profit is the collateral

Peer-to-peer lending
Loans acquired through peer-to-peer platforms are unsecured
Friends and family
You can always ask for financial aid from your loved ones if you only need a small amount to get you through a rough patch
How To Get a Small Business Loan Without Collateral
While unsecured loans don't require collaterals, there are other qualifications you may have to meet. For example, if your business is younger than two years—you are not eligible for the SBA 7(a) program and should instead apply for a startup loan.
Before you start the application process, make sure to:
Check the loan program specifications (e.g., interest rates, fees, etc.)
Calculate your personal and business credit
Update your balance sheet
Compose the required financial statements (profit and loss statement, cash flow statement, etc.)
Determine your overall expenses
The steps are there to help you evaluate your current financial standing, i.e., the ability to pay back the borrowed amount.
Keep in mind that the lender may ask you to sign either a personal guarantee or the Uniform Commercial Code (UCC) as a form of loan security.
A personal guarantee is a formal agreement between you and the lender that can serve as the basis for litigation should you not repay the loan on time. Most no-collateral loans, bar those acquired from loved ones, come with this condition.
The lender can also place a blanket UCC lien on your business for leverage. If you fail to reimburse them for the borrowed amount, they can claim your company assets that equate to the loan.
Secure a Small Business Loan With DoNotPay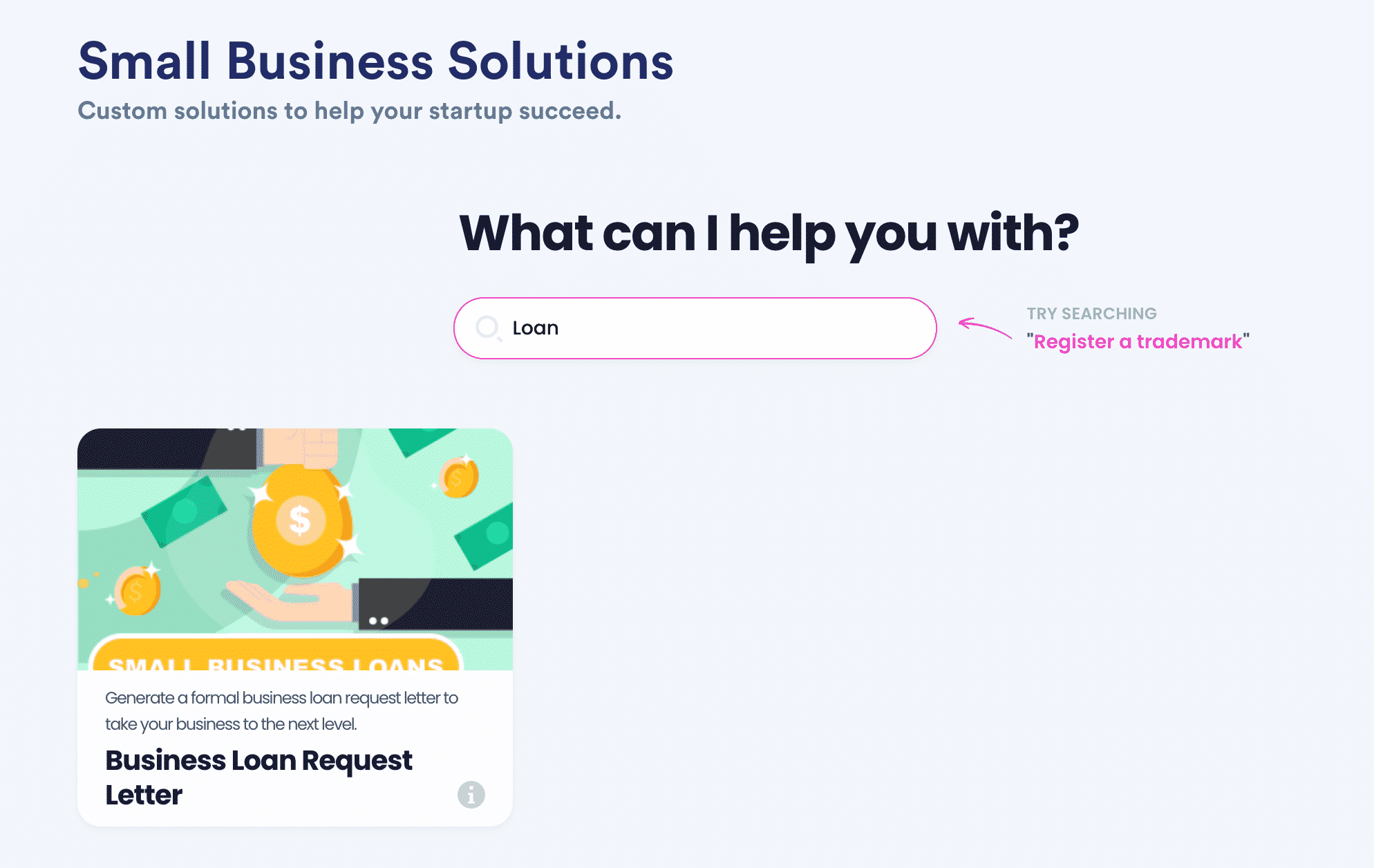 If you are looking for a quick and efficient way to secure funds for your small business, DoNotPay is the perfect solution. Our Small Business Loan Request Letter product can help you with your application and make sure all the paperwork is filed on time!
All you have to do is gather the necessary financial statements (cash flow, profit and loss, and balance) and complete the following steps:
Select the Small Business Loan Request Letter product
Tell us about your business and provide details regarding the loan
Upload the documentation
DoNotPay will forward the paperwork to your chosen lender in a timely fashion.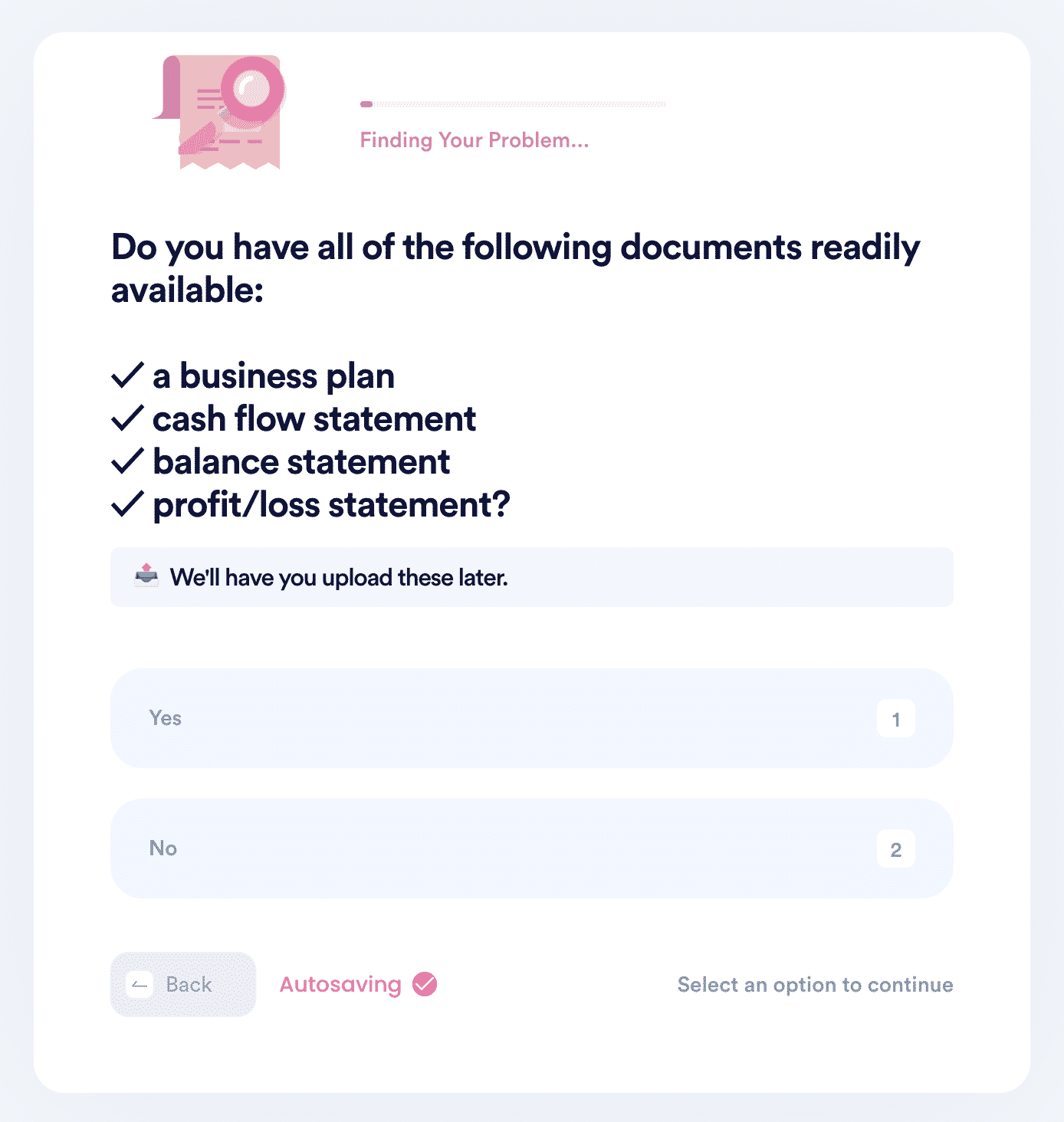 Find the Best Lender With DoNotPay
What if you haven't found a loan provider that does not require collateral? DoNotPay helps you with your search!
The Find Online Business Loan Lender feature is integrated with the Business Loan Request Letter product, ensuring an entirely streamlined loan application experience. All you have to do is describe what you are looking for in a lender, and our AI-operated app will handle the rest.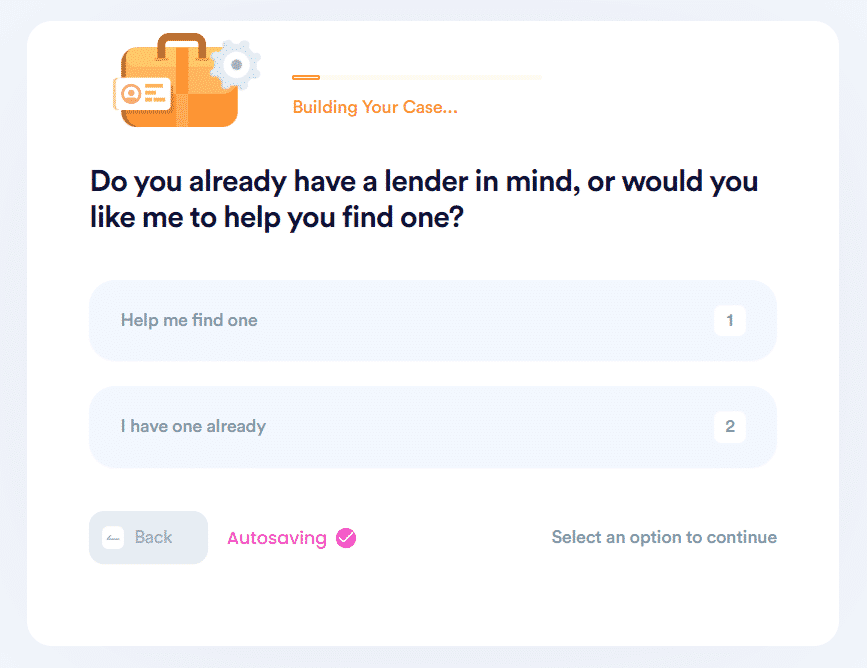 Resolve Various Business Problems With the Help of DoNotPay
Handling annoying administrative issues is the last thing you want to worry about while trying to build a business empire. The good news is that you do not have to! DoNotPay has developed many nifty products that make various pesky tasks easy to complete.
Some of the small-business-related matters we can help you with are:
Taking out business loans
Obtaining an Employer Identification Number (EIN)
Automating the filing of 83(b) election forms
Requesting your money from customers who won't pay
Registering a DMCA agent
DoNotPay can also make communication with your clients or business partners easier as we enable you to fax and mail your letters, forms, and other important documents without leaving your office.
Maintain a Good Business Reputation
It is no secret that building a trusting relationship with clients takes time and effort, so why have all that hard work ruined by negative online reviews that are fake? DoNotPay is here to help you remove illegitimate, fake reviews in a matter of clicks!
Want to dispute unfair chargeback requests but are not sure how to go about it? By using our Fight Chargebacks feature, you can have DoNotPay create a customized chargeback rebuttal document in a few minutes.
With our app, you can also protect your trademark from people trying to use it, file the self-certification request with the Privacy Shield program, and handle many other aspects of your business hassle-free!