Learn How To Get a Rental Car From an Insurance Claim Hassle-Free
If you've been in an accident and your car is severely damaged, you'll need to find a solution to move around easily. Renting a car while your vehicle is in a repair shop is one of the best options. Many car insurance companies include rental car coverage that you can claim as soon as your car gets towed to the repair center.
Who Pays for the Rental Car After the Accident?
The insurance company of the person who caused the accident usually pays for the rental car:
Getting a rental car coverage from the other driver's issuer can be time-consuming. That's why many people choose to contact their insurance company and then request reimbursement from the other driver's company. While this is usually the quickest solution, your monthly premium rate will be higher if you file an insurance claim with your issuer.
If you need a car and can't wait until the other driver's company approves the claim, you should do the following:
File a claim with the company of the driver who's at fault

Pay for the rental car by yourself

Request reimbursement from the other driver's insurance company
How To Have Your Rental Car Costs Covered if the Other Driver Caused the Accident
To get a rental car for free when the other driver is at fault, you should file a third-party insurance claim. To do so, follow these steps:
Call the police to do a report

Ask the other driver to provide his or her contact and insurance info

Collect proof of how the accident happened—take pictures of the damage

Contact the other driver's insurance issuer to file a claim
How To Have Your Rental Car Costs Covered if You Caused the Accident
You should contact your insurance company to file a claim for the repair and request a rental car if:
Should I Contact the Insurance Company for a Minor Accident?
Sometimes—if the accident is minor—the drivers included in the collision make a deal to avoid claiming insurance and increasing the premium rate. In that case, the driver who caused the accident agrees to cover the costs of repair and rental car.
File Your Car Insurance Claim With DoNotPay and Get a Rental Car Fast and Easy
DoNotPay can help you file an insurance claim with any issuer in America, including:
To file a car insurance claim quickly and stress-free, follow these steps:
Access

Choose the insurance type

Provide the required info

Describe the incident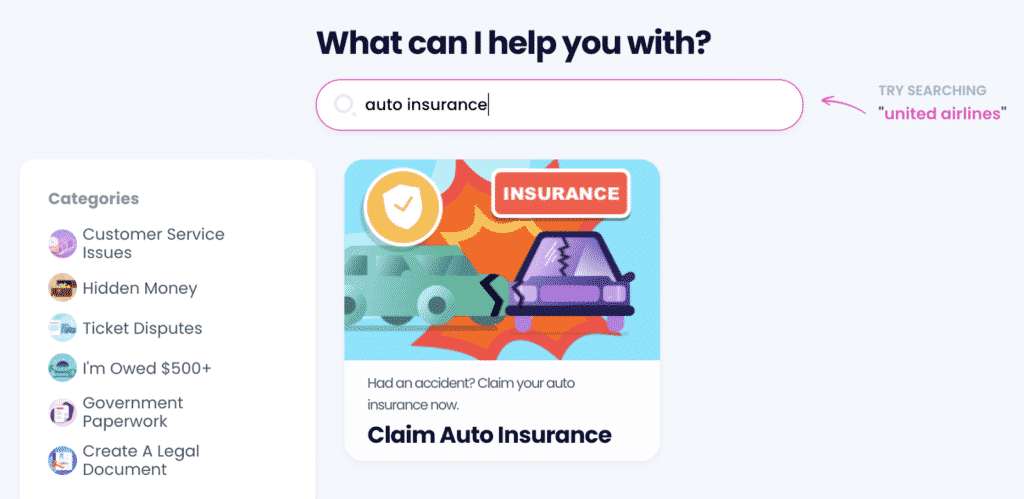 DoNotPay will take care of the insurance claim for you. The company in question will contact you if they have additional questions.
With our help, you can claim any type of insurance, such as:
For How Long Will Insurance Pay for a Rental Car After the Accident?
Your or the other driver's insurance issuer should cover the costs of your rental car for as long as your vehicle is in the repair shop. To be sure that's the case with your issuer, check the contract conditions with the insurance company in question.
How To Choose a Car Rental Company After the Accident
Some insurance companies conduct business through their preferred rental car company. Insurance companies usually negotiate discounts for the policyholders and make the process more efficient:
Does My Car Insurance Cover Rental Cars?
Most car insurance companies offer protection plans that include rental cars. Full insurance plans usually cover rental vehicles with the original policy. If your insurance doesn't cover it, you can purchase a separate policy for the rental vehicle in question. Rental car insurance requires you to pay additional 10–20 dollars every day you rent a vehicle.
DoNotPay Helps You Deal With Rejected Insurance Claims
Should the insurance company reject your claim, DoNotPay is here to help you appeal their decision:
Open

Search for the insurance type

Choose to

Appeal Denied Insurance Claim

Follow further instructions
Besides helping you file an insurance claim and send an appeal letter, DoNotPay can also assist you in solving other insurance-related issues. We will help you find your unclaimed insurance money and cancel your policy with any insurance company, including Humana, Lemonade, Travelers, and Nationwide. If you want to sue an insurance company in small claims court, DoNotPay will help you go through the process as smoothly as possible.
More Benefits of DoNotPay
DoNotPay is a useful tool for handling many otherwise annoying life's trifles, including:
What Else Can Our Award-Winning App Do for You?
If you think that's impressive, wait until you've heard about other features we boast!
Our powerful app can draft paperwork for you, locate unclaimed funds under your name, cancel subscriptions, sue robocallers, and protect you from stalkers and harassers—all in one nifty browser app!
Our services have been recognized by the esteemed ABA Brown award, serving as a testament to our abilities to assist you with your small claims issues, free trial auto-renewals, college fee waivers, public records, copyright protection, and much more!