How To Get a Quickie Divorce—DoNotPay Jumps In To Help
Ripping off the band-aid is the way to go in every painful situation, and divorces are not different. Still, you must be wise and cautious during the process because it affects your post-marital life. How to get a quickie divorce without making irreparable mistakes, you ask?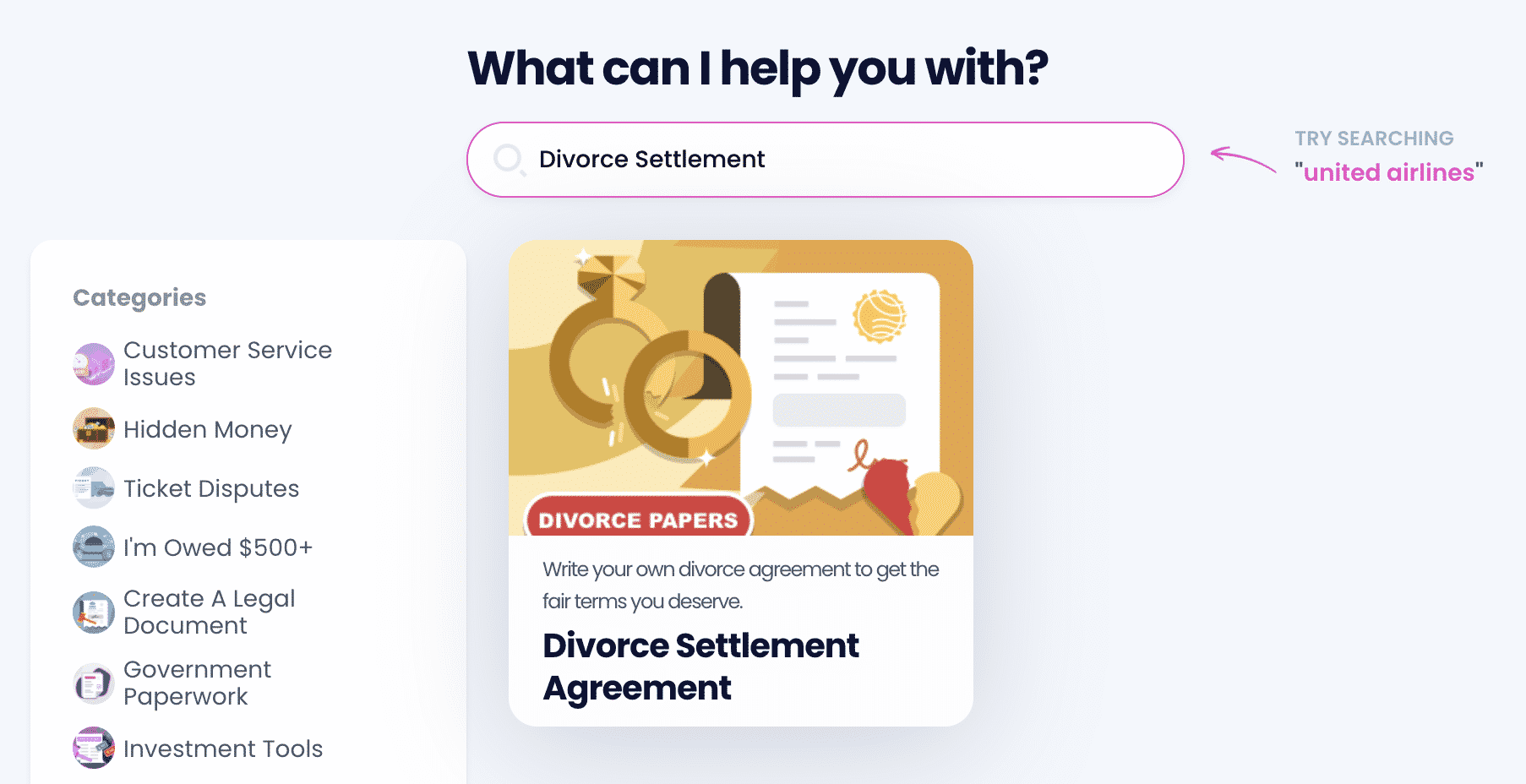 DoNotPay offers some handy tips and helps expedite the process by drafting the divorce settlement agreement for you. Besides time, you will save a lot of money because you won't have to pay exorbitant attorney fees.
How To Get a Quickie Divorce—Everything You Need To Know
No marriage termination is the same. If you're wondering how to get a divorce fast, you should know the speed of the process depends on many factors, including:
The state you reside in
Available slots at your local court
Property division issues
Child custody and other related arrangements
If there are any significant disputes, you may have to hire a lawyer and go to court, which will make the procedure long by default.
The only way to quick marriage dissolution is an uncontested, no-fault divorce. Many couples choose this option, even if they have grounds for a contested or fault-based divorce, because it allows them to bypass pricey legal services and courts. Filing for divorce online can cut down the time further.
How Long Can an Uncontested Divorce Take?
If you agree to a friendly divorce and settle out of court, you might dissolve your marriage in 30 to 60 days. Even though uncontested divorces can drag on, they are always quicker than contested cases.
Refer to the following table for typical divorce times:
| Divorce Type | Average Duration |
| --- | --- |
| Uncontested | 60 to 120 days |
| Contested | Six months to a few years |
Some states oblige divorcing couples to a waiting period, giving them a chance to reconsider their decision. In others, spouses must spend some time apart (six months to a year) before filing for divorce. You should check your local legislation to find out the details.
Couples who would prefer uncontested divorce but struggle to find a middle ground should try mediation.
What Documents Do You Need for an Uncontested Divorce?
You might not need to hire a lawyer for an amicable marriage termination, but you must prepare various papers, such as:
Statements
Child and spousal support worksheets
Stipulation of Settlement
Findings of Fact and Conclusions of Law
Divorce Settlement Agreement
Judgment of Divorce
You will also need to:
In Which States Can You Get Divorced Fast?
You can get divorced reasonably fast in any U.S. state. In case you live in one of the following states, dissolution of your marriage is likely to be quicker than in most others:
Idaho
Idaho has a 42 days residency requirement and a 20 days waiting period. For an uncontested divorce, you may need as little as 62 days.
Alaska
If you or your spouse are Alaska residents, you may file and complete the divorce process in 30 days, i.e., the duration of a waiting period.
Nevada
Like in Idaho, you can terminate your marriage in an uncontested divorce in 42 days. There is no waiting period involved.
Wyoming
With the 60-day residency requirement and the 20-day waiting period, you might end your marriage in 80 days in Wyoming.
South Dakota
The divorce process lasts a minimum of 60 days in South Dakota.
New Hampshire
In New Hampshire, the court can grant you a divorce in as little as two weeks after you and your soon-to-become-ex settle your disagreements. If you use mediation to resolve specific issues, the marriage dissolution can last up to four months.
Complete the Divorce Settlement Agreement With DoNotPay
The uncontested divorce is a good way for you and your ex-partner to part ways quickly and respectfully. Besides allowing you to settle disputes in a friendly manner, uncontested divorce is a low-cost way out.
To finalize the process without breaking the bank, use DoNotPay—the world's first robot lawyer—to draft the divorce settlement agreement.
To benefit from our efficient service, you need to complete three steps:
Log in to DoNotPay and select Divorce Settlement Agreement
Answer questions about your spouse and children, if applicable
Specify how you wish your assets and income allocated
DoNotPay creates a customized divorce settlement agreement for you to sign. We can connect you to a notary if you would like to get the contract notarized remotely.
DoNotPay can assist you in many ways, so read our guides to learn:
Choose From a Variety of DoNotPay's Amazing Tools
Did you manage to solve the issue with our app? If the answer is yes, you may also be interested in checking out other interesting features we offer. DoNotPay can help you:
| Get Rid of Spammers By | Deal With Uncooperative Merchants By | Get Help With Your Studies By |
| --- | --- | --- |
| | | |
Let DoNotPay Prepare Important Documents for You
Are you having a hard time drawing up a contract due to insufficient legal expertise? Say goodbye to failed drafts—DoNotPay can generate divorce settlement agreements, powers of attorney, child travel consent forms, and many other legal documents in under five minutes!
We will also help you create anonymous HR complaints and demand letters for your neighbors if you are experiencing any issues with them.