Hunting Licenses: How to Get a Hunting License in Any State
Hunting is an activity that people of all ages and abilities enjoy. It's a great way to get outdoors where you can commune with nature. It's also a fantastic way to provide additional food for your family. But, you can't just go out and hunt any animal whenever or however you want. There are laws in every state that protect wildlife by requiring hunters to purchase a hunting license.
Getting a hunting license isn't necessarily hard, but it can be time-consuming. If you don't want to wait in line or deal with anyone face-to-face, DoNotPay can help you get your hunting license fast. It doesn't matter what state you want to hunt in, what you want to hunt, or when, DoNotPay has you covered.
Who is Eligible to Get a Hunting License?
Each state has its own rules regarding who needs a hunting license. However, there are some things you'll find that ring true for hunting licenses in every state, including:
| | |
| --- | --- |
| Minimum Age Limits | In most states, hunters must be 12 years or older, and sometimes as young as ten need and have a hunting license. A couple of states allow kids to hunt small games without a license, as long as they are supervised by an adult with a hunting license. |
| Valid Identification Required | You'll need to provide your state ID to obtain a hunting license. Some states offer discounts for state residents, senior citizens, or veterans. |
| Hunter's Education Course | The majority of states require people to take a hunter's education course before they can get a hunting permit. Hunter's safety classes can consist of in-room teaching, online learning, and/or field testing. You will receive a hunter safety card if you successfully complete the course. |
| Other Things to Consider | Make sure you are legally allowed to use a firearm for hunting. Keep in mind that you may be denied a hunting license if you owe back child support payments, personal income taxes, or other debts that are attached to your social security number. |
Is a License for Hunting Required in Every State?
For the most part, yes, you are required to obtain a hunting license if you wish to take a game in any state in the U.S. You may be exempt from this requirement on your own private property, depending upon the laws in your state. If you're not sure if you need a license or not, it's a good idea to review the U.S. Fish and Wildlife Service website to find out.
What Are the Different Types of Hunting Licenses?
The type of hunting licenses available in any state depends upon the type of game that inhabits the area. Some common hunting license categories include:
Small Game Includes pheasant, quail, dove, squirrel, and rabbit

Large Game

Bigger animals like deer, elk, antelope, or moose
All Game Allows hunters to take small and large game species

Migratory or Game Birds

Species that can be hunted depending on the area
Waterfowl Includes birds like ducks and geese
Most states offer different classifications of hunting licenses for residents, veterans, senior citizens, childr­en, and people with disabilities, as well as out-of-state hunters.
How Much Does a Hunting License Cost?
The cost of a hunting license depends on the state. However, the average cost is just over $760 to get started hunting in the U.S. This cost includes essentials such as a hunter's education course, firearms training, the hunting permit, species tags, a rifle and ammunition, and good optics for the gun.
Of course, if you don't have appropriate clothing and other equipment, your total cost to get started with hunting could be substantially higher.
How to Get a Hunting License Fast and Easy
You could always drive down to your local sporting goods store, gun shop, or you could visit the local Department of Natural Resources or Fish and Wildlife office.
You can complete your application for a hunting license and pay your fees. However, if you don't want to hassle with going out in public, there's an easier, better way.
DoNotPay: The Easiest Way to Get a Hunting License
Here's how you can use DoNotPay to get your hunting license:
1. Search "hunting license" on DoNotPay and select the state you would like a hunting license for.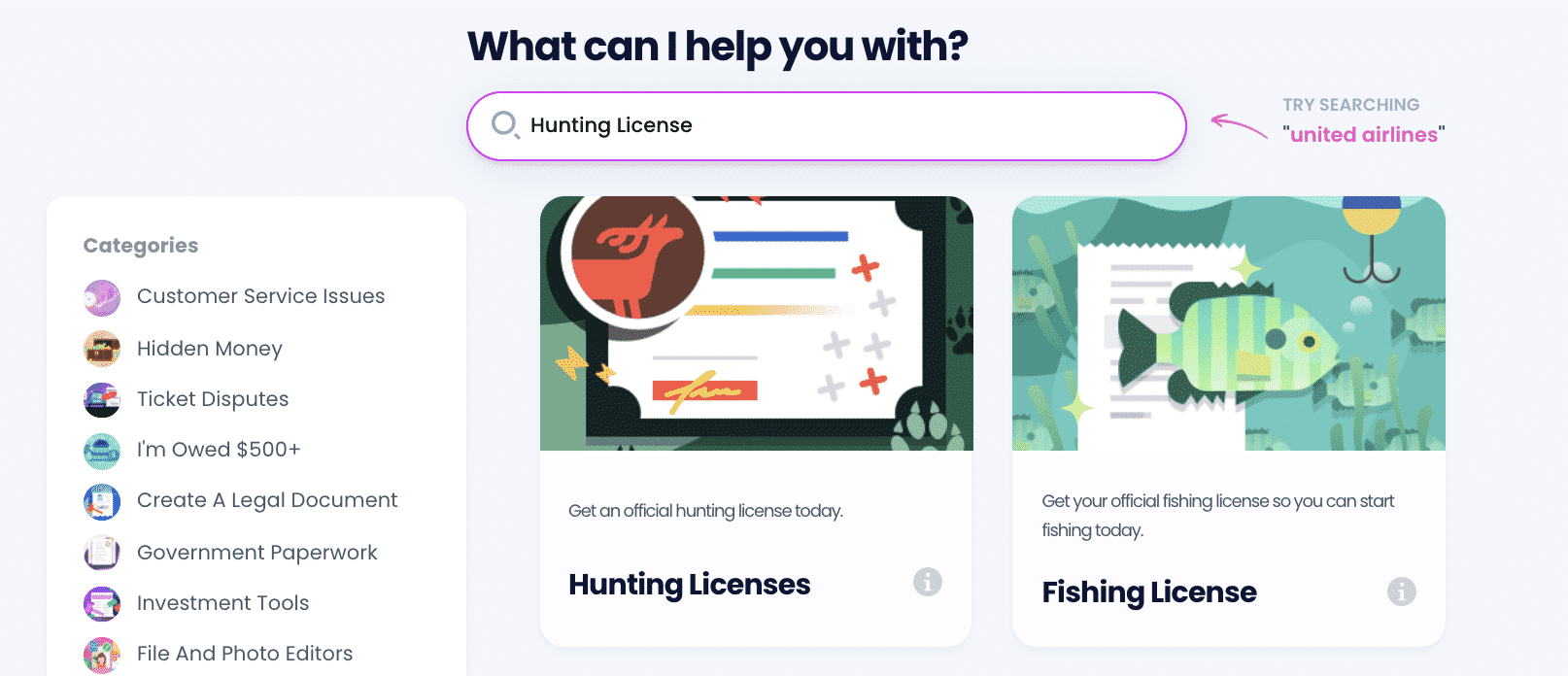 2. Indicate whether you are a resident or non-resident, and choose the type of license you want. For example, an annual or one-time pass, big game or small game license, bear tag, etc.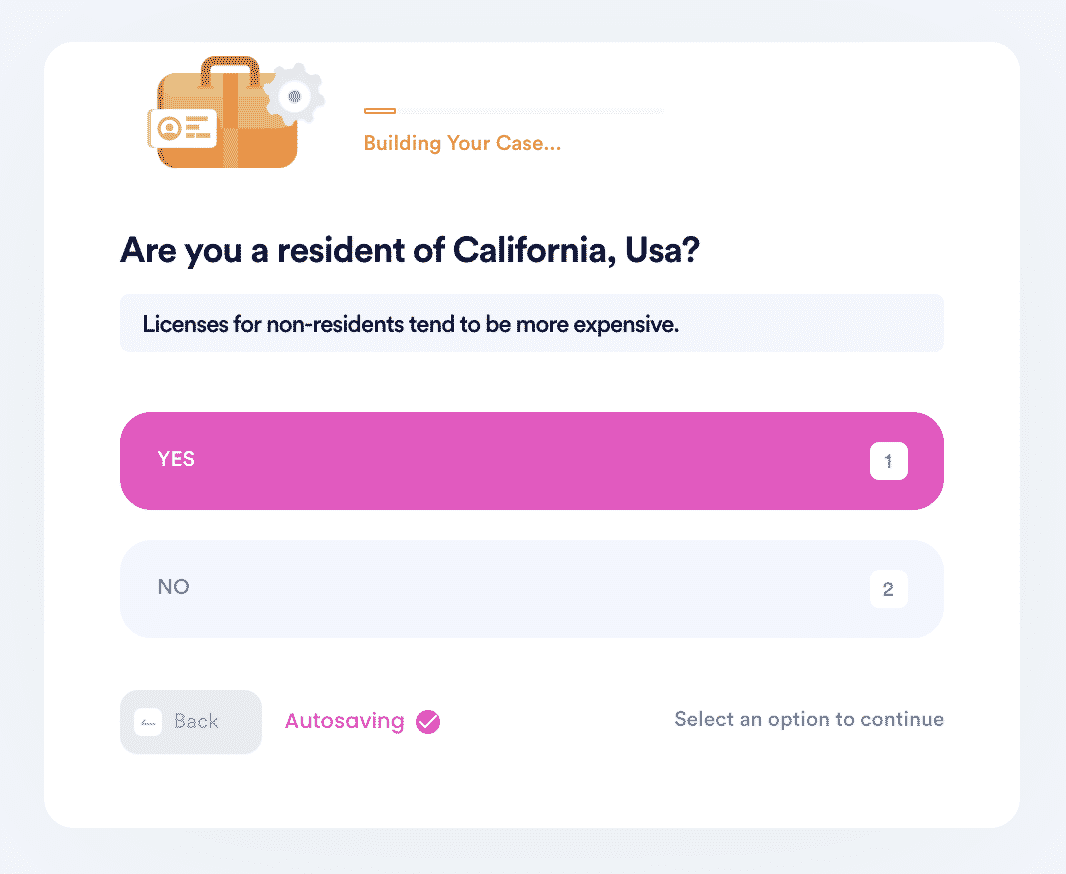 3. Provide your contact information, a copy of your government-issued ID, and pay the fee required by the state.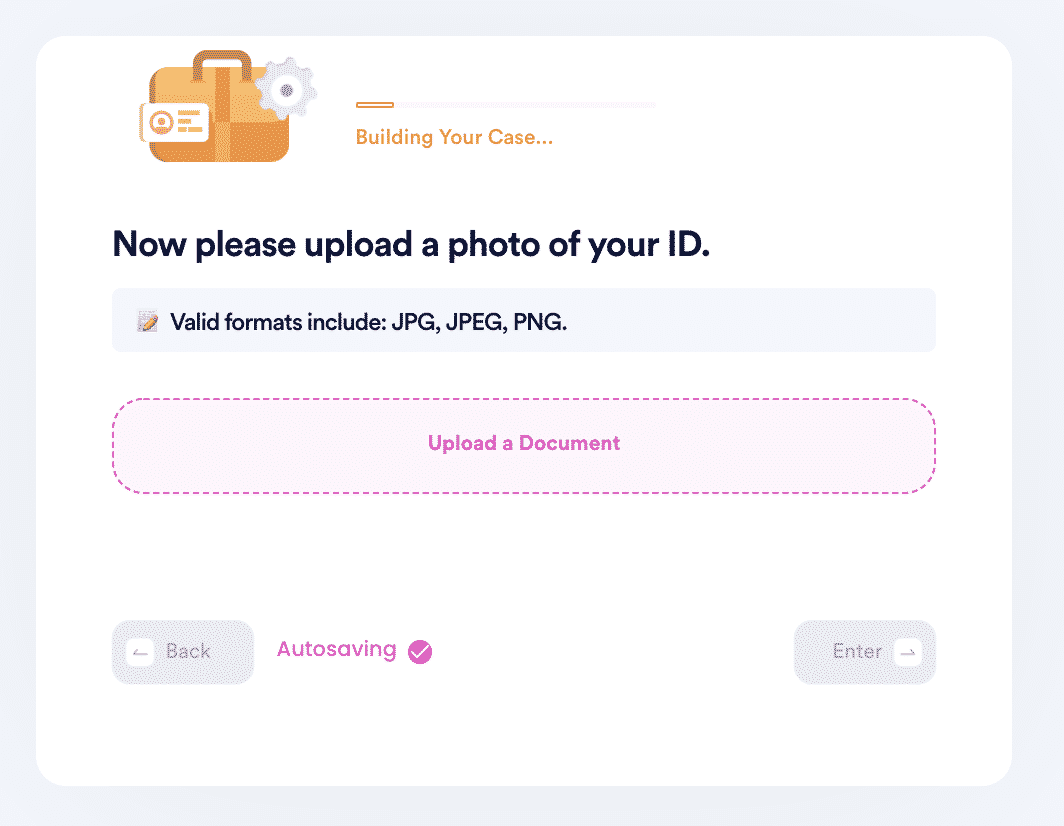 And that's it. DoNotPay will get the hunting license on your behalf, which will be valid immediately. Just download the file and print it as a temporary license, while a physical copy gets processed and sent to you by mail.
Why Use DoNotPay to Get a Hunting License
You've been thinking about hunting season since the last one ended. You can't wait to get out in the woods to stalk your favorite prey. But you can't go hunting without a license, and you don't have the time or patience it takes to stand in line.
Fast— Just answer a few questions, click the button, and in a matter of minutes, you'll have your hunting license.
Easy—You don't have to drive around town or deal with anyone in person. DoNotPay makes it easy to get your hunting license right away.
Successful—You can plan your hunting trip right away because DoNotPay will get your hunting license approved faster than you imagine.
DoNotPay Can Help You Get a Hunting License in Any State Right Away
Whether you want to go hunting in your home state or a hunting trip to another state is on your mind, get the proper licensing before you go. DoNotPay works for every state, and you can get a hunting license regardless of which season in just a few minutes.
Don't wait until you're already at your destination to begin the process of getting an out-of-state hunting license. DoNotPay will take care of it in advance so you can get out in the woods quickly. 
What Else Can DoNotPay Help Me With?
The truth is, there's not much that DoNotPay can't do. The world's first robot lawyer is a robust app that has the power to help you maintain your life and manage your affairs like never before.
Just a few of the things DoNotPay can do include:
Find out more about DoNotPay today and get your life organized and under control once and for all.