DoNotPay Shows You How To Get a Divorce Without Losing Everything
Are you planning to part ways with your spouse, but you're afraid of the cost of the divorce, and you're worried you might lose your shirt during the process? Knowing the law and divorce types can help you keep your stuff while ending your marriage. DoNotPay has prepared a guide to help you out!
We'll show you how to get a divorce without losing everything by helping you get a top-notch divorce settlement agreement!
Opting for the Right Divorce Type
Since 2019, all 50 states recognize no-fault divorces. With this type of divorce, you don't have to battle your spouse in court or have a reason for marriage dissolution. Without playing the blame game, the process will likely be friendly. This means that you can reach an agreement, get an uncontested divorce, and not lose everything in court.
There are many other perks of no-fault, uncontested divorces, such as:
Quicker process—By not having to attend multiple court hearings, the time required to get a dissolution is significantly lower
Lower cost—As you won't have to hire a lawyer to represent you in court, you won't have to pay for their sky-high fees
Amicable relationship with your spouse—Agreeing on crucial aspects of the divorce means that you and your spouse will probably stay in a friendly relationship, which is crucial if you have children. They're also unlikely to claim what's not theirs to spite you
Greater control over the process—Uncontested divorces allow you to choose the terms on which you're getting divorced in a marital settlement agreement. Without this document, the court would have to decide who gets to keep what and resolve other crucial issues instead of you
Not on good terms with your spouse? Can't reach a middle ground? Try booking divorce mediation sessions. A mediator will help you come up with solutions to reaching a compromise and settling on the terms in the agreement.
Why Is a Marital Settlement Agreement Crucial if You Don't Want To Lose Everything in a Divorce?
Having a properly written marital settlement agreement is crucial if you wish to keep your assets during the divorce. Want to keep your car or any other property that you think belongs to you? Talk with your spouse about it, reach a compromise, and create an agreement to make it official. The contract will cover other issues as well, such as:
Child custody and support
Before finalizing the divorce, the judge will have to review the agreement and make sure it's valid and fair to both parties. That's why it's advisable to have a professional create the document for you, but this option is too expensive for most people. If you'd rather not pay sky-high lawyer fees, and get an affordable agreement that'll be drafted based on your needs and desires.
End Your Marriage and Keep What's Rightfully Yours With DoNotPay
if you need a divorce settlement agreement that will:
Not break the bank
Make sure you don't lose everything
Be fair to both you and your spouse
Comply with your state's laws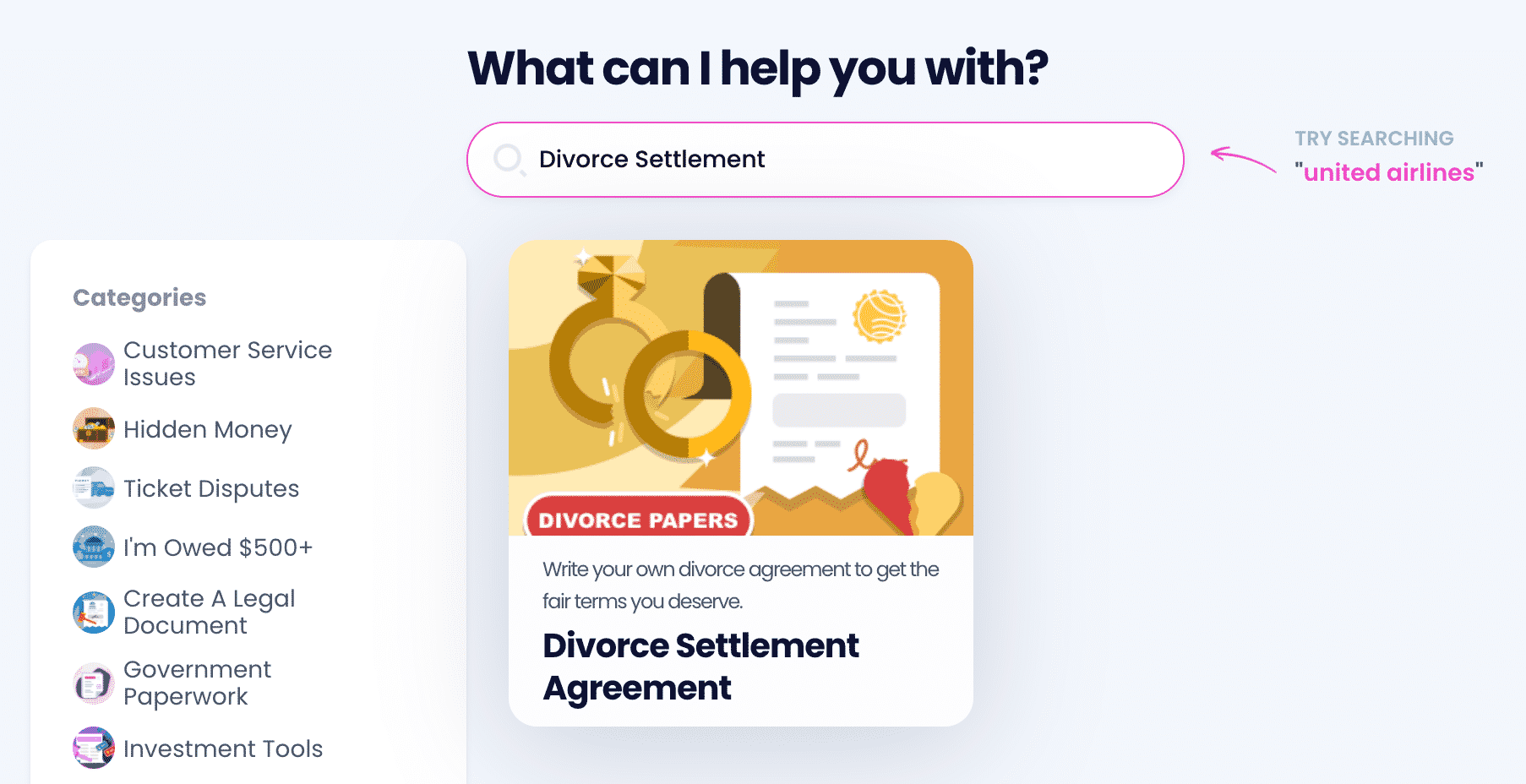 We can generate this important document for you in no time, and all you have to do is open DoNotPay and:
Select our Divorce Settlement Agreement tool
Answer our chatbot's questions
Opt for online notarization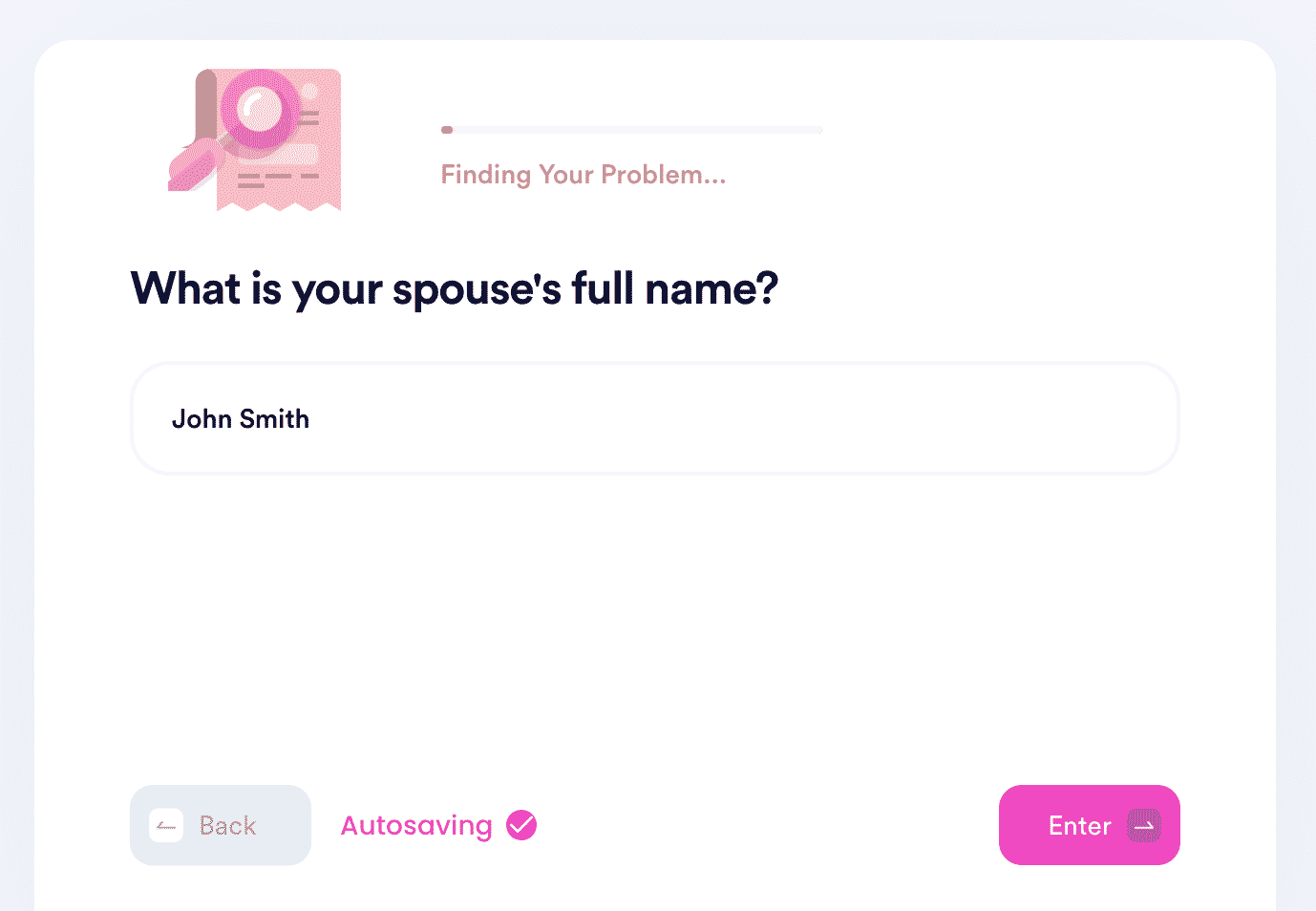 Once you submit your request, we'll use the information you give us to generate a tailor-made divorce settlement agreement. You can choose to have it notarized via a video call through our app too. Follow the link we send you via email and set up an appointment with an online notary in no time.
How To File for an Uncontested Divorce
On top of allowing you to file for divorce without losing everything, an uncontested divorce process is super simple. You will only need to follow a few easy steps:
File the divorce papers—Gather the papers at your local courthouse and file them with the clerk of the court. Some states allow spouses to file a joint petition for divorce, in which case they don't need to serve the papers
Serve your spouse—If you've signed a joint petition, this step isn't necessary. In case you haven't, you will need to deliver the papers to your spouse
Attend the final hearing—Enter a waiting period set by your state and then attend the final hearing. The judge will review your papers and agreement to make sure everything is valid and then finalize your divorce
Divorce laws differ in every state. Check out the table we've prepared for you to help you get to know the rules and regulations of the state where you wish to file for divorce in detail:
Want To Learn All About Divorces? DoNotPay Can Help
Check out DoNotPay's learning center and get answers to many other questions, such as:
DoNotPay Is Committed to Solving All Kinds of Problems for You
Are you lost in the sea of administrative tasks? By subscribing to DoNotPay, you gain access to many products and features that can assist you in:
Check Out What Our Robot Lawyer Can Do for You
Not too skilled at drafting contracts and agreements? Keep calm and let DoNotPay, your virtual assistant, do it for you! Our app can generate various legal documents, including divorce settlement agreements, child travel consent forms, and powers of attorney. All it takes is to click a few times or answer several quick questions—we do all the rest!
Besides providing personalized documents, DoNotPay takes over other tiresome legal tasks. These include having your documents notarized, filing lawsuits in small claims court, requesting crime victims' compensation, or submitting HR complaints.