DoNotPay Explains How To Get a Divorce Without a Lawyer
Are you thinking about divorcing your spouse, but you're not sure whether you'll be able to pay expensive lawyer fees? Did you know that you might not need professional aid to get separated? The process can get tricky, but don't worry—DoNotPay is here to clear any confusion!
Our easy-to-follow guide will show you how to get a divorce without a lawyer and all the requirements you must meet to do it. We can also tell you everything about:
Can You Get a Divorce Without a Lawyer? You Can if You Meet These Requirements
A divorce without a lawyer is also called a:
Do-it-yourself (DIY) divorce
To be eligible for one, you will need to meet the following requirements:
Note that it's important to check your state laws regarding the requirements for a friendly divorce. Some states will ask that you are physically separated from your spouse for a while before filing for the divorce, or you may need to provide proof of residency.
DoNotPay has prepared a plethora of guides that will help you familiarize yourself with your state laws:
What if There's Still an Issue Between You and Your Spouse?
If there are still some things you and your spouse can't get over, you can consider hiring a divorce mediator. They're professionals who can help you and your spouse come to an agreement during multiple sessions in a comfortable environment.
Keep in mind that mediators charge fees that can break the bank, so be prepared to pay up.
How To File for a Divorce Without a Lawyer
To file for a divorce without a lawyer, you will have to fill out the divorce forms, such as the petition for divorce and the divorce settlement agreement. Most states offer uncontested divorce forms that you can download or get in your country courthouse. Once you get them, you will have to:
Fill them out
Sign the documents in front of a notary
Make copies for yourself and your spouse—the original will go to court
Bring the documents to the county clerk and pay the filing fees
Serve the divorce papers to your spouse—depending on the state you live in, you'll either have to pay someone to do it for you or do it yourself
If you and your spouse agree on all matters, you won't need to go to court or hire a lawyer. You will enter a settlement agreement. The judge will check the document and assess whether it's fair to both parties. In case it is, you will be granted a divorce and avoid trial or mediation.
The best way to get a divorce settlement agreement that'll be fair to both parties is to use DoNotPay. We can draft this document for you in minutes, and it will suit your needs perfectly.
Get a Professionally Drafted Divorce Settlement Agreement Without Spending Big Bucks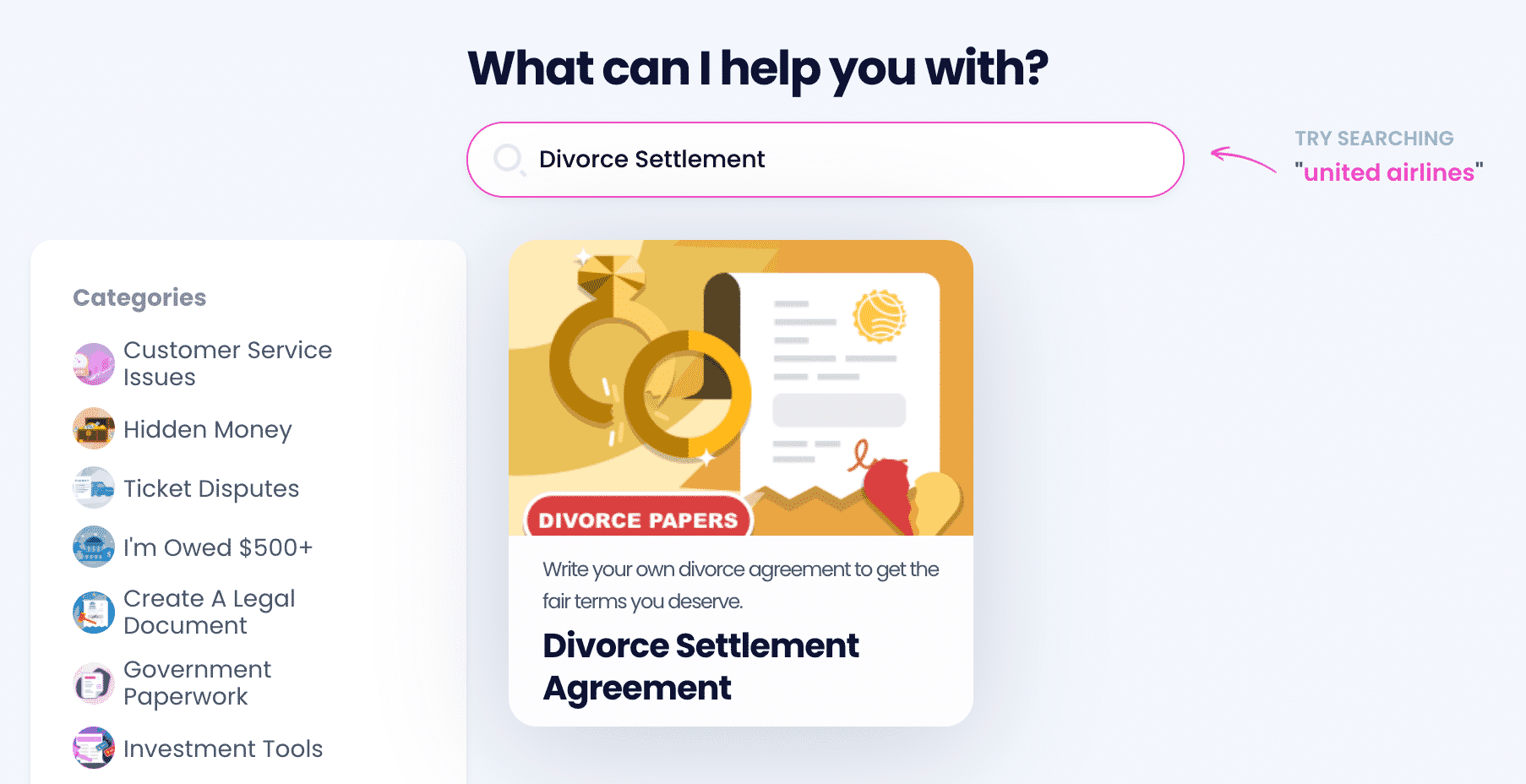 If you want a divorce settlement agreement that'll be perfectly suited to your needs, use DoNotPay! We'll generate a pitch-perfect agreement for you, and you won't even have to pay ridiculous sums of money. Here's what you need to do:
Select our Divorce Settlement Agreement product
Give us details about your spouse and children (if any)
Tell us about your income and financial assets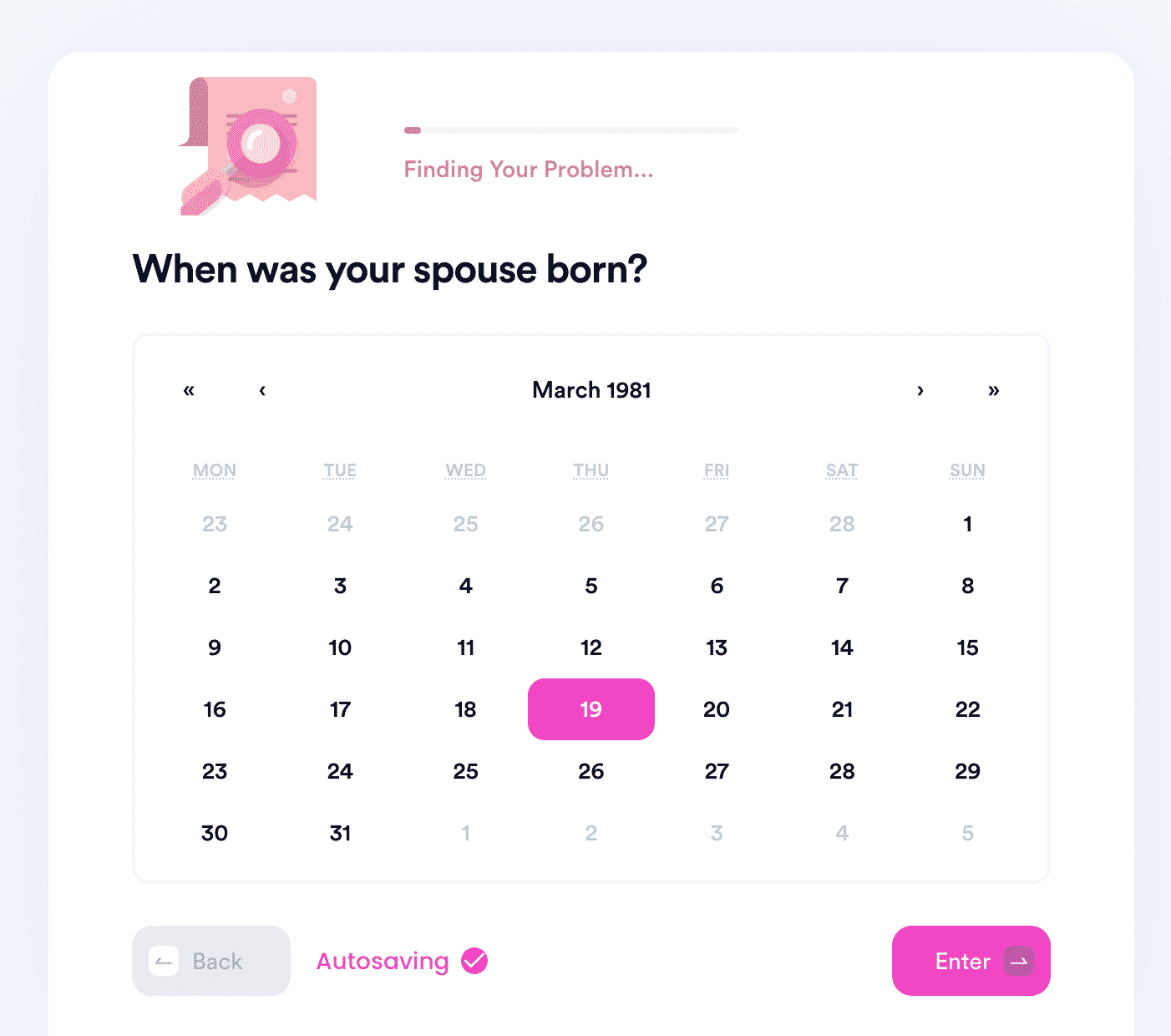 DoNotPay will ask whether you want to schedule an appointment with an online notary. You'll be able to add legal weight to your documents from the comfort of your home if you choose to get them notarized with our assistance. Once the process is completed, we'll send you your legally formatted divorce settlement agreement in no time.
Are Online Divorce Agencies Reliable?
Various online agencies offer divorce preparation services and agreement templates, and some of them are even free. Before choosing an agency for an online divorce, you will need to do a thorough check on them. Make sure you get the correct forms and that the agreement is fair to both you and your spouse.
DoNotPay Offers a Learning Base of Articles Regarding Divorces
In case you need more help regarding divorces, be sure to read some of DoNotPay's handy articles, including:
DoNotPay also has articles on lawyerless divorces in other states, including:
DoNotPay Makes All Issues Go Away in Several Clicks
Using DoNotPay comes with plenty of advantages, the main one being that you can resolve just about anything in a matter of clicks. It doesn't get any easier than that!
Do you need to fax a document, draw up an agreement, submit a FOIA request, get a contract notarized, file a warranty or insurance claim, get a burner number, schedule a DMV appointment, or appeal a parking ticket as soon as possible? Sign up now and clear out your schedule because we'll handle it all!
Are you looking for your missing money? Do you need help with your utility bills or property taxes? We're here to help!
Get Rid of Paperwork With Your AI-Driven Assistant
Even though paperwork belongs in the past, we have to keep dealing with it almost daily. To avoid this annoyance, you can just use DoNotPay!
If you need to compose a demand letter to a rude neighbor, submit a claim for a late or missing package, request compensation from an airline, or sue any company in small claims court, we have your back!
All you need to do is sign up, tell us what you need, and resolve any issue in a matter of minutes!