How To Get a Divorce With No Money—The Ultimate Guide
Mo' money, mo' problems—we've all heard this one before! What should you do if your marriage is the problem and you don't have enough money to get out of it? Can you get a divorce for free?
We'll explore the topic from different angles and show you how to get a divorce with no money!
What Is the Average Cost of a Divorce?
According to recent findings by Bankrate, the average cost of a divorce in the U.S. is $15,000 per person. The costs can be much higher, depending on many circumstances. Here's a brief overview of fees in the most and least expensive states for divorce:
| | | |
| --- | --- | --- |
| State | Filing Fees | Attorney Fees |
| California | $435 | $13,800 |
| North Dakota | $80 | $8,200 |
Besides the location, divorce expenses can vary significantly based on the divorce type, duration, disputes, and other factors. Here is how various circumstances affect the cost of divorce:
No major disagreements—$4,100
No alimony-related disputes—$7,800
No children-related disputes—$10,100
Out-of-court dispute settlements—$10,600
With alimony-related disputes—$15,900
With children-related disputes—$15,500
Going to trial on at least one issue—$20,379
Going to trial on more than two issues—$23,300
How To Get a Divorce When You Have No Money
If you're experiencing financial hardship, ending a marriage might be that much more complicated for you. Choosing a low-cost divorce method might help you save some money, so we created a table with the most common methods—from the least to most pricey:
Divorce Method
Explanation
DIY divorce
Do-it-yourself divorces are the cheapest option. A DIY divorce is uncontested and requires you (the plaintiff) to manage every part of the process. You have to check the state laws and requirements, collect and fill out the necessary paperwork, and file the uncontested divorce papers with the court. It's considered a friendly divorce because the spouses have to negotiate the terms between themselves
Mediation
Divorce mediation is a process where a third person, called a mediator, helps the couple resolve any disputes they might have to achieve an out-of-court settlement. Mediators can be lawyers, but not necessarily. They charge hourly fees for their service
Collaborative divorce
It involves having both of your attorneys present during the negotiations. This method may also include other professionals, such as child psychiatrists or financial professionals. You have to pay all of their fees separately
Litigation
Litigation is used in serious divorce cases that involve:

Domestic violence
Substance abuse
Unwillingness to cooperate

If you choose this option, you have to pay both the attorney and court fees. There may be additional expenses involved if the court appoints a person as your child's guardian during the process
Can You Get a Divorce for Free?
Even if you choose a DIY divorce option, you're not guaranteed a completely free process. Luckily, each state offers a fee waiver or indigent divorce procedure, enabling you to file for marriage dissolution for free. This program is designed to help couples who are experiencing financial difficulties and have proof of that. If you have limited finances, the court can grant you a fee waiver so you can file for divorce without paying filing fees.
How To File for Divorce With No Money
Getting divorced without a lawyer is the best money-saving strategy. You can get an uncontested divorce if you and your soon-to-be ex-spouse agree on everything. Here's a step-by-step guide to filing for divorce for free:
Meet your state residency requirements
Agree on the grounds for a divorce
Qualify for an uncontested dissolution—agree on important issues:

Apply for a fee waiver at your court
File the petition without paying the fees
Serve divorce papers to your spouse
Make a marital settlement agreement
Where Can You Get a Low-Priced Divorce Settlement Agreement?
A marital or divorce settlement agreement is a crucial document in uncontested divorce cases. It serves to define the terms of the dissolution that the spouses have previously agreed on. Having a settlement agreement protects both you and your spouse and helps you avoid any potential arguments in the future.
You can obtain the agreement by:
Downloading a template—You can often find these contract templates online for free. The problem is that they are not the most reliable source. Settlement agreements should be personalized and cover the most important aspects of your divorce, which cannot always get achieved with templates
Hiring an attorney—Having a professional create an important document is always a good idea, but it's not the best option if your finances are limited
—The world's best robot lawyer offers a budget-friendly service that can help you draw up a reliable divorce settlement agreement in a flash
Lower Your Expenses—Draft a Settlement Agreement Using DoNotPay
DoNotPay created an inexpensive, time-saving, and easy-to-use product that can generate divorce settlement agreements in three steps!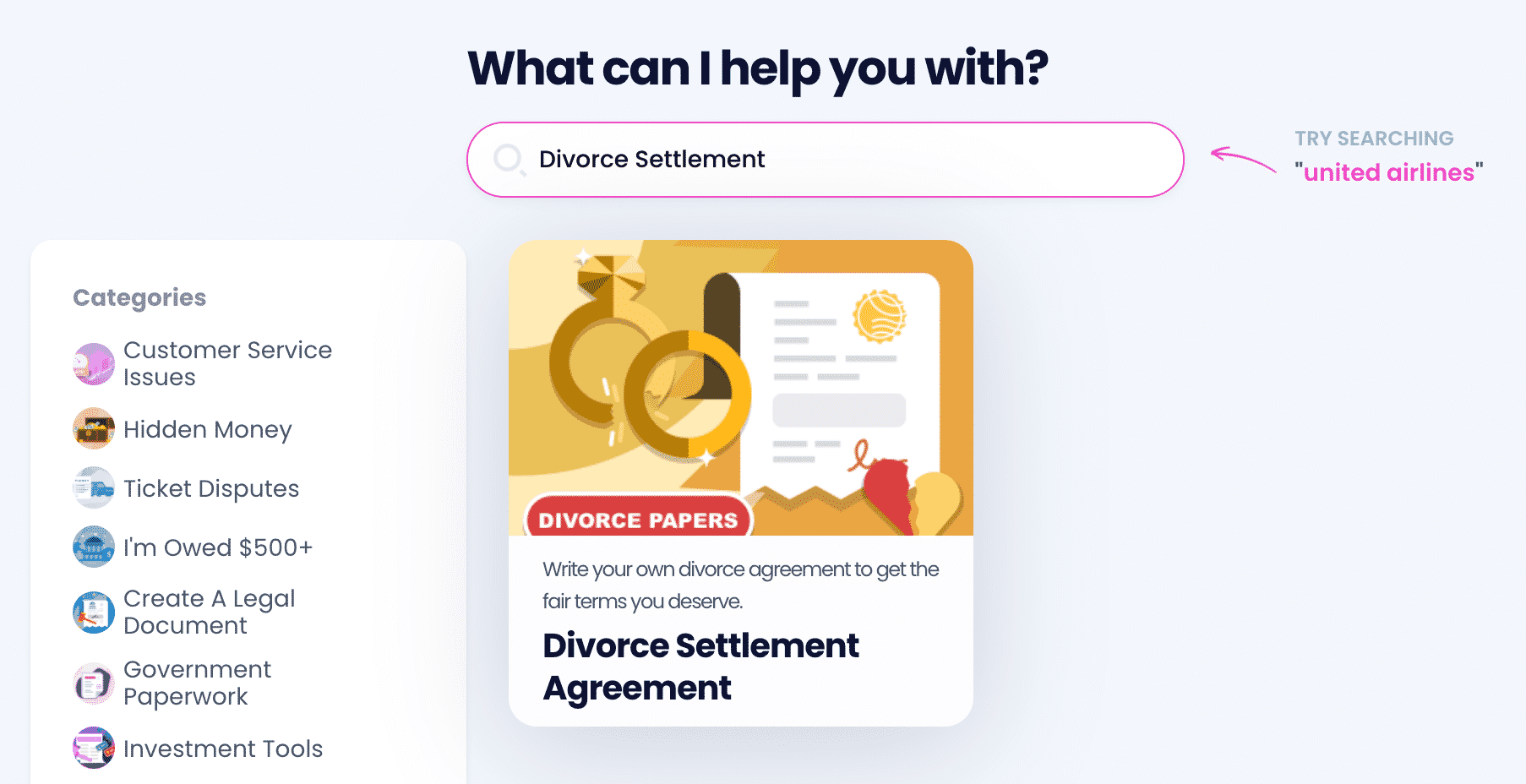 and follow this step-by-step instruction:
Choose the Divorce Settlement Agreement tool
Answer a few questions about your spouse, finances, and children (if any)
Inform us if you need a notary public
We will check your state laws and requirements and use the information you provided to draw up the most carefully written divorce settlement agreement.
Want to know if you can file for divorce online or get divorced without going to court? Visit DoNotPay's knowledge base to find answers to these and other divorce-related questions.
Learn about the divorce costs across the States:
Deal With Your Problems Like a Pro With DoNotPay
Looking for an app that's got enough features to solve any issue you're facing? Look no further—DoNotPay has got your back! Whether you can't sleep from your noisy neighbors or you want to connect with your locked-up relatives, we'll be able to help. We'll bring justice to any person or company that has wronged you and take them to small claims court for you.
The robot-lawyer app can generate numerous legal documents in your name, including:
Once you receive the documents, we can set you up with an online notary so you can get your agreements notarized from the comfort of your home.
Possibilities With DoNotPay Are Endless
DoNotPay stands out not only by the quality of products it offers but by the sheer amount of features it boasts. Check the table below out to see only some issues we can help you resolve: