Useful Tips on How To Get a Divorce if You're Married in Another Country
It is not rare for people to tie the knot outside of the United States. Whether it was a destination wedding or an impromptu elopement while traveling, it probably seemed like a fun and romantic idea to say "yes."
What happens when the fairytale comes to an end? DoNotPay can tell you how to get a divorce if you got married in another country.
Tied the Knot in Costa Rica? Married in Mexico? Divorce in the U.S.!
It doesn't matter if you got married in Cancun or Mexico. Every U.S. state has reciprocity agreements with most other countries.
This means that you can get a divorce on U.S. soil if you got married abroad. The important condition is that one of the spouses resides in the United States for a few months—the details depend on your state.
After that, you need to follow the rules for terminating a marriage in the state you reside in.
How To Get a Divorce if Married in Another Country—Steps You Need To Take
In case you and your spouse are U.S. citizens who decided to get married abroad, it is still possible to terminate the marriage in America. Here are the steps you will need to take to end your marriage union:
Determine Where You Can File for Divorce
To get a divorce in the United States, you need to meet the requirements and laws imposed by the state you currently reside in. These mostly refer to residency requirements—you need to have lived in that state for a few months before you can file for divorce.
Depending on the part of the country, the cost of filing fees can also fluctuate. For more details about the state-specific divorce rules, check out the table below:
What Forms Will You Need To Get a Divorce?
You can find the necessary forms on the official website of the court you are filing for divorce in. The divorce papers are not the same in each state since divorce is not a federal issue, but a divorce petition is usually a must in all parts of the country.
If you and your spouse agree on everything and are keen on terminating the marriage in a friendly manner as soon as possible, you should go for an uncontested divorce. This type of marriage dissolution is a fast, low-cost option that will require you to make a divorce settlement agreement.
How Serving Your Spouse With Divorce Papers Works
Another important aspect of filing for divorce includes serving the papers to your spouse. He or she needs to accept the papers before the court decides to start the case. How you deliver the papers to your spouse is the crucial part. States have different rules about the ways you are allowed to serve the papers. Most of the times, you:
Can't be the one to deliver the papers
Need to hire a third party older than 18 who is not involved in your case
Need to hire a professional server or ask the sheriff to deliver the papers
Can't mail the papers and have to handle the process in person
If your spouse is still abroad, the service rules are more complex. In such cases, it would be smart to hire an attorney to help you with the process.
Why Is Having a Divorce Settlement Agreement Important?
A divorce settlement agreement is a document created when spouses are having an uncontested divorce. It should be used to mutually decide on matters such as alimony, child support, and property and debt division. When executed properly, this legal document can save a lot of your time and nerves.
DoNotPay can help you !
Use DoNotPay To Create a Divorce Settlement Agreement in a Jiffy
DoNotPay is here to help you go through the divorce process as smoothly as possible by making an airtight divorce settlement agreement. This document will ensure that all of your requirements are met and your interests protected. For this to happen, you only need to follow these instructions:
Choose the Divorce Settlement Agreement product
Provide some essential info about your case
Tell us more about your income
If you want to get your divorce settlement agreement notarized, DoNotPay can find you an online notary in no time!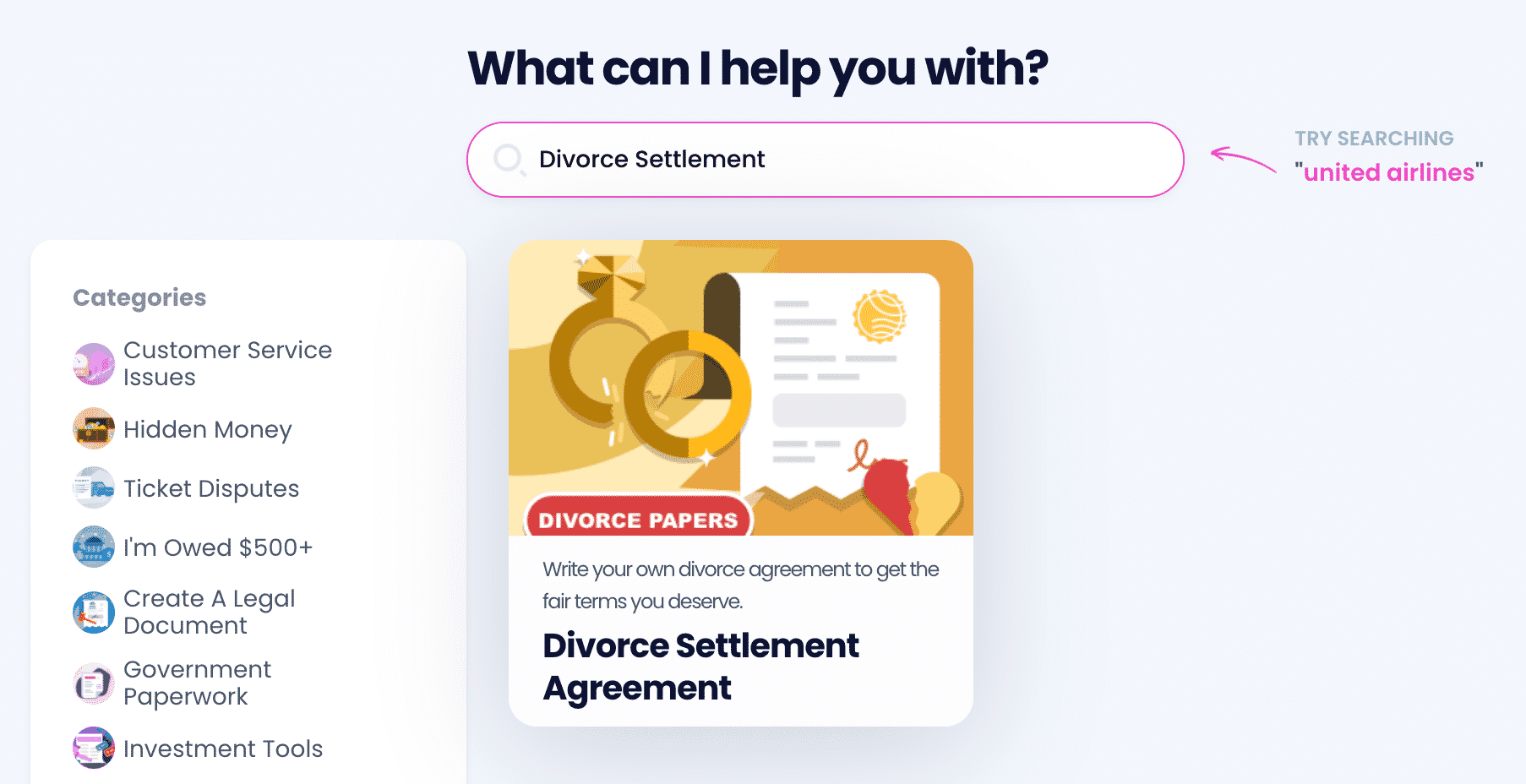 DoNotPay Offers More Divorce-Related Information
If you are unsure of how certain parts of getting a divorce work, we can help you out. DoNotPay can answer numerous questions, such as:
DoNotPay—Quality and Quantity
Our platform provides a multitude of useful tools, products, and services that anyone can benefit from. DoNotPay is a proper virtual assistant that can minimize your paperwork, protect your consumer rights, increase your productivity, or keep you safe online.
The best part is that we keep adding more awesome features all the time—all available for a small subscription price. Take a peek at a small part of our portfolio in the table below:
| | | |
| --- | --- | --- |
| Online Safety | Customer Protection | Administration Shortcuts |
| | | |
It Gets Even Better!
With your DoNotPay subscription, not only do you get a powerful weapon to fight boring and annoying daily tasks, but you also get a great resource for earning more money.
You can use our platform to enter free raffles, secure compensation for fighting robocalls, get your cash back from used gift cards, or find unclaimed money under your name, no matter the state.