Tips and Tricks on How To Fill Out a Power of Attorney Form
Do you want to create a power of attorney (POA) document but don't know how the legal system works? Don't worry because DoNotPay has got you covered!
This guide will explain how to fill out a power of attorney form without breaking a sweat. Subscribe to DoNotPay, and get the best tips and tricks to create a power of attorney in a snap!
What Is a Power of Attorney?
If you need someone to make decisions for you regarding business, healthcare, real estate, or legal matters, you should create a power of attorney. It is a legal document that allows the agent to make decisions for the principal in the case of mental or physical incapacitation.
Do you want to create a power of attorney the easy way? Look no further because DoNotPay is the master of creating legal documents!
DoNotPay Can Generate a Power of Attorney Document Without a Hassle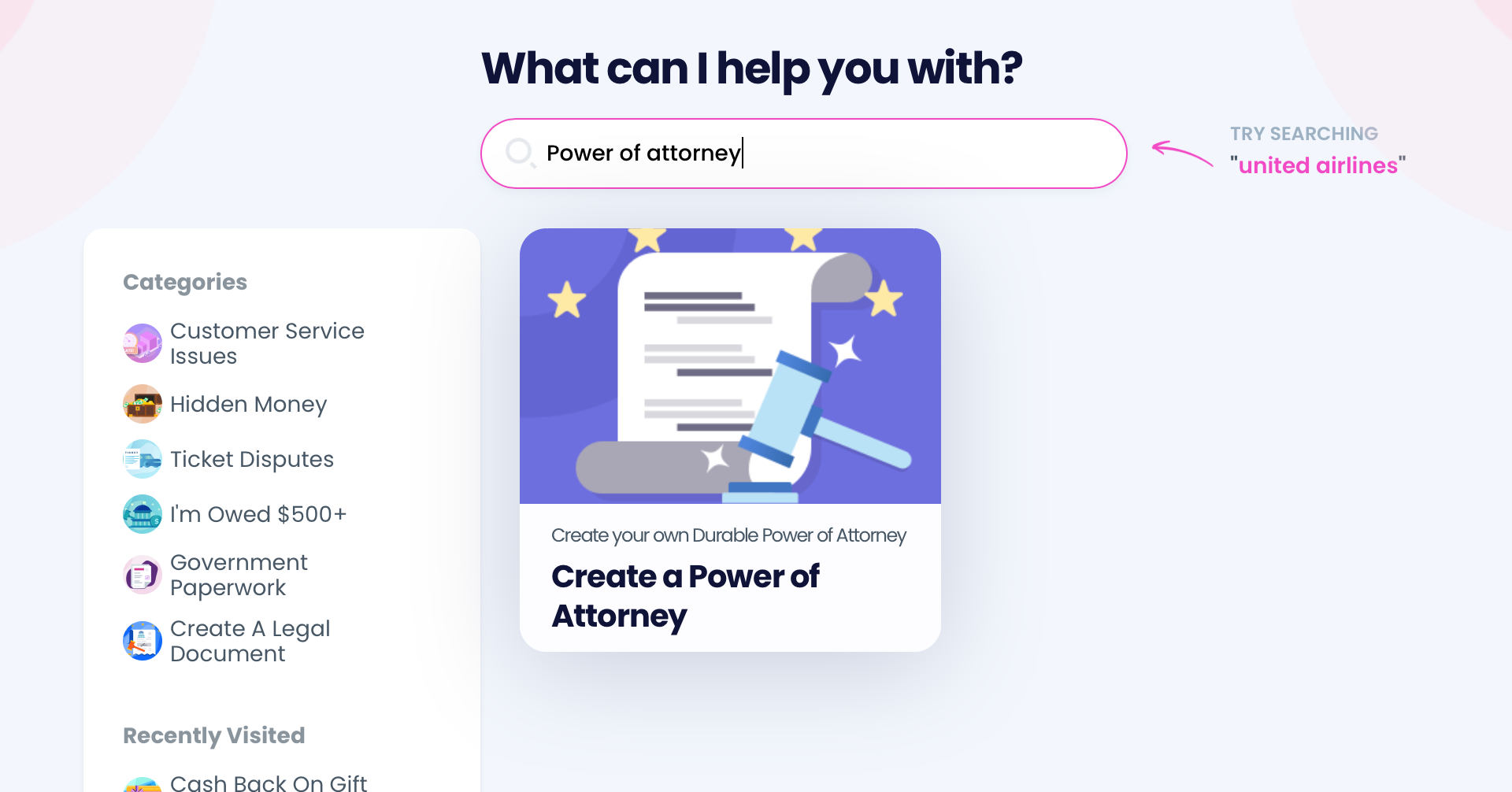 Why waste hours online looking for contract templates or waste money on lawyer fees when DoNotPay can provide an easy, affordable solution? With our Power of Attorney product, we can generate a customized POA letter for you in the blink of an eye!
Follow the instructions below to get started:
Open DoNotPay in your web browser
Search for the Power of Attorney feature
Answer our chatbot's questions to personalize the document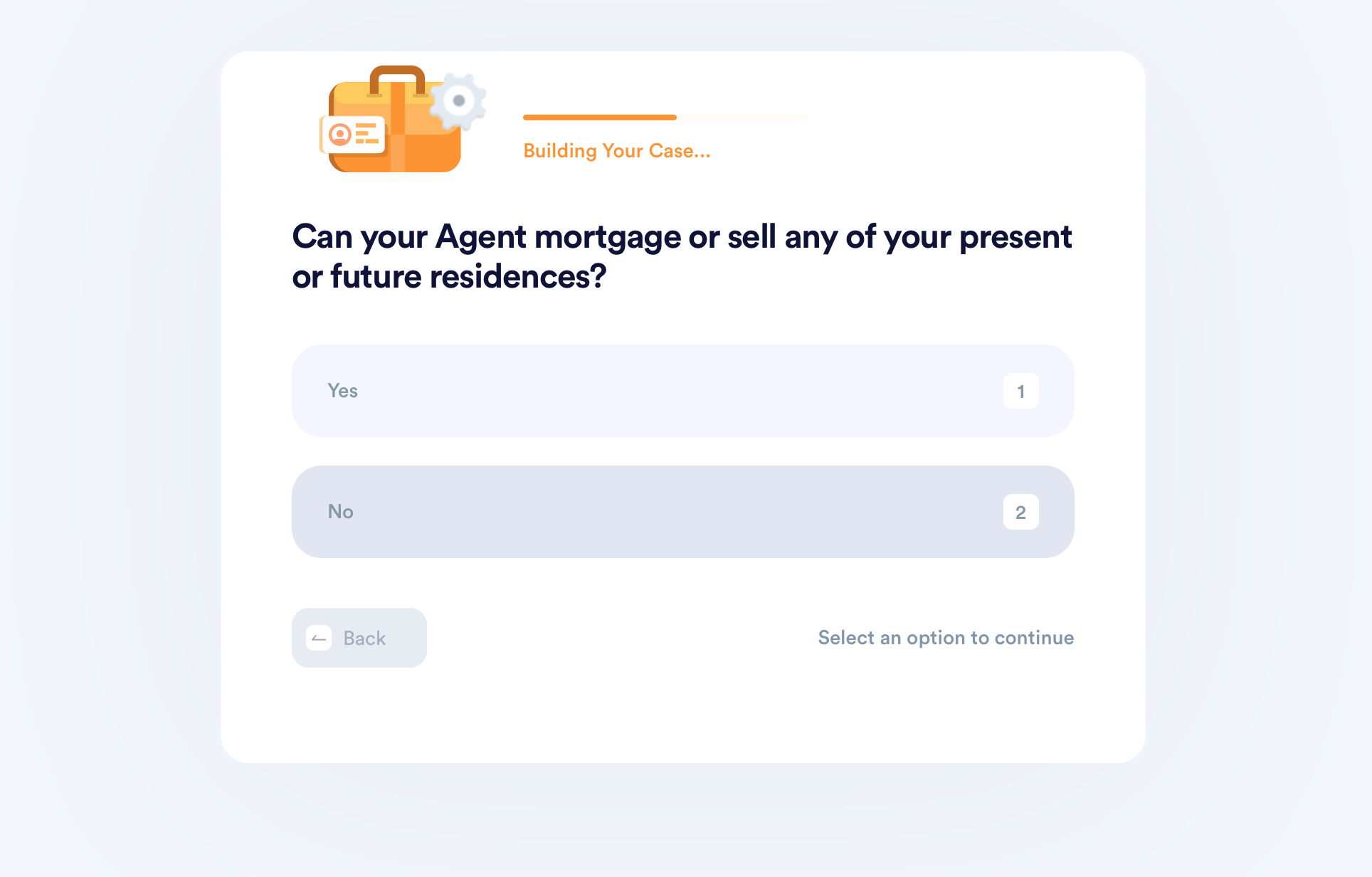 Once we create your document, we will send it to you, along with two other notices. All parties need to read them before signing the document.
In case you need to get your document notarized, our app can connect you with an online notary as well. You only need to select the option while answering our questionnaire.
Creating a Power of Attorney Yourself
If you want to create a power of attorney yourself, you can find templates online or pay a lawyer for professional help. Either way, here are the steps that you need to follow:
Choose a reliable agent
Select the power of attorney type
Identify the duration of the POA
Compose and sign the document and get it notarized
Choose a Reliable Agent
Choosing an agent can be quite tricky. Ideally, you want to select someone you know and trust, but you also want to confirm that they understand their duties. Most principals choose the following subjects as their agents:
Spouse
Adult child of over 18 years
Sibling
Trusted friend
Whoever you choose, you must make sure that they will make sound decisions and act in your best interests.
Select the Power of Attorney Type
In case you're wondering what power of attorney you need to choose, here is a list of the basic types:
Identify the Duration of the POA
It is important to identify the effective date and duration of the agreement. A durable POA is effective immediately after signing and remains valid even if the principal becomes incapacitated. A limited POA is effective for a specific purpose and ends as soon as the purpose is achieved.
You should think about your needs carefully and clearly define relevant time frames in the document.
Compose and Sign the Document and Get It Notarized
Write the document yourself or hire a lawyer to do it for you. Once the document is complete, both the principal and the agent need to sign the document.
After signing, get it notarized by the notary public to make it official. In some states, you might also need additional witnesses to sign the document.
How To Fill Out a Power of Attorney
It is essential to compose the document properly because if you accidentally miss out on a crucial element, it might not be effective. Regardless of the type of power of attorney, the procedure of filling out the document stays the same. Here is an overview of the elements you should include in your POA document:
Key Elements
Brief Explanation
Principal
Name, contact info, and address of the principal(s)
Agent
Full legal name and contact information of the agent(s)
Time limitations
Effective dates of the agreement and other relevant time-sensitive details
Authority and powers delegated to the agent
A clear mention of all the powers that are handed over to the agent, such as:

Handling finances
Making legal decisions
Buying or selling assets or real estate
Deciding healthcare options for the principal

Signatures
Signatures of both parties, confirming they have read and understood the terms of the document
Notarization
A notary's signature with a seal and the date of notarization (if required)
DoNotPay Provides Useful Info on POAs
Do you want more information on how different powers of attorney work? DoNotPay's knowledge base can provide useful info on various aspects of a power of attorney. Check out the list of some of the questions that we can answer:
DoNotPay Makes All Issues Go Away in Several Clicks
Using DoNotPay comes with plenty of advantages, the main one being that you can resolve just about anything in a matter of clicks. It doesn't get any easier than that!
Do you need to fax a document, draw up an agreement, submit a FOIA request, get a contract notarized, file a warranty or insurance claim, get a burner number, schedule a DMV appointment, or appeal a parking ticket as soon as possible? Sign up now and clear out your schedule because we'll handle it all!
Are you looking for your missing money? Do you need help with your utility bills or property taxes? We're here to help!
Get Rid of Paperwork With Your AI-Driven Assistant
Even though paperwork belongs in the past, we have to keep dealing with it almost daily. To avoid this annoyance, you can just use DoNotPay!
If you need to compose a demand letter to a rude neighbor, submit a claim for a late or missing package, request compensation from an airline, or sue any company in small claims court, we have your back!
All you need to do is sign up, tell us what you need, and resolve any issue in a matter of minutes!