How To File for Divorce—Untie the Knot Fast
Getting an uncontested divorce is usually straightforward. Since both parties agree on everything, you won't have to waste time on endless court hearings.
Still, you have to figure out how to file for divorce, gather the necessary papers, draft a divorce settlement agreement, and not spend big bucks in the process.
DoNotPay is here to help!
How To Go About Filing for Divorce—Starting an Uncontested Divorce Process
If you and your spouse believe that divorce is the only solution, you should commence the process. One of you needs to file a legal petition asking the court to end the marriage. The petition should contain this information:
A legal reason for the divorce
A statement that at least one spouse meets the state residency requirements for divorce
Any other statutory information that the state you live in requires
You also need to fulfill the residency requirements, but they are not the same in all states. The rules usually require one spouse to live in the state where the divorce gets filed for between three and 12 months. Counties are less strict—generally, you need to be a resident between ten days and six months before filing the petition.
Check out the table below for specific divorce laws in each state:
How To File for Divorce—Steps To Take
Once you are certain that you meet the residency requirements for your state, you can continue with the steps for filing for divorce. Take a look at the table below for more information:
Steps To Take
Brief Explanation
Fill out your court forms
The court forms you need to complete usually require you to provide information about:

Your marriage and orders you wish the court makes
Restraining orders that limit what you can do with your assets and property

Make copies of your forms (at least two)
You will need one copy for yourself and another for your spouse, and the original will go to the court
File the papers
You need to file the divorce papers in the state court in the county where you or your spouse resides
Create a divorce settlement agreement
This document is a necessity for uncontested divorce cases. When properly drafted, it covers custody arrangements and ways to divide property and debts. DoNotPay can help you create an airtight divorce settlement agreement!
Create a Divorce Settlement Agreement With DoNotPay
If you are willing to have a friendly divorce with your spouse, turn to DoNotPay for help.
We can help you have an out-of-court divorce settlement. Our app will assist you with one of the crucial steps of the process—creating a settlement agreement!
You don't need to spend a small fortune on lawyers or waste time making the document on your own. To get a settlement agreement tailored to your specific needs, follow these steps:
Sign up for DoNotPay in a web browser
Type in Divorce Settlement Agreement in the search bar
Answer a few questions about your spouse and children
Provide us with some information about your income
You only need to sign the document and get it notarized after completing these steps. DoNotPay can help you with the notarization part as well!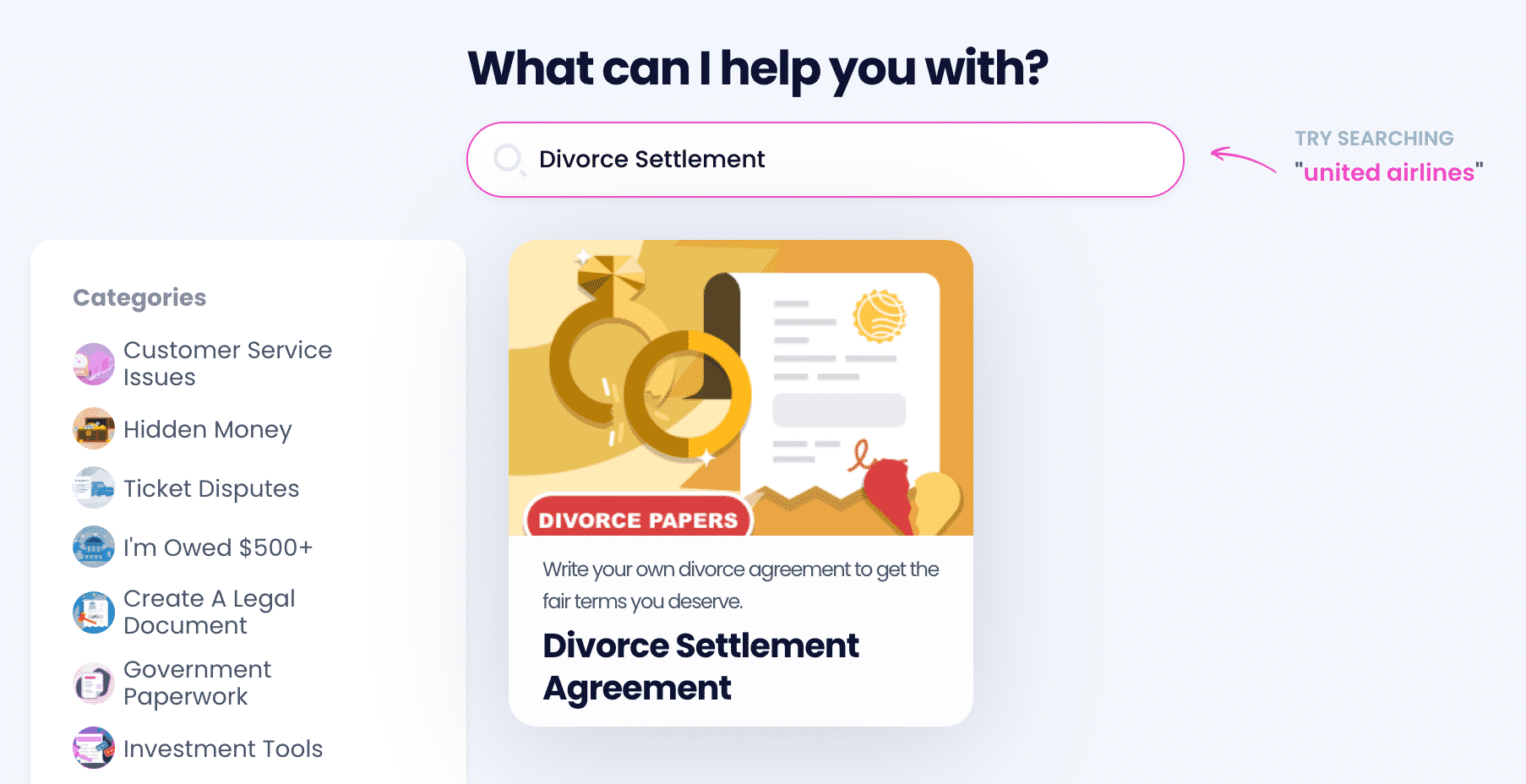 Where Can You File for Divorce?
State courts have the power of jurisdiction over divorce matters. Depending on the state you live in, you can file a divorce petition with:
Your state court in the county of the state's circuit
A superior court
In some cases and certain states, you are allowed to file for divorce online.
The best course of action is to check with your local county or district branch of the court in your state and find out where you should file for divorce.
Does It Matter Who Files for Divorce First?
It doesn't matter who the first to file the divorce papers is. The court does not provide the petitioner (the person filing for divorce) with any advantage over the respondent.
How To Serve Divorce Papers to Your Spouse
You need to file a divorce petition with the local court and make sure that your spouse receives copies of the divorce papers—this is called serving the papers to your spouse and is a must in all states. If you skip this step, the court won't be able to issue any orders and will dismiss your case.
The majority of states do not allow you to deliver the papers to your spouse personally—there needs to be a third person who will handle the task. This individual is usually a county sheriff, friend, relative, or professional.
Sometimes, it is possible for the spouse to accept the complaint and summons by mail. In this case, you will need to mail them an additional document called Notice of Acknowledgement and Receipt (NOA). The spouse should complete, sign, and return this document to the server.
DoNotPay Can Answer Other Divorce-Related Questions
If you are curious about how the divorce process works, you can turn to DoNotPay for help. Our app has answers to questions, such as:
DoNotPay—Easy Fixes for Your Daily Struggles
Calling customer support takes hours. Dealing with refunds and chargebacks takes weeks or sometimes months. And don't even get us started on DMV appointments. The good news is that, with DoNotPay, you don't have to stress out about these tasks any longer.
Our platform can help you turn exhausting administrative troubles into two-minute tasks. Thanks to AI technology, you can easily create legal documents, request compensation for canceled flights, send a complaint letter to your neighbor, or book appointments with online notaries.
Diversity of services is one of the biggest advantages DoNotPay offers, and the best part is that our subscription won't cost you an arm and a leg.
Do You Need Help With Anything Else?
All you need to do is ask, or in this case, sign up for DoNotPay, and the world of practical, user-friendly products awaits. Finishing boring or annoying tasks with the help of our AI bots is fun, easy, and super intuitive—you won't need any special knowledge of legalities or administrative terminology.
With our help, you will be able to: