Learn How To File for Divorce When Your Spouse Is Out of State!
Have you and your spouse separated and are now living in different states, but you want to file for divorce? You probably want to know how the process works in such a scenario. Do you have to get divorced in the same state you were married in? Can you file for divorce when your spouse lives in another state?
We're here to provide you with info on how to file for divorce when your spouse is out of state and how to do it the easy way! We'll break down all the requirements you have to meet to get it done! Want to file for a friendly uncontested divorce? DoNotPay can help you write a divorce settlement agreement in a flash!
Do You Have To Get a Divorce in the State You Were Married In?
If you, your spouse, or both of you moved to a different state than the one you were married in, you're probably wondering whether you can file for divorce there. The answer is yes, as long as you meet the residency requirements of the state you wish to file for divorce in.
The residency requirements vary from one state to another, but the common criteria are:
You or your spouse need to have been a resident of the state where you're filing for divorce for at least six months
You or your spouse need to have been a resident of the county where you're filing for divorce for at least three months
You should check the exact requirements of the state and county where you're filing for divorce. Some states have strict requirements, while others—like Alaska—have no residency prerequisites at all.
Filing for Divorce in a Different State—What To Keep in Mind
To better understand the protocol of filing for divorce in a different state, here's what you need to know:
| | |
| --- | --- |
| What To Know | Explanation |
| Filing and jurisdiction | If spouses file for divorce in different states, the state where the first petition was filed has jurisdiction over the case and controls the proceedings |
| State law | If you want to file for a contested divorce, you need to get acquainted with the state laws about property division and other relevant divorce matters, which can be complex, expensive, and time-consuming. You don't have to struggle with a contested divorce. If you and your spouse can agree on all divorce-related aspects—such as child support, alimony, division of assets, and similar—you can file for an uncontested divorce and avoid going to court |
How To File for an Uncontested Divorce in Any State
Would you and your spouse like to avoid complicated, lengthy, and expensive divorce procedures? You can file for an uncontested divorce without involving a lawyer. In case you can't put aside your differences and agree on how to handle the divorce, a divorce mediator can step in to help you avoid going to court.
The steps to filing for an uncontested divorce are as follows:
Filing a dissolution of marriage petition—The dissolution of marriage petition is used to initiate the divorce process. Depending on the state where you're filing for divorce, you may need to fill out additional uncontested divorce forms
Serving your spouse—You should make copies of the divorce papers and give them to your spouse. If your spouse is in a different state, you can do this by hiring an agent in the state where your spouse lives and have that agent serve him or her with the papers. A government official can also serve your spouse, or you can send the documents via certified mail
Drafting a divorce settlement agreement—You should state every divorce matter you and your spouse agreed upon and spell out how property will be divided in a document called a divorce settlement agreement. If you have children, the agreement should disclose who pays child support and gets custody
Draft a Divorce Settlement Agreement in Less Than Five Minutes With DoNotPay!
DoNotPay helps you deal with dull administrative tasks with ease! We'll create a divorce settlement agreement for you in a few minutes—all you need to do is answer a few questions. Forget about spending money on lawyers and complete the following instructions to get started:
Select the Divorce Settlement Agreement tool
Answer a few simple questions
After you complete our short questionnaire, we'll get to drafting your agreement. You should sign it and make sure your spouse does the same.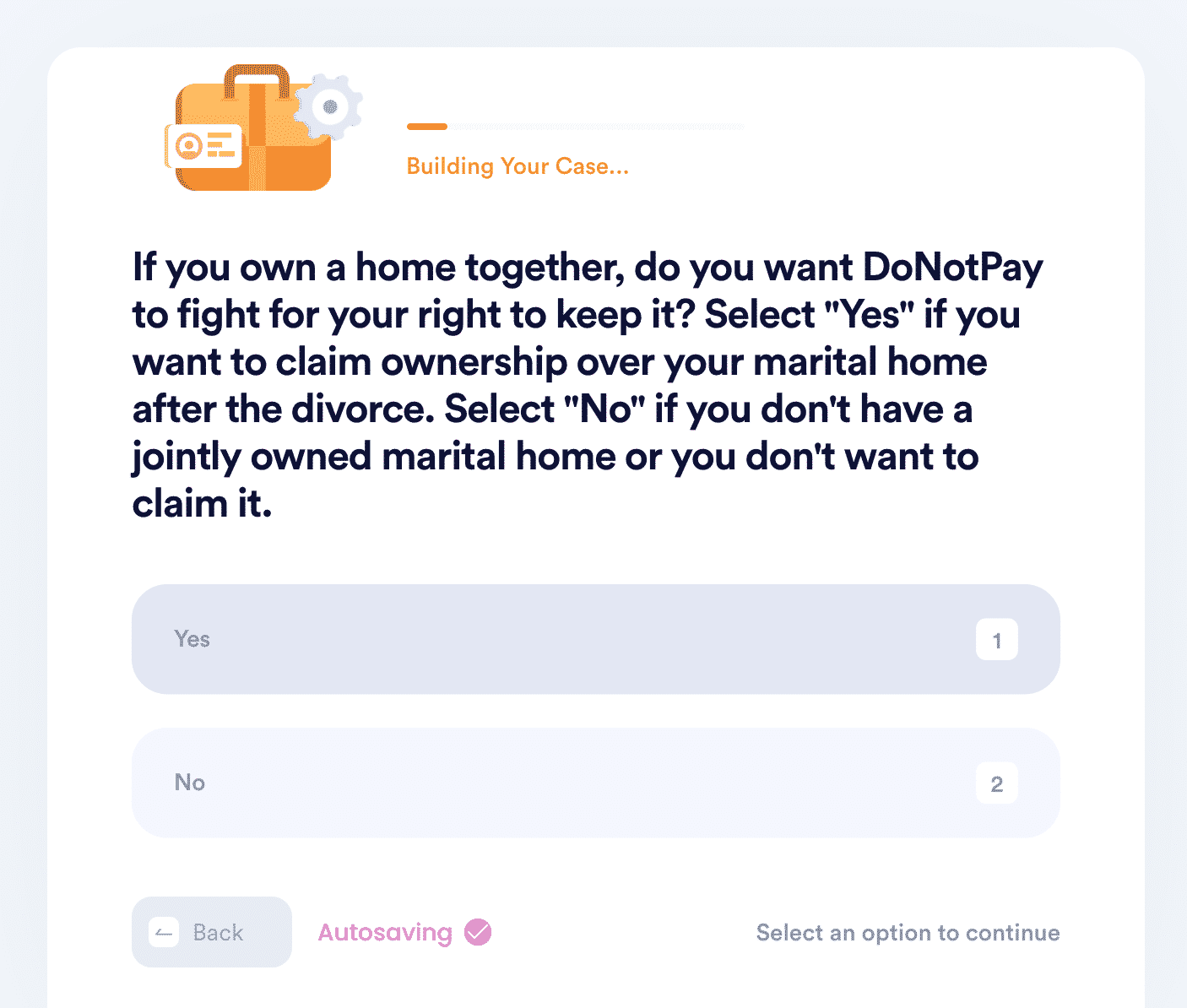 Since divorce settlement agreements should be notarized, you can go for the easiest option and use DoNotPay to get it done. After we create your agreement, you'll be able to choose to get it notarized without leaving the app. We will direct you to a remote notary's timetable, and you can pick the date and time that works best for you!
You Ask, DoNotPay Answers!
Assisting you in filing for divorce in a different state than the one you were married in isn't all we got in store! There is no shortage of divorce-related info DoNotPay can provide you with! Check out the list below, and see how to:
Communication Troubles? Say No More!
Yes, communication is the key, and DoNotPay vows to provide you with the best, most convenient methods to relay or protect your message—whether it's correspondence with your business partner or a loved one who's serving time.
Check out what you get by using our platform:
Use DoNotPay for a Better Shopping Experience
If you have a tendency to shop till you drop, some issues with purchases are bound to happen. Customer rights and satisfaction is what DoNotPay is passionate about.
With your subscription, you will be able to: