Learn How To File for Divorce in Texas Without a Lawyer Easily!
If you want to get divorced and are wondering how to file for divorce in Texas without a lawyer, we got you covered! Follow our guide and learn how to file for an uncontested divorce in Texas without spending too much money on lawyer fees!
Subscribe to DoNotPay to draft a divorce settlement agreement hassle-free in under two minutes!
What Requirements Do I Have To Meet To File for Divorce in Texas?
Texas has a set of residency requirements that you must meet to file for divorce. You must have:
Been a resident of the county where you want to file for divorce for at least three months prior to a divorce filing
Lived in Texas for six months or more prior to filing for divorce
If you or your spouse have been away to perform a public service—such as joining the military on behalf of Texas or the U.S.—the time you've been away will count as spent in the county where you live and where you're filing for divorce.
Can I File for a No-Fault Divorce in Texas?
No-fault divorces are allowed in Texas, so if you want to file for divorce on no-fault grounds, you can. If the judge becomes aware that one party is at fault, he or she can consider it when dividing the property.
The common grounds for filing a fault divorce in Texas are adultery, living apart, cruel treatment, abandonment, long-term incarceration, and confinement to a mental hospital.
The no-fault divorce process is much simpler and quicker, especially if you and your spouse choose to file for an uncontested divorce.
How To Get a Quick Divorce in Texas—Uncontested Divorce Explained
If you wish to file for an uncontested divorce in Texas, the process will be much faster and cheaper than filing for a contested divorce. Here's how the two differ:
Contested divorce—Spouses disagree on how to handle the divorce matters and attend court hearings to resolve their dispute
Uncontested divorce—Spouses have a mutual agreement on how to handle crucial divorce matters, such as property division, child support and custody, alimony, and similar
Why hire a lawyer if you agree on everything? If you file for an uncontested divorce in Texas, you'll save yourself from unnecessary stress and have the option to take care of the divorce without spending too much time in court.
Can I File for Divorce in Texas Without a Lawyer?
You don't have to hire a lawyer to file for an uncontested divorce in Texas, but the divorce process can be confusing, especially if you don't have any legal background.
Engaging a divorce lawyer to assist you during the process is probably the first thing that comes to mind, even though lawyers usually charge astronomical fees. If you want to get a low-cost divorce, you can file for divorce without hiring a professional and settle the divorce out of court.
The process won't be as easy and simple as it would be if you had an attorney review the divorce papers and explain the legal protocols, but DoNotPay will swoop in to help you through it!
How Do I File for Divorce Without a Lawyer in Texas?
To file for an uncontested divorce in Texas, you need to complete the next steps:
| | |
| --- | --- |
| Steps | Explanation |
| Fill out the required paperwork | You have to fill out and file a petition for divorce with the court. You also need to pay a filing fee and check if there are other forms you should get for an uncontested divorce. In Texas, the required divorce forms depend on the county where you file for divorce |
| Serve your spouse | Serving your husband with a copy of divorce papers is also necessary. If you fail to do this step, the court may not be able to finalize your divorce |
| Draft a divorce settlement agreement | When drafting a divorce settlement agreement, having a legal advisor's assistance can be of use. Since you want to finalize your divorce without hiring an attorney, our robot lawyer can assist you in drafting your agreement quickly and without paying expensive fees |
Draft the Divorce Settlement Agreement in Texas Without a Lawyer—Rely on DoNotPay
DoNotPay's Divorce Settlement Agreement feature helps you draft your agreement in a few minutes! The process is super simple—all you need to do is complete a quick three-step guide, and we'll handle the rest! Here's how it works:
Select the Divorce Settlement Agreement feature
Provide the required info
DoNotPay will draw up your divorce settlement agreement instantly, and all that's left is for you and your spouse to provide your signatures!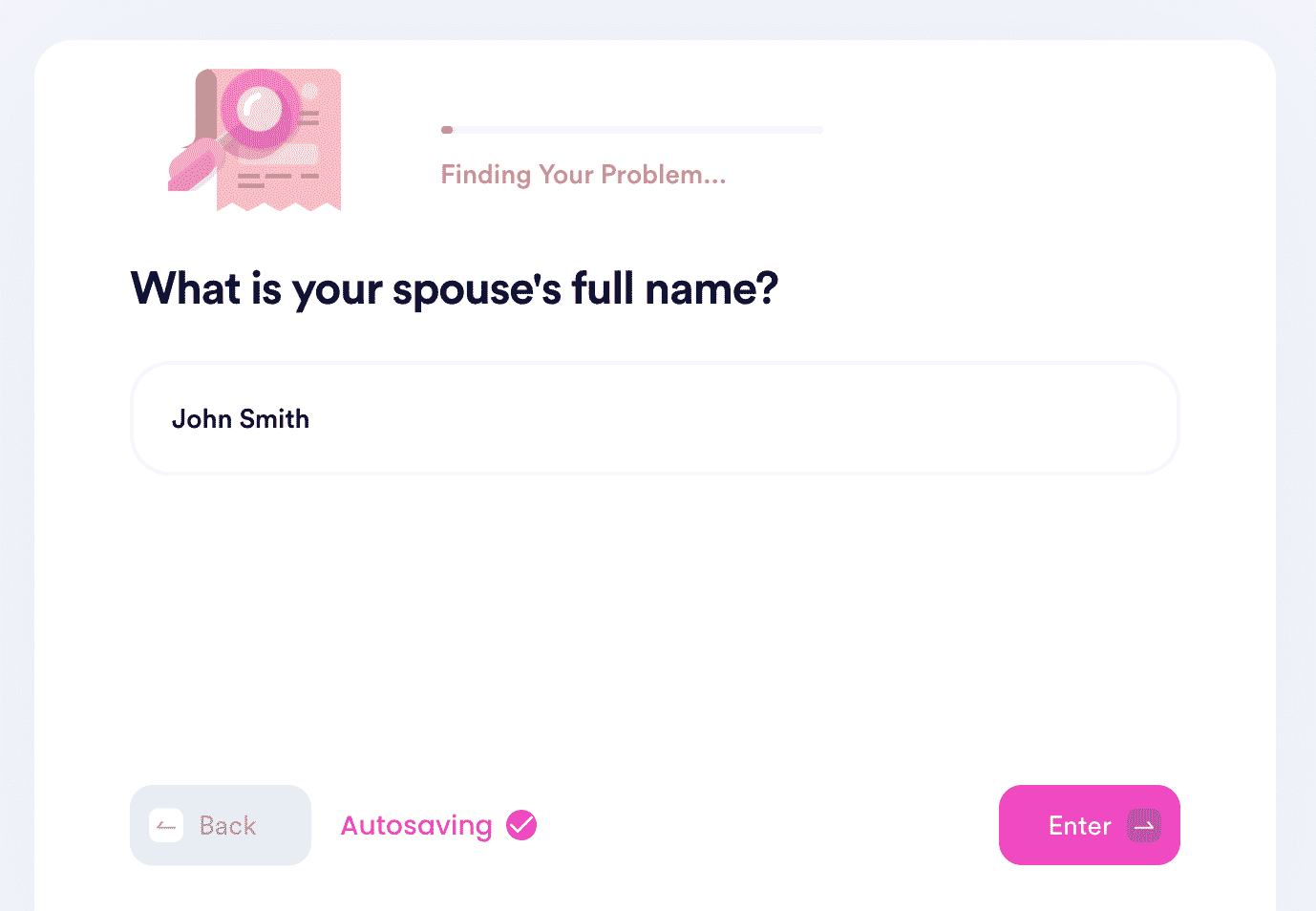 Getting your agreement notarized is also a good call. Should any claims or issues arise, a notarized divorce settlement agreement will provide you with an additional level of protection.
You can choose to get your document notarized remotely through our app and avoid traveling to see a notary public in person!
Turn to DoNotPay for Any Divorce-Related Dilemma!
With DoNotPay, you can achieve more than filing for divorce in Texas! Check out the table below to see some of the common dilemmas our app helps you solve:
| | |
| --- | --- |
| Texas Divorce-Related Questions | Other Divorce-Related Questions |
| | |
Paying for Lawyers? We Don't Think So!
For an average Joe, any mention of legal terminology and complicated administrative processes is likely to cause a headache, and understandably so! Still, you don't have to jump the gun and hire expensive lawyers for the smallest matters.
It's the 21st century, and everything is automated. Why would it be different with bureaucracy? DoNotPay can help you draft efficient neighbor complaint letters, prepare you for a small claims court appearance, or create standardized legal documents and have them notarized online.
Our app is a great resource for fighting workplace discrimination, stopping stalking and harassment, protecting copyrights, securing compensation for victims of crime, and even reducing property taxes—all at a fraction of the price of traditional legal help.
Need To Do Some Penny-Pinching?
Whether you're saving for rainy days or a new gadget, DoNotPay can provide numerous options to save and earn more cash.
Do you need help with utility bills? Are you wondering how to get those few dollars left on your gift cards? Are you unsure about how to find your unclaimed money? If the answer is yes, our app can help.
With our assistance, you'll be able to enter raffles, start free trials with no risks, participate in lucrative clinical trials, or claim refunds for late deliveries!