Learn How To File for Divorce in Florida Without a Spouse
If you've had enough of your bad marriage and want to move on with your life, getting a divorce is the missing key. This process is never easy, but it can be unnecessarily hard when the other party cannot be found.
DoNotPay can tell you how to file for divorce in Florida without a spouse.
Your Spouse Doesn't Want To Get Divorced? Learn How To File for Divorce in Florida Without a Spouse
Florida is one of the no-fault states, which means that the only ground required to file for divorce is irreconcilable differences. You can get a divorce even without your spouse's consent. You only need to meet the state's residency requirements—that you lived in FL six months prior to filing for divorce.
The rest of the process requires you to file a divorce petition with the local court in the county you reside in. This petition needs to include the following information:
Both of the spouses' names
The date and location of where you got married
Your current location and where you lived during the marriage
The date any marital separation occurred
A statement that you want a divorce on the grounds that the marriage is irretrievably broken, without the hope for reconciliation
When you file the necessary paperwork, you need to get a process server to deliver them to your partner and get their signature. The spouse will have 30 days to respond to the petition. In case they refuse, you may be granted a default divorce.
What To Do if You Don't Know Where Your Partner Is
Your spouse not wanting to sign the forms is definitely a problem, but the situation can be even more complicated. What should you do if you cannot find your partner?
You can get divorced in Florida even if you don't know the whereabouts of your soon-to-be ex, but you have to prove you cannot find them. Under Florida law, you (the petitioner) have to exercise "due diligence" when attempting to find the lost spouse.
What Is Due Diligence When Trying To Find the Absent Spouse?
To prove that you have tried everything in your power to locate your spouse, you will need to:
Talk to the spouse's family members and friends
Get in touch with your spouse's current or last known employer
Check the spouse's social media accounts
Monitor the partner's bank and credit card transactions (if possible)
If, after all those actions, you still don't manage to find your spouse, the court will issue a citation by publication. This process involves publishing a notice in the newspaper that notifies the absent spouse of the divorce.
Even though you can finalize your divorce by exercising due diligence, the downside is that the court can't award alimony or divide marital property and debts.
Found Your Spouse? File for an Uncontested Divorce!
If all goes well and you locate your spouse, the chances are that they'll want to get a divorce as well.
If the wish to end the marriage is mutual, you two should file for an uncontested divorce. The process will allow you to go your separate ways peacefully.
An uncontested divorce is quick and low-cost and lets you decide what happens with alimony, spousal support, property, and debts. To make sure the process runs smoothly, you will need to create a divorce settlement agreement.
Make a Divorce Settlement Agreement With DoNotPay
If you want a divorce settlement agreement that covers all the necessary items and statements for your uncontested divorce, turn to DoNotPay for help. Our app will handle the process in a fast and simple manner. You only have to complete four simple steps:
Find our Divorce Settlement Agreement product
Answer a few questions about your spouse
Provide some information about your income
You can also choose to get your divorce settlement agreement notarized with our help when completing the short questionnaire!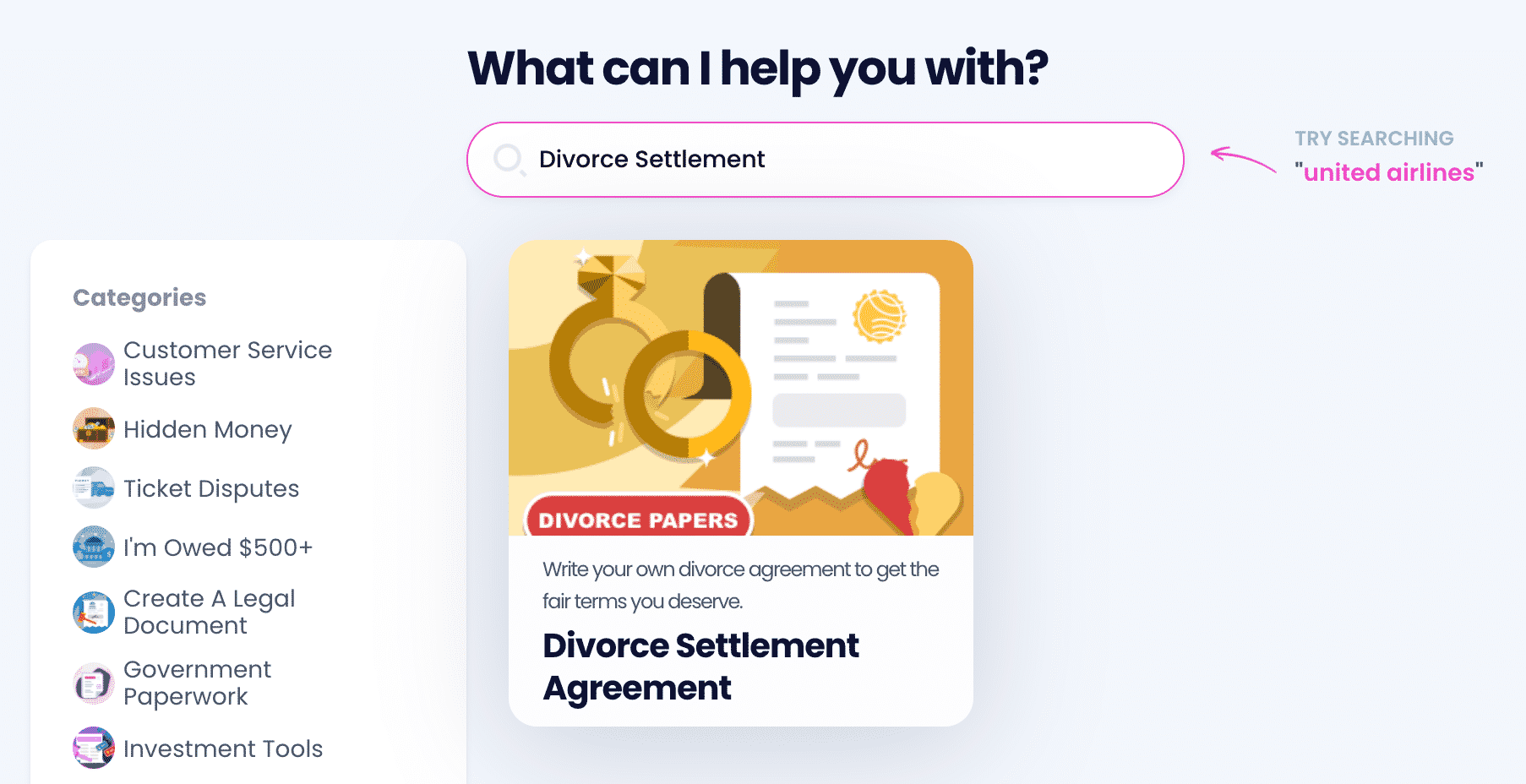 DoNotPay Has More Information About the Divorce Process
Take a look at the table below to see the common questions about getting a divorce and the state-specific process in Florida:
| | |
| --- | --- |
| General Questions | Florida-Specific Questions |
| | |
Work Smarter, Not Harder!
Although there are certain tasks that are a pain but can't be avoided, such as paying your property taxes, you don't have to do them the hard way. There is always a way to make the overbearing bureaucratic procedures a bit easier. DoNotPay can find a loophole and help you cut through the red tape!
Reducing your property taxes is only one in the sea of tasks our app will make super easy to do! You can also use DoNotPay to:
Explore DoNotPay's Other Neat Features
DoNotPay offers a plethora of useful products to make your day-to-day life easier and enjoyable! Consult the list below to see what you can do using our app: