How To File a Trademark the Easy Way With DoNotPay
If you don't know how to file a trademark, but you need to register one, you have come to the right place! We have prepared an extensive article to help you register your trademark—whether it is a business name or a slogan—effortlessly while meeting the requirements.
If you , you will get the right tool for the job so you do not have to waste your time or money on expensive lawyers!
What Is a Trademark?
A trademark is usually a symbol, word, phrase, or a combination of two used to represent a company or a product. By registering one, you protect your brand from other people trying to use it as their own and harm your reputation by doing so. If someone tries to copy your trademark, you will be entitled to take them to court.
What Can Be Registered as a Trademark?
Unlike copyrights which protect creative works, trademarks are used to protect podcast names, logos, slogans, names, book series titles, pictures, characters, usernames, clothing brands, and similar.
How To File a Trademark
To file a trademark, you need to:
Choose the right trademark type
Conduct a trademark search
File a trademark application form
Choose the Trademark Type
You can choose from various trademark types, such as:
Generic trademark—This type of trademark describes qualities, characteristics, or ingredients of the product that you are selling
Descriptive trademark—Descriptive trademarks usually consist of words or a few words that characterize your product
Suggestive trademark—Instead of describing the product, this type of trademark suggests or references it, which requires consumers imagination to connect with the product
Fanciful trademark—These trademarks do not hold any meaning in common language, and they differ from any other trademarks that exist. The most famous fanciful marks are Nike, Adidas, and Lacoste
Arbitrary trademark—Arbitrary trademarks are usually words that have a well-known meaning that has little to do with what the company sells (for example, Apple is a company that has an apple for its logo but sells technology)
Service mark—This trademark is used to distinguish services that a certain business offers rather than their products
Trade dress—A trade dress protects all elements that promote a specific service or product. It is the overall look of the product, not only a name or logo
Conduct a Trademark Search
To conduct a trademark search, you need to visit the official website of the United States Patent and Trademark Office (USPTO). Once there, search their database to find whether your desired trademark is in use.
You can also check whether your idea has already been registered by:
Searching for trademark registries online
Looking for websites that might have your trademark
Subscribing to DoNotPay and letting us do all the work for you
How To File a Trademark Application
Once you decide on the trademark type and make sure your trademark isn't already in use, you will need to file an application with the USPTO that consists of the following sections:
Section
Details
Basic information
In the first part of the application, you will need to include your:

Name and address
Citizenship and type of legal entity
Legal representative's name and address

Drawing of the trademark
You need to include a drawing of your trademark if it has a particular color, style, or font in it. In case it is a word or a phrase, you can only type in the letters
Description of the mark
If your trademark has design elements, such as color or sound, you need to provide a description in the application
List of goods and services you are offering
You must list what you are offering and what your mark will represent
Distinctive trademark classes
Categorize the goods and services that you list in the previous section into one or multiple international trademark classes (e.g., class 1 is for chemicals while class 5 is for pharmaceuticals, medical, and veterinary preparations)
Verified statement
Either you or your representative needs to sign a declaration. This serves as a verification that the application has been submitted
Pay the Trademark Application Fee
After you complete the application, you need to pay the filing fee, which will depend on the filing option you pick. You can choose between these two:
Trademark Electronic Application System (TEAS) Plus—$250
Trademark Electronic Application System (TEAS) Standard—$350
How To File a Trademark Online—Use DoNotPay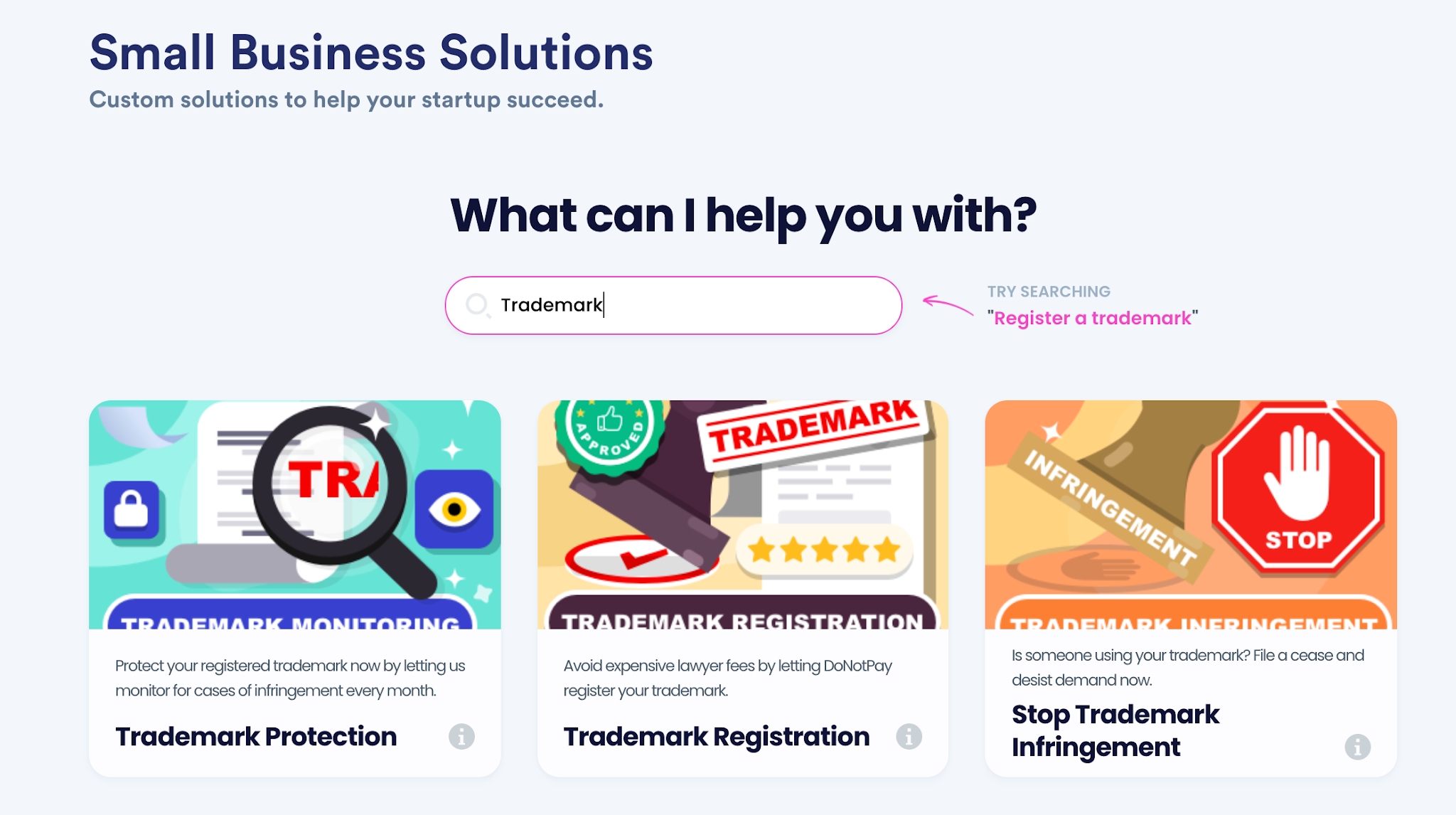 The trademark application process can be tedious and time-consuming as it requires you to follow countless steps. On top of it all, if you make a mistake while filling out the form, your trademark request will be declined, and you will have to start all over again.
That is why DoNotPay has developed a tool to make sure your trademark registration goes smoothly! We will conduct a clearance search for you, fill out the application, and send it back to you for your e-signature. Once you sign it, we will forward it to the USPTO in your stead and help you protect your trademark in no time.
To register a trademark with us, all you have to do is:
Select the Trademark Registration tool
Answer our chatbot's questions about your trademark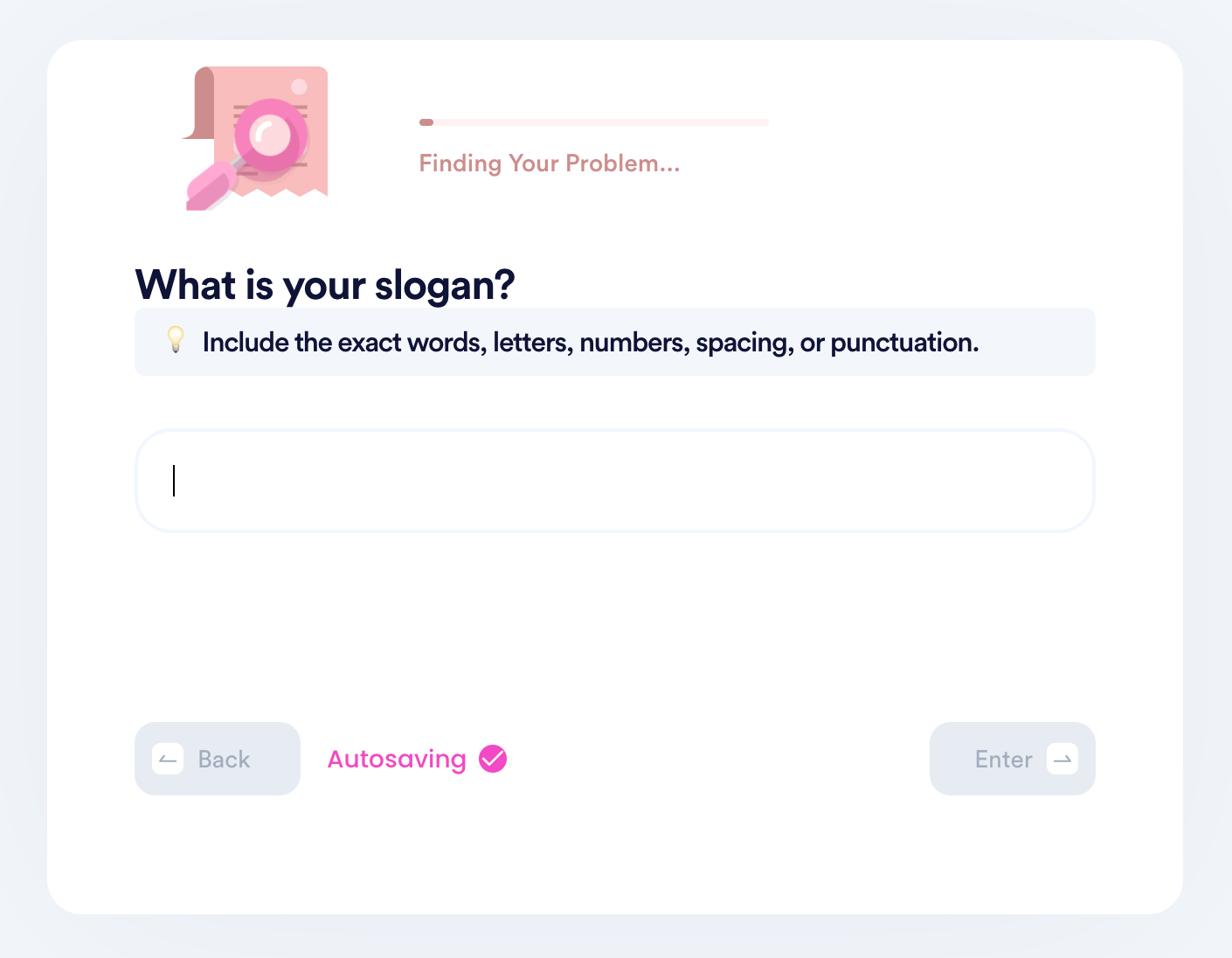 You will also receive a tracking number to check the application's status and see when it gets approved.
Once your trademark becomes active, it will last for the next ten years, but you can renew it in the fifth or sixth year of registration.
Run Your Business Worry-Free!
Every beginning is challenging, which is why DoNotPay has everything you need to start running your business stress-free! We have created numerous easy-to-use products that will make boring administrative tasks easier to manage.
To help you get started, DoNotPay will assist you in taking care of trademark, Employer Identification Number (EIN), and DMCA agent registration, Privacy Shield self-certification, and business loan requests.
We can even help you maintain a good business reputation by:
Monitoring your trademark and filing a cease and desist letter in case someone tries to use it
Reporting fake negative reviews that could harm your business
Disputing illegitimate chargeback requests in a matter of minutes
DoNotPay Helps You Create and File a Number of Legal Documents
Why waste time worrying about how to draw up and file various legal documents when you can have the world's first robot lawyer do that in your stead? You do not have to waste thousands of dollars on lawyer's fees—our extensive database has a myriad of documents on offer.
DoNotPay will help you automate the procedure of completing and filing 83(b) election forms, write a formal demand letter requesting payment from clients who try to avoid it, and deal with other important paperwork.
Don't want to waste time going to the post office to mail a contract? Now you do not have to! With DoNotPay, you can fax and mail any document in a matter of clicks!