How to File a Discrimination Complaint Against a Business: Guide
Those who are members of a protected class (e.g. race, age, gender, religion, or disability) are protected by anti-discrimination laws. If you believe a business establishment or "public space" has discriminated against you because of your membership in a protected class, you can file a complaint with The Office for Civil Rights (OCR).
In this article, we'll cover the basics of a civil rights violation complaint as it applies to consumer discrimination and include information on how to file a discrimination complaint against a business. We'll also introduce you to , an app that will help you report complaints anonymously!
What Is the Customer Non-Discrimination Act?
The Customer Non-Discrimination Act is an amendment to the Civil Rights Act of 1964. It widens the coverage of protection to also prohibit discrimination based on gender identity and sexual orientation in public spaces. The amendment also updates the scope of public spaces to include retail stores, banks, services, healthcare facilities, and transportation. The bill was introduced in the House of Representatives on May 10, 2019, but it died there.
Even though the Customer Non-Discrimination Act did not pass, other laws protect customers from discrimination, including:
Title VI of the Civil Rights Act of 1964 – prohibits discrimination against one's race, color, national origin, or English proficiency

Title IX of the Education Amendments of 1972 – prohibits discrimination based on sex, pregnancy, parental status, or non-gender conformity

Section 504 of the Rehabilitation Act of 1973 – prohibits discrimination against persons with disabilities (PWDs)

Title II of the Americans with Disabilities Act of 1990 – prohibits public entities from discrimination against PWDs

Age Discrimination Act of 1975 – prohibits discrimination against one's age
Discrimination in Public Spaces
A public space is any "licensed or unlicensed place that is open to or solicits for the patronage of the general public". Businesses are prohibited from denying entry to people or treating customers differently due to their membership in a protected class. Public spaces include:
Hotels or other accommodations

Restaurants or bars

Theaters, sports stadiums, or other places of entertainment

Stores or other retail establishments

Laundromats, gas stations, lawyers or accountants, or other service establishments

Hospitals, medical and dental offices, and other health care facilities

Transportation providers or stations

Galleries, libraries, or other places of public display

Parks, gyms, beaches, or other places of recreation

Schools, colleges, and other educational institutions

Child care centers, senior citizen centers, and other social service establishments

Public streets and highways

Courtrooms and polling places
Steps for Filing a Discrimination Complaint Against a Business
Consumer discrimination can be in the form of harassment by a grocery store employee or denial of entry to a blind person with a service dog. Another example is when a boss of a credit company declines a qualified mortgage applicant because they are Black. When you experience discriminatory practices from a business, you can file a discrimination complaint with OCR.
Make sure to file your discrimination complaint within 180 days of when the incident happened. If your complaint shows "good cause", OCR may extend the statutory deadline. When you file your consumer discrimination complaint, make sure to include important details such as:
Your name and contact details (full address, email address, and telephone number)

Company name and contact details of the business that you claim to have discriminated against you

Short brief about the incident, including reasons why or circumstances how the discrimination happened

Any other relevant information that may include:

Special accomodations (e.g. foreign language assistance)

Contact information of secondary contact in case OCR cannot reach you

If a similar

complaint

was filed somewhere else (e.g. another federal agency or the business's customer service representative)

Your sworn statement, signature, and date of the

report
You can file your complaint through different communication channels such as:
File a Complaint Via:
Where (and how) to send:

Email

OCRComplaint@hhs.gov

No need to sign the complaint electronically when sending an email as submission by email is a representation of your signature.

Post

Centralized Case Management Operations

U.S. Department of Health and Human Services

200 Independence Avenue, S.W.

Room 509F HHH Bldg.

Washington, D.C. 20201

Online Portal

OCR Online Portal

Civil Rights Discrimination Complaint Form Package

Civil Rights Discrimination Complaint Form Package

Fill out the complaint and consent form and either print and mail them by post or simply send them as an email attachment.
In most circumstances, you may prefer to reach out to the business establishment first before escalating the issue with the OCR. However, if you are required to be a patron because of the lack of other options available, you may need to file your complaint anonymously to protect yourself from retaliation or avoid awkward situations.
Filing an Anonymous HR Complaint With DoNotPay
Send your business complaints anonymously using DoNotPay's Anonymous HR Complaints service. can help you file a discrimination complaint with a business's HR department anonymously! All you have to do is:
1. Open and click on the Anonymous HR Complaints product.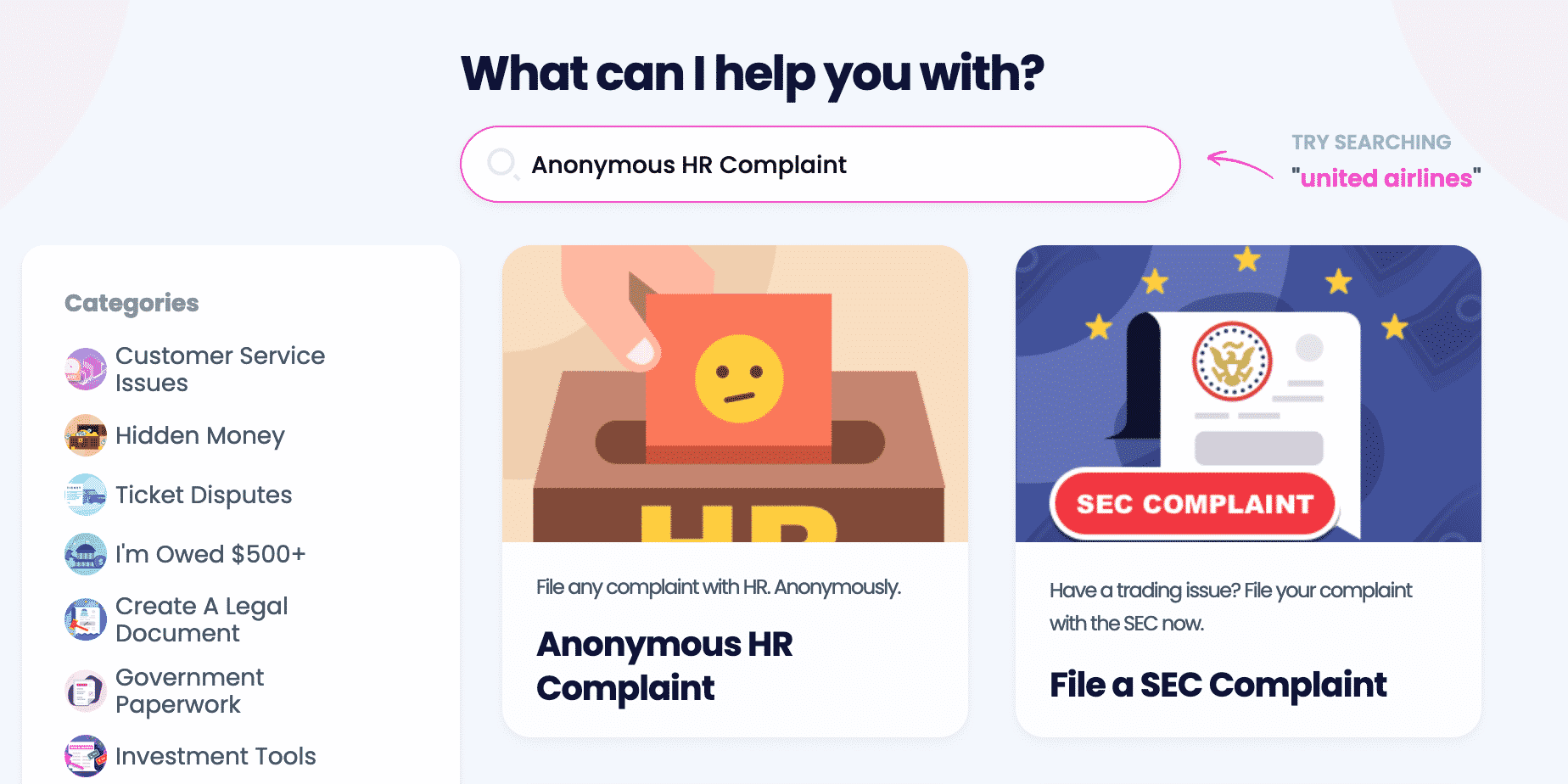 2. Enter the business's name and the company's mailing address.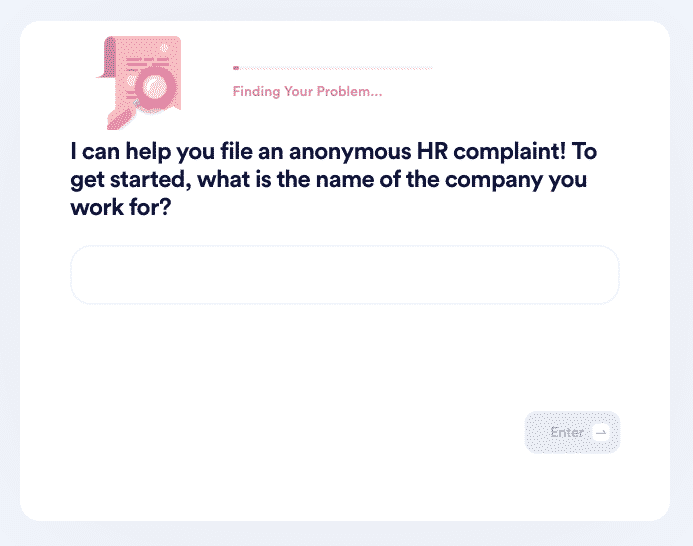 3. Describe the issues you're experiencing and how you want them to be addressed.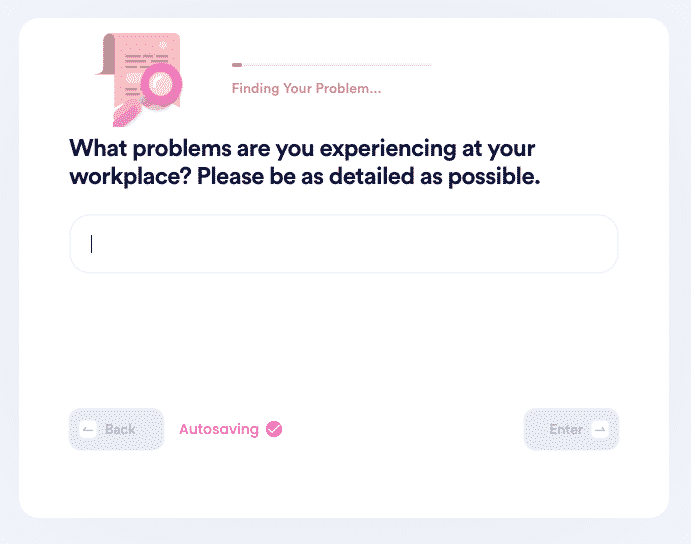 4. DoNotPay will automatically mail the report anonymously!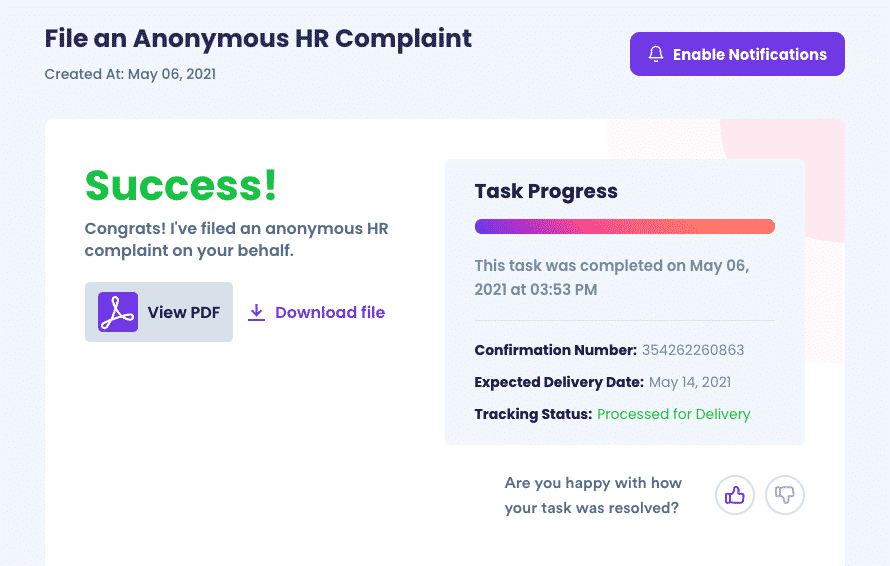 That's it! In 4 steps, your complaint will be delivered to the business!
DoNotPay is Your AI Assistant!
How nice would it be if you could get your errands done without leaving your home? Oh wait - you already can with ! Our robot lawyer can help you solve customer service and legal issues: