How to File a Complaint Against an Employer for Wrongful Termination
Wrongful termination otherwise known as illegal discharge, is a situation where an employee has been dismissed for an illegal reason, such as employment discrimination.
In the United States, there is no single law on wrongful termination. It is governed by state laws, federal laws, and court decisions, which vary from state to state. As such, if you believe that you have been dismissed from your job without just cause, you may wish to learn more about your state's wrongful termination laws and how to file a complaint against your employer.
However, just like filing an employee incident report, filing a complaint against your employer for wrongful termination doesn't have to be so complicated. DoNotPay can help you get justice and report a complaint to your employer!
What are Common Cases of Wrongful Termination?
Here is a list of common reasons for which a wrongful termination claim may be filed:
When the reason for termination is non-compliant with the company's termination policy.

If your termination is retaliation for

filing a complaint against a coworker

.

If the termination is done in retaliation for whistleblowing or filing a

human resources complaint

or other

employee complaints

.

If the termination is discriminatory in nature and based on factors like an employee's color, race, or country of origin.
Can You Sue an Employer for Wrongful Termination?
Note that according to U.S. law, a wrongful termination suit must be filed in approximately 180 days starting from the day of the termination. You can sue an employer for wrongful termination if the situation falls under these three groups:
When the reason for termination involves discrimination on race, gender, age, disability, sex, or pregnancy, you can sue an employer through the EEOC - Equal Employment Opportunity Commission. This method can also work if you were fired after filing

harassment complaints

. You may also file a

discrimination complaint

through the EEOC.

If the termination occurred due to the employer breaching the terms and agreement of an employment contract, you could sue for breach of contract in small claims court.

Civil lawsuits for violations of public policy, concealment of fraudulent activities, or breach of labor laws like non-payment of wages are yet additional reasons to sue your

employer

.
What Information Should I Provide for a Wrongful Termination Claim?
Try to have as much information on hand. Some of the following may be protected by a Non-Disclosure Agreement so be sure to consult your employment contract.
Company policy handbook

Evidence of employment termination

Witness statements

A recording or

human resources report

of the termination

Job appraisals and performance reviews during the period of employment.

Employment letters, employment agreements, and contracts
What Can I Expect in Compensation?
If you win in a wrongful termination lawsuit, you may receive monetary settlements for damages. The table below outlines the types of compensation you may be eligible receive:
| | |
| --- | --- |
| Type of Compensation | Meaning |
| Attorney Fees | Employers will be forced to take responsibility for your attorney costs. |
| Cost of Job Search | Costs incurred when looking for a new job. |
| Compensatory Damages | Covers a wide range of losses including emotional/mental distress, medical expenses, etc. |
File a Complaint Against an Employer with DoNotPay Today!
Experiencing wrongful termination and filing legal complaints can be extremely emotionally distressing. DoNotPay - the world's first robot lawyer - can help you file a complaint to your employer in 4 steps:
1. Open the Anonymous HR Complaint product on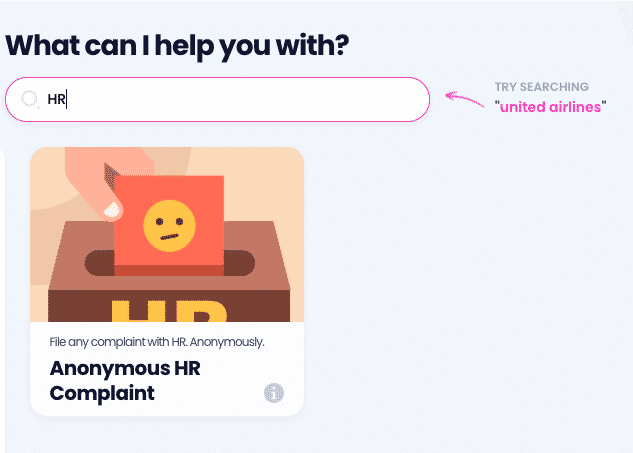 2. Enter your employer's name.
3. Tell us about the issues you had with the company.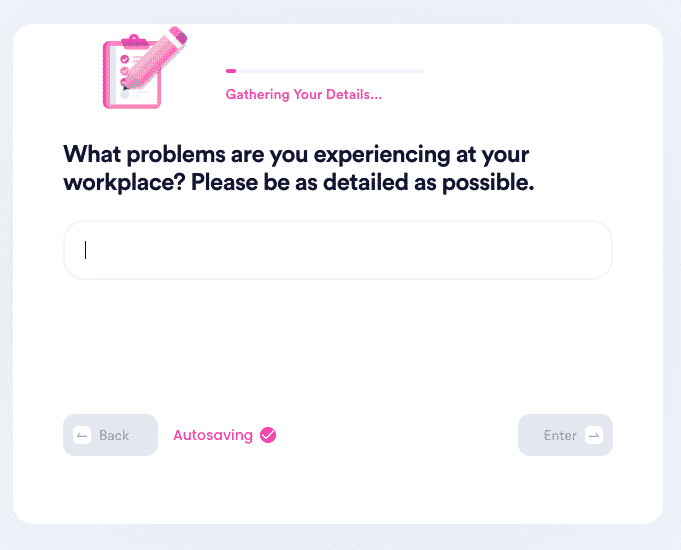 4. Provide the company's mailing address.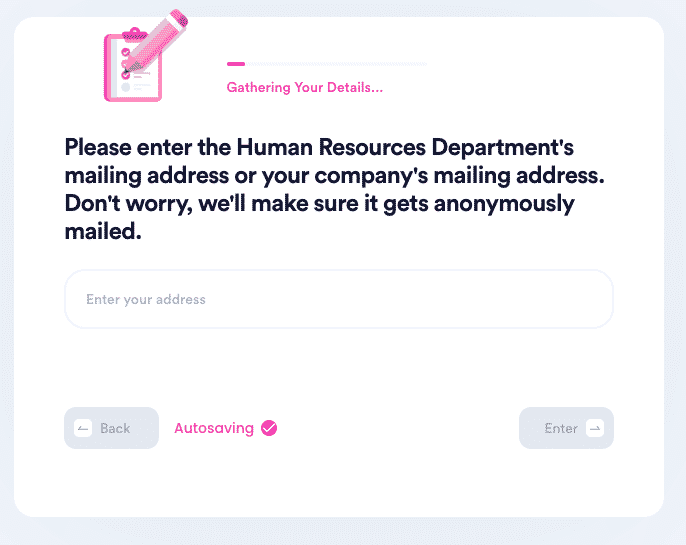 That's it! DoNotPay will automatically mail the complaint to the company.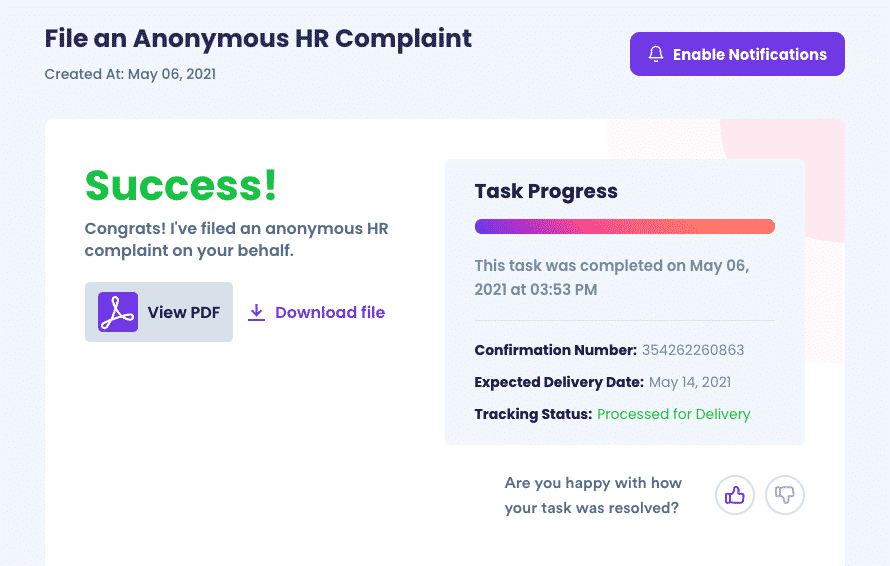 What Else Can DoNotPay Do for Me?
In addition to filing complaints against your employer for wrongful termination, DoNotPay offers a wide range of services from parking ticket appeals to small claims court cases. Sick of all the robo calls you are getting? Get revenge and stop spam calls with the Robo Revenge product! Get your phone number signed-up with the National Do Not Call list too!
can also help you with an array of other issues, such as:
Beating speeding tickets

Contesting traffic tickets