How to Evict a Roommate in Minnesota
Tenants do not choose roommates with the intention of one of them facing eviction in the future, but it does happen frequently. In most cases, a landlord is responsible for dealing with renter evictions. However, there are specific circumstances in which a roommate may lawfully evict the other roommate. You'll, however, need a legally just cause and go through the judicial system.
You might find it difficult to evict your roommate, or a roommate might refuse to leave after you give them notice of eviction. DoNotPay can help you to .
How to Evict a Roommate in Minnesota on Your Own
Evicting a roommate depends on your status in the lease contract. There are three categories that can give you the way forward on evicting a roommate:
1. Are You Both on the Same Lease Agreement?
In this circumstance, if you are both mentioned in the lease agreement, you are both equally responsible for rent payments and adhering to all lease guidelines. You are jointly liable for any destruction to the property.
A co-tenant cannot bring an eviction action against another co-tenant. In this case, only a landlord has the authority to apply for eviction.
The eviction would show in official records, but if you've individually followed the lease requirements, you can request your landlords to sign a contract that relieves you from culpability.
2. Are You the Only One on the Lease Agreement?
The primary renter is the principal tenant and effectively leases to the other housemate, also known as the sublessor. To sublease to the other renter, you must first obtain approval from the landlord. Permitting an unauthorized individual to dwell in the property would be a breach of your agreement.
As a primary tenant, you are usually the one who takes rent from the other roommates and then pays the landlord. You and your subtenant may have a different rent arrangement. In this circumstance, you might be allowed to apply for eviction against the other roommate for reasonable cause. The procedure would be nearly comparable to that used by a homeowner to evict tenants.
3. Is Your Roommate the Only One on the Lease Agreement?
If you're a sublessor, you don't have the legal authority to sue for eviction against the primary tenant. That is why knowing your rights as a renter is very important. Your sole choice is to vacate the property after serving the official notice required by your lease.
You can contact the landlord, and inform them of the problem. It's feasible that the landlord will file for eviction against the primary renter and then lease to you once the primary tenant is gone.
Evicting for a Just Cause
Your housemate must have broken one of the terms of your lease contract or the additional housemate contract you signed. This is referred to as "just cause."
The legal definition of just cause varies depending on your municipality's landlord/tenant rules, but the most frequent legally permitted justifications are similar to what would be necessary for a landlord to evict. They are as follows:
Nonpayment of rent.
Nonpayment of utility bills.
Property damage that isn't caused by regular wear and tears.
Taking part in unlawful activity on the premises.
Endangering the other renter's health or life.
Repeated lease violations, despite receiving a notice to vacate.
You can not evict your housemate because of the following:
| | |
| --- | --- |
| Illegal eviction | If you try to evict your roommate without following the proper procedures, or in retaliation for exercising your legal rights, they may be able to fight the eviction |
| Retaliation | If you try to evict your roommate because they filed a complaint against you or for joining a tenant's union, they may be able to fight the eviction and win up to two months' free rent as damages. |
| Discrimination | If your roomate things that you are trying to evict them because of their race, color, creed, age, sex, or disability, or because they have children, then they may have a defense against the eviction. |
File a Formal Notice of Eviction
If your housemate fails to vacate, you'll submit an eviction notice with the judicial system in your municipality.
In certain areas, you may have to individually arrange for your housemates to be issued with the formal eviction notice papers.
Evict Your Roommate in Minnesota With the Help of DoNotPay
DoNotPay is here to help you navigate the process and file your claims on your behalf. Our Landlord Protection package can assist you in the following ways:
Get your security deposits returned:
Learn about the and what safeguards you have.
Resolve any issues with your landlord about repairs.
File demand letters or resort to small claims court to settle conflicts with housemates.
Break your contract early.
If you want to but don't know where to begin, DoNotPay has you covered in 4 simple steps:
Search for and open the Landlord Protection product on DoNotPay. 
Select which issue applies to you. 
Answer a simple set of questions so our chatbot can collect the necessary information to create your demand letter. 
Choose whether you want DoNotPay to send the demand letter to your landlord or roommate on your behalf. If you already tried sending a demand letter and it didn't work, we can help you start the small claims court process.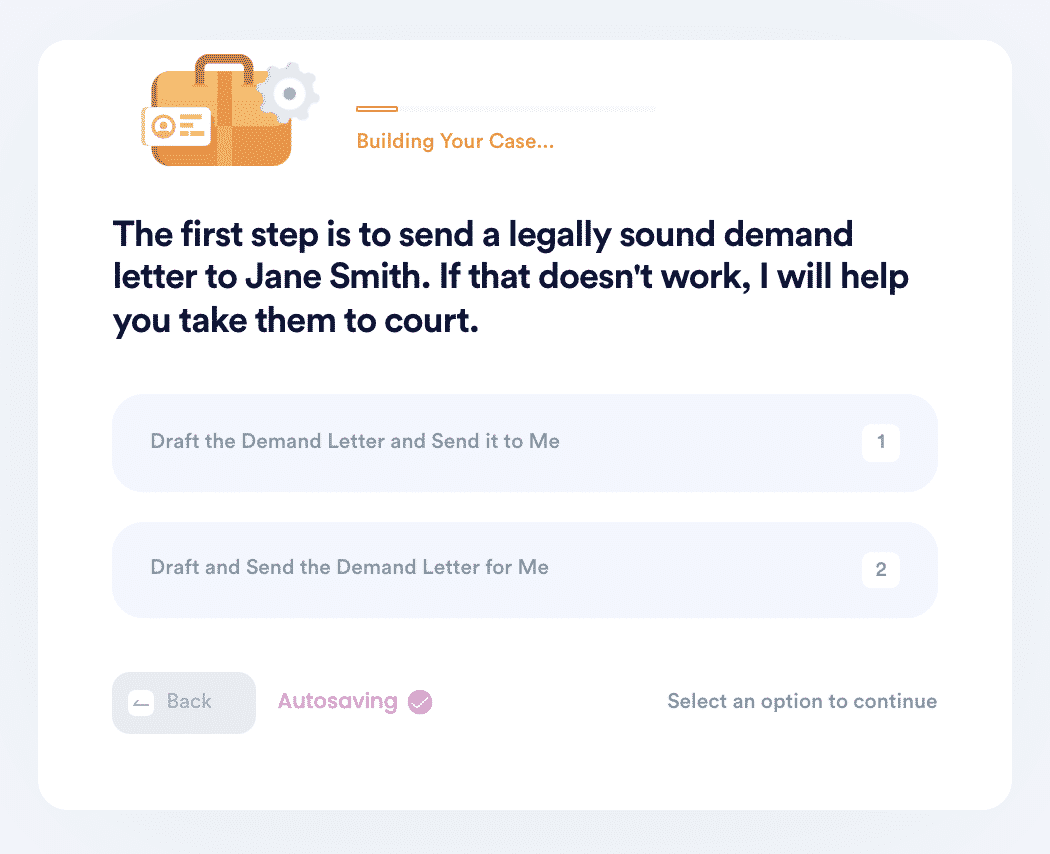 And that's it! You should hear back from your landlord directly once your demands are sent.
DoNotPay Works Across All Entities
DoNotPay works across the board. From individual clients to corporations and also in all the States in America. We can
What else can DoNotPay do?
DoNotPay has a variety of other services, including:
For these and other services, do not hesitate to reach out to us at DoNotPay today!