How to Evict a Roommate in Colorado
If you're having roommate issues that can't be resolved with a conversation, you may be wondering how to evict a roommate in Colorado. In Colorado, your ability to evict your roommate will depend on whether your roommate is on the lease and how your lease is set up. Evicting a roommate in Colorado can be a stressful and complicated process.
DoNotPay can help make the process easier and save you time and stress. Here's what you need to know about .
Eviction Laws in Colorado
While there are many reasons you may be frustrated with your roommate, there are only a few reasons you can legally evict a roommate in Colorado or any other tenant. These reasons are:
| | |
| --- | --- |
| Not Paying Rent on Time | Rent is considered late the day after it is due unless your lease specifies a grace period. Naturally, failure to pay the rent is a straightforward reason for evicting a tenant. If a tenant does not pay the rent, the landlord must give an official Notice to Pay in writing. If the tenant does not pay within ten days, the landlord can continue with the eviction process. |
| Violating the Lease | Tenants can be evicted if they violate the terms of their lease. This can include damaging the property or having a pet that isn't allowed by the lease. |
| Illegal Activity | If a tenant breaks the law on the property, the tenant can be evicted without getting the opportunity to correct the situation. Illegal activities can include any kind of involvement in making or consuming drugs, violence, or being convicted of a crime carrying at least a 180-day sentence. |
| Causing a Threat to Your Safety | If a roommate is causing an immediate threat to your safety, you may be able to get a temporary restraining order. This will usually require the roommate to move out in order to comply with the restraining order. |
If any of these events happen, DoNotPay can help you evict your Colorado roommate quickly.
How to Evict a Roommate in Colorado Yourself
Certain actions are and are not allowed when you're trying to evict a roommate in Colorado. Consider the following:
What Not to Do
Make sure not to confuse handling your roommate issues yourself with self-help eviction. Self-help eviction refers to actions taken to try to force a roommate or tenant to move out, and it is illegal. Examples of self-help eviction are:
Changing locks
Damaging property
Making threats
If You're Co-Tenants
If you and all of your roommates are on the lease, then you are considered co-tenants; you all legally have the same relationship with the landlord. In this situation, you do not have the power to evict your roommate unless there's a threat to your safety. Your landlord might agree to evict your roommate if they agree that the roommate's behavior is a problem.
If You're the Master Tenant
If you are the only one on the lease and your roommate rents a room from you, you are considered the master tenant and have essentially a landlord-tenant relationship. This gives you the right to evict your roommate if the conditions for legal eviction are met. To evict your roommate on your own, follow these steps:
Send your roommate a formal notice by certified mail giving the roommate three days to move out. This is called a Demand for Compliance or Right to Possession.
If your roommate does not comply with the notice, you can file a Notice to Quit with your county clerk.
If your roommate does not comply with the Notice to Quit, your next step involves going to court to secure a Forcible Entry and Detainer.
In court, explain your situation as clearly as possible and present as many documents proving your case as you can.
However, when you try to evict your roommate, you need to be aware of the risk that your landlord will deal with the situation by evicting you both.
Easily Evict Your Roommate With DoNotPay
Dealing with a difficult roommate can be extremely stressful, and handling an eviction can be complicated. DoNotPay's fast, easy and successful system can help you through this process. Get yourself out of an uncomfortable living situation with DoNotPay.
If you want to evict a roommate in Colorado but don't know where to start, DoNotPay has you covered in 4 easy steps:
1. Search for and open the Landlord Protection product on DoNotPay.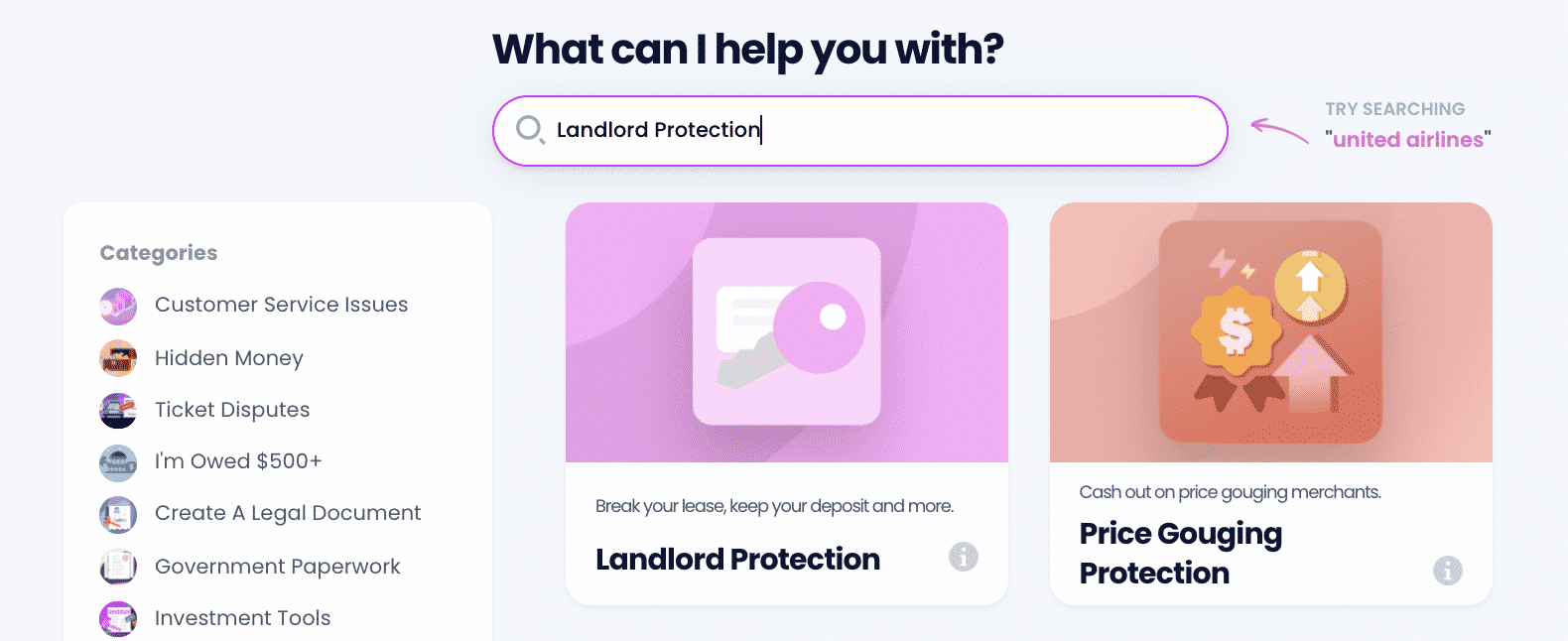 2. Select which issue applies to you.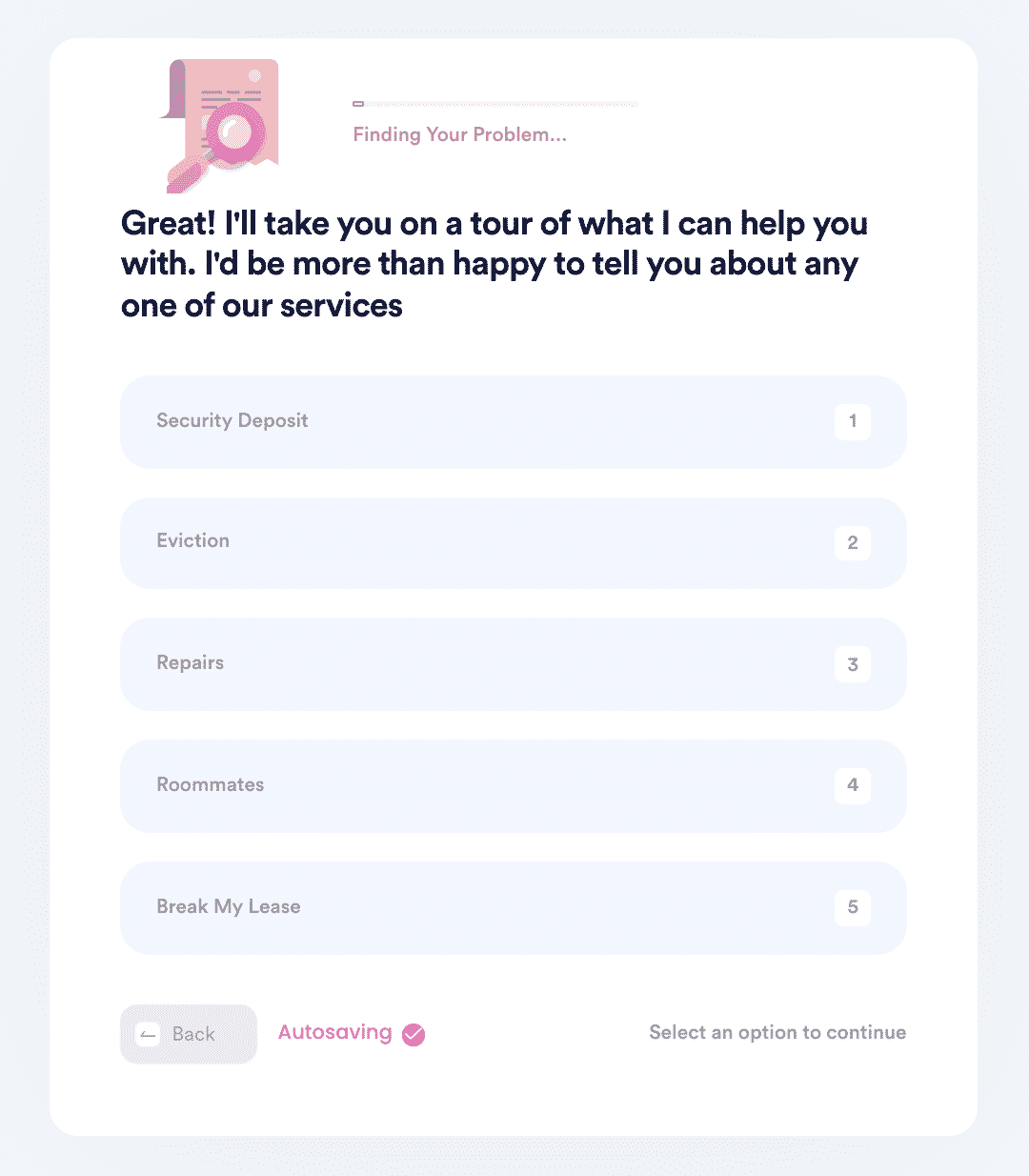 3. Answer a simple set of questions so our chatbot can collect the necessary information to create your demand letter.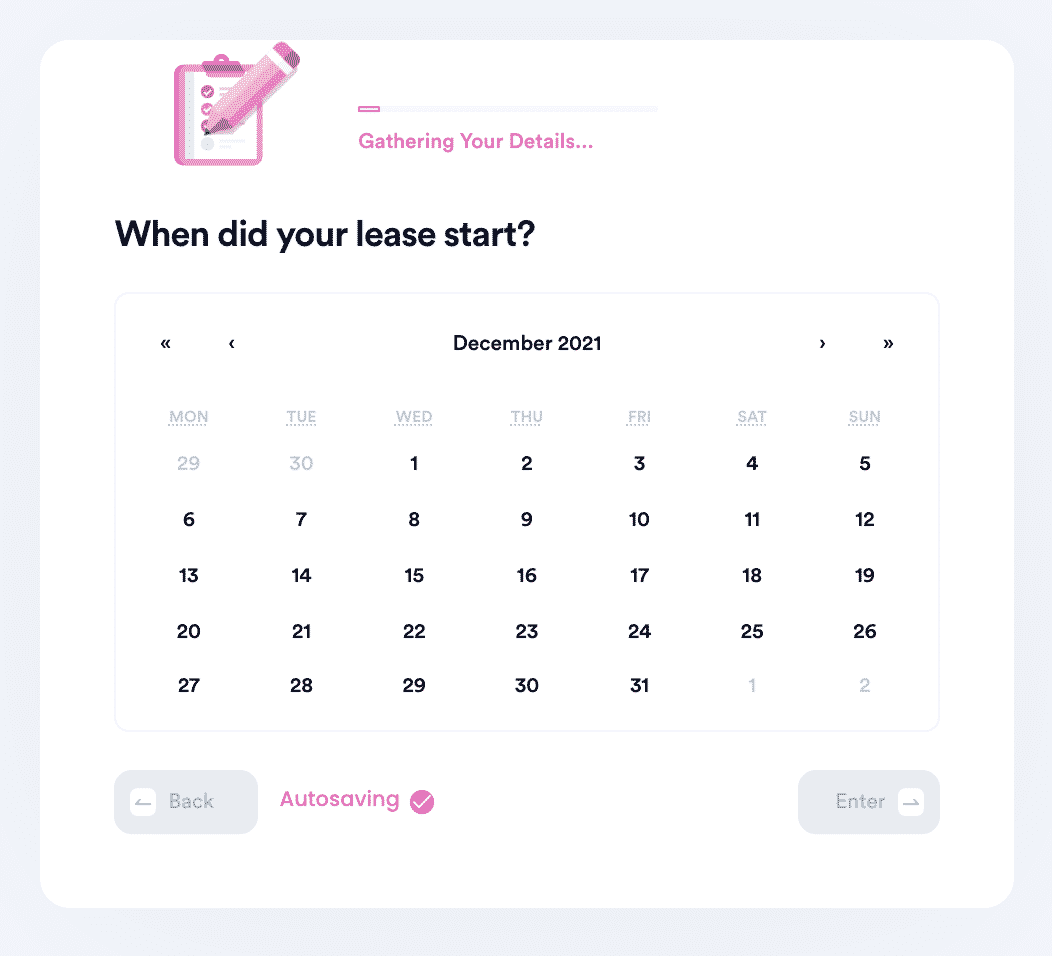 4. Choose whether you want DoNotPay to send the demand letter to your landlord or roommate on your behalf. If you already tried sending a demand letter and it didn't work, we can help you start the small claims court process.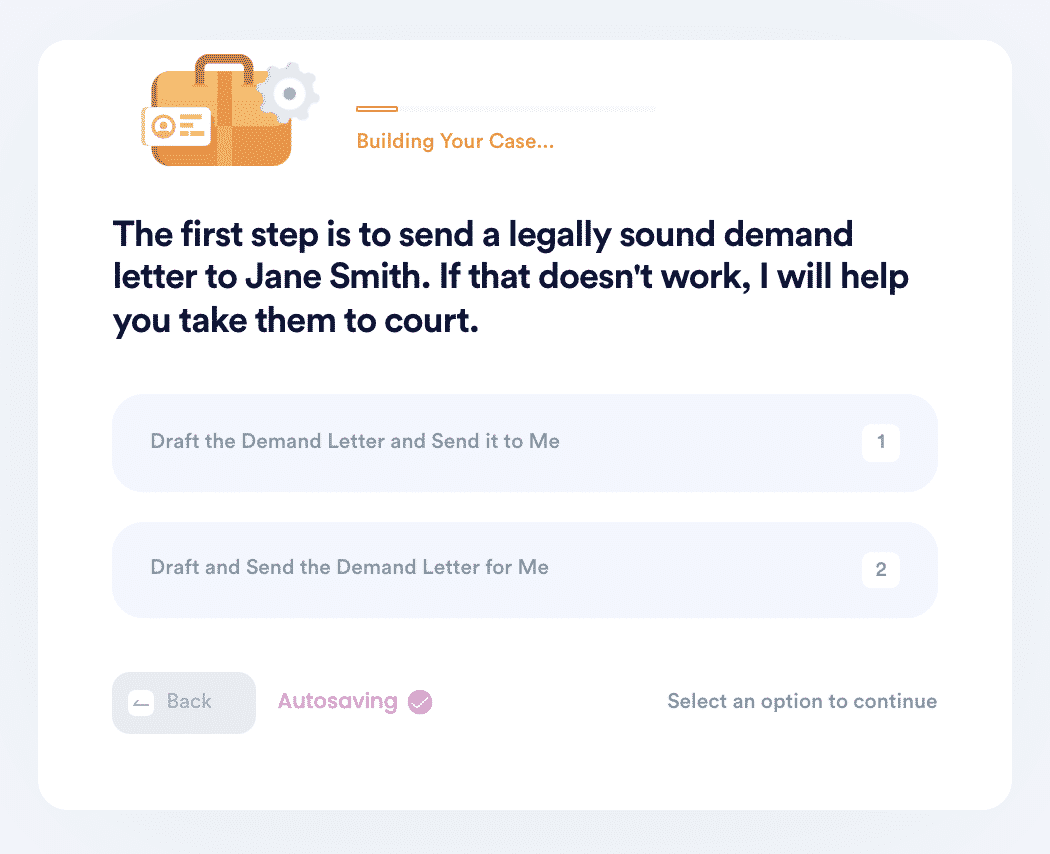 And that's it! You should hear back from your roommate directly once your demands are sent.
DoNotPay is here to guide you through it and file your disputes on your behalf. Our Landlord Protection product can also help you:
Get back your security deposits
Learn about your state's eviction laws and what protections apply in your case
Resolve disputes regarding repairs with your landlord
Resolve disputes with roommates by filing demand letters or going through small claims court
Break your lease early
What Else Can DoNotPay Do?
DoNotPay can help you with any kind of issues you might run into as a renter. We can help you easily:
If you need to evict your roommate in Colorado, contact DoNotPay now.