How to Drop Child Support
If you're trying to learn how to drop child support, that doesn't necessarily mean you don't love your children. It could just mean that your work situation has changed or that you've hit a complicated financial situation.
If child support isn't as easy to handle as it once was, and you're looking to learn more about how to handle child support payments, DoNotPay has the information you need to understand your situation and decide on your next steps. 
Traditional Methods to Drop Child Support 
First, you will want to learn a bit about how child support works and under what circumstances you can lawfully end child support.
How Child Support Works
Because child support works differently in each US state, understanding how child support works start by determining which local child support office will be handling your situation.
On the whole, however, child support will follow this pattern:
A parent will contact their child support office.
That parent will apply for child support.
After approval, and following procedures, the other parent will begin making payments.
Child support payments are managed and overseen by the state.
This continues until a child reaches the age of legal maturity or until the order is legally changed.
How to Request a Termination of Payments
No one should simply stop paying child support. Whether a child reaches the age of legal maturity or you have another reason for requesting a change to the order, you must follow the proper procedures and receive approval to stop making payments.
In nearly every case, this will involve contacting your local child support office to ask about officially requesting a change of order.
The courts will consider if the reason for the modification of the order is material and relevant to the situation. For example, a significant change in the financial situation or the occurrence of some events such as becoming disabled. Either parent is allowed to request the court to make a modification while the child is still 18 years or age.
Of course, experienced family law attorneys make themselves available to help, but their legal fees are sometimes higher than expected. Fast, easy-to-navigate online solutions such as those offered by DoNotPay can help you avoid exorbitant fees.
How to Lower Child Support Payments with DoNotPay
You can also authorize DoNotPay to file a letter on your behalf to request lower child support payments.
How to lower child support debt using DoNotPay:
Search child support on DoNotPay and select the state your child support agreement was established in.
Answer a series of questions about your current financial situation and your past payments to help guide the application.
Confirm your current contact information, and enter the location of the county court that established your child support agreement, so we can mail your request on your behalf.
Tips for Meeting Child Support Payments
If you've been struggling to make monthly child support payments, it could be worth your while to stop and evaluate your financial situation before you take any drastic steps.
Make a monthly budget. Monthly budgets may sound scary if you've never made one before, but they're simply an easy way to track how much you're earning each month and how you're spending that money. This big-picture overview can uncover some simple solutions for saving money or spending it more wisely.
Cut back on discretionary spending. "Discretionary spending" is simply money you spend because you feel like it. Deciding to go to a movie, swinging by the coffee shop for an espresso, or treating yourself to the newest pair of sneakers--these purchases are made at your discretion. If you're able to cut back on them, you're more likely to be able to meet your child support payments.
Pick up a side hustle. Many of us are already working full-time just to make ends meet. Sometimes we're able to pick up a little extra cash by working a few hours doing gig work over the weekends or on our days off.
These options may not sound fun, but they might be able to help you pay the bills and meet your child support.
Before you simply stop making child support payments altogether, know that doing so can bring about serious legal complications. You also have other options at your disposal, such as formally requesting lower monthly payments.
What Happens If You Don't Pay Back Child Support?
If you fall into arrears on child support, you could find yourself facing some serious legal issues. At the least, you could be held in contempt of court. At worst, you could be looking at time in jail.   
If you're able to pay your child support, you should do so. If you're unable to do so for legitimate reasons, be sure to make a formal legal request as listed above.
Demand Child Support Payments with DoNotPay
Perhaps dropping child support isn't the problem. If you should be receiving child support payments but are not currently getting what you should, you have a right to file a demand letter for late payments.
Though the situation itself is stressful, our simple and effective product makes the entire process super easy.
If you want to file a demand letter for late child support payments but don't know where to start, DoNotPay has you covered in 3 easy steps:
1. Search child support on DoNotPay and enter the details of the person who owes the payments.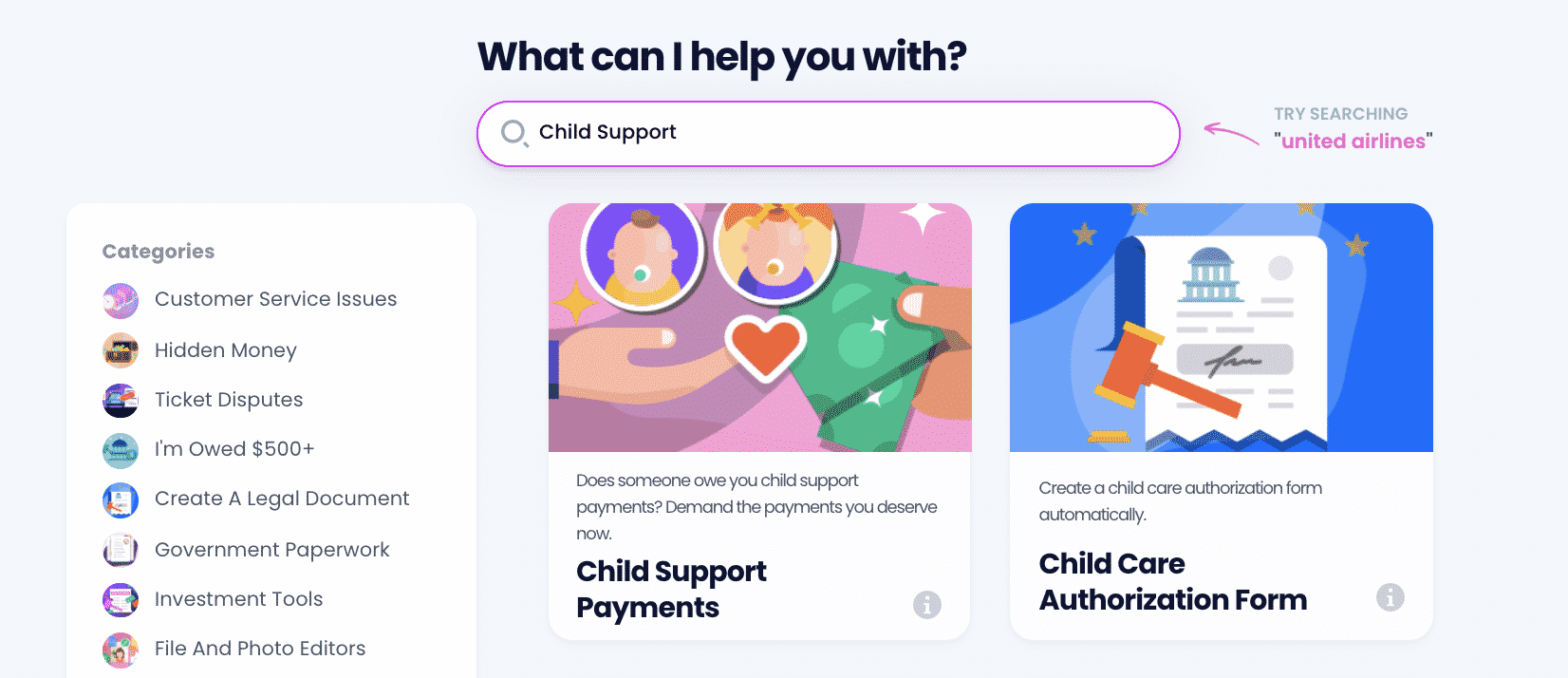 2. Tell us more about the payment schedule, including the amount and frequency of the payments, the last payment they made and number of missed payments, and how much they owe you in total.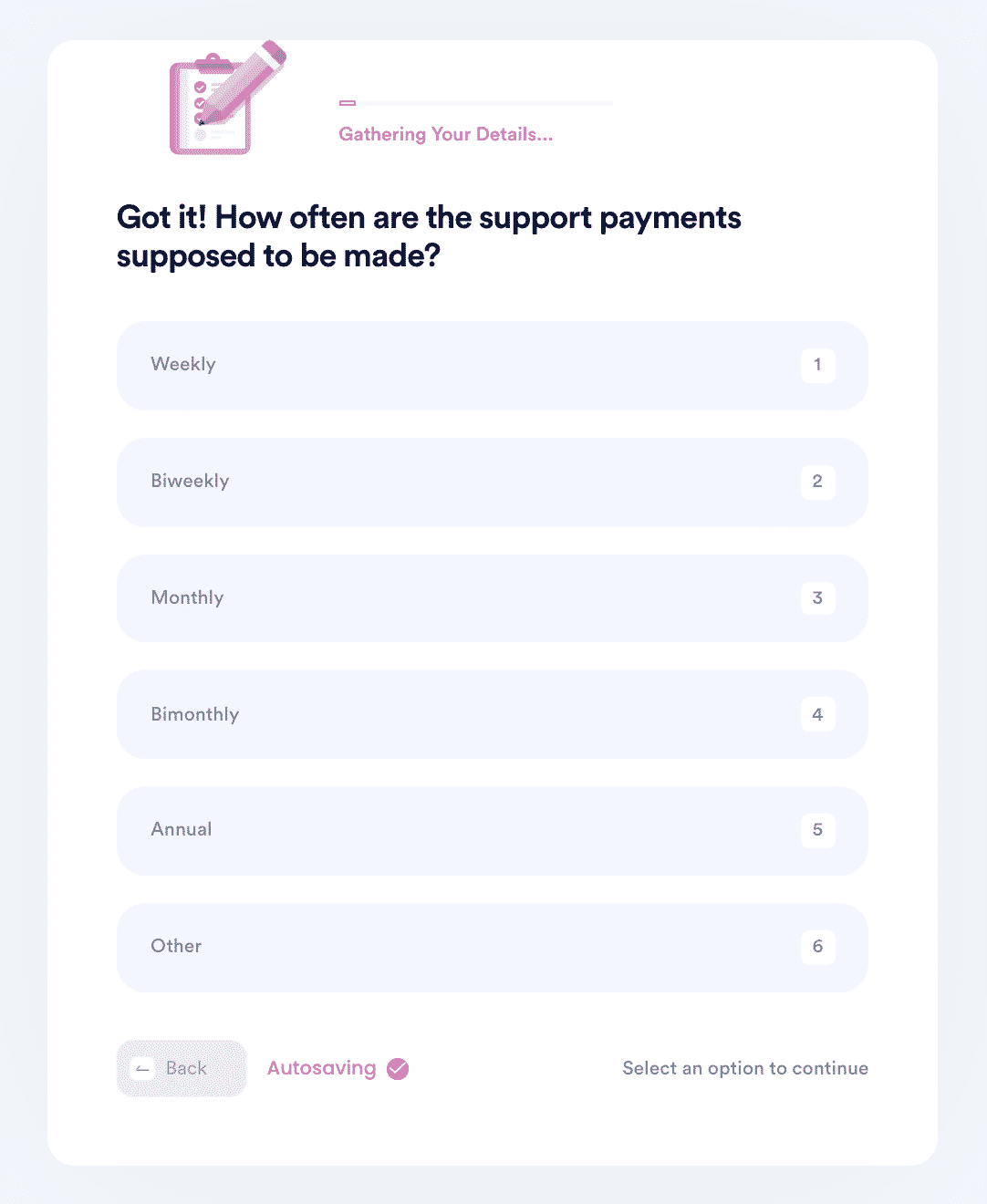 3. Confirm your contact information and select whether you want us to mail or email the letter on your behalf. Choose how you would like to receive the payment and verify your signature.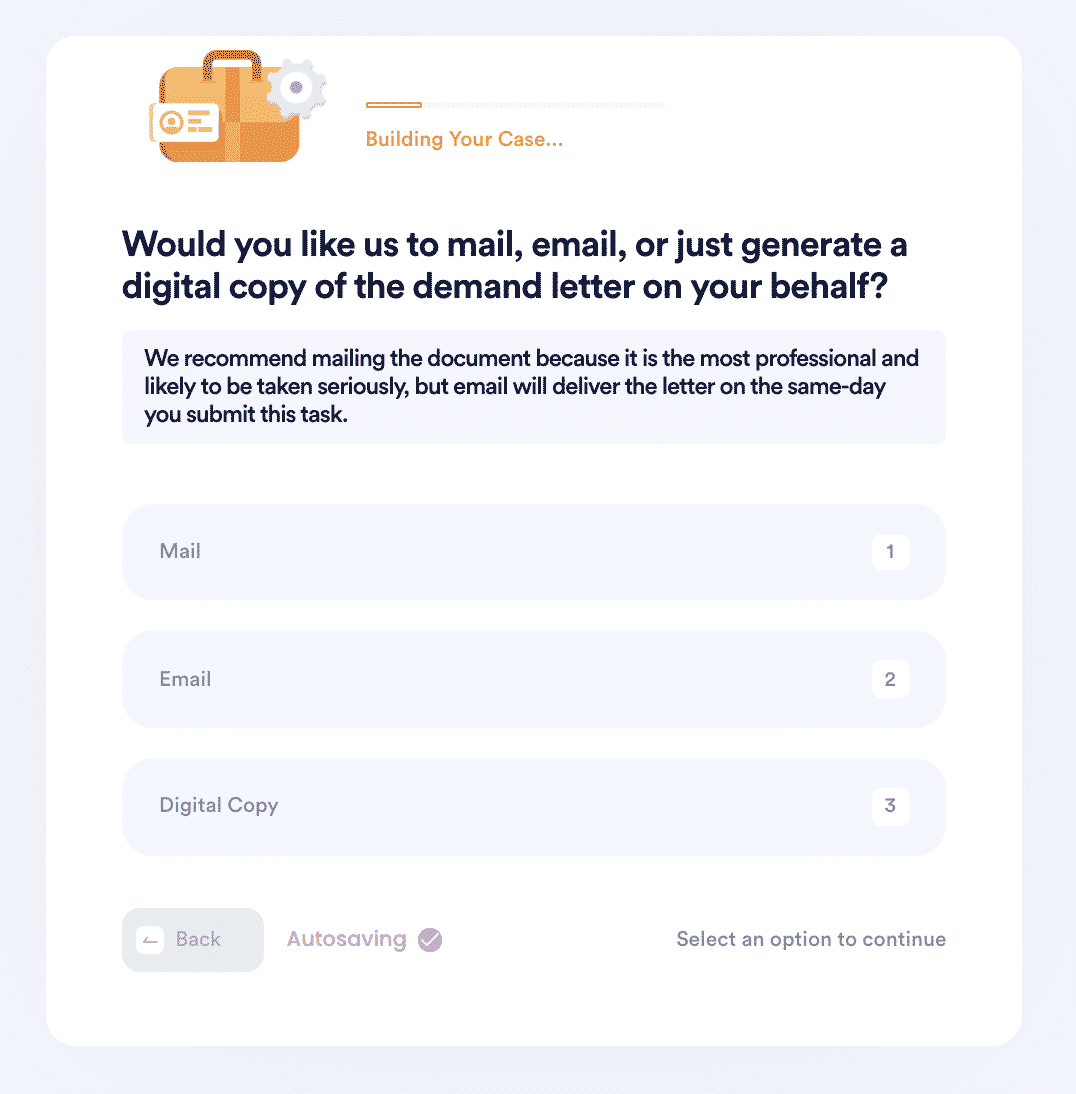 That's all you'll have to do. DoNotPay takes care of the rest.
Child Support Guides By State
Check out DoNotPay's child support guides by state for more information.
DoNotPay Can Help
If you have questions or issues related to child support payments, DoNotPay can help.
But that's not all we do. We can also help with many time-consuming tasks, such as making insurance claims, getting help with the bills, navigating small-claims court, and writing financial aid appeal letters. 
Sign up to learn more about our simple and easy-to-use products!