Indiana Land for Sale on Contract in a Nutshell
Entering into a land sale contract is a tricky business, regardless of the state you live in.
If you don't want to enter into a traditional real estate sale or purchase, this article will explain how the alternative works. Read on to learn everything you need to know about land for sale on contract in Indiana, whether you are a buyer or a seller.
You will also learn how you can write contracts on your own with the help of DoNotPay—the world's first robot lawyer!
What Is a Land for Sale Contract, and How Does It Work in Indiana?
A land for sale contract is a legal document that allows sellers and buyers to make an exchange without the assistance of a third party. Instead of a buyer securing a mortgage from a bank or another financial institution, a seller agrees to finance the property.
The buyer acquires the possession of land when they sign the land for sale contract and make a down payment. The seller, though, retains the legal title of the property until the full purchase price is paid for in installments.
In Indiana, you can enter into a land for sale contract when you define the main terms of the agreement with the other party, such as:
Down payment amount

Payment schedule

Interest rate

Contract duration
By using a land for sale contract in Indiana, you can buy or sell:
Land and the homes attached to it

Farmland

Hunting land

Wooded property
The Benefits of a Land for Sale Contract
The land for sale contracts give more freedom to both parties to agree on the terms they can benefit from. This isn't the case when a third party is involved and can dictate certain conditions on the purchase of land.
Check out the table below to see why people opt for using a land for sale contract:
Advantages of the Land for Sale Contract
For the Buyer
For the Seller

Ability to buy land when they have a low credit score and can't get a mortgage

Time to save money and raise their credit score

Opportunity to own legal title when the balloon payment is made

Deal that gives them regular payments through installments

Chance to raise the down payment of the property

Prospect of receiving a high balloon payment
How To Draft Your Indiana Land for Sale Contract
There are three options when it comes to getting your land for sale contract. You can:
Hire a lawyer

—Land for sale contracts aren't too complicated, so this option is both costly and probably unnecessary

Use a contract template

—Templates are free but usually too general. You have to spend a ton of additional time researching what the included clauses mean and adding the ones you need

Write your own contract

—By using a

land contract form

, you can write the agreement by yourself
What Information Does Your Indiana Land for Sale Contract Have To Include
If you decide to write your Indiana land for sale contract, you'll find that the process isn't too time-consuming. All you need to do is include these pieces of information:
Full names of the seller and the buyer

Mailing addresses and the contact information of the parties

Land's legal description and title

Land's inspection report

All the payment information, including down and balloon payment amounts and the payment schedule

A statement that establishes who is responsible for repairs and maintenance on the property

Date when the contract goes into effect and its duration

Date when the buyer can obtain possession of the property
Note that if the buyer breaches the terms of the contract, the seller can keep all the payments made, evict the buyer from the land, and maintain the real estate property. 
Before the seller takes any such action, though, they are obliged to give notice to the buyer, allowing them time to cover all the payments they might be late with and avoid the eviction. Details regarding this should also be included in your contract.
Bonus Tips for Buyers Signing a Land for Sale Contract
Buyers who are considering entering into a land for sale contract should:
Research the seller thoroughly to avoid being scammed or signing a bad deal

Inquire about the condition of the property

Be careful not to sign the contract if any of the terms don't sit well with them

Consider seeking professional help if they don't understand all the contract's terms or if the contract duration is longer than a few years 
Create Tailor-Made Contracts With the Help of DoNotPay
Do you need an easy and fast way to make personalized legal documents? Look no further than DoNotPay!
Our AI-powered app generates contracts for you that are entirely customized in only a few minutes. Why bother with downloading countless contract templates from the web only to spend days editing them when you can have a tailor-made contract right away? 
To get your legal document today, you need only take these four simple steps:
using any web browser

Enter the name of the document in the Search bar

Give our chatbot specific details you want to be included in the document

Download your customized document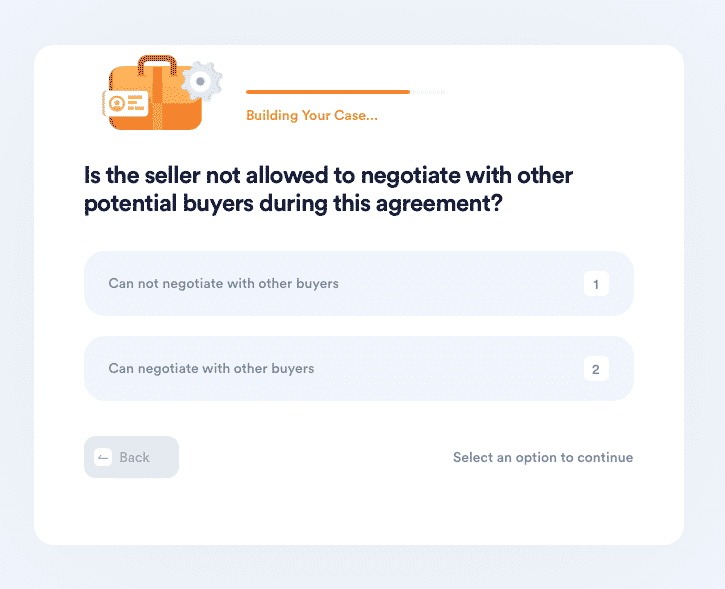 The best part about using DoNotPay to create your documents is that you can also e-sign them, get them notarized, and fax them without losing any more time or money! All our products are available for you to use with no additional surprise charges!
DoNotPay Makes All Kinds of Legal Documents for You
Our database of legal documents is being updated daily to include more contracts you can generate.
and create any of the following types of contracts:
Estoppel certificate

Intent to purchase real estate

Quitclaim deed

Child care authorization form

General affidavit

General business contract

Promissory note
DoNotPay—A Pocket-Sized Assistant
If you need protection from stalkers and harassers, we know what to do. If you want to fight workplace discrimination, DoNotPay has got your back. Even spammers don't stand a chance against our AI-powered app—both the texters and the robocallers.
If your situation takes a turn for the worse, you may need to take the issue to court. In this case, the world's first robot lawyer swoops in to help! You can count on DoNotPay to assist you every step of the way, regardless of whether you need to take a person or a company to small claims court.
Our App Helps You Through Numerous Red-Tape Issues
Dealing with paperwork doesn't have to be tedious. With DoNotPay's help, cutting through red tape is fast and easy. With a few clicks in our app, you'll be able to: