How To Document Neighbor Harassment—A Complete Guide
Having noisy neighbors is so common that we often consider it a part of the whole living-in-a-building experience. What can you do when neighbors from hell become more than a video game? You should always try the amicable approach first, but if it doesn't work, there are some legal ways to deal with bad neighbors.
In this article, you can learn what constitutes harassment by a neighbor, how to handle it nicely, and how to document neighbor harassment. to send your neighbors a demand letter when reasoning doesn't work.
What Constitutes Harassment by a Neighbor
?
Not every form of annoying neighbor behavior is considered harassment. To deal with neighbor harassment effectively, first, you have to understand what constitutes harassment by a neighbor in legal terms. Check out the following table for clarification:
Behavior That Counts as Harassment by a Neighbor
Behavior That Doesn't Count as Harassment by a Neighbor

Physical assault

Threats of abuse and violence

Offensive comments regarding your race, nationality, sexual orientation, and other discriminatory factors

Aggressive behavior

Vandalism on your or shared property

Dealing drugs in the communal area

Stalking, watching, and invading your privacy

Playing loud music during "quiet hours" or after you've asked them not to

Pestering your pets after you've asked them to stop

Putting a fence on your property

or building over the property line

Knocking over your trash bins by accident

Cooking strong-smelling food

Entering your yard to play with your pets

Playing loud music occasionally
How To Deal With Harassing Neighbors
After determining you're a victim of neighbor harassment, you should learn what steps to take to stop that behavior. Dealing with harassing neighbors can be tricky, especially when they have a bad temper. That's why you should approach the situation carefully. In the table below, you can find some tips on how to handle harassing neighbors:
Tips for Dealing With Harassing Neighbors

Explanation

Talk to them

Certain issues with neighbors can be resolved without much fuss. Your neighbors might not be aware that the music they're playing is too loud or that they're annoying your pets.

In cases like these, talking to the neighbors can be a good idea, but it's not recommended if they seem aggressive or were abusive towards you or your family

Unite with other neighbors

If the annoying and harassing behavior is persistent, chances are other neighbors want to stop it too. Talk to other neighbors and compose a group complaint—the more people sign it, the harder it will be to dismiss it

Ask the landlord for help

If you are renting the place, you can ask the landlord to help you. They might be unable to influence the offender, but they can change your locks, buy a vandal-proof fence, or install a security alarm system

File a noise complaint

Whether they're playing loud music, moving furniture around, or talking too loud, you can

file a complaint against your neighbors

. You don't even have to tolerate their

dog that doesn't stop barking

! If you decide to file a noise complaint, keep in mind that you have to notify the police while it's happening. Otherwise, you'll need to document the behavior

File a police report

If the situation escalates and turns into aggression, violence, or threats of violence, you should inform the police. Upon filing a report, a police officer will come to gather more details and take statements and photographs if necessary. They might even take immediate action if the situation is alarming enough
How To Prove Harassment by
a
Neighbor
The best way to prove harassment by a neighbor is to document the behavior while it's happening. Here are the best ways to document neighbor harassment:
Notes

Photos, videos, and audio recordings

Witnesses

Police reports
Notes
The first time you experience unwanted behavior from a neighbor, you should start taking notes. Make sure to note the date and time of the incident, as well as the type of harassing behavior. It will also be helpful to write down what actions you took to deal with the problem.
Photos, Videos, and Audio Recordings
The most reliable way of proving neighbor harassment is with tangible evidence, such as photographs and audio or video recordings. If a neighbor damages your property, you should take as many photos as you can. When a neighbor is verbally offending or assaulting you, if the situation allows it, try to record the offense. This type of evidence can be helpful if you decide to call the police. It can also hold up in court if you choose to sue your neighbors.
Witnesses
An impartial third party can be a great method of proving harassment by a neighbor. Even if it's a member of your family or another neighbor, when they make a statement confirming the ongoing problematic behavior, it will be more difficult to dismiss your complaint.
Police Reports
It goes without saying that you should keep police reports whether you intend to use them or not. Filing a lawsuit should be your last resort, but if it does come to that, having police reports as evidence proves extremely significant in court.
Use DoNotPay To File a
Neighbor Harassment Complaint Letter
If you are reluctant to involve law enforcement and file lawsuits, there is another way to deal with your harassing neighbors. Filing a demand letter against noise, assault, vandalism, or aggressive pets serves as a warning to the perpetrators. It shows your neighbors what legal actions you're willing to take if they ignore your demands.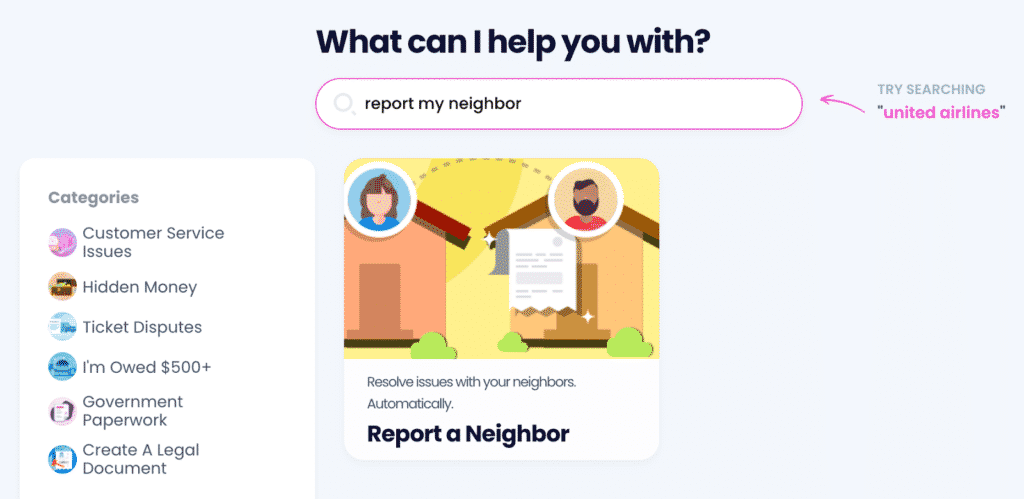 Drafting such a letter can be demanding, but you don't have to do it on your own—DoNotPay will do it for you! Here's what you should do:
Choose the

Neighbor Complaints

product

Specify the problem you're having with neighbors

Provide more information about the issue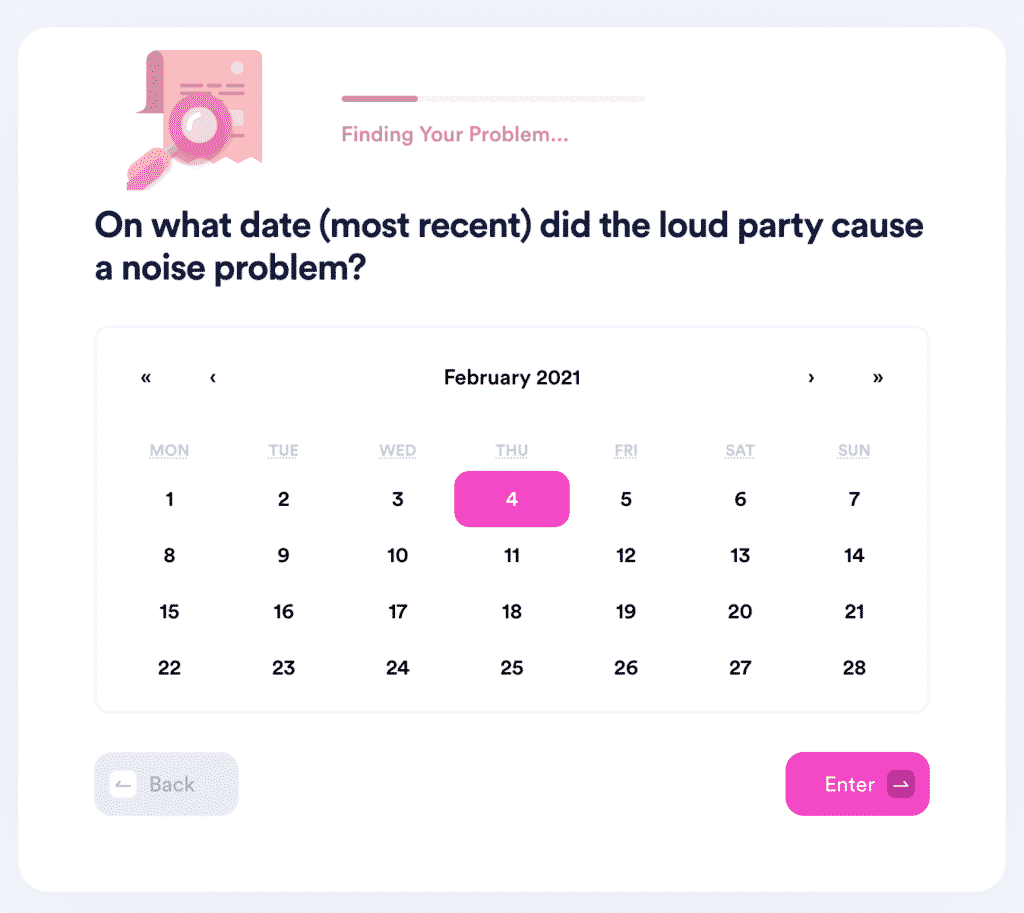 We will complete and mail your demand letter in a breeze, and your neighbors will think twice before raising their voice or destroying your property!
No Lawyer—No Problem! Rely on the World's First Robot Lawyer
When you're in a bind but you can't afford a lawyer, there is still something you can do—sign up for DoNotPay and let our award-winning app give you a hand. With our expertise, the following tasks will be a piece of cake:
Free Yourself From Boring Tasks With DoNotPay's Help
Our AI-driven app comes in handy for numerous bureaucratic or administrative chores that usually take up a lot of time. With DoNotPay's speedy service, even the most tiresome task will be complete in a flash!
You can forget all about waiting in line at the DMV and being on hold with customer service—we will get you to the finish line in a few clicks. Tired of the old snail mail? Use DoNotPay to mail letters fast. Better yet—fax your documents using our app. If your document requires a notary's signature, we can assist you in scheduling a virtual appointment.