How To Deal With a Psycho Neighbor When You're Truly Afraid
There are different kinds of neighbors—it's a wide range. They go from noisy and nosy to downright psycho. This article will tell you everything you need to know about how to deal with a psycho neighbor.
DoNotPay can help you solve your issue without confrontation.
What Are the Actions of a Psycho Neighbor That Cross the Line?
When dealing with obnoxious or unstable neighbors, it is important to know what the actions that cross the line of everyday neighbor problems are.
Check the table below for some behaviors that cross the line:
Behavior That Crosses the Line
Brief Explanation
Harming your pet
If a neighbor harms your pet in any way, like poisoning or shooting it, you know you're dealing with a psycho. To make sure that your neighbor is at fault, you should take your pet to the vet immediately and run tests. Once you're certain your neighbor harmed your pet, you can sue them
Harassing you
Anything that jeopardizes your safety is harassment. Your neighbor is harassing you if they:

Offend you often
Physically assault you
Threaten you
Are aggressive towards you
Damage your property on purpose
Stalk or spy on you
Make noise even after you've asked them to stop

Dealing drugs
If you're certain that your neighbor is dealing drugs, you can report them to the authorities. This is not a 911 situation, so you should call your local police station and ask where you can report this
Stealing your belongings
A neighbor can steal your package or anything else from your yard. This type of behavior also crosses the line. You should contact your local police station and report them
What Are the Best Ways of Dealing With Unstable Neighbors?
If you're afraid that your unstable neighbor might be a psycho, then your best bet is to avoid them. Sometimes, though, you can't ignore their noise or behavior that directly affects you. It's not easy having a psycho living next-door, so here are some tips on how you can deal with angry or rude neighbors:
Don't act the same way they do—If they start shouting at you, try not to react the same way. If you respond with anger, that will only make matters worse. Try to cool down before continuing the discussion with your rude neighbor
Try to listen—If you can try to bury the hatchet for a few minutes, you can listen to what your neighbor is complaining about. Maybe the two of you can reach a compromise
Be assertive and suggest a potential solution—When you get to know what's troubling your neighbor, you might come to see that there is a solution to your problems. Try working together with them to reach a mutual goal
If you're afraid of your neighbor or they are harassing you, all of these tips don't apply. If that's the case, we can help you learn how to document neighbor harassment. Use DoNotPay to escalate!
How To Deal With a Psycho Neighbor Using DoNotPay
DoNotPay created the Neighbor Complaints product so you don't need to have direct contact with your neighbor. We'll send a complaint letter to them on your behalf.
All you need to do is , and we'll draft a letter containing:
The details of your complaint
Arbitration notice
The compensation you seek
A warning of further legal actions you might take if they don't change their way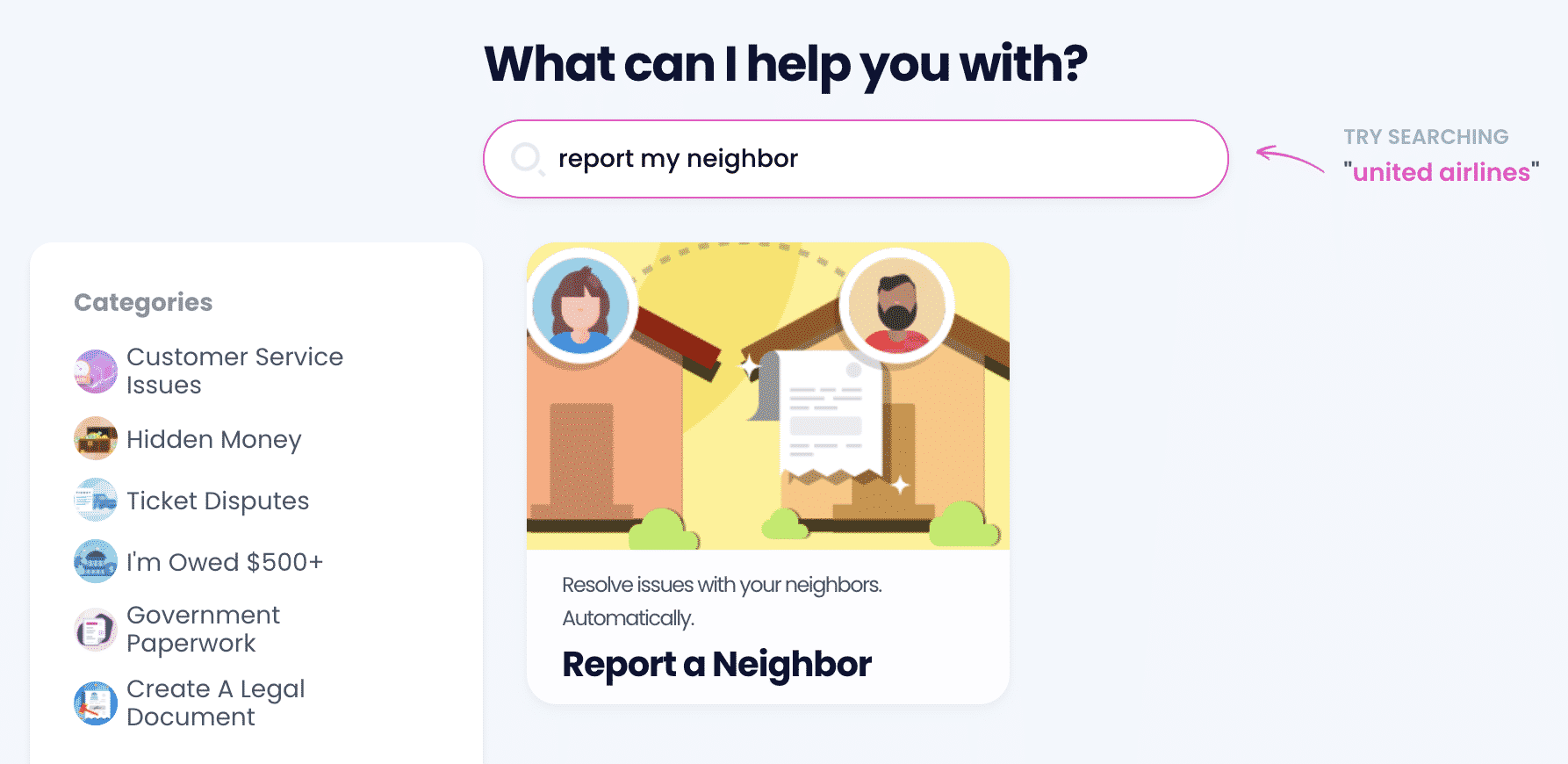 Steps to Using the Neighbor Complaints Product
in your web browser and follow these steps to generate a demand letter:
Type in Neighbor Complaints into our search field
Select the type of problem you're experiencing
Give details about your issue—whether you tried talking to your neighbor, when the harassment occurred, etc.
After you finish this process, DoNotPay will generate the letter automatically and mail it to your neighbor.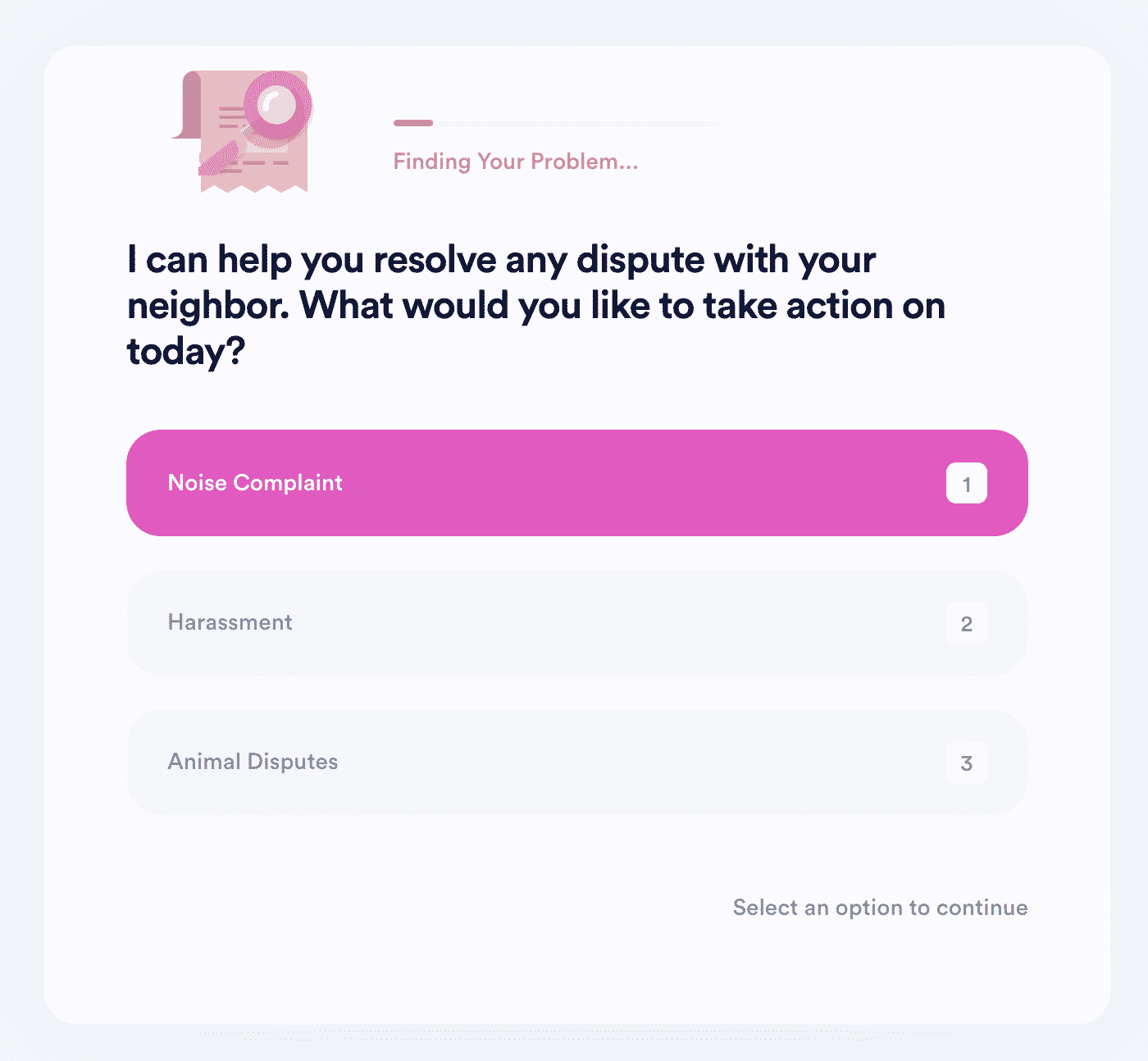 DoNotPay Can Help With Other Neighbor Problems
We can help you with other issues that your neighbors cause, like:
Check out our resourceful learning center for more information!
When Should You Report Your Neighbor to the Authorities?
When you're dealing with a noisy-neighbor type of problem, then reporting them to the authorities should be the last action step on the list. If you're experiencing harassment and are afraid for your safety, you should immediately report your neighbor. Don't call 911 unless your issue truly is an emergency. Check with your local police station what the appropriate approach to this situation is. Ask the police who you should talk to about your issue.
Use DoNotPay's Features to Your Advantage!
DoNotPay offers a myriad of helpful services you can use to resolve your everyday hurdles.
Do you need help paying bills or finding and claiming missing money? Are you interested in applying for clinical trials in your area? We can help you solve these and many more issues in no time!
Here are some other problems you can handle effortlessly with our help:
Hiring a Lawyer Can Cost a Small Fortune—Rely on DoNotPay Instead
If you're on a tight budget and can't pay a lawyer to help you create legal documents, file a claim in small claims court, or handle stalking and harassment, DoNotPay has a solution for you.
Our app will help you create various documents, including child travel consent forms and complaint letters for a problematic neighbor.
Are you a victim of a crime and need help applying for reimbursement of your crime-related expenses? You can sign up for DoNotPay and allow us to handle your crime victims compensation on your behalf.
DoNotPay can also connect you with an online notary and enable you to get your documents notarized from the comfort of your home.