How To Deal With Nosy Neighbors—Tips and Tricks You'll Need
When you finally move out of your parents' house, one big perk is that you don't have to explain your comings and goings all the time. While some people get to enjoy this newfound freedom, you might have to deal with neighbors who are more invested in your life than your own family.
DoNotPay has some advice on how to deal with nosy neighbors the easy way.
What Kind of a Nosy Neighbor Are You Dealing With?
You can build a great relationship with your neighbors or even become friends with them, but sometimes they are plain annoying. Some people still need to work on the art of minding their own business.
Nosy neighbors are one of the worst kinds of bad neighbors you can have, and they come in all shapes and sizes. Take a look at the table below for more details:
| | |
| --- | --- |
| The Nosy Neighbor Who: | Brief Explanation |
| Watches your every move | You usually don't have any contact with this neighbor. It's often an elderly lady watching from her window every time you leave your house and come back |
| Asks too many questions | This neighbor is usually fake nice. You won't be able to pass them with a simple hello. A full-on interrogation about personal matters occurs each time you meet, accompanied by fake smiles |
| Snoops around or trespasses | This is not only annoying behavior but also a true invasion of privacy. You may need to deal with this neighbor in a more serious manner or even by involving the police |
Nosy neighbors mostly mean no serious harm. They are too curious for their own good and are usually gathering intel for one of their gossip parties. But what can you do if you can't rule nefarious motives out?
What To Do About Nosy Neighbors
Everything boils down to this—you don't need to report about your life to strangers who are too interested in your life. Here are some of the actions you can take to avoid these unpleasantries as much as possible:
Install a security camera—Once you do, make sure everyone knows it. Neighbors will think twice before stopping in front of your house to snoop
Buy heavy curtains or plant shrubbery in front of your window—The idea is to block the view of your home from the prying eyes of your neighbor
Address the issue directly—You should talk to your neighbor and express your annoyance clearly. Tell them that you appreciate their interest but don't enjoy sharing your privacy with neighbors, and ask them politely to respect your boundaries
When Should You Call the Police To Stop Nosy Neighbors?
Calling the police because of nosy neighbors should be your last resort. You need to have a good enough reason if you want to involve law enforcement. Make sure to distinguish curiosity from dangerous stalking behavior.
Any sort of harassment that makes you worried or scared should be reported to the police. It would be useful if you could document the harassment and have it as evidence when you file a complaint against your neighbor. If the situation seems dangerous, you should always explore your legal options and avoid trying to solve them on your own.
In case your neighbor is only being annoying and not listening to your complaints, you might want to choose the middle ground to deal with them. DoNotPay can help you create a demand letter!
DoNotPay Creates a Demand Letter in a Jiffy
Putting your concerns in a letter will make you seem more serious and add a formal note to the request when a simple conversation doesn't do the trick. DoNotPay can help you make a demand letter with all of the consequences your neighbors will have to suffer if they keep on bothering you. We can also add the amount of expected compensation because this part is usually enough to make them worried.
You only have to complete three simple steps:
in your favorite web browser
Tell us if the problem is noise, harassment, or animal behavior
Provide us with some additional information about the situation—e.g., if you've already tried talking to your neighbors
Once you complete this simple questionnaire, DoNotPay will send the letter on your behalf.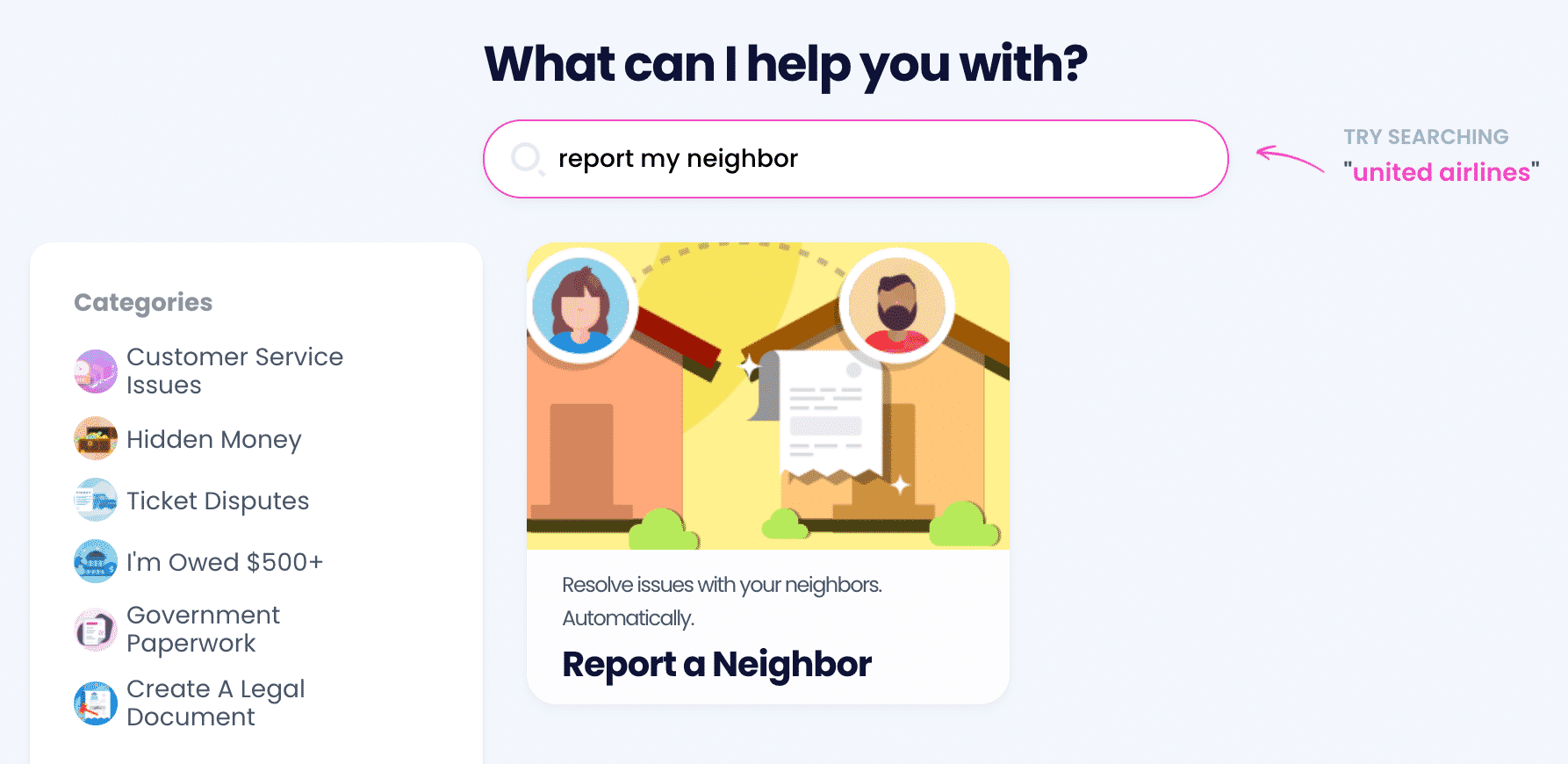 Other Bad-Neighbor Issues You Can Resolve Using DoNotPay
Relationships with neighbors can grow problematic for multiple reasons. Here are some of the common neighbor issues that you can handle :
DoNotPay is here to guide you through the process of dealing with problematic neighbors, whatever your trouble may be. In case the demand letter doesn't work, you might need to take legal action—you can sue your neighbors for noise, for example—and DoNotPay can provide assistance!
Say Goodbye to Administrative Issues—Rely on DoNotPay
Are annoying procedures—such as canceling memberships, disputing parking tickets, filing warranty and insurance claims, requesting refunds for purchased products or services—giving you headaches? Do you dread calling an airline's customer support to request a refund and compensation for a canceled flight? You're not alone! The good news is—DoNotPay can help you solve these issues stress-free!
You can use our app to prepare for your driving test or other government exams and schedule an appointment with the DMV in minutes.
Are you wondering whether you're paying too much for your property taxes? Make sure to try out our Property Tax feature and learn about the best way to reduce your property tax bill.
Annoyed by Spammers? DoNotPay Can Help!
With DoNotPay, you can get rid of spam emails and text messages and report robocalls in one fell swoop. Our Burner Phone feature will generate a fake phone number that you can provide upon registration for any service!
Besides helping you enjoy free trials without the risk of being charged, DoNotPay's virtual credit card has another advantage. It will provide a random email address you should use when signing up for a free trial. That way, you'll avoid pesky marketing emails and email notifications.