Tips on How To Deal With a Neighbor's Aggressive Dog
If you reside in a communal space, you risk having to put up with noisy neighbors. Noise does not only include loud music and shouting but also includes sounds like dogs barking.
Do your neighbors have a dog that is extremely loud and aggressive? Do you think twice before leaving your house because you're worried about the dog attacking you? can provide tips and tricks on how to deal with a neighbor's aggressive dog.
Types of Aggression
There are three types of aggression in dogs:
Territorial aggression—Attacking or barking at a person if they enter a dog's territory
Protective aggression—Charging at a person who might cause harm to the dog or their owner
Possessive aggression—Guarding their owner and their possessions
How Do You Know if a Dog Is Being Aggressive?
If you're not sure whether a dog's behavior counts as aggression, the following symptoms are tell-tale signs:
Growling and snapping
Barking in a threatening manner
Raised fur
Showing their teeth and snarling
Rigid and attentive body
Quick wagging tail
Lunging towards a person without any contact
Not all dogs show aggression in the same manner. Some may show all the above-mentioned signs, while others might exhibit only a few. Whatever the reason, it is crucial to recognize the warning signs before the dog ends up hurting someone.
Reasons Why a Dog Might Be Aggressive
It is important to figure out the reason the dog is acting out. Here are a few common causes:
Reasons of Aggression
Brief Explanation
Illnesses
Some illnesses cause aggression and rage in dogs. They have a low tolerance to pain and sickness, so any trigger can cause them to snap and bark
Infection

Ear infections
Dental issues
Viral illnesses

Fear
A fearful dog can become aggressive easily. If a dog feels they are in danger or cannot escape, they will exhibit anger
Abuse or neglect
Rescue dogs can be especially hostile because of abuse or neglect
Protection
Guard dogs show hostility if they want to protect their owner. Dogs are extremely possessive of their owners. If a dog senses that their human is in danger, they will start growling
Sex-related
Dogs that are in heat can show signs of aggression more easily
Show of dominance
Some dogs show aggression as a show of dominance toward people and other animals
How To Deal With a Neighbor's Aggressive Dog
There are two ways you can handle the issue yourself before reporting your neighbor:
Negotiating with them
Sending a warning letter
Negotiating With Your Neighbors
It can be quite difficult to deal with neighbors regarding this issue, but it's important to talk to them before taking legal action.
Although you have the option of writing a letter, it's better to talk to your neighbors first. Chances are they might not even realize how aggressive their dog is to passersby or how it affects you and other people in the neighborhood. The point is to talk to neighbors politely and address your issues, including that:
Walking by their home is making you anxious
The barking and growling upsets you even when you're home
The situation is disrupting your outside activities, such as gardening and mowing the lawn
Sending a Warning Letter
If your neighbors don't understand the impact their dog has on your life, you should send them a formal demand letter to warn them of legal action if they don't address the issue.
Every state has different animal regulations, so check your local state laws to confirm your legal rights and obligations.
You need to ensure that you draw up an excellent demand letter, addressing all your issues. The letter should also include the info on what happens if the demands are not met and possible remedies, such as financial compensation for any damages incurred.
How To Deal With Your Neighbor's Aggressive Dog Using DoNotPay
Although you should try dealing with your neighbor amicably, sometimes they can be mean and even resort to harassment. When that happens, you have no option but to send them a demand letter.
Here's how DoNotPay can create a demand letter within minutes:
Search for the Neighbor Complaint tool
Define the problem you're having with your neighbor
Provide additional details about the situation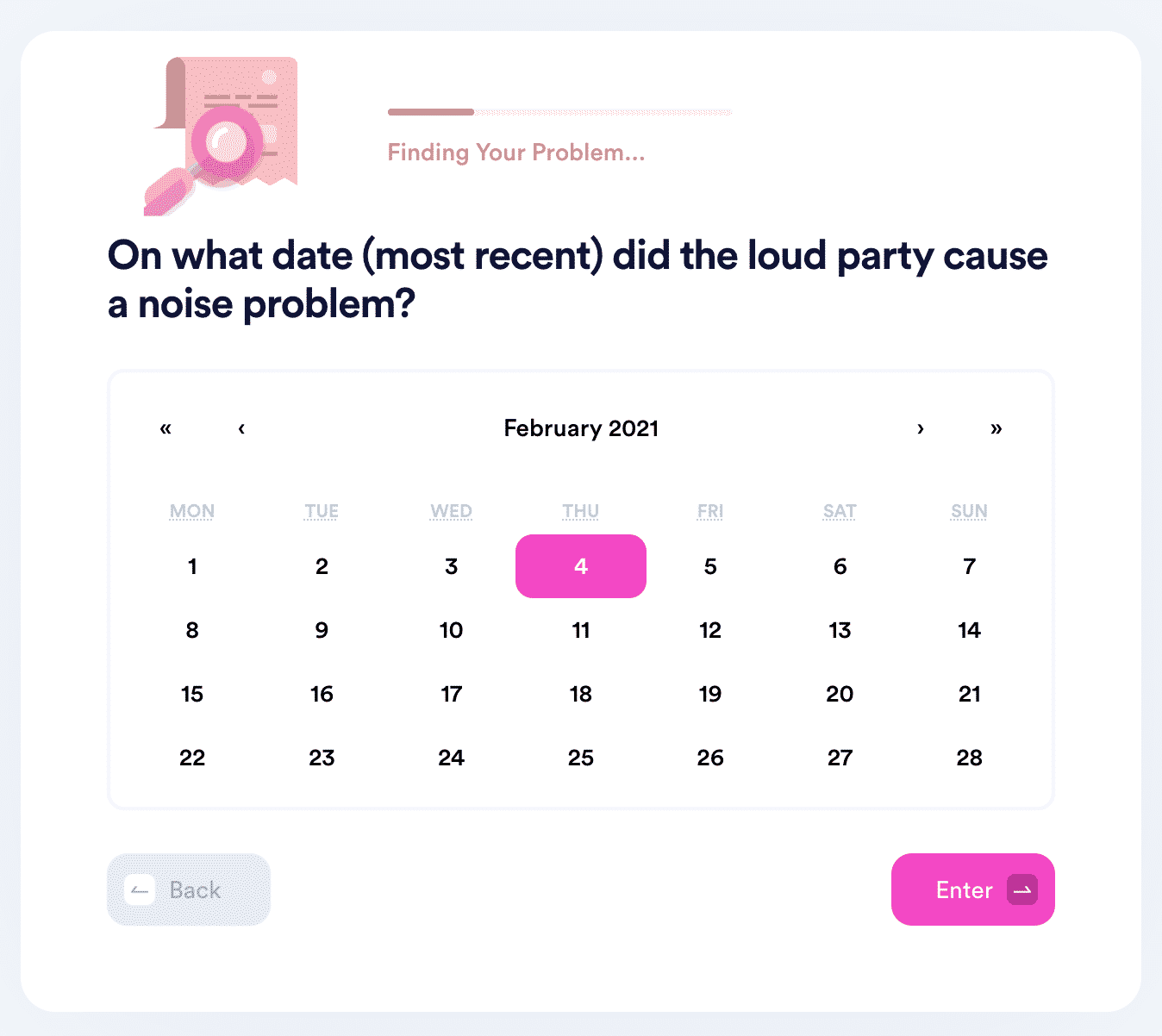 We will generate the demand letter and mail it to your neighbor. Most of the time, this is enough to convince the neighbor to take action, which can include taking their dog to the vet to figure out the root cause of its aggression.
Is the Dog Still Aggressive? File a Complaint
If the demand letter doesn't work either, you should file a formal complaint with the local police department. You can also talk to other neighbors to check if they're facing the same problem. If yes, a collective complaint would have more weight, whether it's about noise or aggressive pets.
You should document all your concerns and present them to the authorities. If it is out of their jurisdiction, you can call the local animal control to manage the situation.
When You're In Over Your Head, DoNotPay Swoops In
With your virtual assistant extraordinaire, many tasks will be a breeze to deal with.
No fax machine? No problem! Use DoNotPay to send faxes online. If you don't want to waste time waiting in lines or on the phone, we come to the rescue with many of our products that will help you:
What Else Does DoNotPay Have in Store for You?
You can count on our assistance when you want to get rid of:
Our app has even more to offer—try out our hacks that will save you money and do the heavy lifting in numerous tasks: