How To Deal With a Bully Neighbor—An Ultimate Guide
Dealing with bad neighbors is a compromise we resign ourselves to when we live in communal spaces. What are your options if your neighbors are bullies who harass you every chance they get?
In this article, we can teach you what constitutes harassment, how to deal with a bully neighbor, and what steps to take if they go too far. and teach your neighbors not to overstep the lines!
What Constitutes Bullying by a Neighbor?
Not every intimidating behavior counts as bullying, so it's essential to differentiate between bullying and annoying behavior.
Check out the table below for details on both:
| | |
| --- | --- |
| Bullying Behavior | Non-Bullying Behavior |
| Physical or verbal assault | Damaging your property by accident |
| Offensive comments about race, class, gender, nationality, or sexual orientation | Playing loud music at parties |
| Aggressive or threatening behavior | Talking loudly or enthusiastically |
| Intentional damage to your property | Trying to be too friendly |
How Can You Prove You're Being Bullied?
The best way to prove you're being bullied is to document it while it's happening. Here are a few options:
Photos and videos—Take pictures and videos of the incidents. You can also use your phone as a recording device if your neighbor threatens you verbally
Notes—Make logs of all the times your neighbor has harassed you. Note the time and date and include specific details. It would also be helpful to add what actions you took to handle the problem
Witnesses—If your neighbor bullies you in a public space, there is a chance that someone in your neighborhood saw it and would be willing to give a statement
What Steps Do You Need To Take if Your Neighbor Is a Bully?
It can be intimidating to take steps against a bully, especially if they know where you live. You should be aware that the inconsiderate behavior won't stop unless you stand up for yourself. What's crucial is to understand your rights:
Read your building rules and regulations to find clauses relating to bullying and harassment
Search for local laws on neighbor harassment and how to document it
Set up a camera outside your house in case your neighbor resorts to dumping poop in your backyard or slashing your car's tires. Make sure your state allows surveillance cameras. In states like California and Rhode Island, you cannot put cameras in places if a person's "reasonable expectation of privacy" is violated
Ask other neighbors if they are being bullied as well. Avoid creating gossip and be casual while investigating
Ignore the bully as much as you can
How To Approach Your Neighbor if the Bullying Doesn't Stop
If you have tried ignoring them, but they keep coming back with more bullying tactics—confront them. Keep in mind that confrontations don't need to be ugly. Be as polite and calm as possible and ask them why they're acting this way. A friendly and straightforward approach does the trick with some people.
Although politeness is key, make sure you use assertive body language. Stand up straight, don't cower, and make direct eye contact. Tell them their behavior bothers you. You will have to escalate the issue and involve the local authorities if they don't stop.
Make sure to stay safe. If you don't feel comfortable or are intimidated in any way, leave immediately. Seek help if necessary and contact the local authorities.
Involve a Third Party To Help You Out
If the bullying persists, talk to your landlord. Write a letter to them stating your issue, along with the steps you have already taken. It can serve as a written complaint and proof in court if the situation goes that far.
Apartment buildings often have specific codes of conduct and zero tolerance for bullying. Your landlord or building manager can help you by sending your neighbor a warning or terminating their lease entirely.
Use DoNotPay To Send a Demand Letter to a Bullying Neighbor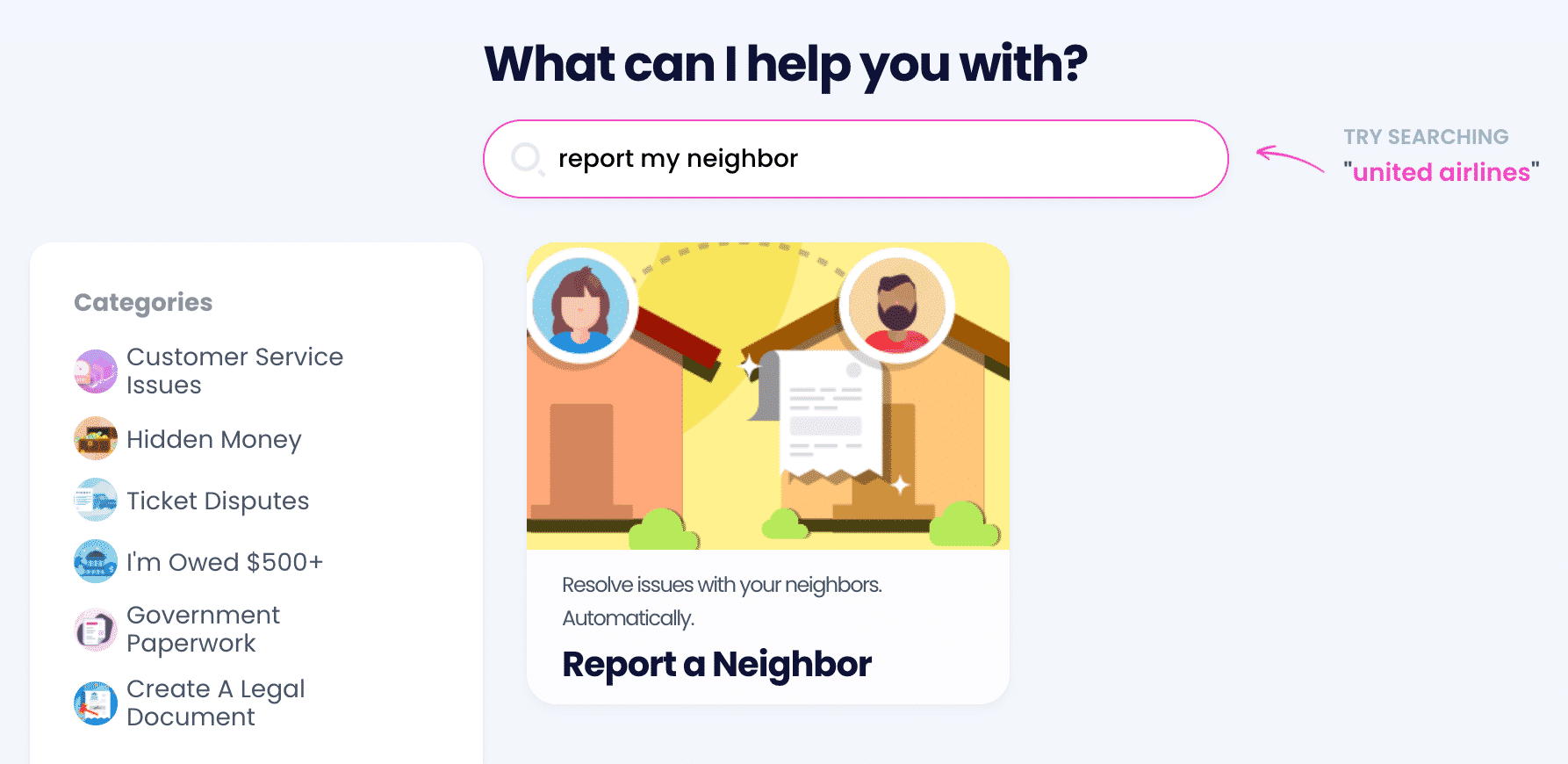 If your neighbor refuses to take you seriously and keeps up with the harassment, it's time to escalate the issue. Send them a demand letter warning them of the potential legal consequences. You can also ask for financial compensation in case your neighbor vandalized your property or caused you emotional distress.
Do you need help drafting a demand letter? We can provide assistance! Here are the steps you need to follow:
Choose the Neighbors Complaints tool
Specify the type of problem you're having
Provide us with additional details about the issue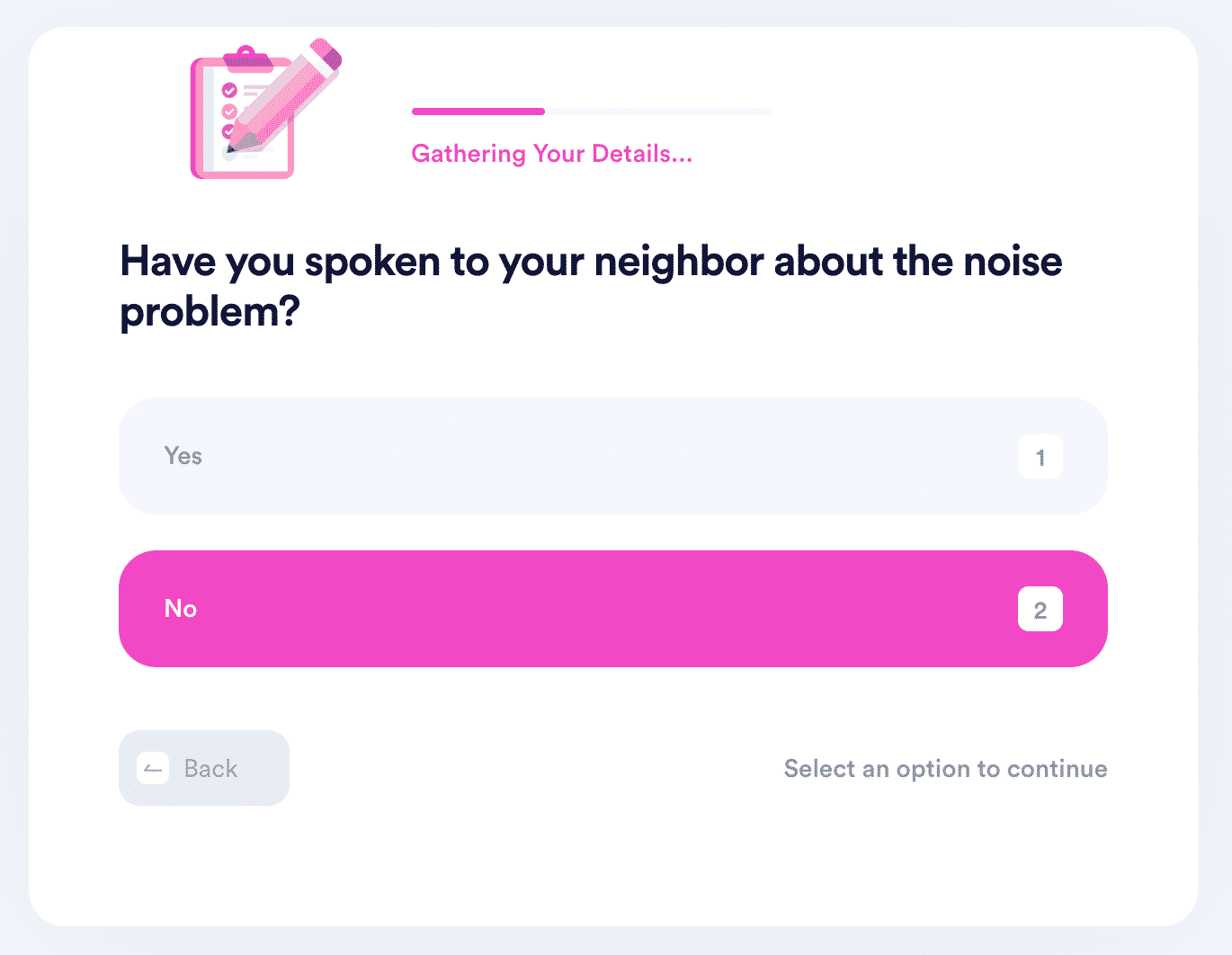 Once we've created the demand letter, we will send it to your neighbor. They will think twice before bullying you again!
If the mistreatment persists, report them to the authorities!
DoNotPay Can Help You With Various Neighbor Complaints
Do you have neighbors who seem nice but are making your life miserable in other ways? DoNotPay offers practical advice on dealing with neighbor issues, such as:
Easy-Breezy Ways To Deal With Not So Breezy Issues
Administrative and similar tasks don't have to be as complicated as we've known them to be. With DoNotPay, dealing with paperwork and companies is done in a few clicks. Let the world's first robot lawyer help you:
Draft various legal documents
Money Troubles? I Don't Know Her!
As our app's name says, DoNotPay's mission is to put a stop to losing money and overpaying. We will help you get your hands on free trials and snatch free raffle tickets. DoNotPay can also provide solutions for you to get help covering bills and reduce your property taxes.
If you want to get some additional funds, use our app to sign up for clinical trials. You may also take our practice tests to ace a government test and land a better-paying job.
It doesn't hurt to check whether you are owed some unclaimed money, and we can help you with the application.