How To Create a Living Will Within 5 Minutes
Most U.S. citizens aren't well acquainted with the concept of a living will, which is a huge mistake. By informing yourself better about this form, you get a chance to plan your future health care. For this reason, you should get familiar with the document, its content, the expenses it entails, and other significant aspects.
The good news is that we have already gathered all the info you need in this comprehensive guide. Besides discovering how to create a living will yourself, you will learn how to use DoNotPay to make any health care directive in a flash!
What Is a Living Will?
A living will—also called a medical, advance, or health care directive—specifies your preferred health care treatment, life support options, and end-of-life care wishes. It serves to inform your loved ones and medical practitioners of your health care preferences if you can't convey them yourself.
Living wills are useful because they:
Allow you to refuse the medical treatments you don't want to undergo
Ensure the desired outcome of your medical treatments
Enable you to avoid expensive medical care that wouldn't change your condition for the better
What Medical Care Preferences Should Your Living Will Emphasize?
Before creating a living will, you should choose which aspects you want to address in the document. These may include the following:
Treatments
Life Support
End-of-Life Preferences

Medications
Surgeries
Chemotherapy
Radiation treatment
Antibiotics and antiviral care
Dialysis

Feeding via a tube
Mechanical ventilation

Hospice care
Comfort care
Organ donation
Funeral options
Religious rituals
How Do You Create a Living Will?
The table below contains a detailed guide to creating a living will:
Step
Explanation
Create or otherwise obtain an appropriate living will form
You can:

Download an online template and complete it
Use an official living will template of the state where you live
Pay an attorney to write a living will for you
Use DoNotPay to have the document generated in a few minutes and skip the grunt work

Have the document notarized
Once you add the necessary details to the form, you should sign it along with witnesses (if their presence is required). Some states impose a mandatory notarization
Add a medical power of attorney/health care proxy to enrich your living will
This is an optional but useful step. A medical power of attorney grants another individual—your health care agent—the right to:

Convey your health-related wishes to the doctors if you can't do it
Decide about medical care options in your stead

It can be a friend, relative, spouse, or any other reliable and mentally stable person older than 18
How Much Does Creating a Living Will Cost?
The costs of creating a living will depend on the method you choose. While some manual drafts, online samples, and state-specific templates can be free, lawyers can charge you between $250 and $500 for a single draft.
Can I Create a Living Will without a Lawyer?
If you are too busy to compose a living will from scratch or don't have enough money for pricey legal services, don't despair! DoNotPay has come up with an amazing tool that implements info about your healthcare preferences into a fully personalized document!
Here's how to take advantage of the tool:
Find the Advance Health Care Directive
Provide details about your healthcare agent and witnesses
Describe your medical preferences in as much detail as possible
Once you are done, you will receive a living will ready for signing! Another option our app offers is enabling you to set an appointment with an online notary.
Other manuals we offer help you note the difference between a healthcare proxy and a power of attorney, craft a medical proxy for your kid, and solve many other related issues!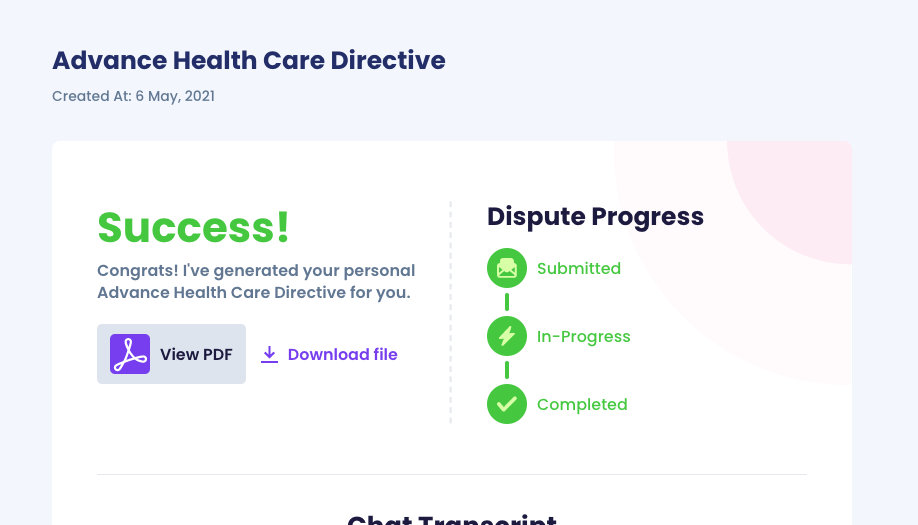 Rely on DoNotPay and Get Rid of Administrative Issues
Are you tired of returning items, canceling subscriptions, fighting parking tickets, and mailing letters? We can help you fast-track all these tasks and more! Do you need help reaching customer service, fighting workplace discrimination, submitting defamation demand letters, or filing HR complaints? Use DoNotPay and solve any issue without a hitch.
Feel free to also use our app to study for government tests, apply for scholarships, appeal low financial aid offers, and request college fee waivers.
Do you need help paying bills? DoNotPay can assist you in lowering your property taxes, getting gift card cash back, entering sweepstakes and giveaways, and getting refunds.
With us, you'll be able to both earn and save money!
Say Goodbye to Spammers With DoNotPay's Assistance
Getting spammed on a daily basis? Our app can put an end to this annoying issue! Block spam emails, text messages, and robocalls in a few clicks. We can even help you deal with stalking and harassment.
Thanks to our Burner Phone product, you'll get a temporary phone number that you can submit when registering on different platforms and protect your privacy.
Another way to keep your privacy intact is by using DoNotPay's virtual credit card. Signing up for free trials without hidden charges and revealing your contact details has never been easier!