The Best Tips on How To Cope With Divorce as a Man
Dealing with divorce as a man—even if it's a friendly divorce—is not only stressful but also a stigma. Society wants men to be calm and aloof when dealing with trauma, even if they're hurting inside. This may not only cause physical stress but mental health problems as well.
In this article, we will provide tips on how to cope with divorce as a man and deal with your emotions in a healthy manner. We can also provide answers to various questions, such as:
Tips on How To Deal With Your Emotions During a Divorce
While things tend to get better with time, these tips can help you speed up the healing process. Here are some suggestions on how to deal with divorce:
Admit that you're not okay—Probably the first (and most difficult) step is to admit that you're finding it difficult to cope emotionally, physically, and maybe even financially. If you keep telling yourself you're okay even when you're not, you will end up bottling all your emotions and trauma, which will become a problem later on in life
Don't force yourself to feel a specific emotion—Sometimes, people around you force you to think a certain way. They want you to suppress your anger or be grateful for what you still have. It's better to feel your emotions the way you want to—it's all part of the healing process
Stay away from unhealthy coping mechanisms—Getting addicted to casual sex, drugs, alcohol, or work will not numb your pain or solve your problems. Even if there are occasional incidents, try not to make them a pattern
Reflect on your mistakes—Think about your role in marriage and reflect on your wrongdoings. Write down the ways to improve yourself and start acting on them
More Advice on How To Deal With a Divorce
When filing for divorce, here is some legal advice you should consider:
While some divorces can get ugly, it's best to resolve everything amicably and out of courtrooms whenever possible. A good settlement agreement is crucial for minimizing these inconveniences. Subscribe to DoNotPay and get a divorce settlement agreement in the blink of an eye!
DoNotPay Can Draft Divorce Settlement Agreements Without a Hassle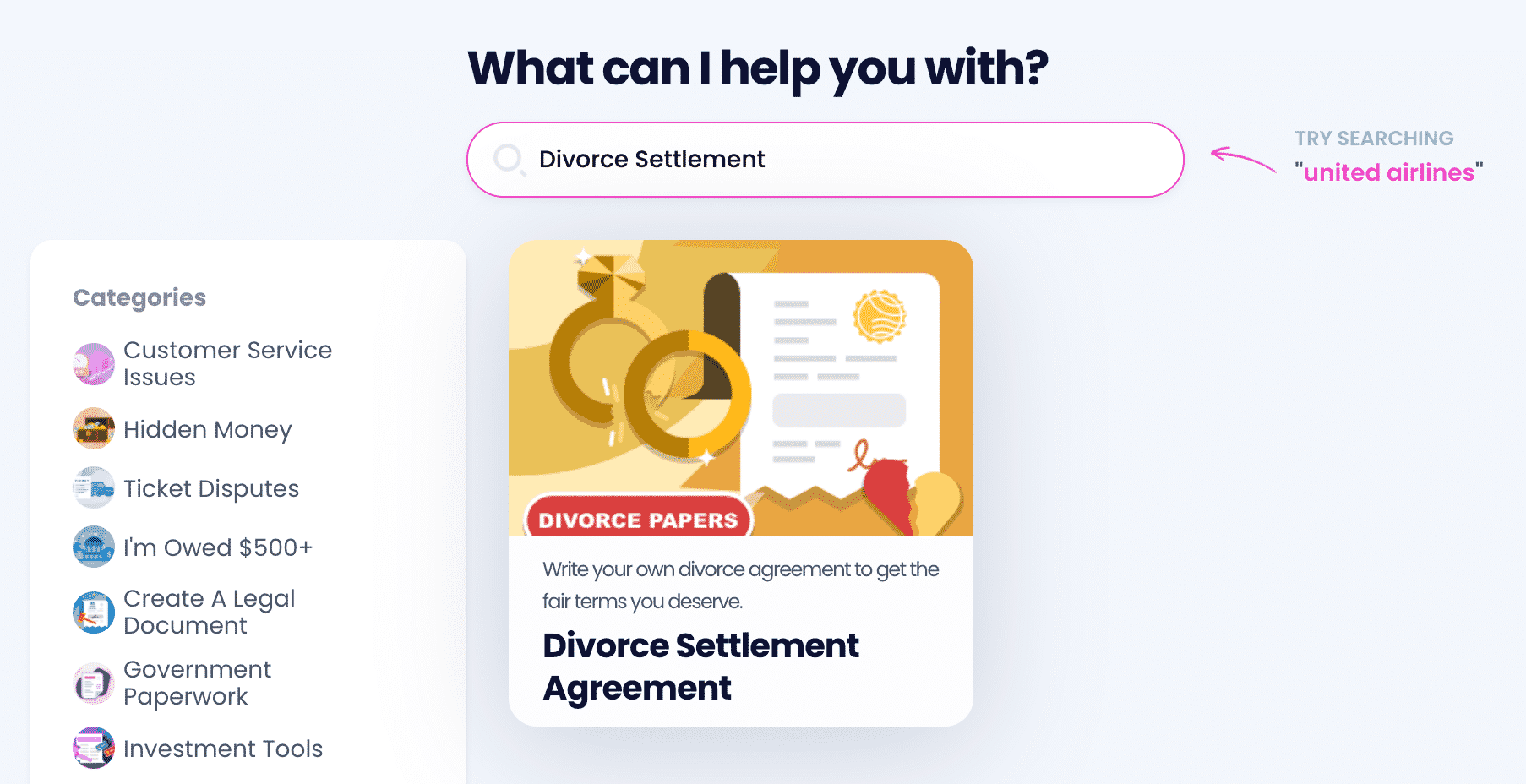 Why should you waste time and money on lawyers when we can create the most important divorce document for you? With our Divorce Settlement Agreement tool, you can get a document that fulfills all your state's legal requirements without losing all your savings in the process. To get a personalized document for an uncontested divorce, here's what you need to do:
Access DoNotPay from your web browser
Choose the Divorce Settlement Agreement feature
Provide answers to our chatbot's questions about your spouse and children, if any
Enter information about your income and assets
Our app will generate the document and send it to you. Once you and your spouse sign the document, you can get it notarized using our app. DoNotPay can connect you to an online notary who can perform the notarization in a video call.
How To Move On After Divorce as a Man
Dealing with emotions is crucial when trying to move past a divorce. Here are a few suggested activities you can do to help with the moving-on process:
| | |
| --- | --- |
| What To Do Next | Brief Explanation |
| Avoid doing nothing | Even though getting out of bed might seem like a daunting task, you still need to try and manage a routine to keep some semblance of normalcy in your life. The more you procrastinate, the worse you'll feel |
| Try meditation | Meditation or yoga are spiritual practices that heal the mind and the body. Doing either can help reduce your stress and anxiety levels while also enhancing your physical and emotional health |
| Find an emotional outlet | It's essential to find an outlet to release all the bottled emotions. Find activities that you like doing such as singing, jogging, exercising, or swimming |
| Don't be afraid to ask for help | Most men find it difficult to ask for help, whether from someone they know or from a professional therapist. Instead of trying to handle your pain with toxic habits, try reaching out for help |
| Reach out to people who have been through a divorce | Meeting people, especially men, who've been through a divorce will help you cope with your situation better |
| Establish a routine with your kids | If you have children, establish a routine with them to make them comfortable. Take responsibility for their health and education while also making enough room for fun |
We Can Provide More Info on Divorce-Related Issues
If you want to learn more about how divorces work, browse through our knowledge base to find answers to various questions, such as:
Manage Your Tasks Easily With Our Help
DoNotPay is the perfect solution whenever you need to resolve legal or bureaucratic matters. Here's a fraction of what our AI-driven app can help you out with:
No Matter What You Need, DoNotPay Is by Your Side
Do you have a bunch of subscriptions that you waste money on but don't even use? We can help you cancel them effortlessly! After that, our app can initiate a refund request and make sure you get your money back.
Facing financial difficulties? DoNotPay can help you lower your bills, get free raffle tickets, get gift card cash back, find your missing assets, and so much more!
For a low monthly fee, you'll get access to our impressive range of products, so sign up now!